July, 18, 2013
7/18/13
12:12
PM ET

By Chuck Mindenhall
ESPN.com
Archive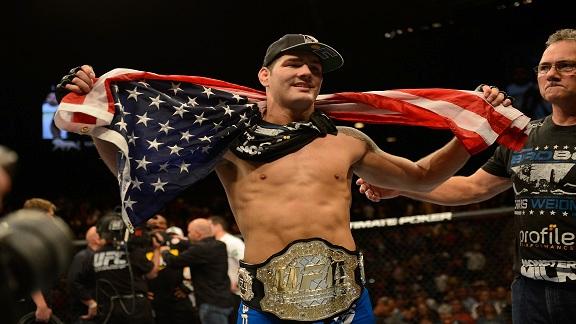 One question I get just about every week on the Friday chat was some variation of this: Which UFC champion will fall first?
For the past year, it's been easy to imagine that none of the current champions would ever lose again, given the state of the matchmaking. Not with
Ronda Rousey
fighting
Liz Carmouche
, and
Georges St-Pierre
fighting
Nick Diaz
, and
Jon Jones
fighting
Chael Sonnen
, and
Anderson Silva
fighting
Stephan Bonnar
with no belt in the balance, and
Dominick Cruz
not fighting at all.
With landslide favorites in these matchups, the answer was always
Junior dos Santos
. Heavyweights have never been good at holding on to the belt. Then it became
Cain Velasquez
, when he beat Dos Santos. That is, until Velasquez was resaddled with
Antonio Silva
, whose odds the second time were longer than his gangly reach. When that happened, the question of who would fall first came back around to its usual futility.
The real question was:
Who would get Matt Serra'd first
?
For the past year, it wasn't that the UFC champions were being catered to and protected, so much as the matchmaking lacked imagination. Or the matchmaking had
too much
imagination, because it required the open-mindedness of our disposable income. There was not enough genuine threat, due to circumstances (injuries), limitations (shallow heavyweight division) and cash-out gimmickry (Sonnen). Aside from a few exceptions --
Gilbert Melendez
versus
Benson Henderson
, say, or any
Demetrious Johnson
fight -- for a long time we had main events that looked and felt more like potboilers.
Just activity for the sake of activity, with low-flame drama.
Yet here we are in mid-2013, and a champion has fallen. Anderson Silva, the longest-tenured, most unthinkable of the titleholders with his 16-0 record in the UFC, lost to
Chris Weidman
spectacularly at UFC 162. There'd be no such thing as "eras" if they went on forever. Now the Silva era hinges on the rematch in December. How are those for stakes?
[+] Enlarge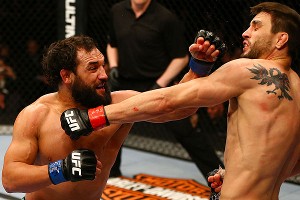 Jonathan Ferrey/Zuffa LLC/Getty ImagesAfter witnessing Anderson Silva fall, Johny Hendricks dethroning Georges St-Pierre isn't exactly a stretch of the imagination.
If that wasn't novel enough, after a long dry spell of pretenders getting shots on whims and shaking limbs, suddenly it looks as if Silva could be just the first domino to fall. Most of the title fights slated to take place in the second half of 2013 pits a challenger who looks and feels like an actual threat to the throne. Suddenly we can imagine a world where
Johny Hendricks
is posing for magazine articles with the belt slung over his shoulder, know what I mean?
Think about this: By the end of 2013, we might have recast our pantheon of UFC champions. Hendricks
is
a legitimate threat to St-Pierre. So is the barely talked about
John Moraga
over flyweight champion Johnson. Dos Santos could reclaim his title against Velasquez, just the same as Silva could reclaim his belt against Weidman. These fights are booked and happening (pending health).
Rousey will be the odds-on favorite to beat
Miesha Tate
, just as
Jose Aldo
will loom large over
Chan Sung Jung
-- but
Anthony Pettis
beat Benson Henderson once, what's to say he can't to it again at the end of August? Especially in his hometown of Milwaukee?
Romanticists might point to
Alexander Gustafsson
as a viable challenge to Jon Jones, but that one is more wait and see. Yet Gustafsson feels like Ares in there against Jones after fostering our collective beliefs for so long over Sonnen's chances.
By the end of 2013, our pound-for-pound lists may become a weekly Etch-a-Sketch. This is how it was drawn up in the Ultimate Fighting Championship -- to stake the best fighters in the world against the people who the matchmakers think could beat them. That's how this thing works best. Champions, after all, are made to be vulnerable.
And it's refreshing to look over a slate of upcoming fights and genuinely have no idea how things are going to go. It's better, when asked a question like "which UFC champion will fall first," to counter with: "A better question is -- which one will still be champion this time next year?"
July, 12, 2013
7/12/13
10:49
AM ET

By Brian Campbell
ESPN.com
Archive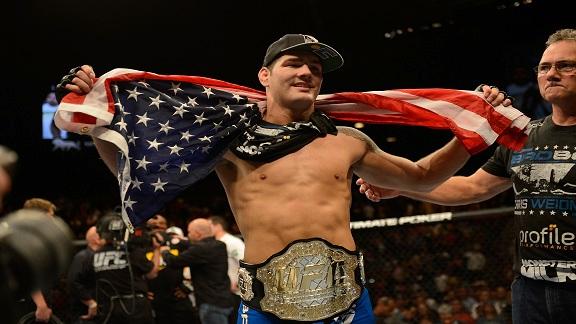 Unbeaten
Chris Weidman
did what some thought to have been the unthinkable by knocking out middleweight champion
Anderson Silva
on Saturday at UFC 162 in Las Vegas.
Weidman, 29, caught Silva, who had defended his title a UFC-record 11 times, leaning back with a short left hook and finished the job on the ground to score a stunning second-round knockout.
The Baldwin, N.Y., native and former two-time Division I All-American wrestler at Hofstra University visited ESPN headquarters in Bristol, Conn., Thursday and took some time to answer our questions:
What did you do to celebrate after getting home from Saturday's victory in Las Vegas?
I didn't get to celebrate yet when I got home from Vegas -- it was right into media stuff for the UFC. I was in Vegas until Monday, but I got back early Tuesday morning and tried to get some sleep, which did not happen. It's just been rock 'n' roll with the media. I can't wait to get home and just lie down in my bed, hang out with the family and let it absorb a little bit.
Going back to your initial takedown of Anderson Silva in the first round, was that something you practiced countless hours specifically for him, or was it just muscle memory in the moment?
Yeah, muscle memory. It just happened. That specific takedown and the way I finished it, I don't think I've done that once in sparring. I've wrestled my whole life and done that takedown a million times, but never in sparring [for this fight.] It was just natural feel.
Was there any one of Silva's antics inside the Octagon that irritated you the most?
Just the excessiveness of it. I was just like, yo, you're not punching me and I don't know, like, bro … I mean if you could do all that, punch me in the face. I actually let him punch me in the face; there was one time where I just said, "hit me." He punched me [Weidman points to his chin] and I said, "hit me again." He punched me, and then I could hear my coaches yelling, "Wideman! Stop! Stop!" I'm like, all right, and I circled out. I was just like, bro, what are you doing? I'm laughing inside and saying, I'm winning the fight. It got to the point where I wanted to hit him, so it motivated me to put my hands on him.
Silva has long been considered the No. 1 pound-for-pound fighter in MMA. But who do you now consider to be No. 1 in the world?
I'm not a big rankings guy, to be honest with you. But I would say
Georges St-Pierre
or
Jon Jones
. One of those two, I think.
You debuted this week on our ESPN.com P4P list at No. 5 with Silva right ahead of you at No. 4. Do you feel like you have to beat him another time to disprove all the naysayers?
I expected that when I took this fight. I said I would beat him and that after I finish him, we're going to have an immediate rematch at Madison Square Garden. That was the only part that I got wrong, the Madison Square Garden. So we are having a rematch and I understood that, no matter what I did to him. I did the impossible and knocked him out and there's more naysayers than anything. But if I would have submitted him it probably would have been worse. No matter what I did out there, if I had decisioned him, no matter what I did, he's known as the greatest of all time and people think that he's unbeatable and are shocked that anyone could actually beat him. So they are going to come up with excuses.
You have probably already heard a lot of excuses since Saturday not giving you a lot of credit. So how motivated are you for a rematch?
I'm very motivated. I'm motivated without that. I get to fight him again, and I want to put on an even better performance.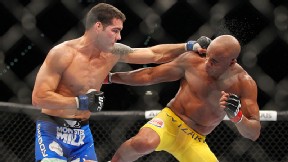 Ed Mulholland for ESPNChris Weidman knows he has to beat Anderson Silva one more time to stop the critics.
There are obviously a lot of other athletes and entertainers that follow the UFC. Has there been any celebrity who has shocked you by coming out of the woodwork and contacting you?
Stone Cold Steve Austin. I thought that was cool. He direct messaged me on Twitter. First he wished me good luck. I had never met him before. But I thought that was pretty cool. He thinks I'm a badass apparently. So, I'm a big fan of his now.
We've read that your home was severely damaged during Hurricane Sandy and about the nonprofit work you have done to help rebuild the area. Tell us about that and about how you and your family have recovered?
We are about nine months out from Hurricane Sandy. The house is still not back to 100 percent. It's still a mess. But we have recovered -- we are on the second floor. We are good and are happy with where we are at. Obviously this fight has helped us a lot. We might be moving out and getting a new house, we'll see. As far as nonprofit, I worked with Theo Rossi from "Sons Of Anarachy" and [Dallas Cowboys running back] DeMarco Murray. It's something Theo Rossi started called Staten Strong that I just kind of jumped on because I was affected. We work together to get some money together and help people. But honestly the biggest thing I did right after Hurricane Sandy was me and my wife set up a point where people could bring food and batteries and cleaning supplies. We had it through my social media where everyone brought it to our local church and we passed it out to different charities and helped a lot of people.
There are a lot of great nicknames, of course, in MMA. You are known as The All-American. How did you get that name?
When I started and first got to the MMA gym the guys would start and say, "You're like the All-American kid." It was because, I don't know, I go to church every Sunday, I got married young and I've always been an All-American in college having gone All-American all four years [two years each at Nassau Community College and Hofstra]. They just started calling me it and that was really it.
Let's talk about some other fighters in your division not named Anderson Silva whom you could potentially fight. We'll start with Vitor Belfort. What are your thoughts about him?
Tough guy. I would say he's the No. 1 contender right now. If I wasn't fighting Anderson Silva in a rematch, I'd probably be fighting him.
What do you think about all of the controversy surrounding him about testosterone-replacement therapy, and what are your thoughts on TRT in general?
I don't like it, to be honest with you. If your testosterone is low, man, that's God telling you that you have low testosterone, and if you can't train the right way or whatever it is, it's time to retire and do something else. It's a little unfair that you could be 38 years old and he definitely has higher testosterone than me. [Note: Belfort is actually 36.] I'm 29 and have decently low testosterone, but I would never take testosterone because you are stuck on that thing for your whole life. I would never want to be on TRT. And I feel fine, [having low testosterone] doesn't bother me. So I can't imagine these guys that are using it for performance reasons. I don't like it, and I know California banned it recently although other commissions allow it. I don't like it.
What are your thoughts on Michael Bisping?
Another tough guy. I would love to fight Bisping, to be honest with you. That would be a great fight for me.
How about Ronaldo "Jacare" Souza?
Really good jiu-jitsu, good standup. He's another tough guy, I think. All of these guys would be great challenges, and I would really love to entertain them.
Of all the other fighters out there, who is the one you admire the most and why?
I really like
Cain Velasquez
. I like his pace that he puts on; he is mentally and physically breaking everybody he goes with. He's just tenacious and relentless. I like Anderson Silva, too. I like his style. He's very relaxed.
If Silva had won the fight against you, there was talk about possible superfights for Silva against either Jon Jones or Georges St-Pierre. Now that for the time being that's not going to happen, would you ever consider a fight against either of those two guys?
Definitely not against GSP. First off, I would never call out someone who was a lot smaller than me. I've trained with him before, and he's just a smaller guy. I'm not the type of guy who is going to be like, Hey, you want to fight? I've got Anderson Silva on my mind, but if the fans wanted to see that fight [against Jones] and the UFC wanted it to happen, I'm 1000 percent in. I asked to fight Jon Jones on 10 days' notice back when
Dan Henderson
got hurt. But I wasn't a big enough name at that point, so they were like, no.
With your wrestling background, what are your thoughts about the current state of Olympic wrestling?
It's crazy that it's even in question and up for voting. But it is, so it's sad. I think wrestling is the one of the greatest sports there are. It's the ultimate combat sport, and I just think it needs to be in the Olympics. I think the Olympics was made from wrestling and that it's a staple. There just needs to be a lot of attention brought to it to keep it there.
Your goal has always been to be champion. Now that you have reached the pinnacle of your profession, how have you readjusted your goals?
My ultimate goal was always that I want to be known as one of the greatest of all time. The first step was obviously to be UFC champion. I did that, and now it's time to take one fight at a time and really just set myself apart from the group. That's my goal.
July, 9, 2013
7/09/13
11:35
AM ET

By Chuck Mindenhall
ESPN.com
Archive
There was a long moment after
Chris Weidman
became the UFC's new middleweight champion that Ed Soares, the longtime manager and friend of
Anderson Silva
, stood staring at the cage at MGM Grand. He looked devastated. Crestfallen. The empire he had lorded over had just crumbled before him, and just like that, it all became merely a dream. Only it was a dream that now belonged to somebody else.
It wasn't just the fact of it happening, because Silva one day losing was a long enduring inevitability. We all knew at some point he'd fall. He wasn't going to win forever.
It was the
how
.
Silva rolled out the red carpet for Weidman to come forward and touch his chin under the lights for everyone to see. Only thing Weidman could do was oblige. He wasn't falling for the hocus-pocus like so many who went before him. He was bent on wresting that belt from Silva's grip.
And he did just that.
In a sequence that will forever go down as one of the most bizarre, intense and humiliating in UFC history, the 38-year-old Silva dropped his hands and dodged bullets in the second round. The showman in him trusted his reflexes to steer clear of danger, as he'd done plenty of times before. He postured and egged the challenger on, and strafed Weidman with the occasional fast-twitch jab. "Come on," he kept saying, waving Weidman in. Was he psyching Weidman out, or psyching himself up? Like Muhammad Ali, there's no distinguishing between the two. UFC president Dana White later said all that was just "Silva being Silva."
[+] Enlarge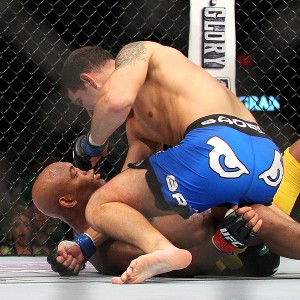 Ed Mulholland for ESPNThough they had seen him through fire before, Anderson Silva's antics fell flat against Chris Weidman.
Yet everyone knows that Silva being Silva is more complicated than it should be. He is, after all, duplicitous. He pretended his knees buckled when a left rolled off his brow. Mockery. What he was saying was clear: "That's all you got?"
Weidman, the intended target of the humiliation, kept forward.
Seconds later he clipped Silva, and down went the boogeyman of the division. Who'd have thought that Silva would cough up his belt to something as awkward as this:
antics that backfired spectacularly
. It wasn't the way people imagined it might happen. Seven years of reign and myth all came down with him. The centerpiece to the "superfight" drama of the past couple of years went down, too. So did the stadium shows and a streak for the ages. Weidman cleared out the superfight division with an engraved left.
Everything else evaporated before our eyes. Like water.
So what do we make of the whole thing, a couple of days later? It's open season for opinions.
Maybe it was hubris that caused the showboat to capsize. Maybe it was Weidman's cool, his refusal to be baited into something dumb. Maybe Silva is finally his age, getting too old for adjectives such as "sublime." Maybe he knows it. Maybe he knew Weidman was a greater threat the whole time, and was carrying self-doubt into the Octagon. Maybe the wig-out was pressure coming to the surface, or he was thinking about
Roy Jones Jr.
sitting cageside. Then again, maybe Weidman is just
that good
. Maybe Weidman never loses again, or he just has Silva's number. Maybe he just got caught, as
Mark Munoz
said after the fight.
The plain fact is this: It was hubris that got Silva knocked out, and it's hubris that will bring him back in. You think a champion of his ability and legacy is going to go out like that? No way. Moments after the fight, he said he had no pressing need for a rematch. That rare moment is no time to take a man at his word.
Wait until the whole thing sinks in. That he got clubbed after all but sending out an embossed invitation for Weidman to do it. That had he presented himself as a "ballet of violence," as Joe Rogan once famously said, instead of a willing participant to his own downfall. That he could have run his streak to 17-0 in the UFC, and made Weidman look as green as they said he was.
No, it won't take long for pride to report, even if Silva does take some time off. That might be what's needed after suffering his first loss in 17 UFC fights. In the time it takes him to realize he wants his belt back, there will be a new landscape to think about. All of the guys who lost to Silva and had little chance of getting another shot at the belt have been reinvigorated overnight. The new sheriff has so little history. He barely has an ounce of Silva's mystique -- even if he's carrying that mystique around Long Island today in his back pocket.
One thing is certain, though. Silva losing has its own fascination. How does he respond? Does he come back in no-nonsense form like when he was downing
Chris Leben
and
Rich Franklin
? Or was UFC 162 the dreaded day that began Silva's undoing?
These are all of the new narratives. And we'll have to contemplate them along with Ed Soares until they come together again. When they do, it'll be Silva who walks out first. And that in itself is very strange indeed.
July, 9, 2013
7/09/13
6:18
AM ET
After years of being the most dominant mixed martial artist in UFC history,
Anderson Silva
suffered defeat in the Octagon for the very first time Saturday night in Las Vegas. And he didn't know how to handle it.
Chris Weidman
knocked Silva out at 1:18 of the second round to become middleweight champion. Minutes after regaining his faculties, Silva was asked about a rematch.
"I won't fight [again] for the belt," Silva said. "I had the belt for a long time. I have 10 more fights [with UFC], but not [necessarily] for the belt."
Considering the time and circumstances, Silva's response should have been taken with a grain of salt. Within minutes of his initial statement he had softened his stance.
"First of all, we need to respect Chris Weidman," Silva said during the UFC 162 postfight news conference. "He's the champion; he won the fight. But right now I'm just thinking of going home. I want to be with my kids and take some time off. And maybe in three to four months think about what I am going to do. But right now I can't really think about that [rematch]. I just want to take some time off and be alone to think about everything."
There will be a rematch. Silva will demand it. At least Silva has given us a general time frame in which he is likely to tell UFC president Dana White it's OK to set it up.
Silva's a great champion, and like great boxing champions who have suffered a major defeat, he'll want to restore order in his universe.
But, for the first time in his illustrious fighting career, Silva finds himself at a crossroads. His back is against the wall -- his future as a fighter, and how he will be remembered, hinges on what happens in that rematch with Weidman.
[+] Enlarge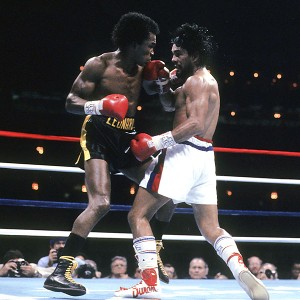 Focus On Sport/Getty ImagesRay Leonard found his footing and redemption in a rematch against Roberto Duran.
There are only two scenarios that matter: He will defeat Weidman handily, proving that the loss Saturday night was a hiccup, a fluke that occurred due to his poor judgment; or he will lose two in a row for the first time. A draw does nothing for him.
Hall of Fame boxer Sugar Ray Leonard came face-to-face with this situation in November 1980, five months after Roberto Duran handed him the first loss of his pro career. Duran taunted the slightly favored Leonard throughout their 15-round affair and emerged on the favorable side of a closely contested unanimous decision.
The loss was extremely painful for Leonard, who shed tears afterward. It took weeks before Leonard was able to gather himself and announce that he was ready for a rematch. Leonard would give Duran a dose of his own humiliating medicine in their rematch. He toyed with the hard-hitting Duran, who became so frustrated by Leonard's superior boxing that he quit in the middle of the ring during eighth-round action.
That was the "No Mas" fight. And Duran, one of the greatest boxers in the sport's history, never fully regained his legendary status.
Leonard would go on to achieve even greater heights -- wins over Thomas Hearns and Marvin Hagler stand out. To this day, Leonard is regarded among the greatest boxers ever. This is the scenario Silva will seek to retain in his rematch with Weidman.
But a rematch with Weidman puts Silva in position to experience another loss and a slip in legendary standing. If that happens he might begin to be seen more like "Sugar" Shane Mosley than Ray Leonard. When his fighting days are over, Mosley will be voted into the International Boxing Hall of Fame. But he will never be in the same class as the elite; he will never be on Leonard's level.
There was a time when Mosley appeared to be on his way toward entering the conversation for greatest of all time. He was a dominant fighter for many years, even beating Oscar De La Hoya by split decision (June 17, 2000) in a long-awaited, highly anticipated showdown of Southern California natives.
Mosley looked unbeatable after that win. But in January 2002, he put his WBC welterweight title on the line against Vernon Forrest. There wasn't a lot of fanfare leading into the fight, though Forrest was unbeaten as a pro -- he actually beat Mosley during their amateur days.
[+] Enlarge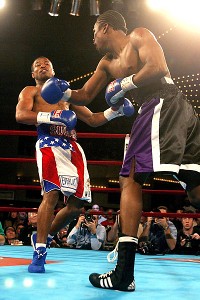 Doug Kanter/AFP/Getty ImagesShane Mosley seemed destined for greatness -- before he ran into Vernon Forrest.
Forrest also possessed a fighting style that gave Mosley fits. He hit Mosley repeatedly with a looping right hand en route to a unanimous decision.
The rematch, six months later, wasn't much different: Forrest took it by unanimous decision.
As in the Mosley-Forrest matchups, Weidman has a fighting style that seems tailor-made to frustrate Silva. Those who picked Weidman to beat Silva on Saturday repeatedly cited his high-class wrestling, top-level jiu-jitsu and extreme confidence as keys. What few, if any, expected to see from Weidman was his punching power, solid head movement and straight left jab.
This aspect of Weidman's game makes him an even more dangerous opponent in a rematch than the guy Silva faced Saturday night at MGM Grand Garden Arena. But it's the perfect opportunity for Silva to keep his label as the greatest mixed martial artist of all time.
No matter the outcome, Silva will always be regarded as a great champion. In this rematch, however, there is much more at stake for Silva than reclaiming the UFC middleweight title belt. He must win this fight, some might say convincingly, like Leonard did against Duran, to maintain his standing as the greatest mixed martial artist in the sport's history.
But it won't be easy. Weidman proved Saturday night that he is no one- or two-trick pony. Silva will need to be at his absolute best in the rematch, and even that might not be enough.
July, 8, 2013
7/08/13
11:41
AM ET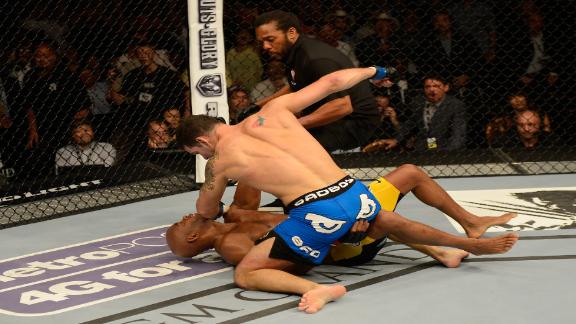 Fighters sometimes wade through boggy brains to find their words. When they do, we should know enough to receive them with skepticism. This is especially true following the sort of stunning defeat
Anderson Silva
suffered against Chris Weidman on Saturday, which is why I don't expect he'll cling to what he said.
After an uncorking, oxygen and time can impact fighters and wine alike. Silva, the finest vintage of them all, hadn't a chance to breathe when he expressed a perplexing disinterest in the belt he surrendered or the unbeaten New Yorker who just knocked "The Spider" from his web.
Instead, Silva expressed how tired he was of being champion. His time at the top was done. There would be no more high-stakes fights, despite recently signing a new 10-fight deal. This made people go crazy. To many ears, mine included, Silva's reaction was off-kilter, an indelicate red as it were.
He was so deferential it came off as if he was abdicating the throne.
This is where tone confused people. The trouble was squaring Silva's reaction with one befitting the sport's pound-for-pound king. That designation is assigned for competitive dominance as much as overarching skill. Now the guy who ruled forever, the wizard and his ballet of violence, was picking up his ball and going home? Nuts.
[+] Enlarge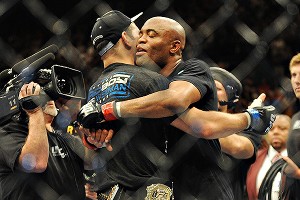 Jayne Kamin-Oncea/USA TODAY SportsAnderson Silva should embrace the fact he's found a foe who can test his limits.
Literally, it made people lose their minds. There were so many screams about a fix being in that Dana White was asked about it afterward. A savvy veteran fighter, who shall remain nameless, texted to tell me he thought something was "fishy." I asked for specifics, but didn't get a response.
Regardless, there's no doubt that Silva spoke as if he was determined to leave Weidman in charge. In fact, he said so the week of the fight in an interview with Canadian reporter Joe Ferraro. Sarcastically but prophetically, Silva suggested the "perfect" outcome meant he'd no longer be a UFC titleholder. As for a rematch, which in a rare prefight statement White declared was automatically in play if Silva lost? A face was made suggesting a case of shingles would be more appealing.
Yet half an hour after picking himself up off the canvas, having taken time to breathe, Silva's rematch repudiation had given ground to reason. At the postfight news conference, the 38-year-old magician conceded he needed time to figure it all out. Three to four months' worth. He sought to reconnect with his family. He had to step away for a bit, he said. These were perfectly rational requests.
Silva should come to the conclusion that a rematch is the only decision worth making. Yes, the man's legacy is set, however, it's not done being written. If Silva declines to fight for the piece of hardware that came to define his career, that'll be etched into his history, and as more than a footnote.
Silva devoted his life to martial arts. He should be excited to fight Weidman again. Finally. After all these years. A worthy challenger has emerged that didn't require cloning, and he's angling to do a series of, what, exhibitions?
The reality is Silva has two options at the moment: retire or rematch.
Who would have thought the middleweight icon needed reminding what it is to be a champion worthy of distinction?
Much has been made of his approach to the fight. Silva was more animated against Weidman than any opponent he faced before. Rather than go businesslike after the challenger the way he had against
Chris Leben
, or
Dan Henderson
, or
Vitor Belfort
, Silva hammed it up, attempting to rouse Weidman with showboating, hands-down, jelly-legged madness.
Silva essentially walked himself into a corner where he transformed from sitting champion to sitting duck. I imagine this will gnaw at him; his pride along with the money he can make with White will influence his return to championship fighting. Let's hope it won't be delayed by Silva's desire to box
Roy Jones Jr.
, who probably had flashbacks of his downfall as he saw history Saturday at the MGM Grand Garden Arena. Or work on a movie, something he's currently involved in as part of a Kickstarter project. The longer Silva waits, the older he gets and the better Weidman will become.
When Silva chooses to fight, he should prepare for an MMA contest against the guy who just stopped him, not a meaningless boxing match that no one really cares about but him. As an undefeated champ, he had the leeway. Not so anymore. There would be more important things on his plate.
Silva has always fought on the edge. Playing it safe during the closing stretch of his career would be disappointing. He pushed himself to the precipice of safety and eventually took a tumble. If Silva chose to stand properly and defend himself, I think he still could be MMA's best middleweight. But that's only true if he agrees.
There's yet another reason he should embrace the rematch. The new champion, for all the niceties expressed about him, deserves a chance to prove his point. Fans should get to see Weidman make his case against the most dangerous version of The Spider. The tactical sharpshooter who smartly avoids opponents. Weidman deserves to fight the Anderson Silva who demolished Leben, Henderson,
Nate Marquardt
and
Chael Sonnen
. To his credit, the new champ wants that.
Don't you?
July, 7, 2013
7/07/13
3:07
AM ET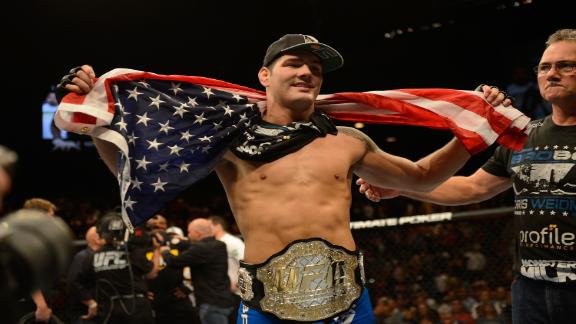 LAS VEGAS -- It's commonly said that styles make fights.
Chris Weidman
has relied on the mantra for more than two years to convince anyone who'd listen that he possessed the style of fighting to unseat middleweight champion
Anderson Silva
.
And the more Weidman spoke of his skills, the more convincing he sounded.
But it's one thing to talk the talk, another to walk the walk. Weidman didn't just walk, he ran away from the Octagon on Saturday night as UFC middleweight champion.
The goal, however, isn't close to being fulfilled. Lifting the belt from Silva is only part of Weidman's goal. Weidman dares to be great.
And Weidman is the first to say, based on his performance inside MGM Grand Garden Arena at UFC 162, he is far from greatness.
"It's crazy," Weidman told ESPN.com. "I would think that at this point, I could sit back and relax. But instantly I'm hungry. I have to get better.
"I feel I didn't look my best. So, I'm excited about going out there and to hold on to this belt for as long as I possibly can."
It's this attitude that gives Weidman a chance to achieve his ultimate goal. He isn't satisfied with being the first man to defeat Silva in UFC competition.
When Weidman spoke of knowing he would defeat Silva, it wasn't simply because of the favorable style matchup. Weidman believes he is the overall better fighter.
But anything short of successfully defending the middleweight belt for many years will be deemed a failure in his eyes. And Weidman has the skills to achieve his long-term goal.
His wrestling is second to none. His jujitsu is of the highest quality. And his striking game is much better than average. But more than anything, Weidman is improving in every one of these areas.
The next time he steps in the cage, when his title is put on the line, Weidman will be a better mixed martial artist than the one fans witnessed Saturday night. His best isn't close to being realized.
And that's why a rematch with Silva will be more intriguing. Silva has not been on the losing end of a fight in more than seven years -- and that setback was due to an illegal kick. Take that loss to Yushin Okamai in January 2006 out of the equation and you have to go back to 2004 to find his last true defeat.
It's been a very long time since Silva has tasted defeat. He'd never suffered a loss in UFC -- until Saturday night.
So it's wise to take his talk, inside the cage immediately after the loss, of not wanting a rematch with Weidman with a grain of salt. Besides, he was softening his stance minutes later.
"First of all, we need to respect Chris Weidman," Silva said during the UFC 162 postfight news conference. "He's the champion; he won the fight. But right now I'm just thinking of going home. I want to be with my kids and take some time off.
"And maybe in three to four months I will think about what I am going to do. But right now I can't really think about that [rematch]. I just want to take some time off and be alone to think about everything.
"There was a lot of pressure in defending this title. I've defended it for a long time, so I just need some time to myself."
Though he came up short Saturday night, the 38-year-old Silva showed no sign of slowing down. He was simply beaten by the better fighter – on this night at least.
Silva is still a great fighter who pulled out just about every trick in his MMA bag; Weidman just didn't bite. If a rematch with Weidman is made, expect Silva to be even better.
But expect the same from the new UFC middleweight champion.
July, 7, 2013
7/07/13
2:50
AM ET

By Brett Okamoto
ESPN.com
Archive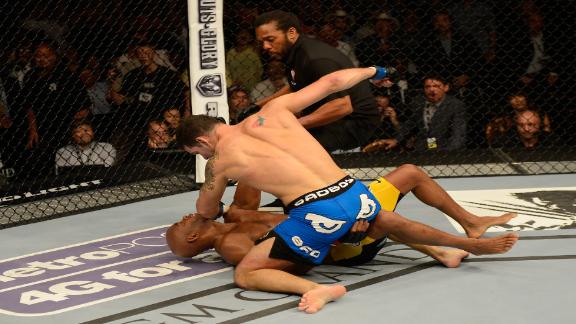 LAS VEGAS -- It was always likely
Anderson Silva
would eventually suffer a UFC loss.
Fighters stay in this game longer than they should. Even as age diminishes their skills, they continue to walk to the steel cage, wearing nothing but four-ounce gloves.
Eventually, age or the right opponent would catch up with Silva. On a stage that is this unpredictable, Silva's 16-fight win streak already bordered on mythical.
[+] Enlarge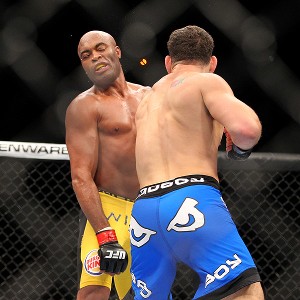 Ed Mulholland for ESPNA lack of respect for Chris Weidman proved to be Anderson Silva's downfall.
We should have all been prepared for a Silva loss at some point -- but like this?
What happened at the MGM Grand Garden Arena on Saturday enthralled the crowd of 12,399 spectators who paid to see the greatest fighter of all time. Most likely, though, it also left them shaking their heads.
Chris Weidman, an undefeated 29-year-old wrestler, took Silva down in the first 30 seconds of the fight -- a bad sign for supporters of the Brazilian champion. The overwhelming belief was if Weidman did win, it would be on the floor.
But moments later, Silva got back to his feet and broke away. It was a major turning point in the fight, but not in the way many expected.
Immediately after that initial scramble back to the feet, Silva got weird. He dropped his hands or put them on his hips. He pointed to the floor and demanded Weidman come forward, even though Weidman never backed down.
After taking a punch from the challenger, he would laugh and sometimes yell at him. Weidman later said he didn't think it was showboating from Silva. He's fine to say that, but it was absolutely showboating from Silva.
The antics, combined with Weidman's composure, cost Silva the first round -- but not yet the fight. If anything, it felt as though the early momentum Weidman captured with the takedown was gone.
But Silva kept it up in the second round. Added to it, actually. After Weidman hit him with a left hook, he dramatically wobbled on his feet as though he were hurt but still slipped Weidman's next punches.
It was during that sequence, though, when Weidman landed a left hook that finished the fight and ended perhaps the greatest run the UFC will ever see.
Fair or not, there are two equal pieces to this story: The composure of Weidman. The ridiculousness of Silva.
UFC president Dana White didn't see it that way. To White, Silva's behavior coincided with many of his past performances. The fight delivered drama, action. If a streak is going to end, you want to be entertained along the way.
"The fans came here to see a great fight," White said. "They saw a pretty good fight tonight.
"My heart was in my stomach, my hands were sweating, my jacket is soaked. I almost fainted twice. I'd say it was a pretty damn good fight."
It was, and maybe Silva owes us nothing. Maybe for all the moments his career has produced -- and they are countless -- this was a fitting end after all.
No one really knew what a Silva loss would feel like in the UFC. We've been waiting to see one for more than seven years. But for that exact reason, it should have felt different than this. It should have felt like something truly extraordinary, not a goofball move.
Truthfully, it robbed Weidman as much as anyone else, if not more. The kid from Long Island was doing terrific on his own, without Silva's invitations to take free shots at him.
After the fight, Weidman said the win wasn't cheapened in his mind due to Silva's taunting. He, too, pointed out Silva has a past of acting this way.
"Anderson Silva has won a lot of his fights because of what he did [tonight]," Weidman said. "He knows exactly what he's doing. I capitalized on it. A lot of other guys couldn't. I'm not trying to take that away from myself."
No one should -- Weidman earned the belt in Las Vegas -- but people will. When fans read that Silva's hands were down, when they see the mockery in the faces he made, they'll say it was more Silva's foolishness that lost him the fight than Weidman.
On top of that, Silva said he has no interest in giving Weidman the opportunity to further legitimize the win, saying he had no interest in an immediate rematch.
Silva might be the greatest champion in UFC history, but he acted nothing like it in this fight. His first loss in the Octagon was always destined to be something special. In the end, the greatest way to describe it might be disappointing.
July, 4, 2013
7/04/13
2:51
PM ET
LAS VEGAS -- The buzz surrounding
Chris Weidman
heading into Saturday night's middleweight title bout against champion
Anderson Silva
at
UFC 162
comes as no surprise.
We've watched, sometimes in amazement, as he has risen to the top of the 185-pound contender list with high-class jiu-jitsu, above-average striking and top-level wrestling. Weidman is an offensive guru, but he's equally adept on defense.
No matter where the fight is contested or whatever position he finds himself in, Weidman is always at ease. He never comes unglued. At no time in his nine-fight professional mixed martial career has Weidman lost his poise.
You can chalk it up to extreme confidence, as Weidman has been the definition of it at every step of his journey to the MGM Grand Garden Arena in Las Vegas for Saturday's title fight.
But Weidman's confidence wasn't born in March when the title fight was officially announced. It began in 2008 when the fighter first started watching Silva compete.
That year, Silva successfully defended his middleweight title against
Dan Henderson
and
Patrick Cote
. In between, Silva took a brief vacation to light heavyweight where he knocked out
James Irvin
at 1:01 of the first round on July 19.
After watching each of those bouts, Weidman concluded that he could defeat Silva. It was only a matter of time.
Weidman had never trained in MMA or considered participating in the sport until he saw Silva perform in 2008. But Weidman knew that with hard work, dedication and proper training to go along with his natural athletic ability, intelligence and wrestling base he would one day unseat Silva as the UFC middleweight champion.
"If I didn't believe that I could beat [Silva], by watching him back then, I wouldn't have even gotten into this sport," Weidman told ESPN.com. "I envisioned fighting Anderson from day one. The only reason I started doing this was to be No. 1, and that's the case today. I'm excited that I got myself the opportunity to fight [Silva for a title] and to go out there and show everybody what I can do."
Every step in his mixed martial arts development -- his initial training session, his first pro fight against
Reubem Lopes
in February 2009 and his UFC debut against
Alessio Sakara
on March 3, 2011 -- prepared Weidman for victory Saturday night. The stars have lined up perfectly for him.
In a strange sort of way, it might appear that being UFC middleweight champion is his destiny. But just when it seemed the stars couldn't align any more perfectly, the unbeaten fighter received an additional dose of good fortune.
Weidman's father, Charlie, will be in his corner for the first time ever as an amateur or professional. Weidman extended the offer on Father's Day, and Charlie Weidman, with a huge smile on his face and tears in his eyes, accepted immediately.
"Having my dad out there brings another dynamic," Weidman said. "He's real spiritual. It's important for me to be spiritual, in the right place. He'll pray for me before I go out. And that's a huge part of me having an advantage going against Anderson Silva. [My father] has been driving me to wrestling camps and every match that I've had growing up, since second grade -- sitting in the stands. He's never been in my corner, even for wrestling. This is his first time.
[+] Enlarge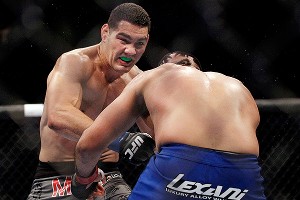 AP Photo/Jeff ChiuWith longtime coach Matt Serra unable to be in his corner Saturday, Chris Weidman will turn to the services of his father, Charlie.
"He's my biggest fan. This is a great thing for him too. It's like a lifetime dream"
A devout Christian, Charlie Weidman raised his children in the Lutheran Church. Chris Weidman has retained his strong Christian faith, though he now worships at a nondenominational church in his native Long Island, N.Y.
Should he become champion Saturday night, Weidman will rely on those Christian teachings to help him become a great role model. He believes that part of being a UFC titleholder is to lead by example.
"I want to be a humble champion," Weidman said. "I want to be a role model for kids. I want to give all the glory to God. There is a lot I want to do. Being the champion, you have a lot of responsibility to do good things. And I look forward to doing that."
The goodness that Charlie Weidman instilled in his son has proved to be unbreakable, and the elder Weidman's influence remains solid. It's why his inclusion in the corner was a no-brainer.
The addition of Charlie Weidman, however, comes on the heels of a big loss. Longtime coach
Matt Serra
has been on an emotional roller coaster throughout this training camp.
"I had blood clots," Serra said. "They found a blood clot in my lung and my biceps. I had to have surgery to remove my first rib. On top of all that, I ended up having my kid. All this was going on during [Weidman's] camp."
Serra's wife, Ann, gave birth to Sophia, the couple's third child, all girls, on June 8. Medical issues and his wife's pregnancy proved too much for the strong-willed Serra. He was unable to spend much time with Weidman during this camp.
While Serra wishes he could be on hand Saturday night to watch Weidman achieve his goal, he is comforted knowing that the timing is perfect for Charlie Weidman to make his corner debut.
"I feel very confident in Chris for this fight," Serra said. "He's got all the guys in his corner, Ray Longo for striking, John Danaher for the ground, jiu-jitsu, and I think it's nice that he got his father in there. It might be more important [having Charlie Weidman] than having me there right now. It will mean more for him, his spirit. It's a beautiful thing, having his father in the corner."
Throughout Weidman's pro career, it seems timing has always been on his side.
That's why Weidman is confident -- certain to be exact -- that Silva's time as UFC middleweight champion runs out Saturday night.
July, 4, 2013
7/04/13
7:13
AM ET
By Andrew Davis
ESPN Stats & Analysis
Archive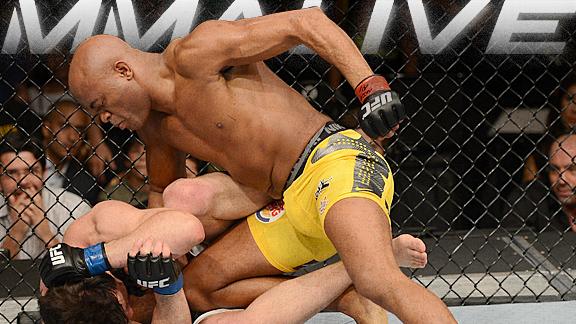 Middleweight champion
Anderson Silva
will put his 17-fight winning streak on the line at
UFC 162
, when he defends his title for the 11th time against unbeaten
Chris Weidman
on Saturday at the MGM Grand in Las Vegas.
Here are the numbers you need to know for Saturday's card:
16:
Wins for Silva inside the UFC Octagon. If he defeats Weidman, Silva will move into third place by himself on the all-time wins list. Silva will pass UFC Hall of Famers
Randy Couture
and
Chuck Liddell
.
13:
Takedowns for Weidman in five UFC fights (2.6 per fight). Weidman has at least one takedown in all of his UFC fights. Silva has not been taken down in three of his last four fights, but allowed three to wrestlers
Chael Sonnen
(
UFC 117
) and
Travis Lutter
(
UFC 67
).
3.2:
Both fighters land 3.2 significant strikes per minute, but Silva is by far the more accurate striker. The champion is accurate on 67 percent of his significant strikes, while Weidman's accuracy is just 43 percent. However, in each of their last fights, both men landed at least 70 percent of their significant strikes (Silva, 77 percent; Weidman, 70 percent).
9:
If average fight time is any indication, this fight will be over around the final minute of Round 2. Weidman's average fight time is 8 minutes, 44 seconds while Silva's is 9:07. Four of Silva's title defenses have ended in the second round. Weidman finished
Mark Munoz
in Round 2 last July.
5:
Years since a fighter from the Serra-Longo Fight Team has held UFC gold.
Matt Serra
defeated
Georges St-Pierre
for the UFC welterweight title in 2007 at
UFC 69
before losing the title back to GSP at
UFC 83
in 2008. Now, Weidman is trained by Serra and boxing coach Ray Longo.
360:
Days since Weidman's last fight -- a July 2012 win over Munoz. It is the second longest layoff between fights in Weidman's career. He did not fight for 17 months before defeating
Uriah Hall
for the Ring of Combat middleweight title in 2010. Silva has not fought since last October when he defeated
Stephan Bonnar
in a light heavyweight fight.
7:
Saturday will mark the first time in his last seven fights that
Frankie Edgar
is not the main event of a UFC card. His last non-main event fight was the
TUF 10 finale
in December 2009 against
Matt Veach
. That win over Veach also marks the last time Edgar was not in a UFC title fight (six lightweight title fights, one featherweight title fight from 2010-13).
3.7:
Edgar's opponent
Charles Oliveira
attempts 3.7 submissions per 15 minutes, the 5th highest in UFC history. "Do Bronx" has four submission victories inside the UFC Octagon, including the first and only "calf slicer." Three of those four submissions won Oliveira a bonus for submission of the night. Edgar has never been submitted in 20 professional MMA fights.
6:
Fight-of-the-night bonuses for Edgar, tying him with
Chris Lytle
for most in UFC history.
July, 2, 2013
7/02/13
5:23
PM ET
Since he first stepped into the Octagon seven years ago, picking
Anderson Silva
to lose has been a fool's errand.
Sixteen fights. Sixteen wins. A record.
The past 10 have been title defenses. Also a record.
In the UFC, Silva defeated every kind of fighter in all sorts of ways, and save for two decisions -- he looked bored to tears against
Thales Leites
and
Demian Maia
-- everyone was emphatically, sometimes preternaturally stopped. In fact, Silva, who turned 38 in April, hasn't had a competitive match go the distance since he went three rounds with "Lightning"
Lee Murray
in London in 2004.
[+] Enlarge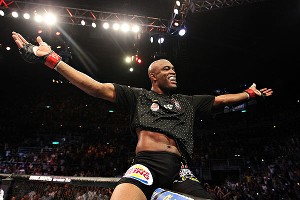 Al Bello/Getty ImagesUntil Anderson Silva one day succumbs to his opponent inside the Octagon, it makes it very difficult to pick against him.
Next in line Saturday night in Las Vegas at
UFC 162
is 29-year-old American
Chris Weidman
. At the point Weidman made his entry into MMA, Silva had already defended the UFC middleweight belt thrice, finishing
Nate Marquardt
,
Rich Franklin
and
Dan Henderson
-- three of the most accomplished fighters in MMA over the past 10 years.
Weidman, by comparison, is just getting started. Yet many media, fans, trainers and fighters -- especially fighters -- have taken to speaking about the grappler from Long Island as if he's the truth, the answer and the man to end Silva's unprecedented reign.
Why? Well, a few reasons.
Mixed martial arts does not lend itself to such things as long unbeaten streaks, certainly not against the caliber of opposition Silva managed to dispatch in his time. Since the stinker against Maia in 2010, "The Spider" willed his way past bruised ribs and
Chael Sonnen
to score his most dramatic win, slammed a foot into
Vitor Belfort's
mouth and proved in a rematch that, when healthy, he's far superior to Sonnen, whose wrestling-heavy style was thought to be problematic for the long-legged Brazilian.
There were no signs of slowing, no fraying of accuracy and speed. Yet Silva, nearing 40, can't continue to do what he's done. He has to get old eventually. This is the thinking, at least.
Coupled with what Weidman appears capable of and you begin to get a sense for why the UFC sent out a press release on Monday touting no less than 18 fighters, including several current and former champions, engaging in the previously foolish game of picking against Silva.
"Anderson has shown one weakness -- he can be controlled on the ground by powerful wrestlers -- and Weidman is the most powerful wrestler there is in the division," said former heavyweight champion
Frank Mir
. "Everyone is making the comparison to Chael Sonnen, but while Chael controlled Anderson on the ground and landed shots, he couldn't hurt Anderson and that was his undoing. Weidman can hurt Anderson with ground-and-pound and he can submit Anderson."
True, when Weidman lands a punch or an elbow, it tends to be damaging. Moreover, where Sonnen succumbed several times to low submission IQ, Weidman appears acutely aware of where he is on the floor relative to his opponents.
So you have a potent grappler, with terrific top control, who can land thudding strikes on the floor. As Mir made clear, Weidman possesses all the makings of a terrible matchup for Silva.
On top of his strength, smarts and preparation, Weidman possesses the confidence of a man who has never tasted defeat in a cage.
This can be a powerful elixir.
But does any of it make him the toughest test of Silva's iconic career? Is Weidman more capable of beating Silva than Henderson? Than Belfort?
How can anyone possibly know based on Weidman's body of work, which one year ago added a destruction of
Mark Munoz
to the New Yorker's ledger? (It should be noted that Munoz was ravaged by injuries, and his reputation as a dominant MMA wrestler is belied by the takedown statistics.)
Silva has said he doesn't know, nor does he care, whether or not Weidman should be perceived as the greatest threat to this title. He has faced all comers and dispatched all comers, and this, appropriately, is his frame of reference for what happens in the Octagon.
[+] Enlarge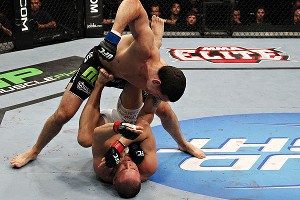 Donald Miralle/Getty ImagesChris Weidman's limited body of work makes it hard to definitively declare him as Anderson Silva's toughest test to date.
Still, as the fight approaches, consensus seems to hold that Weidman possesses the antidote to Silva's venom. Silva's manager Ed Soares isn't clear why. Not after everything he's seen his fighter do in the cage. Perhaps, Soares said, Weidman is the "great white hope." And he would be within his rights to wonder that sort of thing. The promotion of mixed martial arts lends itself to hyperbole. To the grandiose. So many matchups and cards and events are the best. Until the next.
This train of thought does not include Silva. We know what he is, and what he has been for years.
"My concern is to better myself," Silva said. "My opponent doesn't matter. I want to overcome everything."
Because he has, at least in the UFC, which is where his reputation has been cemented, it's no stretch or hyperbole to call him the greatest of all-time.
"He's done things no one has done in this sport," Weidman said of Silva.
Nonetheless, Weidman's numerous skills and traits lend the challenger something beyond the air of hope against this type of monumental challenge. Hope is necessary, because without it he wouldn't have a shot. And on any given night, that's all a fighter needs.
July, 2, 2013
7/02/13
11:25
AM ET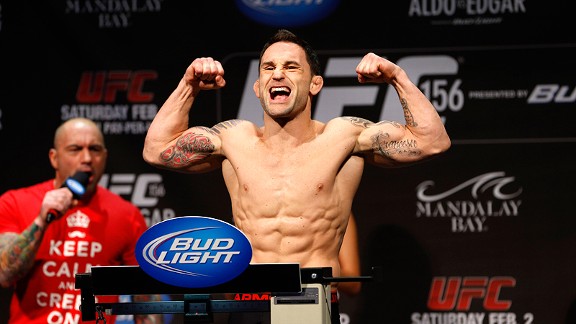 Ric Fogel for ESPNFormer UFC lightweight champion Frankie Edgar is hoping to snap a current three-fight losing skid.
It is being said that this is do-or-die time for
Frankie Edgar
, a must-win situation for his mixed martial arts career. Edgar, however, would beg to differ -- somewhat.
Currently riding a three-fight losing skid (all title bouts), Edgar is in serious need of a win. He will seek to right the ship Saturday night against crafty
Charles Oliveira
at UFC 162 in Las Vegas.
Is Edgar in a must-win situation? Sure. Is there weight on his shoulders? Yes. Is he feeling the pressure? No doubt. It all adds up to a sense of urgency.
But this sense of urgency is no different than what Edgar experiences before every bout. There was a sense of urgency on July 10, 2005, when he made his professional debut during an Underground Combat League fight in the Bronx, N.Y.
It was no different when Edgar faced
Hermes Franca
on July 19, 2008, at UFC Fight Night 14. Edgar stepped into the cage that evening for the first time with a blemish on his record --
Gray Maynard
outmuscled him three months earlier en route to a unanimous decision.
[+] Enlarge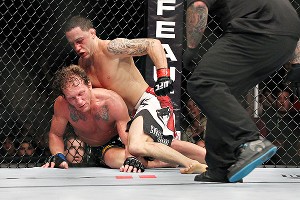 Ed Mulholland for ESPN.comThe last time Frankie Edgar had his hand raised was on Oct. 8, 2011 after pummeling Gray Maynard.
Then there were the title bouts: two wins against legendary
BJ Penn
, a draw with and knockout of Maynard, and the current losing streak -- two very close lightweight affairs against
Benson Henderson
and one, the most recent setback, to featherweight champion
Jose Aldo
.
Whether a title is on the line or not, the sense of urgency Edgar feels remains the same.
This prefight adrenaline rush comes from Edgar's unwavering desire to become or remain a champion. And the only way to achieve this goal is to win the fight immediately in front of him. Nothing else -- what took place before or what might happen afterward -- matters.
"Your next fight is always the most important, so for me everything is on the line," Edgar told ESPN.com. "I'm very competitive and I want to win no matter what's on the line.
"The fight's on the line and that's just as important to me as a title. I want to win this fight just as much as I want to win a title."
Expect Edgar (15-4-1) to perform at his usual high level: precision striking, pinpoint takedowns, nonstop head movement and solid footwork. A three-fight losing skid has done nothing to diminish Edgar's confidence, skills or work ethic.
This training camp has been as smooth as any before it. Edgar is feeling great heading into fight week. And with this camp being his second for a 145-pound contest, the weight cut proved easier – not that Edgar expressed having too much trouble making weight for his initial featherweight bout against Aldo.
"I'm a little more familiar on how to get my body down to featherweight," Edgar said. "But I'm not cutting much weight at all.
"It doesn't feel much different fighting at featherweight than it did at lightweight. I'm just a little stricter about what I'm putting in my body. Being it's my second time doing this makes it a little easier."
"

He's a dangerous opponent, long, rangy, with a diverse striking game and slick, slick submission game. There are no easy fights in UFC and I'm prepared [for Saturday].

"

-- Frankie Edgar, on his UFC 162 opponent Charles Oliveira
Edgar was a diminutive lightweight; he's an average-sized featherweight. Which begs the question, is a bantamweight title shot in his future? Edgar isn't ready to make any promises, nor will he rule anything out. The same goes for a return to lightweight.
Edgar is keeping all options on the table. The only nonnegotiable issue is becoming champion again. It's his driving force, the thing that prevents him from taking this nontitle bout Saturday night lightly, the reason Oliveira (16-3) will get the best Edgar imaginable.
Oliveira has won only two of his six most recent fights. His name won't be found on any top-10 featherweight lists. But the former lightweight, who failed to make weight in his most recent fight, is a skilled fighter.
"He's a dangerous opponent, long, rangy, with a diverse striking game and slick, slick submission game," Edgar said of Oliveira. "There are no easy fights in UFC and I'm prepared.
"I've fought the best in my last seven fights, they were all title fights. I will be ready for Charles."
A victory will shut the door on the most difficult stretch of Edgar's professional career to date. It also could open the discussion about a possible rematch with Aldo.
[+] Enlarge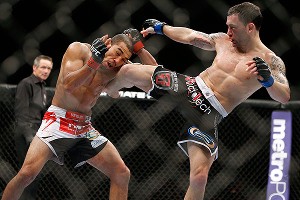 Ric Fogel for ESPNFrankie Edgar, right, isn't ruling out a rematch with Jose Aldo -- or even a possible move down to bantamweight.
Edgar, who is ranked 10th among all mixed martial artists by ESPN.com, suffered a unanimous decision loss Feb. 2 to Aldo at UFC 156. But Edgar gave the No. 4-ranked fighter all he could handle during the encounter. Nearly every round was closely contested.
Aldo has expressed interest in moving to lightweight after his Aug. 3 title defense against
Chan Sung Jung
at UFC 163 in Rio de Janeiro. Nothing is definitive at this time, but it appears Aldo is on his way out the featherweight door.
A rematch with Aldo isn't currently at the top of Edgar's priority list -- Oliveira occupies that spot, but it's somewhere in the back of his mind. Whether Aldo competes at featherweight or lightweight, it doesn't matter to Edgar, as long as a title is on the line.
"My goal is always to be the champion," Edgar said. "I really haven't thought about what might happen in this division or the lightweight division as things change. I'm just worried about getting back to my winning ways and put myself in position to fight for a title.
"I'd love to fight Aldo again for the title, but we'll see what happens."
June, 29, 2013
6/29/13
8:40
PM ET

By Brett Okamoto
ESPN.com
Archive
The shortest fight of Cub Swanson's career is proving to have the longest-lasting effect.
This weekend will mark the four-year anniversary of a first-round knockout loss Swanson suffered to current UFC featherweight champion Jose Aldo. The fight, which took place at a WEC event in Sacramento, lasted eight seconds.
Describing it is pretty easy. The referee got out of the way and Aldo connected on a flying knee. That's it. As Swanson puts it, "It felt like he cracked me in the face with a baseball bat."
Swanson (19-5), who fights Dennis Siver at UFC 162 this weekend in Las Vegas, has obviously moved past the loss by now. Unfortunately, certain fans have not.
"It gets brought up to me all the time," Swanson told ESPN.com. "People won't let me forget it. I've heard it a million times.
"I wish they were clever about it. So much time has passed that I would laugh about it, but people are so lame. I'll be like [on Twitter], 'I went to the store today and this happened,' -- something funny. Then somebody will go, 'Like the time you got kneed in the face in eight seconds?' It's like, 'Yeah, buddy. Exactly.'"
What's ironic about that is Swanson says the fans were the first thing he thought of when the fight went the way it did.
The featherweight bout was the co-main event that night in Sacramento, and Swanson knew it promised fireworks. Other fighters who had trained with both Aldo and Swanson knew it, too.
[+] Enlarge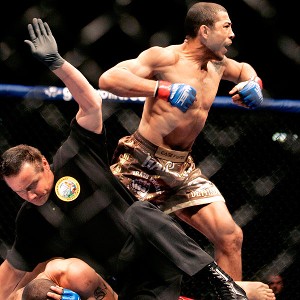 AP Photo/Jeff ChiuCub Swanson doesn't want his career to be defined by a humiliating loss to Jose Aldo.
"We trained with a few similar people, and they were like, 'You guys are identical athletes,'" Swanson said. "We both played soccer. We both like to throw. We're good at jiu-jitsu but would rather use our hands.
"When we squared off, we were exactly the same height and same build. There was a lot of hype on him and I was kind of hit or miss, but they knew if I showed up it would be a hell of a fight."
Well, Swanson didn't show up -- or Aldo just threw the perfect strike. However you look at it, the fight was over before it started, and that bothered Swanson like crazy.
"I went to the hospital that night to get my face stitched up and all I could think about was, 'I owe the fans a fight.' That could have been a legendary fight in the WEC, and I didn't approach it right."
If Swanson continues to perform as he has in the past 18 months, he'll get a second shot at that fight.
At 29, Swanson appears to have hit his groove. He'll take a four-fight win streak into the cage against Siver. The streak includes knockout wins over George Roop, Ross Pearson and Charles Oliveira.
One could argue the UFC hasn't really rewarded Swanson for his success. Despite the fact he finished Oliveira in the first round eight months ago, the Brazilian's fight against Frankie Edgar will be featured above Swanson's this weekend at UFC 162.
When Swanson agreed to the Siver fight months ago, he told the UFC to keep him in mind if anything happened at 145 pounds. Injuries happen. He assured them he would be ready to step into a higher-ranked bout on short notice.
When Anthony Pettis withdrew with injury from a title fight against Aldo scheduled for August, Swanson and his team picked up the phone, optimistic he had just landed a bigger fight.
"I had told them if Aldo, Pettis, [Ricardo] Lamas or [Chan Sung Jung] falls off, I want to be bumped up," Swanson said. "They laughed and said they'd cross that road when it comes up. When it did come up, we put in a call. They said, 'We're going to leave things the way they are.'"
The UFC ended up booking Jung to the title fight and dropping Lamas, who was scheduled to fight him at UFC 162, from this weekend's card.
Swanson says he was disappointed by the decision, especially the one that granted Jung a title fight, but he's content with his original opponent.
Time, after all, is relative. One bad moment four years ago has come to define much of Swanson's career. Who's to say one good moment in this fight won't do the same?
"In my mind, I'm always one win away from a title," Swanson said. "If I fight that fight that makes everybody go, 'Wow, he's unstoppable,' -- that's all I can do.
"I think I do pose the biggest threat to Aldo. I feel like my boxing is better than his. He's a kick boxer, with devastating kicks. Neither one of us cares to take it to the ground. I feel with my unpredictability and my boxing, I pose a big threat to him."
March, 7, 2013
3/07/13
2:26
PM ET
The best mixed martial artist ever to enter the Octagon is always willing to fight whomever Zuffa puts in front of him, said Jorge Guimaraes,
Anderson Silva
's representative and longtime friend.
However, Silva's management team -- namely Guimaraes and Ed Soares -- have their own thoughts from time to time.
Just last summer, for instance, Guimaraes and Soares -- partners in Blackhouse, where Silva primarily trains -- thought
Chris Weidman
hadn't done enough to earn a spot challenging Silva. Their biggest concern, at least the one they were most vocal about, was that the fight wouldn't appeal to fans because, you know, who was Weidman really? Some unbeaten prospect with fewer than 10 fights who made an ailing
Mark Munoz
look bad. Pfft. Big deal.
At this stage of Silva's illustrious career, if it don't make dollars, it don't make sense -- and Blackhouse didn't see Weidman as a moneymaker.
A year later, the situation remains largely unchanged. Yet it turns out that Silva has agreed to step into the cage with Weidman. Before returning to Los Angeles on Wednesday from New York, where he helped promote UFC's partnership with Fox, the UFC middleweight champion verbally agreed to fight the American wrestler this summer. Weidman was the only choice Zuffa put in front of "The Spider," which was the case last year as well. But that didn't mean he had to accept.
"Now I have the opportunity to seize my dream," Weidman, 28, tweeted late Wednesday night.
So why give in to the strong grappler now when that proposal registered a clear-cut "no" in 2012?
Timing would seem to have a lot to do with it.
Blackhouse's critique of Weidman as a challenger (he isn't bankable, they said last year), came after the middleweight contender earned the best win of his career. That's when it was proposed that he was next in line to take on Silva. Perhaps he couldn't sell a pay-per-view, but he absolutely looked dangerous enough to upend the champion. After Silva said "no" last summer (opting instead to embarrass
Stephan Bonnar
), the UFC slotted Weidman into a Dec. 29 fight against
Tim Boetsch
. It never happened because Weidman tore a labrum in his shoulder while training.
[+] Enlarge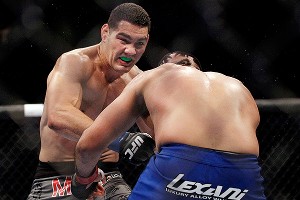 AP Photo/Jeff ChiuBy the time Chris Weidman faces Anderson Silva, he'll have spent nearly a year on the sidelines.
Weidman -- 9-0 record, tall, big, athletic and gifted as a fighter -- was hobbled for the first time in the UFC. A young stud with a weak link.
If there was ever a proper time for Silva to meet Weidman in the cage, it seemed that that moment, as he recuperated from surgery, was as soon as possible. The first available date on UFC's calendar was July 6.
Weidman is unquestionably talented, so much so that fans and media simply (probably smartly) expect him to make big strides with each fight camp. That's not a presumptuous leap considering Weidman's immense drive, talent and relative inexperience in MMA. Fresh off the shoulder injury, however, Weidman is a recuperating young buck, presumably nowhere near as good as he'll be with a little more time to heal.
He hasn't fought since beating Munoz, "So why not catch him now?" was Blackhouse's thinking.
Of course, "The Spider" could have waited and pushed for a huge-money catch-weight contest against welterweight champion
Georges St-Pierre
.
But he hasn't. Instead, Silva chose to go after Weidman at the most uncertain time of the young challenger's career. Feel free to criticize Silva's decision, but tactically speaking there's not a whole lot to quibble with. Silva realized that unless he retired soon he'd need to fight Weidman, so he decided to go ahead with it now because, on the surface at least, the advantage remains his.
At the age of 37, Silva's reflexes and timing continue to be remarkable. There's no guarantee, though, that those physical traits will stick with him. In fact, it's
assured
they won't.
So he made the smart play. Silva will return to face down a young lion who may not be mature enough (physically, yes, but in terms of experience and mental readiness, who can say for sure?). As an example, when they step in the cage, Weidman will have been out of action for almost a full year.
Those factors led to an easy decision. Silva was going to fight. He chose a guy who, by all rights, deserves to be in the cage with him.
But he did so plausibly contemplating that Weidman couldn't be as good in July as he would be by the end of the year.
The UFC middleweight champion's decision to let Weidman challenge him comes off as a pre-emptive strike. A smart one.