September, 1, 2013
9/01/13
9:22
AM ET

By Franklin McNeil
ESPN.com
Archive
MILWAUKEE -- The hometown kid did good Saturday night as
Anthony Pettis
made it two title wins in a row over
Benson Henderson
with a first-round armbar submission.
The first victory was sweet -- a unanimous decision in December 2010 to capture the WEC belt -- but the second was even sweeter. When Pettis returned to his house (just a stone's throw from the Bradley Center, host of UFC 164), early Sunday morning, he had the UFC 155-pound championship belt in his possession. There is no comparison.
"[UFC] is the NFL, NBA of mixed martial arts," Pettis said. "Winning the WEC title meant a lot to me. I was very young. I fought Ben a year and half into the WEC. So I didn't have a lot of time, a lot of experience to fight someone like Ben Henderson.
"Now, we've both grown in this sport. The guy is a great champion. I mean he's a very respectful guy; he never does dumb things out there. Now we're both in the UFC and I win this belt. It's amazing. It's something I really tried hard to achieve and now I've accomplished it."
What occurred Saturday night was more than two years in the making. Pettis always believed he would become UFC champion, it just took a little longer than he planned.
When he entered UFC in 2011, Pettis was slated to face the winner of then-lightweight champion
Frankie Edgar
and
Gray Maynard
. Both those two fought to a split draw on Jan. 1 of that year, putting Pettis' UFC title showdown on hold.
Injuries would delay the Edgar and Maynard fight. Rather than sit idly, Pettis opted to face
Clay Guida
in June 2011 -- he would lose by unanimous decision. Pettis hasn't lost a UFC fight since.
But all that is neither here nor there; Pettis is the UFC lightweight champion now, and that's a good thing. You see, Pettis is a very athletic, confident and physically strong fighter, who is still maturing as a mixed martial artist.
"I'm not even in my prime yet," Pettis admitted. He's only 26 and his body is still growing.
[+] Enlarge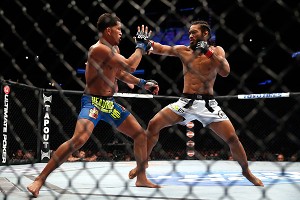 Ross Dettman for ESPNNewly crowned champ Anthony Pettis, left, suffered a slight injury before submitting Benson Henderson.
And he already has developed a reputation for putting on exciting fights. You never know what move Pettis might pull from his large bag of tricks during a fight. He keeps fans and his opponents guessing what his next unorthodox maneuver will be. Pettis is fun to watch.
Add to all this the fact that Pettis competes in the talent-rich lightweight division and UFC fans are going to enjoy this ride for a while. Guys like
TJ Grant
, who Pettis replaced Saturday night, and
Gilbert Melendez
make their residence at 155. And let's not forget Henderson, as he remains a threat to one day reclaim the belt.
But there are also potential challenges to Pettis' reign lurking at featherweight. There's champion
Jose Aldo
, who Pettis was slated to face in August at 145 pounds before an injury forced him out of that bout.
And does anyone really believe Edgar will never resume his quest to again place the lightweight title around his waist?
There are several potential high-profile fights awaiting Pettis. And each one looks like it would an action-filled affair. The fun has yet to begin.
But, in what seems to be the case often these days whenever Pettis is involved, there is a downside. Pettis has struggled with injuries the past year. In 2012, he suffered a shoulder injury that shelved him for several months. He later sustained a shoulder injury during a training session for his showdown with
Donald Cerrone
; a skin infection in his elbow further postponed the Cerrone bout.
Then he was forced to pull out of his featherweight title fight with Aldo due to a right knee injury, sustained during a training session. All was forgotten, however, the past few days as Pettis and Henderson appeared physically primed for their rematch.
But just when it seemed the worst was over, Pettis left the cage Saturday night, belt in hand, with another injury. This time it was his left knee.
"Henderson threw a kick and I went to check it with my left leg and he hit it right in the crook of my knee," Pettis said. "I felt it go back and forth, but I don't know yet.
"I was stepping on it and it was hurting a little bit. When he had me against the cage I was standing on one leg because it was starting to lock up."
Injuries now seem to happen quite often to Pettis. For all the dangerous opponents lining up to dethrone him, staying physically healthy might pose the greatest challenge to the newly crowned champion. Maybe it's just part of a growth spurt. Perhaps. We can only hope so.
Pettis is an exciting fighter, who is poised to thrill UFC fans for a long time. Let's keep our fingers crossed that his recent run of injuries is nothing more than a weird coincidence.
August, 30, 2013
8/30/13
10:05
AM ET

By Josh Gross
ESPN.com
Archive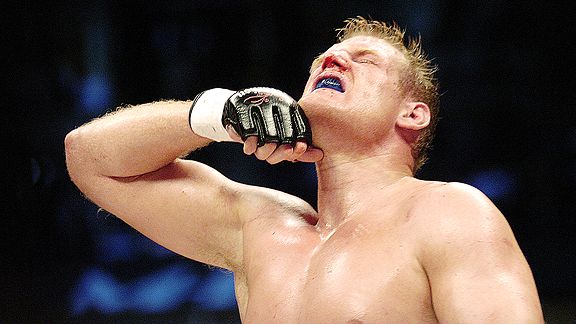 Darryl Dennis/Icon SMIEleven years since his last UFC appearance, Josh Barnett will finally face Octagon veteran Frank Mir.
Sitting inside his suite at the MGM Grand the morning after stopping
Randy Couture
to become the youngest heavyweight champion in UFC history, anything seemed possible for
Josh Barnett
.
"I hope in passing the torch to Josh he will represent the sport in a positive way, and I know he will," Couture said following
UFC 36
. "He's going to be a great champion."
It didn't work out the way anyone would have imagined, which is why Saturday's fight against
Frank Mir
at
UFC 164
in Milwaukee marks Barnett's first appearance in the Octagon since dethroning "The Natural" 11 years ago.
At ease in a sun-drenched emerald green room with a view on the morning of March 23, 2002, his new belt within arm's reach, Barnett, then 24, believed he should be paid much more than he'd ever been paid in his career.
But his contract was up -- something Zuffa learned not to let happen with future would-be champions -- and rumors were he wanted $1 million per fight from the UFC. Just back on pay-per-view, doing mostly dim numbers on television, the promotion was hardly in position to break the bank. It balked at the young champion's demands.
"I fought when no one was fighting for money, really," Barnett, 35, recalled during a recent conference call. "I fought when you couldn't get MMA gear at your local sports store. We had to make it ourselves. I fought when most of the time we didn't even wear gloves. We were under attack from all angles."
Mir, a two-time UFC champion holding the most victories and submissions of any heavyweight ever to fight in the Octagon, knows this period well. He signed with Zuffa in 2001 -- not something worth bragging about back then, he said -- and was in the midst of starting his career the night Barnett became champion.
"It wasn't something you went and told a girl when you were trying to go on a date with her that you were aspiring to beat people up in the Octagon," said Mir, now 34. "In fact, even if I tried to describe it a few times, it was like no one had a clue what you were talking about. So it wasn't something really to garner fans."
Mir moved to 4-0 at UFC 36 thanks to an iconic shoulder lock against
Pete Williams
. That win, coupled with his first in the UFC, a fast armbar over
Roberto Travern
, prompted people to mention Mir as a future champion.
However, he knew he wasn't ready for the likes of Barnett, and showed it in his next fight against
Ian Freeman
. Mentally, Mir said, he just didn't have it in him then to beat the blond brawler Barnett.
"I think I [would have] had an opportunity early on in the fight to get him, a submission to catch somebody, but if the first couple failed, I would have been in a lot of trouble," Mir said.
Said Barnett: "On paper, I had a lot more fights and experience, but, hey, Frank was going out there and beating plenty of experienced guys, and tapping them out," Barnett said. "I think people would have been interested to watch the fight back then, just as much as they'd like watching the fight now."
Neither fighter is especially hot. Within 11 months of one another, each lost decisions to
Daniel Cormier
, who's preparing to leave the division and fight instead at 205. They're not kids anymore, either, though Cormier suggested that each man remains capable and because of their styles, the bout should be fun to watch. That could be especially true if they grapple. Mir is thought of as the UFC's best heavyweight submission artists. That may have been Barnett, had he stuck around.
From Cormier's perspective, Barnett's the better, faster fighter right now.
[+] Enlarge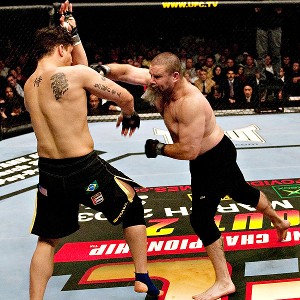 Josh Hedges/Getty ImagesFrom his early days in UFC fighting the likes of David "Tank" Abbott, Frank Mir has faced just about every heavyweight -- except Josh Barnett.
"You know what I think the difference will be, as good a shape as Mir was when we fought, he still wasn't very fast," Cormier said. "Josh Barnett is actually pretty fast, whether he's throwing punches or kicks. Speed will be the real difference."
Any chance of seeing a contest a decade ago between youthful submission mavens took a tumble shortly after Barnett became king. His fate with the UFC was sealed when he became the first fighter to face discipline from the Nevada State Athletic Commission for steroid use. The news came a month after he defeated Couture and shook UFC's heavyweight division. Zuffa stripped Barnett of the title, creating a scenario, by Dana White's own estimation, in which the belt wasn't worth much for a while.
Matt Hume's
strong ties to Japan, the place to be in MMA at the time, created a current that carried his charge Barnett overseas. It was a fine fallback: A few months after Barnett bested Couture (a result that stands because NSAC guidelines at the time didn't allow a result to be overturned due to a positive drug test), Pride and K-1 collaborated for an event that drew more than 91,000 fans to Tokyo National Stadium. This was fantastical stuff for U.S.-based mixed martial artists. Also, from a sport perspective, Pride champion
Antonio Rodrigo Nogueira
was the best heavyweight in the world, and the following year he was eclipsed by
Fedor Emelianenko
.
Barnett picked up five wins against a mixed bag of opponents before settling into Pride on Halloween 2004. Mir returned to form following his loss to Freeman by defeating
David "Tank" Abbott
and
Wes Sims
. This was enough to get him a shot at the beleaguered UFC belt owned by
Tim Sylvia
. It wasn't the prettiest period for UFC heavyweights, but the Las Vegas native looked to offer salvation when he snapped Sylvia's forearm.
Mir went from winning the title to vacating it after a motorcycle accident kept him sidelined for two years. He has since fought for some version of a UFC heavyweight belt four times, winning once. Barnett took his share of important fights, but lost big ones as well. He also had more run-ins with performance-enhancing drugs, costing him, most prominently, a contest against No. 1-ranked Emelianenko in 2009.
Having finally returned to the UFC, despite intense moments of disagreement with Zuffa that made any reconciliation appear impossible, Barnett's confidence in his ability to win fights and hurt people at the highest level remains strong.
"The first time around I went all the way to the top and won the heavyweight championship of the world," Barnett said. "I don't expect any different -- other than to get paid a lot more money and a lot more stardom and fandom out of this whole thing because of the explosion of MMA as a whole."
As Mir (16-7) and Barnett (32-6) prepare to face off at UFC 164 for a long overdue, yet barely discussed bout, they'll do so in the final stages of successful, though ultimately wanting, careers.
August, 30, 2013
8/30/13
8:38
AM ET

By Franklin McNeil
ESPN.com
Archive
MILWAUKEE -- Lightweight champion
Benson Henderson
has successfully defended his UFC 155-pound title three times in a row. The only other fighter to accomplish that feat inside the Octagon is former lightweight titleholder
BJ Penn
.
But as Henderson prepares to put his title on the line Saturday night against
Anthony Pettis
, some have wondered whether he has what it takes to retain the belt a fourth straight time. The concern is raised because of Henderson's previous loss to Pettis and close calls in recent title bouts.
Henderson has won two of his three UFC title defenses by split decision. And the first time Henderson faced Pettis, in December 2010 while defending his WEC lightweight title bout, he lost by unanimous decision.
That loss, however, and the razor-thin outcomes of his more recent title bouts, don't worry Henderson. His goal remains the same: just win. It's that simple.
"What it all boils down to is getting your hand raised," Henderson told ESPN.com on Thursday during a media conference to promote the title rematch with Pettis. "Whether you do it emphatically, impressively, whether you do it by split decision or whatever the case may be.
"Honestly, if a guy walks into the cage and slips on a banana peel and I win, I will take that win. I don't care. The way I fight, I'm always out there to beat the guy up. I just want to beat him up. I don't care about judges' decisions or this or that, I just want to beat the guy up."
Improved stand-up boosts Mendez's confidence
Featherweight contender
Chad Mendes
has been on a knockout tear since coming up short in his title bid against
Jose Aldo
at UFC 142 on Jan. 14, 2012. Mendes was knocked out during the first round of that title bout, but he's knocked out each of his opponents in the three fights that followed.
Mendes, ranked fourth among 145-pound fighters by ESPN.com, went into that fight unsure of his stand-up skills -- both offensively and defensively. He wasn't confident anywhere on his feet then.
As a result, Mendes was vulnerable standing against Aldo and got caught by a knee to the chin. His hopes of leaving the cage a champion that night came ended at the 4:59 mark.
But Mendes is better on his feet now. He is comfortable letting his hands go, and moving his feet and head comes naturally now. And he has developed into a solid power puncher. Mendes no longer lacks confidence standing in the cage.
"It's not that I wasn't confident as a fighter, it's just that the stand-up part of the game wasn't there for me," Mendes said. "A lot of people said I took that fight too early in my career. But it's a title fight; I'm not going to turn it down.
"I believe I was winning the first round until the final second. I'm a completely different fighter now. I know I can hang. I've grown and gotten so much better. I want another title shot."
With Wanderlei unavailable, UFC seeking foe for Sonnen
There are two things
Chael Sonnen
wants more than anything else in his professional fighting career right now: a showdown with
Wanderlei Silva
and a spot on the UFC 167 main card. But it's very unlikely one of his wishes will be met any time soon.
According to UFC president Dana White, a fight between Sonnen and Silva isn't happening this year. White said Silva is injured and would accept only a pay-per-view deal to face Sonnen.
Pay-per-view deals are given only to champions, and Silva isn't close to contending for the middleweight title. That puts the brakes on a Sonnen-Silva fight. Besides, Silva's injury, which White says is back-related, will keep him out of action for the remainder of this year.
"Chael wants to fight in the co-main event of the [Georges] St-Pierre fight," said White, referring to St-Pierre's title defense against Johny Hendricks on Nov. 16 in Las Vegas. "Chael wants it. He wants to fight on that card. He has his heart set on it."
There have been recent reports of
Phil Davis
getting the fight with Sonnen. White, however, quashed those reports. The UFC is still seeking an opponent to meet Sonnen at UFC 167. It's possible that Davis is among the fighters being considered, but White refused to reveal any of the potential candidates.
"There's nothing done [with Davis]," White said.