October, 20, 2013
10/20/13
2:12
AM ET

By Josh Gross
ESPN.com
Archive
Gilbert Melendez
's reaction to the news that UFC wanted him in the cage against
Diego Sanchez
looked something like this.
A deep breath. A pause. And acceptance.
"When you fight Diego, you get the chills, like, 'ooh, It's going to be messy here,'" Melendez told media just days before he was scheduled to fight Sanchez on the pay-per-view card at UFC 166 in Houston, Texas.
"He's a guy I know I can beat, but it's a tough situation, its going to be a tough fight," he said. "It's going to hurt, it's going to be a battle and it's a dangerous fight."
The truth, it seems, can literally hurt. Such was the case for Melendez and Sanchez, who conjoined for three incredible rounds that deserves to be neck and neck with
Jon Jones
stupendous title defense against
Alexander Gustafsson
for fight of the year in 2013.
"That's what Mexicans do," Melendez said in the Octagon after taking a unanimous decision. "We hold our ground and fight. I'd rather go down on my shield than run in circles. Diego's a warrior. I respect him so much. I slept on his couch before to train with him. It was an honor to fight a warrior like that. But if I can get through any guy as tough as him, I think I can get through anyone in the division."
Reputations are earned, and Sanchez has been in enough wars over the years to gain Melendez's respect. Likewise, Melendez branded himself as a tried and true warrior over the last decade, which is why many people, including UFC president Dana White, said this was the fight to watch in Houston.
"We only have three rounds so we need to get this fight started fast and I believe it's going to be one of the fastest three round fights UFC has seen in awhile and a good one for the fans," Sanchez said Wednesday. Five of the last eight times Sanchez stepped inside the Octagon, he helped deliver a "fight of the night" worthy contest. Make that six of nine.
"Tell me one time you've seen a bad, boring Diego Sanchez fight," White said during a media scrum on Thursday. "There's no such thing. You know how he's going to fight. Guns blazing and it's going to be fun."
The promoter had listed Sanchez's clash against
Clay Guida
as his favorite. It was an uproarious fight from four years ago. The promoter can claim a new favorite, because Sanchez's fight with Melendez was that mind blowing.
"Without a doubt, the greatest night of fights we've ever had," White said, still visibly amped from everything that played out in the cage over five hours in Houston, including, and not to be forgotten,
Cain Velasquez
's incredible raging river of an effort over Brazilian former heavyweight champion
Junior dos Santos
. As good as the heavyweights were, they couldn't match up to Sanchez and Melendez.
Melendez had been the better fighter in recent years, though Sanchez suggested in the lead up to Saturday that his efforts inside the UFC are worth more than his opponent's body of work outside the Octagon.
Melendez's record away from the top promotion in MMA is considerably more extensive than almost any lightweight on the planet. Saturday marked bout No. 2 in the UFC for "El Nino," and since he couldn't best
Benson Henderson
in the eyes of the judges, a fight many people felt he deserved to win, the 31-year-old Californian entered his meeting with Sanchez feeling as if he had something to prove.
"I think it's important to fight and win in impressive fashion," said Melendez, who hadn't departed California to fight in nine of his previous 10 contests. That attitude, plus an always eager opponent, set up a volatile mix.
[+] Enlarge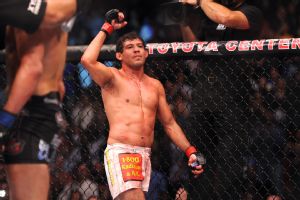 Rod Mar for ESPN.comGilbert Melendez's crisp boxing helped sway the judges in his favor.
The opening round was a loud shot across the bow of things to come, particularly the closing seconds when both stood their ground and fired off a flurry of strikes. Round 1 belonged to Melendez. He was eager to exchange and Sanchez allowed him many opportunities. The former Strikeforce champion didn't need to engage like this. Yes, he wanted to entertain. He wanted to prove a point about being the "uncrowned King at 155" after coming up short on the judges' cards against Henderson. And he wanted to pay the proper homage to the man in front of him. But the point still is, this was a conscious decision on Melendez's part. He sought war and found one.
"When you talk about hardcore real Mexican fighters, it was a Mexican world war here tonight," White said. "It was unbelievable."
Melendez did best when he struck off of tie-ups and takedown attempts. He wanted to be first, and usually was thanks to superior hand speed and technique. Yet Sanchez kept coming, something out of a horror movie with a nasty gash occupying the space above his right eye. Down two rounds to none, Sanchez's corner, headed by Greg Jackson, told the Ultimate Fighter 1 winner that he needed a stoppage. So Sanchez went out to find one, and nearly did by catching Melendez with a stiff uppercut.
"You don't feel nothing when you're in here," Melendez said. Nothing but pride, that is. It's was this warrior spirit that bound both fighters, and prompted hellish training sessions four years ago between the pair. That same spirit propelled them to the final bell, which was the only thing that could get them to stop fighting one another.
"I want five rounds," Sanchez said afterwards, his speech slurred some by the difficulty of the last 15 minutes. "I want a rematch."
Of course he does.
October, 20, 2013
10/20/13
1:34
AM ET

By Franklin McNeil
ESPN.com
Archive
HOUSTON -- The final performance at heavyweight for
Daniel Cormier
wasn't quite what he had in mind, but it served the purpose.
Cormier defeated
Roy Nelson
by unanimous decision over three rounds -- all three judges had it 30-27 -- and proved that being lighter has its benefits. Though Cormier weighed in at 224 pounds, the lightest of his professional career, he lost none of his physical strength.
He lifted Nelson and tossed him to the ground one minute into the opening round. And when Cormier had Nelson down, he had no trouble keeping him there.
[+] Enlarge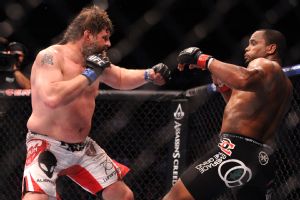 Rod Mar for ESPN.comSpeed and range might prove to be a problem for Daniel Cormier, right, when he moves down to light heavyweight.
In addition to maintaining his physical edge, Cormier's hand and foot speed increased. He landed solid combinations and kicks throughout the fight. And he had little difficulty avoiding most of Nelson's powerful overhand rights.
"I tried a couple of takedowns," Cormier said after improving to 13-0. "But I wanted to stand with him to show him that I can take a punch.
"I'm going to be at 205 in my next fight. There's a guy on my mind. He can't get away from me for long."
It's no secret the guy Cormier is referring to is light heavyweight champion
Jon Jones
. Cormier is moving to 205 pounds to become champion -- and with his longtime friend and training partner
Cain Velasquez
holding the heavyweight crown, there is no chance of him capturing that belt.
Cormier has said over and over that he will never fight Velasquez. And he believes Velasquez will retain the belt for a very long time.
After the overwhelming performance Velasquez put on during the main event against former titleholder
Junior dos Santos
, there is no reason to believe he will be dethroned in the foreseeable future.
As amazing as it might seem, Cormier could very well be a better fighter at light heavyweight. But before we start talking title shot, he needs a fight or two in the new division to earn it.
Despite his solid victory in the UFC 166 co-main event, Cormier didn't leave fans salivating to see him face Jones. Part of the reason might be that he never seriously hurt Nelson, nor did he show any sign that neutralizing Jones' significant reach edge won't prove difficult.
There are still questions, however, that Cormier needs to answer before a 205-pound title shot is offered to him. Will the hand speed he demonstrated against Nelson and other heavyweights be an advantage against smaller, quicker opponents?
Cormier believes his hand and foot speed is comparable to those of any light heavyweight. And there is no doubt he will be as strong, if not stronger, than any man standing across the cage from him.
But Cormier will have to fight at least twice to prove he is the man most equipped to defeat Jones or anyone else holding the light heavyweight belt when his turn arrives. He is still in need of a dominating victory inside the Octagon.
October, 18, 2013
10/18/13
12:15
PM ET

By Brett Okamoto
ESPN.com
Archive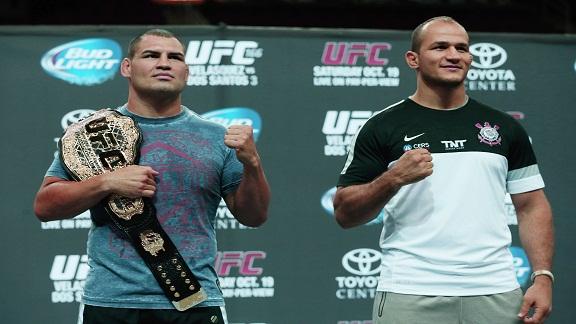 HOUSTON -- As everyone knows, any great real-life sports moment can be summed up by an equally great sports-movie quote.
For this weekend's UFC heavyweight trilogy fight between defending champion
Cain Velasquez
and
Junior dos Santos
, the quote has to come from Will Ferrell's NASCAR classic, "Talladega Nights."
"If you ain't first, you're last." It becomes a rule of thumb for Ferrell's character, Ricky Bobby -- the last thing his father says before running out of his adolescent life.
Saturday's heavyweight title fight features, without question, the most dominant big men in mixed martial arts today. They are 1-1 against each other and a combined 18-0 against the rest of the division, including 15 finishes.
As talented as they both are, only one will leave the Toyota Center as champion. The other, the one who takes second, might feel like he finished last.
"I think the casual fan will remember the last fight between them and forget the ones before," said Javier Mendez, Velasquez's head coach.
"From my observation, [in trilogies], the guy who wins the last fight is the winner. Muhammad Ali was the winner [over Joe Frazier]. Arturo Gatti was the winner [over Micky Ward]. The casual fan only remembers the last fight."
So much is at stake at UFC 166, well beyond the normal stuff that comes with every title fight. History won't be made on Saturday; it will actually be rewritten.
Excuses are a dime a dozen in the fight game, but dos Santos and Velasquez each has good ones when it comes to their first two meetings.
When dos Santos (16-2) starched Velasquez with a right hand just 64 seconds into the first fight in 2011, Velasquez was secretly nursing a serious knee injury.
When Velasquez (12-1) -- as UFC president Dana White put it Thursday -- "destroyed" dos Santos in a five-round rematch last year, the Brazilian was finalizing a divorce and dealing with rhabdomyolysis, a potentially fatal condition caused by overtraining.
There's no real way of knowing how much those circumstances played into the first two results, but that doesn't matter. Perception beats reality every day in combat sports. Saturday's winner will have "proved" his loss to the other was a fluke.
It's why Mexican boxer Juan Manuel Marquez turned down a massive payday this year to fight Manny Pacquiao again. Who cares if he retires 1-2-1 against Pacquiao? Marquez will feel forever vindicated by the crushing knockout he scored in the rivalry's finale last year.
It should be mentioned that Saturday might not even be this rivalry's finale. Mendez has confidently predicted a fourth (and perhaps even fifth) fight, as has dos Santos.
Of course, a fourth fight isn't guaranteed, and by the time the UFC wanted to promote one, the heavyweights could be well past their respective primes anyway.
[+] Enlarge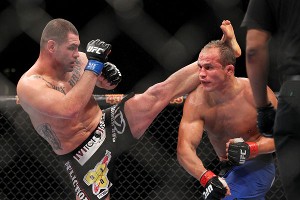 Ed Mulholland for ESPNCain Velasquez, left, silenced any and all doubt by dominating Junior dos Santos over five rounds in the rematch last year.
Mendez, who made it clear there is "no way in hell" Velasquez would lose, admitted that if he did, it would probably take at least seven wins to get back to a dos Santos fight. Velasquez echoed that thought.
"I think it will be settled for a while," Velasquez said. "I won't say we won't fight in five years or so. That's a possibility. But it will be settled for a while."
Both Velasquez and dos Santos, when asked to identify the greatest heavyweight martial artist of all time, named former Pride champion
Fedor Emelianenko
. The Russian heavyweight once went 28 consecutive fights without a loss.
Even in the UFC's heavyweight division, where no champion has consecutively defended the belt more than twice, Velasquez and dos Santos are viewed as talented enough to produce a long winning streak.
Only one of them, however, can do it with a belt around his waist. And as Reese Bobby said, "If you ain't first …"
"It's really hard to ignore how huge this fight is," Mendez said. "This is the biggest trilogy in the history of the UFC, and it may very well be the biggest trilogy of all MMA."
October, 18, 2013
10/18/13
8:41
AM ET

By Franklin McNeil
ESPN.com
Archive
HOUSTON -- Several fighters on the UFC 166 main card Saturday night have a lot to lose. But none has more at stake than
Daniel Cormier
.
Sure, a strong case can be made for main-event participants
Cain Velasquez
and
Junior dos Santos
-- there is the matter of the heavyweight title being up for grabs. But even the loser is expected to remain high on the contender list.
Cormier, on the other hand, has no room for error. He not only needs to beat
Roy Nelson
in the co-main event, but must do so in impressive fashion. Anything less and Cormier, who plans to begin competing at light heavyweight after the bout, will be forced to make major changes to his master plan.
Despite being ranked No. 3 among heavyweights by ESPN.com, Cormier is opting to leave the division because he wants to become a UFC champion. And he vows never to fight Velasquez -- a close friend and training partner.
So Cormier is heading to 205 pounds to realize his title dream. But at 34, time isn't on his side.
An upset loss to Nelson will greatly diminish his chances of landing a title shot anytime soon. Even a lackluster performance Saturday night could do harm to his title bid.
"This is the most important fight of my career," Cormier told ESPN.com. "I know the
Josh Barnett
fight was important because I needed to win that [Strikeforce Heavyweight Grand Prix] tournament. But in terms of importance, in terms of keeping my momentum, keeping things rolling in the right direction, this is the one.
"I've got to find a way to get through Roy Nelson in impressive fashion, so that I can take the momentum that I've built over the past four years and take it with me down to the lower weight division.
"If I don't do what I'm supposed to do Saturday night, everything was for nothing. It's back to the drawing board and revamping my plan."
MAYWEATHER'S RETURN GIVES NELSON BOOST
Nelson looks fit and trim heading into his heavyweight showdown with Cormier. But in this case, the looks are definitely deceiving.
The weight loss isn't the result of physical changes Nelson made, but the stress he felt during camp because of concerns over the health of his trainer, Jeff Mayweather.
"I was more concerned about Jeff Mayweather and the people in my camp," Nelson said. "This has been the crappiest camp that I have ever had. It is what it is.
"When I get depressed I don't eat. I lost Jeff about two weeks into camp; he was in the hospital. I just tried to make do with what I've got."
Mayweather has fully recovered from the rapid heartbeat he experienced after consuming an energy drink. And Nelson couldn't be happier. He has regained his appetite, which could mean the return of his usual round figure.
"About two days ago [Monday] was the first time that Jeff was back, so I'm eating again," Nelson said. "Maybe I will be 280 pounds and cut weight to make 265."
MELENDEZ TO BEGIN BID FOR TITLE SHOT
No. 2-ranked lightweight and former Strikeforce titleholder
Gilbert Melendez
is a heavy favorite to beat highly aggressive
Diego Sanchez
.
[+] Enlarge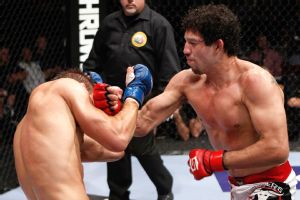 Getty ImagesJosh Thomson, left, was narrowly defeated by Gilbert Melendez when the pair met in 2012.
While a setback will drop him a few notches in the 155-pound rankings, Melendez doesn't seem to be feeling a sense of urgency heading into the fight. Even if Sanchez is able to pull off an upset, Melendez believes he will remain in the title picture. It's one of the benefits of competing in the talent-rich lightweight division.
"There is no pecking order in this division right now," Melendez said. "The No. 10 guy can be the champ any day of the week; the No. 1 guy can lose any day of the week."
Melendez, however, makes it clear that he has no intention of falling victim to Sanchez. He not only expects to have his hand raised afterward, but plans to use this bout as a springboard to start his title-shot campaign.
"It definitely comes down to my performance and what the fans want to see," Melendez said. "If I do well I will definitely be campaigning for that shot."
DODSON NO LONGER GIVING SECOND CHANCES
Flyweight contender
John Dodson
can still see those punches that either dropped or wobbled
Demetrious Johnson
during their title bout in January. The images are perfectly clear.
How could they not be? Dodson spent a lot of time during the early rounds of that fight admiring his work. Rather than put the finishing touches on his potential masterpiece, Dodson opted to watch the champion recover.
That proved to be a huge mistake. Johnson would rebound, eventually take control of the fight and retain his title. What took place during that fight remains firm in Dodson's mind.
He was in position several times to lift the belt from Johnson, but failed to capitalize. Dodson blames no one but himself and says he has learned his lesson. Never again will the man in the cage with him -- starting with Saturday night's opponent,
Darrell Montague
-- be let off the hook.
"I have to make sure that I go out there and not watch my handiwork," Dodson told ESPN.com. "I watched me hit him, I watched him fall and then I watched my chance to win the title slip through my fingers. I can no longer allow that to happen."
October, 17, 2013
10/17/13
7:11
AM ET
By Andrew R. Davis
ESPN Stats & Information
Archive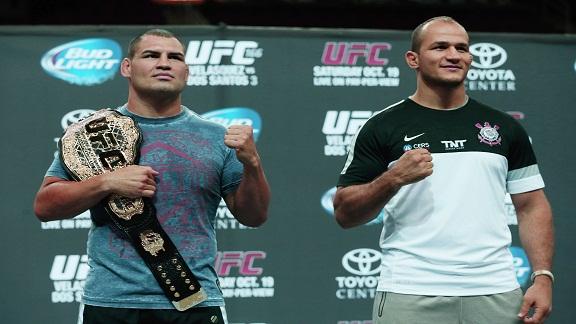 A trilogy is defined as a series of three novels, movies, etc. that are closely related and involve the same characters or themes.
On Saturday, UFC heavyweight champion
Cain Velasquez
completes his series of three bouts with
Junior dos Santos
in Houston. The third battle sold out in less than three days and could set the Toyota Center record for highest-grossing event, already held by the UFC.
The event also will mark the 10th trilogy completed solely inside the UFC Octagon. Depending on how the fight goes, it could take its place among some other notable UFC trilogies.
Randy Couture already had won two UFC heavyweight titles when he stepped down in weight to challenge Chuck Liddell for the interim light heavyweight title at UFC 43 in June 2003. Liddell was 11-1 and coming off a brutal head-kick knockout of
Renato Sobral
. Couture landed four of five takedowns and outstruck Liddell 46-22 in significant strikes to win the title by third-round TKO. The two men met again in April 2005 at UFC 52 after both served as coaches on the debut season of "The Ultimate Fighter." Liddell won the rematch, knocking out Couture 2:06 into the first round to win the undisputed light heavyweight title. Their third matchup took place at UFC 57 in February 2006 with Liddell still champion at 205 pounds. Liddell controlled the fight, landing 18 head strikes, including the final blows to a downed Couture to win by TKO in the second round and retain the title. Both men were eventually inducted into the UFC Hall of Fame (Couture in 2006, Liddell in 2009).
Another Hall of Famer, Matt Hughes, was involved in two trilogies inside the UFC Octagon. Hughes landed on the losing end of both at 1-2, and while his trilogy with
BJ Penn
was memorable, it's his rivalry with Georges St-Pierre for the UFC welterweight title that is remembered. At UFC 50 in October 2004, former champion Hughes faced a young 24-year-old from Canada in St-Pierre for the welterweight title. With 1:14 left in the first round, Hughes gained his second takedown of the fight and eventually secured an arm bar on St-Pierre, forcing a tapout with one second remaining to become a two-time UFC welterweight champion. Hughes made two defenses of the title before meeting St-Pierre again at UFC 65 in November 2006. St-Pierre outstruck the champion 45-10 and landed a devastating head kick and punches to win the title by TKO in the second round. December 2007 was the final battle at UFC 79. Hughes and GSP once again fought for a vacant interim title, as undisputed champion
Matt Serra
was out because of injury. St-Pierre landed three takedowns and finished Hughes via arm bar in the second round. That fight remains St-Pierre's second UFC victory by submission in 20 fights. Hughes was inducted into the UFC Hall of Fame in 2010, before finishing his second trilogy with Penn and retiring in 2011.
Frankie Edgar versus Gray Maynard (Ultimate Fight Night 13, UFC 125, UFC 136)
At UFC Fight Night 13 in 2008, two undefeated lightweight prospects took to the Octagon in Frankie Edgar (9-0) and Gray Maynard (4-0, 1 NC). Maynard used his Michigan State wrestling background to score nine takedowns on "The Answer," winning 30-27 on all scorecards. Fast-forward to New Year's Day 2011 and Edgar was the reigning and defending UFC lightweight champion. Maynard was still undefeated and the No. 1 contender to Edgar's title when they fought at UFC 125. Edgar was knocked down three times in the first round and on the verge of losing to Maynard again, this time for the title. But the New Jersey product fought back valiantly, outstriking Maynard 85-46 for the remaining four rounds to earn a split decision draw. The third fight was inevitable and took place at UFC 136 seven months later. Maynard was again the aggressor, outstriking Edgar 24-11 in the first round and earning another knockdown against the champ. As with the second fight, Maynard slowed and Edgar battled back. In the fourth round, Edgar landed 21 significant strikes to 5 for Maynard and finished "The Bully" with punches to the head. The fight was stopped at 3:54 of the round with Edgar winning by TKO and retaining his UFC lightweight title. Edgar moved to featherweight in February 2013 and Maynard will face
Nate Diaz
at "The Ultimate Fighter 18" finale in November of this year. While it is their third fight, the first on the "The Ultimate Fighter" is not considered an official bout.
Ken Shamrock versus Tito Ortiz (UFC 40, UFC 61, "UFC Fight Night: The Final Chapter")
Vendetta. Bitter Rivals. The Final Chapter. Those were the titles of the trilogy fights between Ken Shamrock and Tito Ortiz and did they ever fit the descriptions. After 1999 victories over Lion's Den fighters
Jerry Bohlander
and
Guy Mezger
, Ortiz berated the Shamrock camp with taunts and T-shirts, enraging the "World's Most Dangerous Man." Shamrock also was in the middle of a pro wrestling career, but made his Octagon return at UFC 40 in November 2002 to challenge Ortiz for the UFC light heavyweight title. In what was arguably one of the pivotal moments in UFC history, Ortiz dominated the former UFC Superfight champion in significant strikes 74-12, and takedowns 3-0. The fight was stopped in the third round by Shamrock's corner, and Ortiz retained his title. Shamrock would be inducted into the UFC Hall of Fame the following year, but his career was not over. The two crossed paths again in 2006, not as opponents in the cage, but rather coaches on Season 3 of "The Ultimate Fighter." Verbal spats arose and the two men again faced off at UFC 61 in July 2006. Shamrock started strong, but Ortiz secured a takedown and landed elbows in the guard. Referee
Herb Dean
controversially stopped the fight at the 1:18 mark, giving Ortiz his second victory over Shamrock. The third fight was in October 2006 at UFC Fight Night: The Final Chapter. Ortiz landed a takedown 40 seconds into the fight and finished Shamrock with strikes 2:23 into the fight. Ortiz would be involved in one more trilogy during his UFC career, losing the final two bouts of his trilogy with
Forrest Griffin
. The third fight ended his UFC career on the same weekend he became the eighth fighter inducted into the UFC Hall of Fame.
Velasquez and dos Santos will fight for the third time this Saturday to finish the 11th trilogy in UFC history. Will this be the last? Unlikely. Here are some potential UFC trilogies for each division you may see in the coming years.
Heavyweight: Frank Mir versus Antonio Rodrigo Nogueira (2 fights):
Mir needs to beat
Alistair Overeem
or he might face a release after fighting in the UFC since 2001. Nogueira is at the tail end of his career and Mir was the first man to make "Big Nog" submit in his MMA career.
Light heavyweight: Lyoto Machida versus Mauricio Rua (2 fights):
This would require one fighter to move weight classes, most likely Machida back to 205. They split the first two over the title and a third battle could certainly go either way.
Middleweight: Anderson Silva versus Chris Weidman (1 fight, 1 upcoming):
If Weidman wins at UFC 168, there won't be a third fight. But if "The Spider" is victorious, you'd have to think either Weidman gets an immediate rematch or can work his way back to the title before Silva's contract runs out.
Welterweight: Carlos Condit versus Martin Kampmann (2 fights):
While Condit certainly looked sharp against "The Hitman" in earning a TKO victory, Kampmann will always be lurking in the welterweight picture. He'd have to pull off two or three wins in a row somewhere along the line if he's to face "The Natural Born Killer" again.
Lightweight: Nate Diaz versus Gray Maynard (1 fight, 1 upcoming):
Matt Wiman
and
Mac Danzig
have fought twice, but Wiman won both, which essentially puts that out. Technically this will be the third fight of Diaz versus Maynard (they fought on TUF 5), but officially two on their fight records. Still, a Diaz win at the TUF 18 finale could make a third official fight very interesting.
Featherweight: Cub Swanson versus Dustin Poirier (1 fight):
The odds gets a little longer starting at 145 because of the recent UFC addition, but these two should be in the division for a while. Swanson is currently ranked sixth and defeated eighth-ranked Poirier by unanimous decision in February.
Bantamweight: Michael McDonald versus Sergio Pettis (0 fights):
With
Jose Aldo
probably moving to lightweight and
Renan Barao
to featherweight, bantamweight trilogies look bleak. Michael McDonald is 22 and Sergio Pettis is 20 ,so with success, they'll be around a while. The question is if the younger Pettis' future is at 135 pounds or 125.
Flyweight: Demetrious Johnson versus Joseph Benavidez (1 fight, 1 upcoming):
By year's end, these men will have fought twice. If Benavidez wins the rematch at the TUF 18 finale, expect these two to finish the rivalry in mid to late 2014.
Women's bantamweight: Ronda Rousey versus Sara McMann (0 fights):
Rousey-Tate would be the obvious choice because they will have fought twice by year's end, but Tate has to win at UFC 168. Many see McMann's wrestling as the key to beating Rousey. Whoever beats the No. 1-ranked women's fighter certainly would have to face "Rowdy" Ronda again.
October, 15, 2013
10/15/13
12:55
PM ET

By Brett Okamoto
ESPN.com
Archive
In the week leading up to Jon Jones' sixth UFC title defense last month, how many of you would have traded in
Alexander Gustafsson
for
Daniel Cormier
?
Fifty percent? Higher than that. Sixty percent? Seventy?
Despite being told about 7,849 times how tall and long-armed Gustafsson was, few predicted he would give Jones all he could handle through five rounds in Toronto. If you did predict it, a sincere congratulations. And safe flight back to Sweden.
[+] Enlarge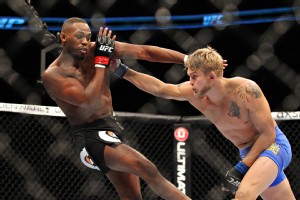 Ed Mulholland for ESPNDaniel Cormier wasn't exactly blown away by Jon Jones' performance at UFC 165.
Cormier, though -- he's an unflattering 0-0 at 205 pounds, but many had pegged the undefeated heavyweight as the most intriguing challenge to Jones' title reign.
At least, up until that Gustafsson performance. As much as Cormier enjoyed watching UFC 165 as a fan, the light heavyweight contender inside him knew what the close fight meant: He is most likely no longer the most attractive Jones opponent.
"You know what, man, after the way Gustafsson fought him, I think the interest has gone down a little bit," Cormier said, on a potential title fight against Jones.
"I think it's all a matter of who can challenge Jon. When a guy looks so dominant, people look for a guy who can challenge him. I was that guy. Now Gustafsson is that guy."
Nevertheless, Cormier (12-0) is headed to Jones' light-heavyweight world regardless of what happens in his next fight, a heavyweight tilt against
Roy Nelson
at UFC 166 this weekend.
As popular as Cormier has become, and in such meteoric fashion, he doesn't fit the description of a fighter who needs a dominant performance, but that's kind of the case here, considering Cormier's title aspirations.
Fact is, he's not a shoe-in to just immediately face Jones at light heavyweight anymore. On top of that, his UFC debut against
Frank Mir
earlier this year was, although one-sided, a little disappointing to Cormier and his fans.
"I could use an impressive fight," Cormier said. "For me, it would be great to go out and have the type of performance I expect out of myself.
"If I have the type of performance I hope to have next week, I'm going to get up there and ask for (a title shot) again. I'm going to continue knocking on that door and hopefully someone answers it. If not, I'm going to ask for a real important fight in the 205-pound division."
As a 5-to-1 favorite, Cormier is widely expected to get a win over Nelson (19-8) -- but making a huge statement against him becomes more difficult.
It's hard to say whose highlight DVD would sell better: Nelson's right hand's or his chin's.
He's only been knocked out once (and never in the UFC), a crazy feat considering the following: In Nelson's last fight,
Stipe Miocic
landed 106 strikes on him. The year before that,
Fabricio Werdum
tagged him 91 times. Prior to that,
Junior dos Santos
hit this man an astounding 130 times.
Cormier says he's mentally prepared to deal with an opponent who refuses to go down, but he also says a good chin is like a carton of milk. It eventually goes bad.
"Every person, every tough guy you've ever seen fight, whether it's in boxing or martial arts who is known for having a great chin -- there's an expiration date on that," Cormier said.
"There's a number these guys can take. What if the last one from Stipe Miocic was the one that was one too many? Maybe the expiration date on Roy's chin was up in Canada [Miocic fight]. Maybe mine are the ones he can't take."
October, 15, 2013
10/15/13
5:44
AM ET
By Andrew R. Davis
ESPN Stats & Information
Archive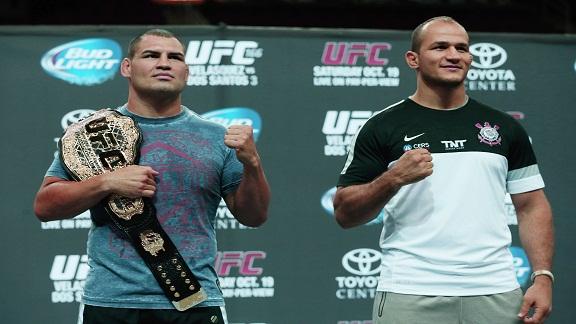 UFC heavyweight champion
Cain Velasquez
will face No. 1 contender
Junior dos Santos
on Saturday for the third time in the past two years. The fighters have split the first two matchups.
In the co-main event, third-ranked
Daniel Cormier
fights at heavyweight for possibly the final time when he takes on
Roy Nelson
.
Here are the numbers you need to know for the fights:
8:
Velasquez has eight UFC victories by KO/TKO, most by any heavyweight in company history. The 8 KO/TKO wins are tied for fifth all-time. Tied for second on the heavyweight list is dos Santos with seven.
[+] Enlarge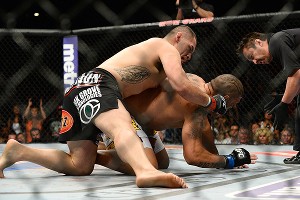 Al Powers for ESPNIn his last bout, Cain Velasquez made short work of a hapless Antonio Silva to notch stoppage No. 8 -- the most in UFC heavyweight history.
57:
Velasquez lands 57 percent of his significant strikes, seventh highest all-time and tops among active heavyweights. In his victory over dos Santos, Velasquez landed 50 percent of his significant strikes (111 of 224). "Cigano" landed 49 percent of his significant strikes.
11:
In their last fight, Velasquez secured 11 takedowns on dos Santos, a career high for the former All-American from Arizona State. Before that fight, opponents had taken down dos Santos twice in 17 attempts (88 percent defense). Velasquez lands an average of 6.5 takedowns per 15 minutes.
5:
Both fighters land over 5 significant strikes per minute in UFC fights. Velasquez is first with 6.50 significant strikes per minute while dos Santos is 7th at 5.46 significant strikes per minute. They are 1st and 3rd respectively in the UFC heavyweight division all-time (
Stipe Miocic
5.48).
3:
There have been three title fights in UFC history to take place in Houston. Champions
Frankie Edgar
and
Jose Aldo
retained their titles at UFC 136. The biggest upset in UFC history also occurred in Houston as
Matt Serra
defeated
Georges St-Pierre
for the welterweight title at UFC 69.
4:
Of the 15 men who have held a version of the UFC heavyweight title, four have defended the title two consecutive times.
Randy Couture
defeated
Pedro Rizzo
twice in 2001.
Andrei Arlovski
defended an interim title against
Justin Eilers
and then the undisputed title against
Paul Buentello
in 2005.
Tim Sylvia
defeated Arlovski for the title, and then defended against him and
Jeff Monson
in 2006.
Brock Lesnar
defended his undisputed title against interim champions
Frank Mir
in 2009 and
Shane Carwin
in 2010.
10:
Velasquez vs. dos Santos III will be the 10th trilogy in UFC history. Of the previous 9 to be completed, only one has taken place within the UFC heavyweight division (Sylvia vs Arlovski). As Velasquez did against dos Santos, Sylvia lost the first fight and his interim title at UFC 51, but then won it back at UFC 59 in the second matchup. In the final installment less than three months later, Sylvia was victorious again at UFC 61.
26:
Cormier has landed an average of 26 more significant strikes in each of his nine UFC/Strikeforce fights over his career. In his last fight, he outlanded Frank Mir 59-24 en route to a unanimous decision victory. Cormier has never been outstruck in any of those nine fights. Nelson was outstruck in his last fight by Stipe Miocic 106-23.
4:
Knockout of the Night awards for Nelson, tied for second most all-time and 1st among heavyweights. All four of those victories were in the first round as well as nine of his 12 career KO/TKO wins. Cormier has five victories by KO/TKO, three of which occurred in the first round.