November, 15, 2013
11/15/13
10:14
PM ET
More than likely,
Johny Hendricks
is going to need a lot more than just his left hand to beat
Georges St-Pierre
on Saturday at
UFC 167
in Las Vegas.
Hendricks will need confidence, patience, discipline, intelligence, offensive and defensive grappling, stamina, feints, level changes, head movement, footwork and, maybe, some luck for good measure. A little luck never hurt anybody in a UFC title fight.
That left hand, though -- the reason you hear so much about it is because even though Hendricks (15-1) must take every tool he has into the Octagon against St-Pierre, at any moment that one left hand might be all it takes.
What is it about that left hand that makes it so dangerous and gives us reason to believe Hendricks could become just the third man to ever defeat St-Pierre (24-2), and first since 2007?
ESPN.com asked that question of Hendricks, as well as St-Pierre and five previous Hendricks opponents with firsthand knowledge of that stinging left.
Hendricks:
"Realistically, [the power] comes from my legs and my butt. I walk around at 225. I have big legs and a big butt. That's where all the power comes from. And, you know, wrestling -- always being in that stance and ready to explode."
Handling Hendricks' power
T.J. Grant
(lost to Hendricks via majority decision at UFC 113 in May 2010): "The thing is, he doesn't have to try to throw for power -- he just has it. He has always got his legs involved in every punch, too. That's when you murder guys, when you have your feet and hips involved in every punch. That's why Johny has so much power is all his life in wrestling. When he throws that big Popeye forearm at your head, you're going to go down."
St-Pierre:
"His left is his signature move but he works on many things. He's a very complete fighter. He's probably one of the best in the division in knockout power and the reason why is he's so good you don't see it coming. The way he throws it, I believe you don't see it coming."
Martin Kampmann
(lost to Hendricks via knockout at UFC 154 in November 2012): "I think the problem was I was preparing too much for the left hook and then he came straight with one. The one he got
[Jon] Fitch
with, he was throwing it wide, wide. With me, he came straight down the middle."
Rick Story
(defeated Hendricks via unanimous decision at TUF 12 Finale in December 2010): "During the fight, when he was punching me, I thought, 'Eh, this is nothing I haven't felt before.' He's placing them. His punching power isn't seriously superior. To be able to place them you have to throw them and some people hesitate. He has got confidence in it now so he's throwing a lot more."
Josh Koscheck
(lost to Hendricks via split decision at UFC on Fox in May 2012): "For me, it was no big deal. I like fighting southpaws. I prefer it. They are better for my style. When he throws the left, I throw the right. I think he has definitely got power in his hands because he has knocked out a lot of guys and the ones he hasn't have felt it because they've been knocked down, but for me it was no big deal."
Mike Pierce
(lost to Hendricks via split decision at UFC 133 in August 2011): "It wasn't his straight left hand that caught me off guard. His left uppercut is kind of funky and then his coach [Marc Laimon] yelling, 'Cheeseburger, cheeseburger!' code names for combinations. He hits pretty hard but not the hardest. I got thumped pretty hard by
Aaron Simpson
, that was probably the hardest I've ever been hit."
Making adjustments
[+] Enlarge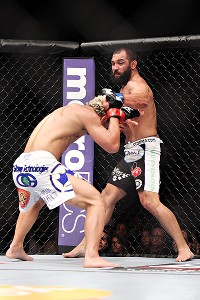 AP Photo/Gregory PayanJosh Koscheck withstood Johny Hendricks' power, but was unable to win a decision in their 2012 bout.
Story:
"The main concern going into the fight was he knew he was heavy-handed, but the thing is, with all his previous fights, he was always pushing forward. My coach, Pat White, told me, 'If you get him going backward, he's not going to have any power on his punches.' That was my biggest focus."
Koscheck:
"The game plan for Johny was to mix it up on the feet. You can hear [trainer] Bob Cook in the corner, it's crazy, he's always saying, 'Get off first! Be first!' That was pretty much our game plan -- get off first, get on him. With Hendricks, it's much easier to get off first and then get away from the big left hand."
Grant:
"He has got timing. He puts his whole body behind his punches. He is accurate but a lot of times he also level changes with his head and hips and that kind of brings the guys' hands down. He 100 percent commits. He's a confident fighter. When you're confident, you don't hesitate and those milliseconds of hesitation are the difference between knocking a guy out or taking him down."
Story:
"What's important for Georges is to stay out of Johny's range. What's important for Johny is to get into Georges' range. He's going to have to mix it up and get pretty creative. Georges has been doing this a long time."
Hendricks:
"Whenever you're wrestling in college, you've got to do all these setups and your reaction from [outside of an opponent to inside] has to penetrate through all these distractions and get to the legs very quickly and explosively. That's what has really helped me out [in fighting]. They try to keep me at bay because I'm so short, but I use that explosiveness to close the distance."
Predictions
Kampmann:
"If Johny catches him on the button he'll hurt him, but St-Pierre is going to fight him smart. He's going to try to jab him from the outside the whole fight. Johny is good at closing the distance but he's going to get jabbed the whole fight. If Johny commits hard, that's how I think St-Pierre will take him down. Even though Johny is the better wrestler, I think St-Pierre can still take him down. That's how I think St-Pierre is going to fight him, but sometimes s--- don't go to plan."
Koscheck:
"Johny Hendricks is a tough young fighter and I wish him the best but I think St-Pierre will outpoint him. Georges is smart. He's a game planner. He'll jab, use his wrestling at times, keep Johny at a distance and get off first. Georges is a lot faster than Johny. He'll end up winning a decision."
Pierce:
"I'm definitely going for Johny Hendricks. I want to see him knock Georges St-Pierre out. In his past several fights Johny has really excelled at catching guys. St-Pierre has shown in the past he doesn't have the best chin in the world. We all saw him fall to
Matt Serra
and I think Hendricks has all the capabilities to do the same sort of thing and even more so."
Grant:
"You can never count Georges out of any fight, but I think this is probably the most dangerous fighter he has fought just because Johny has that great wrestling pedigree. Unlike Koscheck, I feel like he's really good at making the knockout happen, whereas Koscheck wings a lot of right hands and if it doesn't land, he doesn't always have the second and third option -- I think Johny does. I give the advantage to Johny, personally."
Hendricks:
"Whenever you get a guy that walks in at 190 to 195 pounds -- that's usually what I walk into the Octagon at -- and you get that moving pretty quick, he can throw a 50 percent punch and lay somebody out. It's about accuracy. You touch that jawline and anybody is going night-night."
November, 15, 2013
11/15/13
10:06
AM ET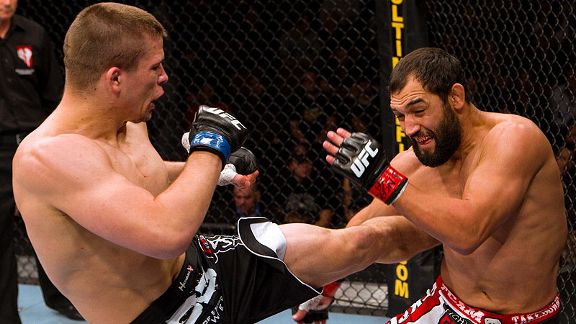 Josh Hedges/Zuffa LLC/Getty ImagesRick Story's experience having defeated Johny Hendricks drew the attention of Georges St-Pierre.
UFC welterweight
Rick Story
has spent the past eight weeks of his life living out of a suitcase in a hotel located in the west end of Montreal.
If that sounds unpleasant, it's probably because it most likely is. The best thing Story could think of when it comes to staying in a hotel for that long?
"It's kind of nice," he mumbled unconvincingly. "All the accommodations are here as far as toilet paper and shampoo -- and stuff."
Got it. And at the top of the many general reasons one might want to avoid this situation, Story doesn't speak French. Meaning, a large fraction of the French Canadian television channels available in his room are completely worthless to him.
"I've been killing time watching Netflix," Story said. "I've been watching a lot of Netflix."
Pause. "A
lot
of Netflix."
In addition to streaming online movies, Story spent his time in Montreal developing his craft at Tristar Gym alongside UFC champion
Georges St-Pierre
. It's the first time Story (15-7), who meets
Brian Ebersole
at
UFC 167
on Saturday in Las Vegas, has held a fight camp outside his home state of Washington.
The idea of Story temporarily joining the Tristar team was first broached in March, in a locker room the two fighters shared at UFC 158 at Bell Centre.
St-Pierre was headlining the card in a welterweight title fight against
Nick Diaz
. In the co-main event,
Johny Hendricks
was set to take on
Carlos Condit
. Everyone in the building knew if St-Pierre and Hendricks won, they'd fight each other next.
And as fate would have it, there was Story -- the only man with a win over Hendricks -- scheduled to fight
Quinn Mulhern
on the preliminary card, sharing a locker room with the Canadian champ.
"[Tristar coach] Firas Zahabi was very persistent in getting us to come," Story said. "Pat White is my coach and he and Pat talked that night in Montreal.
"Originally, we thought it would be better if Johny beat Georges, because I'm the only one to ever beat him so it would make it easier to get a title shot sooner. Firas was so persistent, though. He kept emailing Pat, calling Pat, calling the gym."
Eventually, the deal Tristar offered was too good to pass up. In addition to the benefit of high-level sparring partners including St-Pierre, Zahabi worked a deal that covered the cost of Story's entire eight-week stay.
"I don't know exactly how the deal was worked out, but we had our hotel paid," Story said. "Pat and I have separate rooms, he's been here with me the whole time. Our food is paid for. It was like, a great deal."
As much as St-Pierre obviously wanted Story in his camp, the timing of this experience probably couldn't be better for Story as well.
That signature win over Hendricks in December 2010 is a fairly distant memory. A six-fight winning streak had him cracking top-10 lists in early 2011, but Story has endured a 2-4 skid in his past six fights. He suffered a split-decision loss to
Mike Pyle
in his previous performance at UFC 160 in May.
Physically, Story says, he has been fine during this stretch. It's been a mental issue. Every fighter handles a loss differently. In Story's case, for whatever reason, it was difficult to get going again once the winning streak was broken.
"I don't want this to sound the wrong way, but you walk the walk for a long time, you get knocked off course and then it's kind of hard to get back on the horse," Story said.
"I lost to
[Charlie] Brenneman
and then there were some fights that I wasn't completely focused on. I wasn't doing the things I needed to be doing to go into the fight with confidence. It was really cool being able to come here and do that for this training camp, with no distractions. My confidence is through the roof right now."
Confidence, a few new techniques, and all of the free travel-size shampoo bottles he can handle -- maybe Montreal wasn't so bad to Story after all.
November, 14, 2013
11/14/13
7:28
AM ET
By Andrew R. Davis
ESPN Stats & Information
Archive
Georges St-Pierre
makes the ninth defense of his UFC welterweight championship Saturday at Mandalay Bay in Las Vegas.
St-Pierre will face No. 1 contender
Johny Hendricks
, who seeks to join
Matt Hughes
and
Matt Serra
as the only men to defeat GSP.
Here are the numbers you need to know for the fight:
18:
St-Pierre has won 18 of his 20 UFC bouts and if he defeats Hendricks, GSP will break a tie with UFC Hall of Famer Matt Hughes for most wins in the UFC.
11:
St-Pierre is currently riding an 11-fight win streak, suffering his last loss at UFC 69 in April 2007 to Serra. Eight of those victories have come by unanimous decision, including St-Pierre's past six wins. Hendricks is on a six-fight win streak, suffering his last loss at "The Ultimate Fighter 12" finale in December 2010 to
Rick Story
.
5:
Hendricks has five UFC victories by KO/TKO in 11 fights, tied for fourth most in UFC welterweight history. Before making his UFC debut, Hendricks had three KO/TKO wins in five fights. St-Pierre also has five UFC wins by KO/TKO, but none since UFC 94 in January 2009 against
BJ Penn
.
75:
St-Pierre has landed 75 percent of his takedowns in the UFC, highest all time. Hendricks has been taken down seven times in his UFC career in 23 attempts (70 percent defense).
12:
Hendricks landed 12 takedowns in 15 attempts against
Carlos Condit
in his last fight at UFC 158. "Bigg Rigg" lands an average of 5.5 takedowns per 15 minutes. St-Pierre has an 88 percent takedown defense, ranking first in the welterweight division and seventh all time.
40:
If the fight lasts more than 40 seconds, St-Pierre (5 hours, 3 minutes, 12 seconds) will have more total fight time in the UFC than any other fighter, passing Penn (5 hours, 3 minutes, 51 seconds).
3:
Since the start of 2011, Hendricks has won three knockouts of the night bonuses, second most in the UFC with
Travis Browne
. Hendricks also has a fight of the night bonus for his fight with Condit. St-Pierre has just one knockout of the night bonus for his victory over Hughes at UFC 65.
3:
Hendricks will be only the third southpaw St-Pierre has faced in 20 UFC fights. At UFC 54 in 2005, St. Pierre faced
Frank Trigg
and defeated him by rear-naked choke in the first round. In his last fight at UFC 158, St-Pierre dominated
Nick Diaz
for five rounds en route to a unanimous decision.
10:
UFC wins for St-Pierre in Las Vegas (10-0), but he hasn't fought there since UFC 100 in July 2009. The past five wins for GSP have been outside of Las Vegas (four in Canada, one in New Jersey). Hendricks has a 1-1 UFC record in Las Vegas.
Statistical support from FightMetric
November, 14, 2013
11/14/13
6:41
AM ET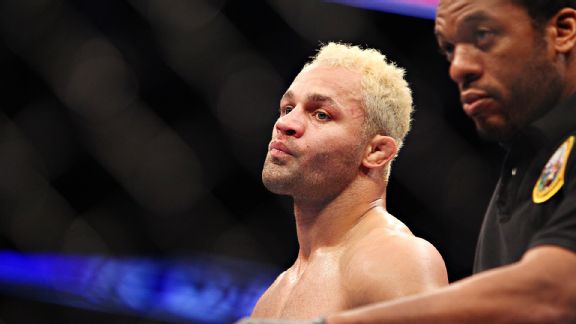 Ed Mulholland for ESPNAt 35, Josh Koscheck says he has a lot of fights left entering Saturday's bout with Tyron Woodley.
Red flags, fair or not, surround
Josh Koscheck
entering Saturday's
UFC 167
card.
He's 35. Plenty of athletes fight past 35, but let's face it: This is, for the most part, a young man's sport. The average age of the current UFC champions, which is presumably something Koscheck still aspires to be, is 28.
Koscheck has lost his last two fights. If you get into how he lost and whom he lost to, it's not the end of the world, but (again) let's face it: Often in this sport, details don't matter. If you're 0-2 in your last two fights, than you're 0-2 in your last two fights.
He withdrew from fights due to health reasons in 2012 and '13. He has already had two shots at the UFC welterweight title. His fight purses are relatively high, while expectations for his performances are potentially on the decline.
When you have all that going on, people are going to talk. In a recent Twitter post of Koscheck innocently holding a bass he had just caught while fishing, some fan responses basically amounted to, "Retire. You're no good anymore."
As Koscheck (17-7) prepares for his 23rd UFC appearance against
Tyron Woodley
on Saturday, which will move him into a tie with
Chuck Liddell
for the fourth-most UFC appearances in history, he discussed where he's at in his career.
When you get to Las Vegas, you'll be asked about two-fight losing streaks, motivation and possibly retirement -- are you prepared for those questions? Are they fair?
I'm sure they are fair questions. You've got to look at it though, my one loss was to
Johny Hendricks
, a questionable loss, and he's fighting for the title. Then I made a mistake and paid the price. With
Robbie Lawler
, you can't make mistakes. Those are all, I guess what you would call, the right questions to ask a guy like me at 35, but I believe I'm in my prime. I believe I have a lot of fights left and I'm not concerned with what anyone says because I know I've put the work in for this fight.
This is your 23rd official fight, in the UFC. You've been through training camps, media obligations and fight weeks. What stands out to you about this one? What's on your mind heading into this fight?
Everything is the same for me, although I finally got my camp settled down in Fresno. That took some time to get adjusted. Getting training partners and coaches -- that type of thing took some time. Johny [Hendricks] was my first fight away from AKA. Realistically, I didn't have one single training partner. It was just me in the gym. I had like
Bob Cook
and my manager with me once a week. I'm not making excuses because I was in shape for that fight, but I think I jumped the gun and took that fight too early.
[+] Enlarge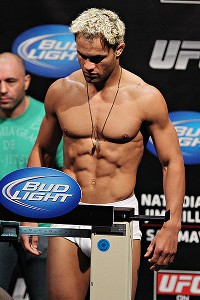 Ed Mulholland for ESPN.comDespite a two-fight losing skid, Josh Koscheck believes he is in his prime as a fighter.
Being in shape has never been an issue for you throughout your career, even in tough fights where there was seemingly little to gain. Why has that always come naturally to you?
I've always been a guy who is never afraid from working hard. My whole life, from the days of working with my grandfather in the hay fields to cutting firewood when I was 4 years old, rolling logs and helping stack. I'm a professional and I have to prepare like a professional. I believe I'm one of the hardest workers in the UFC. That's part of my pride, to know I've worked my ass off to get here and enjoy this.
Even if you're not planning on retiring soon, does it cross your mind? Do you think about how you want to leave this sport?
Absolutely. Every fighter out there thinks about stuff like that. If they say they don't, they're full of s---. It's part of our game. I don't know how many fights I have left. It could be one or two, it could be 10. As of right now, I'm focused on one fight and that is to whoop Tyron's ass.
Win or lose, do you feel comfortable with your standing with the UFC?
I feel I have a good relationship with the UFC. I've been around a long time. At some point, it all comes to an end for everybody in this sport. I've been blessed in that I have a lot of businesses outside of the UFC. I'm not concerned about losing a job. But right now, that's why I train so hard and dedicate myself -- to potentially put a stop to that. I control my own destiny.
You've had to pull out of fights now in back-to-back years. Was that just bad luck or are the miles of a long fight career starting to add up on your body?
It's not the fighting that's the hard part. I could get in a fight every day and be fine. It's the training. I'm never going to retire from fighting. I'm going to retire from training. I had a bulging disk in my lower back [last year] and then a broken right hand when I was supposed to fight
Demian Maia
. I trained on it. I tried to push it. I had injections on it to eliminate pain but I had to pull out. Every time I threw my right hand it hurt. Everything is healthy right now and I'm blessed to be as healthy as I am right now.