January, 31, 2014
1/31/14
10:23
AM ET
By Joe Kilduff
ESPN Stats & Information
Archive
UFC interim bantamweight champion
Renan Barao
became the undisputed champion when
Dominick Cruz
vacated the title due to injury. Barao must now defend the title against the man he beat to win the interim title at UFC 149,
Urijah Faber
. Faber has won four in a row since the unanimous decision loss to Barao and will be making his third attempt to claim a UFC title. In the co-main event, UFC featherweight champion
Jose Aldo
will defend the title against
Ricardo Lamas
, who is undefeated in four UFC fights.
Here are the numbers you need to know for the fights:
85:
Number of significant strikes landed by Barao in his previous fight with Faber. Although Faber landed a higher percentage of significant strikes attempted (34 percent) than Barao (29 percent), Barao was the more active fighter as he attempted 290 significant strikes to Faber's 178.
0:
Number of times Barao has been taken down by his opponents in all six of his UFC fights. In Barao's previous fight with Faber, he was able to defend all six of Faber's take down attempts. In all 20 of Faber's UFC and WEC fights he has been successful on 36 percent of his takedown attempts.
4:
Barao and Faber are both 4-0 against their common opponents
Cole Escovedo
,
Scott Jorgensen
,
Michael McDonald
and
Eddie Wineland
.
2:
Number of times Faber has lost by KO/TKO. Neither Faber nor Barão has been prone to being finished as Barao's only loss came by decision and Faber has not been stopped since 2008 by
Mike Brown
at WEC 36.
31:
Barao's winning streak since losing his professional debut in 2005. His 31 wins include 14 by submission, seven by KO/TKO and 10 by decision.
19 minutes, 24 seconds:
The average fight time for Aldo in his UFC fights. At almost 19 and a half minutes per fight Aldo's average fight time is the longest in UFC history among fighters with at least five fights in the promotion. While Aldo has a tendency for long fights, Lamas has only been past the second round once in his four UFC fights.
90:
Percentage of takedowns defended by Aldo in all five of his UFC fights. Among fighters with a minimum of five UFC fights and at least 20 takedown attempts by opponents, his 90 percent takedown defense is the best in the featherweight division and fourth best in UFC history. In all 10 of his UFC and WEC fights, Lamas has been successful on 38 percent of his takedown attempts.
72:
Percentage of significant strikes defended by Aldo in his UFC fights. Among fighters with a minimum of five UFC fights and at least 350 strikes attempted by opponents his 72 percent significant strike defense is the second best in the featherweight division (
Chad Mendes
, 77 percent) and sixth best in UFC history.
1:
Aldo and Lamas have both fought 1 common opponent,
Cub Swanson
. In 2009, under the WEC banner, Aldo defeated Swanson by TKO with a flying knee just eight seconds into the first round. Lamas submitted Swanson with an arm-triangle choke in the second round at UFC on FOX 1 in 2011.
Statistical support from FightMetric
December, 29, 2013
12/29/13
8:04
AM ET
Ronda Rousey
defended her UFC women's bantamweight title on Saturday and again reminded the MMA world of her Olympic pedigree.
With multiple judo throws and hip tosses, Rousey defeated a game
Miesha Tate
at UFC 168: Weidman-Silva II at the MGM Grand Garden Arena in Las Vegas. The win earned Rousey Fight of the Night and Submission of the Night bonuses, totaling $150,000.
In the postfight news conference, UFC president Dana White announced Rousey (8-0) will face
Sara McMann
(7-0) at UFC 170 on Feb. 22.
[+] Enlarge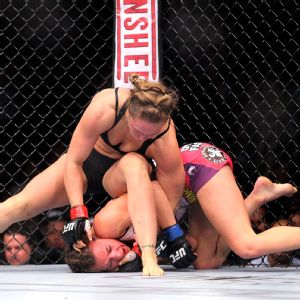 Ed Mulholland for ESPNMiesha Tate found herself in dire straits on the occasions she went to the ground with Ronda Rousey.
While Rousey once again won with her patented arm bar, it was the ease with which she took down Tate that was on display.
Tate started off aggressively, trading strikes with Rousey to keep the fight standing. But inevitably, Rousey pushed toward the clinch, tying up Tate, who took down Rousey at 3:26 of the first round.
But even after getting the takedown, Tate ended up on defense more than offense, as Rousey's jiu-jitsu was markedly improved. She attributed this improvement to training with jiu-jitsu gurus Rener and Ryron Gracie during her last two fight camps.
Tate also seemed a much improved striker, landing 48 percent of her strikes, up from the 41 percent she averaged while competing in Strikeforce. However, Tate's wrestling instincts kept her going to the ground with Rousey, and Rousey kept hip tossing Tate to the mat.
In the end, Rousey was able to sink in the arm bar for the win in the third round.
"I have no excuses," Tate said. "[Rousey] was the better fighter tonight."
Rousey said her problem has been trying not to rush her attacks and approach. However, entering Saturday's bout Rousey had defeated all of her opponents so handily, she's never had to slow herself down. Against Tate she needed to regroup and remind herself to take her foot off the gas.
"Judo matches are just five minutes long. So I always felt like I had to get it done in a hurry," Rousey said. "In the third round, I learned to be patient. My coaches always say to pay attention to what you're doing and do everything for a reason."
WHAT'S NEXT?
UFC fans know what's next for Rousey, but what about Tate?
Now 0-2 in the UFC and a loser in three of her last four fights, Tate has lost twice to Rousey, who originally took the Strikeforce bantamweight championship from Tate in 2012. Thus, the odds are long that she'll receive a third shot at Rousey anytime soon. With just two women's divisions in the UFC, Tate really has nowhere to go.
"I don't really know what's next. Every day people try to climb up a hill. I see Mount Everest," Tate said. "But I try to walk away from this with my head held high. I just need some time to figure it out."
Rousey, on the other hand, relished the opportunity to fight so quickly again.
"Dana approached me about this and I wanted to do it," Rousey said. "I'm in the best shape of my life. I don't want to sit on the shelf. It's the perfect time to go back-to-back. I feel like I could fight again tonight."
As for the feud with Tate, Rousey's victory should have ensured the end of any sort of "rivalry" talk, for a rivalry isn't a rivalry when it's so one-sided. Further, Rousey seemed to soften her stance on Tate and offered compliments in her postfight interviews.
"I need to commend Miesha. She did a great job tonight. She's an amazing fighter. She really is," Rousey said.
However, when Tate extended her hand in a gesture of sportsmanship after losing to Rousey, she refused to shake Tate's hand.
"Once you insult my family, I can't shake your hand," said Rousey, referring to some of the practical jokes Tate played on Rousey's coaching staff during filming of Season 18 of "The Ultimate Fighter." "But I really respect her, and I think she did an amazing job tonight.
"For me, family comes before anything, even the boos and cheers of the crowd. I think it would disrespect my family if I shook her hand. I said she did an amazing job. But I can't shake the hand of someone who spits on my back. Until she apologizes to my family, I won't shake her hand."
Rousey might have been the overwhelming favorite coming into the fight, but the crowd made it very clear who was their favorite, as cheers came for Tate, but boos muffled Rousey's postfight interview. Ultimately, TUF 18 might have represented a sea change in Rousey's brand and role as an antihero champion. Regardless, there's no question it helped sell the fight.
"I was aware of the role I was in," Rousey said. "The best analogy I can give is it was like how Batman knew he had to look like the bad guy and allow Two-Face to be the good guy because that what was needed at the time."
And she'll take boos, which she says might help her as she begins training for McMann. Her Olympic pedigree has helped her cope with that part of the business as well.
"When I was doing judo, I got booed in 30 different countries around the world," Rousey said. "Cheering is something new for me. I'm much more motivated by proving people wrong."
December, 28, 2013
12/28/13
5:12
PM ET

By Brett Okamoto
ESPN.com
Archive
Chris Weidman
might have said it best, moments after knocking out
Anderson Silva
for the UFC middleweight title in July: No one is invincible.
If 2013 reminded us of one thing, it's that no one is untouchable in mixed martial arts. Not every UFC belt changed hands, but dominant champs such as
Georges St-Pierre
,
Jon Jones
and
Ronda Rousey
each danced with defeat at some point this year.
Silva had lost before Weidman knocked him unconscious, but not since 2006 and never in the UFC. We all tend to agree with the general idea that no fighter is "perfect," but Silva has been, in the eyes of many, the closest thing to it.
His loss, to an undefeated fighter no less, highlights an interesting question: What is perfect relative to MMA? Will we ever see a fighter pitch a career shutout -- an undefeated record at the highest level? Is it even possible?
In the minds of those who still have a shot at retiring undefeated, it's quite possible.
"Absolutely," said light heavyweight champion Jon Jones, when asked whether the UFC will ever see one of its champions retire undefeated. "If I were to retire right now, I would consider myself undefeated, so it's totally doable.
"I've felt [unbeatable] a lot of times throughout my career, watching my old fights and seeing the way I've dominated people. I've definitely felt invincible at times. I think it's important to feel that way, but still respect your opponent."
[+] Enlarge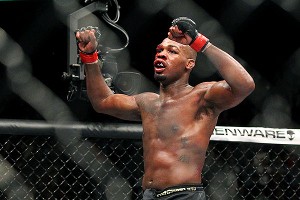 Ed Mulholland for ESPNDespite one loss (via disqualification), Jon Jones feels as though he can walk away from the sport as an "undefeated" fighter.
There are currently (and this number might surprise you) 32 fighters on the UFC roster who have yet to lose as a professional. Of those 32, however, 23 have fought 10 times or fewer and are well outside of title contention. Jones is 19-1, the "1" thanks to a disqualification in 2009.
The competition level of the UFC will spoil undefeated records pretty quickly, says Weidman (10-0), who still believes that it's possible for a fighter to retire undefeated but that his or her final record would look nothing like that of boxer Floyd Mayweather Jr., who is 45-0.
"There are more ways to lose in MMA," Weidman said. "You have striking, wrestling; there's always a guy that's going to come around that might have something better than you.
"You could have a guy go [undefeated], but not with the numbers of a Mayweather. I don't know about that many fights. And in boxing, they start you off fighting 15 guys with losing records. In MMA, you get thrown in right away. I'm 10-0, and I'm already the champion."
The greatest challenge of remaining perfect, it seems, is finding a perfect balance in multiple aspects of the sport.
You have to feel invincible, but know you're vulnerable. You have to fear losing, but remain unaffected by the pressure of that fear. You have to win every training session, but hold back enough to not injure yourself in the process.
"When I'm about to fight, I am laser focused on my fear of failure," said Rousey, a former U.S. Olympian in judo and 7-0 in MMA. "That's why I try to raise the stakes in every fight, because I'm more likely to make a mistake when I feel it's not a big deal.
"The mental thing is really the hardest part. I think if they would line up 20 fights and I could have them happen in a week, it would be easier for me to do it than over the course of several years. It's the buildup to every fight that takes it out of you."
Of course, there is also the challenge of walking away from competition itself with a perfect record intact. This year, St-Pierre essentially became the first modern-era UFC champion to willingly vacate his belt -- and even
he
left the door open for a return.
Frank Shamrock
vacated the UFC middleweight title (now the light heavyweight title) when he retired in 1999. He had seven losses on his record before that decision. He returned after a brief absence and suffered three more defeats.
[+] Enlarge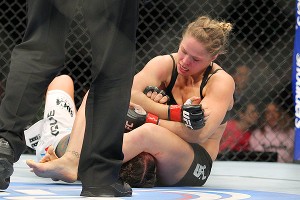 Ed Mulholland for ESPNRonda Rousey flirted with disaster before eventually submitting Liz Carmouche at UFC 157.
Bas Rutten
vacated the UFC heavyweight belt that same year and announced his retirement, although he would return for one pro fight seven years later. He finished his career with a record of 28-4-1.
Phillip Miller
retired from professional MMA in 2003 with a perfect 16-0 record, including two appearances in the UFC, but he never fought for a title.
Royce Gracie
was 11-0-1 when he left the UFC in 1995, but he returned to action five years later and eventually lost to
Matt Hughes
at UFC 60 in 2006.
Depending on what way you look at it, several have come close to sort of walking away from the highest level of MMA undefeated -- but it's a distinction no one can legitimately, inarguably claim thus far.
Frankly, odds seem very much against it. There are too many ways to lose in MMA.
Jones was disqualified for a rarely used rule in a fight he was dominating. Heavyweight
Travis Browne
suffered his first loss when he tore his hamstring muscle in a freak-accident type injury against
Antonio Silva
. Seemingly unstoppable
Cain Velasquez
lost his perfect record in a split second, thanks to a
Junior dos Santos
right hand.
In the words of Silva, speaking to ESPN.com, "A perfect fight doesn't exist. You can only dream about a perfect fight."
If a perfect fight doesn't exist, how reasonable is it to believe that a perfect record could? Well, there are those who do.
"My mom says there's never a history of anything happening until it does," Rousey said. "And then there it is."
December, 26, 2013
12/26/13
7:35
AM ET
By Andrew R. Davis
ESPN Stats & Information
Archive
On Saturday,
Ronda Rousey
and
Miesha Tate
will face off for the second time in their careers when Rousey defends her UFC women's bantamweight title against her biggest rival. The Rousey-Tate rivalry is by far the biggest one in women's MMA and could be the biggest in sports today.
In its simplest form, a rival is a person or thing that tries to defeat or be more successful than another. With Rousey, however, it goes beyond that.
Her dislike for Tate goes back to 2011, when the two began feuding in interviews and on social media. Tate claimed that Rousey was not deserving of a shot at Tate's Strikeforce women's bantamweight title, while Rousey argued that Tate's style was boring. In terms of drawing eyes to women's MMA, Tate-Rousey was the fight that needed to be made.
On March 3, 2012, the fight headlined a major MMA card for the first time since 2009. Rousey went right for her signature arm bar, but Tate escaped before gaining control with strikes. With less than a minute left in the round, Rousey secured another arm bar. This time, Tate refused to tap, resulting in a dislocated elbow before she succumbed to the hold at 4:27 of the first round. Rousey was the queen of women's MMA.
Their paths would not cross again until May 2013, when Tate replaced
Cat Zingano
as the opposing coach to Rousey's team on "The Ultimate Fighter." At that point, they renewed their rivalry.
As they prepare to rematch in the co-main event of UFC 168, both fighters have respect for the other's accomplishments in women's MMA but have made no changes to their personal dislike for each other. No matter the decision, the eyes of the world will be on women's MMA in the future, much like other female rivalries have changed the sports world among women.
In the 1970s, women's tennis was invigorated by a rivalry between Chris Evert and Martina Navratilova. Their first matchup took place in 1973, and the two proceeded to play 80 singles matches from 1973 to 1988. In almost one-fifth of their matchups (14 of 80), a Grand Slam championship was on the line. Evert dominated the early part of the rivalry, winning the French Open over Navratilova in 1975, and gaining semifinal victories in the 1975 US Open and Wimbledon in 1976. The two women would meet in the 1978 Wimbledon final, where Navratilova would finally triumph over Evert in a major championship.
[+] Enlarge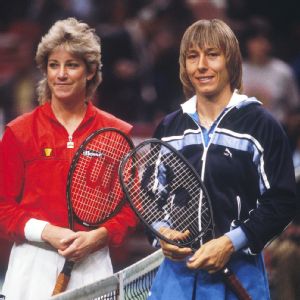 Focus on Sport/Getty ImagesDespite an intense rivalry, Chris Evert and Martina Navratilova were cordial and managed to maintain a friendship off the court.
As the rivalry moved into the 1980s, it was Navratilova's time to shine. She won 15 of her 18 singles titles in the 1980s and defeated Evert in the final to win eight. Evert would win three titles by defeating Navratilova in the final. Their last four Grand Slam matchups would take place in the semifinals, with Navratilova holding a 3-1 advantage.
In their 80 matchups, Navratilova held a 43-37 advantage and defeated Evert in 10 of 14 Grand Slam finals. Their rivalry on the court was not matched off it, though, as the two became very good friends over the years.
Two sports figures who were also the center of a great women's rivalry were UConn women's basketball coach Geno Auriemma and former Tennessee women's basketball coach Pat Summitt. While both were centerpieces of the rivalry, the game on the court contributed even more. The Huskies featured Rebecca Lobo, Diana Taurasi, Sue Bird and Swin Cash. The Lady Volunteers were led by Chamique Holdsclaw, Tamika Catchings, Kara Lawson and Candace Parker. The two teams were both perennial contenders for the national title from their first matchup in 1995 to the 22nd and final matchup in January 2007. In four of those games, the national championship was on the line, and UConn won all of them. During the heart of the rivalry, at least one of the teams made the NCAA Final Four in every season. The Huskies won five titles during that span, while the Lady Vols captured two national titles.
Although the teams have not played since 2007, the rivalry still is talked about as the greatest rivalry in women's team sports. It has also transcended other sports, as the two schools have agreed to meet in men's basketball and football since the dissolution of the women's basketball rivalry.
Another rivalry that gained not only the attention of their sport but also national attention was Tonya Harding and Nancy Kerrigan. The rivalry started in 1991, when both women began to place in major skating competitions in the United States and around the world.
In January 1994, the rivalry went to an entirely different level. Kerrigan was struck in the knee while training and had to drop out of the U.S. Figure Skating Championships that were held the next day. Harding would go on to win the gold medal and one of the three U.S. spots, but Kerrigan would also garner a deserved spot from the U.S. Figure Skating governing body. Days later, Harding and her ex-husband, Jeff Gillooly ,were under FBI investigation with other accomplices. Over the course of the next month before the 1994 Olympic Games, Harding continued to practice for the Games while under intense media scrutiny. Kerrigan got back on the ice and eventually to the Olympic Games in February along with Harding.
At the Olympics in Lillehammer, Norway, Harding had a disastrous short program when the shoelace on ones of her skates broke. She ultimately finished eighth overall. Kerrigan had a great short program and was the leader going into the long program before finishing second to Ukraine's Oksana Baiul.
In March 1994, Harding plea-bargained to avoid jail time, and in June, she was stripped of her U.S. title and given a lifetime ban from the U.S. Figure Skating Association. Because of the media attention and Kerrigan's triumphant return to the ice, figure skating saw a significant increase in fans and viewership during future Olympic competitions.
December, 26, 2013
12/26/13
7:15
AM ET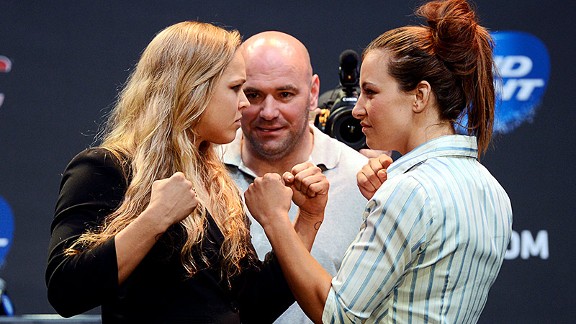 Jeff Bottari/Zuffa LLC/Getty ImagesDespite spending weeks under the same roof, Ronda Rousey still hasn't warmed to Miesha Tate.
Winning is so important to Ronda Rousey that she delayed Christmas.
Well, that might be stretching the truth. But Rousey
did
say she and her family will be celebrating Christmas on Jan. 2, 2014, with her Dec. 28 title bout against Miesha Tate so close to the holiday.
"We're sort of pretending it's not Christmas right now," Rousey told ESPN.com on Christmas Eve. "My nieces are all excited right now for it, but we're going to get this fight done and celebrate after."
The UFC women's bantamweight champion is no Scrooge; she's just laser-focused on the fight.
It's been a busy year for Rousey. She had almost as much going on outside of the Octagon (filming "Fast and Furious 7") as she has had in it. And all during the Season 18 of "The Ultimate Fighter," viewers witnessed a different side of Rousey -- one that was caustic, abrasive, confrontational and at times seemingly immature. She's taken showers of criticism and perhaps lost a few fans along the way. She was particularly dismissive of Tate, which subsequently defined very clearly who was wearing the black hat and who was wearing the white hat in Season 18, much to Rousey's chagrin.
She says what viewers saw was definitely not who she is at home.
"That whole show was out of context," she said. "My first priority was to help those kids develop and win fights. But when I saw her being disingenuous to the kids, I thought it was morally wrong, and my inner mommy took over.
"I wasn't concerned with creating controversy. But everything was edited in a way that made it look like I was doing that and put my team in a negative light."
"

Look, I cant just shake someones hand and smile in her face when I know theyre stabbing me in the back. But I wont take her lightly. This is a fight, and Im training for a title defense.

"

-- Ronda Rousey, on UFC 168 opponent Miesha Tate
Make no mistake, there isn't any love lost between Rousey and Tate. But while some deem Rousey dismissive of Tate's abilities, others might simply see a fighter with supreme confidence in herself, especially against an opponent she's beaten handily in the past. The fact that Rousey sincerely dislikes Tate only accents that dismissive perception.
"Look, I can't just shake someone's hand and smile in her face when I know they're stabbing me in the back," Rousey said. "But I won't take her lightly. This is a fight, and I'm training for a title defense."
Undefeated in the UFC, Rousey has taken a different approach in her strategy for this fight. Rather than only studying how to beat Tate, she's studied her own fights and figured out with her coaches how to beat ... herself.
"Opponents vary so much, you can get overconfident, take unnecessary risks," Rousey said. "Instead of looking at how to beat Miesha, we studied how to beat me. Because against Miesha all I did was basically take her down and arm-barred her. Actually, I thought it was funny her nickname was 'Takedown,' and I took her down so easily."
Indeed, Tate's 20 percent takedown defense is subpar for a fighter with the deep wrestling background that Tate possesses. This is especially dangerous considering Rousey's prolific takedown rate (per 15 minutes) of 8.01. Tate will have to keep the fight standing -- something with which Liz Carmouche had some success against Rousey 10 months ago.
Rivalries and show-womanship
The other factor to keep in mind is Rousey's flair for promoting fights. Indeed, when Gina Carano piqued interest in women's MMA with her abilities and good looks, Cyborg for her brutality, neither Carano or Cyborg was ever as vociferous in promoting of the sport as Rousey has been. Certainly Rousey has been backed by the promotional machine that is the UFC -- an advantage Carano never had in Strikeforce -- but in the fight business, that show-womanship has proved critical, along with Rousey's championship abilities.
Admittedly, Rousey knows that's part of the game. But Rousey-Tate II is co-main event.
"Look, it's hard to sell a fight like this, especially considering I've beaten her already," Rousey said.
And rivalries can't be one-sided. Rousey's first-round submission of Tate seemed so lopsided, it's comes as little surprise Rousey is a minus-800 favorite coming into the fight.
[+] Enlarge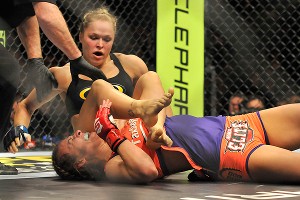 David Dermer/Diamond Images/Getty ImagesSelling the rematch between Ronda Rousey and Miesha Tate has been difficult, considering how easily Rousey handled Tate in the first bout.
But Rousey is used to having a target on her back; even throughout her judo career there was always one judoka she'd meet up at different levels and tournaments all around the world. And when there is that rivalry, it gets her that much more focused.
"It makes me sharper," Rousey said. "The rivalry kind of helps you focus on that one person. And since I'm familiar with her, sure there's some extra motivation there, more than if I was fighting some random chick in a tournament.
"This is a combat sport. You're one on one with someone. It's hard not to be focused and motivated on that one person you're facing."
But motivation is different than emotions.
"I don't ever walk into the Octagon with emotion," Rousey said. "I don't try to recreate emotions before the fight. It's just business as usual for me. You can't walk in there distracted by emotion. There's no space for it."
So for all the vitriol and diatribes from fans and commentators about the "rivalry" between the two, don't expect a flood of Tate-hate to envelop Rousey as she enters the Octagon on Saturday, although she admits her coaches did indulge her one day during fight camp. It was reminiscent of a prank Tate pulled on TUF.
"They did put a picture of Miesha on a heavy bag other things, so I got to beat on that for a day," Rousey laughed. "It was only a day, and that picture got destroyed."
December, 20, 2013
12/20/13
7:03
AM ET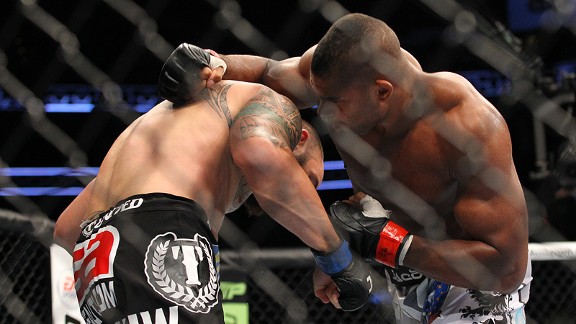 Ed Mulholland for ESPNTravis Browne, left, endured tense moments and hellacious strikes before taking out Alistair Overeem.
Travis Browne
probably isn't the first opponent to describe the knees of
Alistair Overeem
thusly:
"[Overeem] had heat-seeking ability in those knees," Browne said. "He's always had devastating knees."
Indeed, Browne survived a vicious 40-second tirade of strikes and knees from the former Strikeforce and K-1 heavyweight champion and came back to knock out Overeem in the first round at UFC Fight Night 26 on Aug. 17.
It was a gutsy performance by Browne, who, compared to most UFC fighters, is a relative latecomer to MMA, having taken up the sport professionally in 2009 and only first stepped foot in a jiu-jitsu dojo at 25.
Six years later, the 31-year-old is on the cusp of becoming the No. 1 contender for the UFC heavyweight title, if he can defeat veteran and former UFC champ
Josh Barnett
at UFC 168 on Dec. 28. The winner will face Fabricio Werdum for the next title shot when champion
Cain Velasquez
returns from injury.
As he was against Overeem, Browne is once again a decided underdog at plus-170 odds, according to most MMA betting websites. But Browne is used to that and doesn't sweat it.
"I don't have a combat sports background, so I'll always be the underdog," Browne said. "I want to be the best and fight the best. But people who know will tell you I'm just a big softie. I'm more of a lover than a fighter."
And who doesn't love an underdog?
Hawaiian heritage
Browne is half Hawaiian, and his nickname "Hapa" literally means "half." Browne says his middle name, Kuualiialoha, means "Prince of Love" in Hawaiian. And while the literal translation from a Hawaiian-English dictionary might suggest something more along the lines of "beloved child," either way Browne holds his Hawaiian heritage dear to him as a symbol of his compassion, as well as his warrior pride.
Raised in Hawaii until he was 10, Browne learned to swim, surf and do anything but fight. He dabbled in a little karate, but he admits he was an "emotional kid."
"I cried a lot," he laughed.
Sadly, his parents' divorce took him and his mother to San Diego where he eventually developed into a standout basketball player. At 6-foot-7 and 230 pounds, Browne dominated his local competition and had offers to play some smaller schools and even semi-pro leagues overseas.
"I had good quickness to play a big 3 or small 4, maybe even the 2 at times, depending on the lineup. I could play on the perimeter or down low. I was a strong kid and liked the contact."
"

I told my buddy 'show me how you do [jiu-jitsu]', and he put me in an armbar. I was hooked and just became obsessed with it.

"

-- Travis Browne, on his start in mixed martial arts
After one season at Palomar College, Browne gave up the hard court and took to the mats. On a whim, a buddy convinced him to try jiu-jitsu.
"I told my buddy, 'Show me how you do [jiu-jitsu],' and he put me in an armbar," Browne said. "I was hooked and just became obsessed with it."
Browne began in at Oceanside's North County Fight Club, the starting point for fellow UFC heavyweight
Joey Beltran
. After the fight club disbanded, Browne landed at Alliance MMA for a while and developed his wrestling and muay Thai skills. It wasn't until he joined Greg Jackson and Mike Winklejohn's gym in Albuquerque, N.M., however, that Browne's career took off.
Browne's laid-back style and warrior spirit is a juxtaposition that fits in well with the Zen-like atmosphere of Jackson and Winklejohn's.
"It was the perfect fit for me," Browne said. "They encourage creativity and teach you to believe in yourself, your skills. The coaches are on board with experimenting with different things. So I asked Winklejohn to teach me a new skill for Barnett."
"Heat-seeking knees" was the response.
"I try to do different stuff for every camp," Browne said. "Always add something you can use. Train smarter, harder."
He will have to first get through Barnett, a grizzled 16-year MMA veteran who has fought wars in nearly every fight league that's existed -- Pride, Pancrase, Affliction, Dream, Sengoku, Strikeforce -- and held the UFC heavyweight title in 2002 after defeating
Randy Couture
.
Barnett is an oppressive grappler, with 20 wins by a multitude of submissions. He also is a devastating striker, as evidenced by his most recent demolition of
Frank Mir
at UFC 164. In many ways, Barnett contrasts with Browne like day and night. If Browne is a lover and a fighter, the fighter part will have his work cut out for him.
At 6-foot-7, Browne's length and 79-inch reach gives him some safe distance to gauge Barnett's striking. However, in the clinch there are few better than Barnett. That's fine with Browne.
"I want to be the best and fight the best. I have momentum now," Browne said. "To stop me, my opponent is going to have to finish me to win."