February, 23, 2014
Feb 23
11:09
AM ET

By Brett Okamoto
ESPN.com
Archive
LAS VEGAS -- Referee Herb Dean didn't end UFC 170 early.
Ronda Rousey
did.
Say what you want about Dean's decision to stop Saturday's title fight in the first round, awarding Rousey the first knockout of her career. Given the stakes involved, he probably could have given
Sara McMann
more opportunity to recover, sure.
But don't ignore reality, either. Liver shots end fights -- in fact, good ones often look more debilitating than strikes to the head. McMann never argued the stoppage forcefully and it's quite possible she would not have recovered anyway.
[+] Enlarge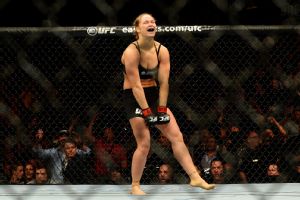 Al Powers for ESPNWhen it comes to the women of MMA, there's Ronda Rousey -- then everyone else.
The venom directed at Dean's stoppage was, perhaps, due somewhat to the fight in general. For all the talk about Olympians and judo vs. wrestling and undefeated records, the main event was a 66-second blowout. Complete blowout.
Fans of the still relatively new UFC women's division might not have known exactly what they expected to see on Saturday, but a first-inning, run-rule situation that lasted about a minute wasn't it.
McMann was supposed to be the greatest challenge yet to Rousey's career. She went out with a whimper, thanks to a very effective but visually uninspiring body shot. A quick knee to the midsection and that's it? The mountain is climbed? Weak.
That perspective unfairly diminishes the level of skill and preparation that really went into Rousey's finish, but unfortunately, it's bound to exist after a fight like that:
Yes, Rousey is amazing, but I'd sure like to see her in a real fight.
As much as Rousey has seemingly enjoyed her one-sided career, she admits that just three years in, she's already forced to search for (and at times, create) challenges for herself.
"I keep trying to top myself," said Rousey, two days before fighting McMann. "It's hard to keep creative and say, 'What can I do that is better than the last thing?'"
The UFC's bottom line is unlikely to struggle when Rousey headlines, blowout or not. Consumers of combat sports have long shown a willingness to tune into less-competitive fights, as long as marquee names are involved.
Rousey, however, seems like a champion who wishes to be challenged. Currently, only a handful of 135-pound females appear even slightly capable of providing one.
Cat Zingano
was supposed to fight Rousey last year, but suffered a serious knee injury in May. UFC president Dana White has said Zingano will fight for the belt when she's healthy, but no firm date for her return exists.
Interest in a fight between Rousey and Invicta FC featherweight champion Cristiane Justino, aka "Cyborg," is certain to amplify this year. Justino recently announced her intent to drop to 135 pounds and "retire" Rousey by December.
On Saturday, White, who accused Justino of being on performance-enhancing drugs one week ago, said she would have to drop to bantamweight and fight outside the UFC before ever receiving that opportunity.
The simple question of whether Justino would be licensed to fight at 135 pounds remains an interesting one. In 2012, she and her manager at the time, former UFC champion
Tito Ortiz
, said cutting to that weight puts her health at risk.
"That's extremely relevant, it's an admission by the fighter," said Francisco Aguilar, chairman of the Nevada State Athletic Commission. "If she made that comment, she had reasons for making it.
"If the UFC wanted that fight in Las Vegas, the commission would review her application and decide whether or not to approve that bout at 135 pounds. This is one of those situations we'd really have to look at."
For years, White claimed female fights would never happen in the UFC because the divisions lacked depth. It was Rousey, White says, who changed his mind.
In some ways, though, every lopsided Rousey win validates White's initial concern about depth in the women's divisions. Hopefully, that challenge she's been looking for is on its way.
February, 21, 2014
Feb 21
5:07
AM ET
The face of women's MMA returns for her third title defense when "Rowdy"
Ronda Rousey
faces
Sara McMann
on Saturday. McMann won an Olympic silver medal in freestyle wrestling at the 2004 Athens Games, while Rousey won an Olympic bronze medal in judo at the 2008 Beijing Games.
In the co-main event, former two-time Olympic freestyle wrestling team member
Daniel Cormier
makes his light heavyweight debut against former training partner
Patrick Cummins
, who will be fighting on short notice after replacing
Rashad Evans
(Evans suffered a knee injury and was forced to withdraw from the card last week).
[+] Enlarge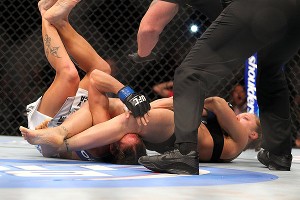 Ed Mulholland for ESPNAll of Ronda Rousey's MMA victories have come via her patented arm-bar submission.
Here are the numbers you need to know for the fights:
8:
Rousey has recorded eight submission victories in her career, seven of which have come in the opening round. Rousey is the only UFC fighter, male or female, to win every fight with the same finish. With another arm-bar victory, Rousey will tie
Jeremy Horn
for the most wins by arm-bar submission in UFC history.
2:
McMann scored two takedowns in her promotional debut at UFC 159 against
Sheila Gaff
. In McMann's prior four fights outside the UFC, she averaged 6.5 takedowns per fight, including a career-high nine against Raquel Pa'aluhi.
6:
Rousey landed a career-high six takedowns in her UFC 168 fight against rival
Miesha Tate
. Rousey landed three takedowns in each of the first two rounds, eventually finishing Tate with an arm bar.
3:
The Rousey-Tate fight ended in the third round, the first time in Rousey's eight-fight MMA career that she's gone past the first round. Tate is also the only woman to escape a Rousey submission attempt (two escapes in UFC 168 fight).
9:
Rousey has attempted nine submissions in six UFC/Strikeforce fights. In four of those fights, Rousey has finished her opponent with the first submission attempted.
2:
Rousey (8-0, 2-0 UFC) and McMann (7-0, 1-0 UFC) are facing off in the second title fight in UFC history to involve two undefeated fighters.
Lyoto Machida
(14-0) defeated Rashad Evans (15-0-1) for the UFC light heavyweight title at UFC 98.
2:
Both Rousey and McMann have won an Olympic medal. Rousey was a two-time Olympian in judo, winning a bronze medal at the 2008 Olympic Games in Beijing. Rousey was also on the 2004 Olympic team in judo, and McMann was on the '04 team in freestyle wrestling. McMann won a silver medal in the women's middleweight division.
4:
If McMann can win the title, she will join Rousey,
Randy Couture
and
Mark Coleman
as former Olympians to win a UFC title. Coleman was a freestyle wrestler on the 1992 Olympic team before winning the first UFC heavyweight title at UFC 12. Couture was a three-time Olympian in Greco-Roman wrestling before winning the UFC heavyweight title on three occasions and the UFC light heavyweight title twice.
3:
Cormier is the third Olympian on the UFC 170 card, joining Rousey and McMann. Cormier was a member of the 2004 U.S. Olympic team in his discipline of freestyle wrestling. He finished fourth in Athens and was expected to wrestle on the 2008 Olympic team before being sidelined by injury. Despite the injury, Cormier was still a team captain.
2:
Cummins was a two-time All-American wrestler at Penn State, finishing fourth in the 2003 NCAA Championships and second in 2004. Cummins went 38-5 in the heavyweight division in 2003-04, his senior campaign.
3:
Cormier notched three takedowns in his last fight against
Roy Nelson
. In three of Cormier's last four fights, he has at least three takedowns.
92:
Cormier holds a plus-92 significant striking advantage over his opponents in the UFC. In two fights -- one against Nelson and one against
Frank Mir
-- Cormier landed 133 significant strikes to just 41 for his opponents.
4:
Cummins is 4-0 in MMA competition, ending each of his fights in the first round. While Cummins has a wrestling background, he has two wins by KO/TKO and two wins by submission.
Statistical support from FightMetric