February, 21, 2013
2/21/13
4:13
PM ET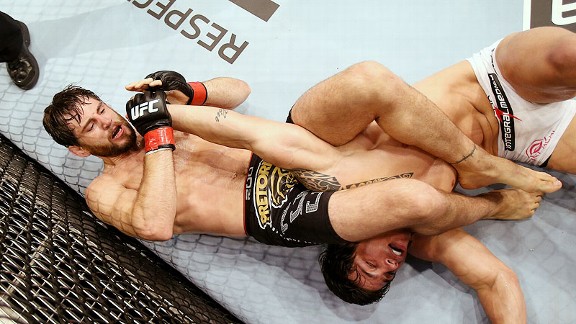 Josh Hedges/Getty ImagesNow with WSOF, Jon Fitch promises to be a more aggressive and exciting fighter.
What does it say when
Jon Fitch
-- one of the winningest welterweights ever to roll off the assembly line -- gets cut by the UFC? Primarily that the UFC doesn't necessarily view winning "by any means" as an avenue for sustained success.
Not in 2013, anyway. Not with television deals and an influx of Strikeforce talent and so many cards bursting at the seams with so many bouts.
Success is multifaceted and involved and actually very simple. The idea is this: Entertain us. Success is powerful fists and hospital visits and charisma and whatever it is
Cub Swanson
does -- all
supported
with a few wins.
Fitch doesn't do pageantry, and he doesn't do brawls. He shows up disheveled and ready to roll. In fact, he became his own verb in his seven years with the UFC. To be "fitched" was a real and particularly unenviable thing for those who signed on to fight him. It was a form of nihilistic wrestling into ground-and-pound. Fitch "fitched" such commodities as
Thiago Alves
,
Ben Saunders
and
Mike Pierce
. He rained ice picks on
Paulo Thiago
's steel chin, before getting classically "out-fitched" by
Demian Maia
.
He has always been about endurance, and that's the problem. Fitch is the dictator with the snarl, the original "grinder."
Chris Wilson
, who knew the score heading into his UFC 82 bout with Fitch, once said to me with a certain kind of sly reverence: "What's he going to do? Summon the wind?" No. Fitch summons something more physical. At his vintage best, he dishes up 15 minutes of utterly hopeless futility.
And that futility, unfortunately, extends to the spectator -- which is why today he's holding a pink slip with a UFC record of 14-3-1. It's not that he's breaking the bank to get $65,000 in show money, or that he had that whole flare-up back in the day with the UFC over video game rights (though these could be factors). It's that he dominates people in forgettable fashion. He shuts down judo players, slick jiu-jitsu artists, dynamic strikers and kickboxers with industrial cold. Now he's gone (as you and I know) because of it, and we're left theorizing if he and
Ben Askren
are destined to nullify each other for five rounds in Bellator.
[+] Enlarge
Gary A. Vasquez/USA TODAY SportsJon Fitch's ho-hum performance against Demian Maia was the last straw for the UFC.
Fitch, along with such veterans as
Vladimir Matyushenko
,
Mike Russow
,
Josh Grispi
,
Che Mills
,
Paul Sass
and others were cut from the UFC in a roster dump.
Jacob Volkmann
was on that list, too, despite winning six of his last eight bouts as a lightweight. His problem? He bears a Fitch-like resemblance to you know who.
Other than Fitch, these cuts aren't so much unexpected as they are declaratory. The message is get busy thrilling, or get busy Bellatoring. Be something that everybody wants to watch, or be someplace else. If you're not captivating, then you're a problem elite. You are Jon Fitch, the perennial contender who of late has ironically A) begun to lose while B) fighting more excitingly.
That's why, all things considered, the timing is a bit strange. Fitch goes 1-2 in his past three fights, and it becomes a good opportunity for the UFC to part ways. But look at those three fights. There was the knockout he received at the hands of
Johny Hendricks
(which was memorable, particularly as Fitch tried to single-leg referee Steve Mazaggatti as he came to). Then there was the
Erick Silva
barnburner in Brazil, where he appeared rejuvenated and determined to put on a show. That won "fight of the night" honors. And finally the Maia bout, which was a letdown. He was outclassed by a Velcro version of his former self. But before that he was 13-1-1, which screams out for the Hall of Fame.
Did he deserve to be cut? No. The spirit of mixed martial arts is (presumably) to present a gamut of styles in the cage, to see whose is best. Fitch has been solid for a long time. In fact, he's been dominant. His style trumps most others. But he's so good at one-sided full-length fights that we have him dialed in as aggravatingly predictable.
Obviously, the UFC is frustrated with him as well, to the point his name has now taken on a new meaning. "Fitch" in adjective form has become just another word for expendable.
November, 3, 2011
11/03/11
12:19
PM ET
The game plan to stray into people's wheelhouses and eat punches in order to land some is nearing extinction.
This makes
Chris Leben
an endangered species. His is a roadhouse style that demands cranial punishment. Hit him square in the nose, and he starts coming forward on toddler legs throwing bombs. It's what makes him a fun watch -- much in the same way it's fun to watch zombie movies, the parts when people with ordinary motor skills begin to turn.
Knowing this makes Leben extraordinary.
"The Crippler" will be fighting in his 19th UFC bout, this time against
Mark Munoz
at UFC 138. That's 19 times he will have gone in there headhunting. He wins two out of every three fights. A dozen times he's come out on top. A couple of times -- against
Anderson Silva
and
Brian Stann
-- he got blasted into space. He either wins spectacularly or loses that way, and it's enough for his corner to watch the action through their fingers. The last time he fought in England, he took a beating from
Michael Bisping
, and the first words off his lips were, "are you not entertained?"
We were. And partially because game plans are such fleeting things.
But imagine being in 19 brawls and yet, mysteriously, still sitting in middleweight contention. There's simply no accounting for his longevity, nor his success. The recently retired
Chris Lytle
liked to brawl but had fallback options, such as credible jiu-jitsu. Lytle was a career .500 fighter in the UFC. Should Leben beat Munoz this weekend, he'd be 13-6 and his name will start running up the flagpole for Joe Silva to consider in the Anderson Silva sweepstakes. (Think Ed Soares would be open to
that
rematch? His pen would shake with the excitement of a lottery winner signing the lucky card.)
[+] Enlarge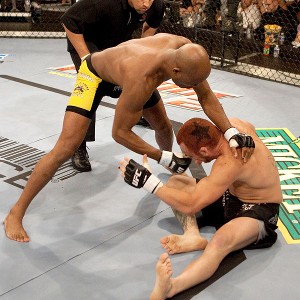 Josh Hedges/Getty ImagesSit tight: If Chris Leben can tie together a couple more wins, he might get a rematch with Anderson Silva.
By comparison,
Tito Ortiz
and
Matt Hughes
, the leaders in Octagon appearances, have 25 UFC fights to their names. Neither one of them brawls the way Leben does. Hughes knew enough to use his wrestling to neutralize danger areas; Ortiz was a ground-and-pound specialist, not a stand-and-bang practitioner (unless he was forced to be).
Leben? He'd be at home if barstools and glass bottles were being flung and crashed over heads. It's a life of hazards, and yet he fights on. He trusts his punch is harder than yours, and that his chin can withstand more. As the old saying goes, you can't teach chin -- but surely you can advise against testing it so frequently.
Then again, does Leben look like the kind of guy to take advice?
The first time I saw him live was at UFC 82, when he was fighting
Alessio Sakara
in Columbus. He'd just eaten something around a couple hundred consecutive punches and somebody yelled out, "Hey Leben, you've got to move your face!" This drew a collective chuckle. Leben didn't move his face. He kept hacking away, his hair the screaming color of a target, until Sakara dropped.
Ahead of UFC 102, on the shuttle ride to the arena in Portland just hours before he was to fight
Jake Rosholt
, he pointed to a bridge crossing the Willamette and said, "I used to jump off that bridge when I was a kid."
Brandon Vera
, the nearest to him, could only shake his head and laugh.
Which is sort of what we do when Leben answers the bell like a blood-dimmed tide. You're going down, or he is. It's not exactly a recipe for a sustained career, but it has worked for Leben for many years, making him the most durable fighter to ever embody the kamikaze way of thinking.
July, 26, 2011
7/26/11
6:32
AM ET
Dan Henderson
doesn't go for easy storylines.
He downplayed dangerous submission specialist
Rousimar Palhares
ahead of UFC 88 to the point that you'd have thought the UFC plucked a random name out of the hat for him on a drunken dare. When it was brought up that he hadn't won a fight in the UFC in a decade at that point (mostly because he wasn't there), he laughed off the audacity of the media. And prior to fighting
Rafael Cavalcante
for the 205-pound belt in Ohio, the first thing he did was eschew parallels between fighting a Black House guy in Columbus for a belt, a circumstance he'd been through once before with
Anderson Silva
at UFC 82.
"Yeah, he is from the same team, and it's the same town," he said at the time. "But he's a different fighter and I'm a better fighter than I was then."
[+] Enlarge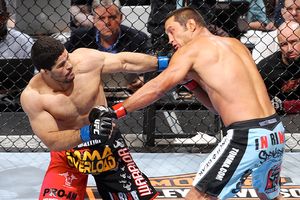 Scott Cunningham/Getty ImagesDan Henderson, right, isn't one to play a role just to hype a fight.
In other words, he wasn't about to play up a bunch of coincidences. Maybe it was because he didn't want there to be a parallel outcome.
Now he's about to fight
Fedor Emelianenko
whom he shares a long, storied legacy with in Pride. That's three Pride titles (and one Strikeforce belt) being piled into the cage, only with the stakes tangibly lowered by the passage of time. No accessories will change hands since its being fought at heavyweight, but surely there's a decade's worth of stored-up intrigue in play from when they were overlapping champions, right? The old East versus West rivalry? Sambo versus Greco? Champion versus champion?
Not so much.
"It wasn't me who really wanted the fight," Henderson told ESPN.com. "It's something that the media and the fans have been asking about since I signed with Strikeforce. It wasn't me that was asking for this fight.
"I think there was a little bit of a rumble about it back when I beat Wanderlei [Silva] and took his belt in Pride. I made a comment, 'I guess heavyweight is next,' but it was more of a joke. But then when I signed with Strikeforce, that would be the key to why this came about. All the fans and the media were wanting this fight."
That's Henderson for you -- forthright, even-keel, ever-ready to fight whoever, whenever, in whatever weight class, so long as it makes for an interesting viewing experience for fans.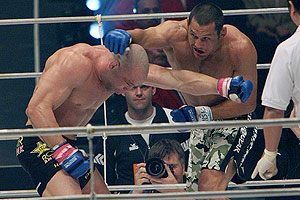 Dave Mandel/Sherdog.comFight fans were beating the drums for a Henderson-Fedor showdown after Hendo defeated Wanderlei Silva, left, at Pride 33.
And yet, even if he hasn't pined for the super-fight, he did have a vicarious experience with Fedor back in 2007 when his training partner at the time,
Matt Lindland
, fought Fedor in St. Petersburg, Russia. Though he didn't help Lindland train for Fedor, he was in his corner that night and watched his then-Team Quest teammate get tapped unceremoniously fast (via armbar). It didn't turn out like Rocky IV, but Henderson got to witness how the "Last Emperor" is received in his native land.
"I've seen it before in Russia with different athletes, especially with Aleksandr Karelin in wrestling," he says. "They treated him like a god. Fedor … not quite as much, but obviously he's highly regarded over there and well-loved by the fans. It was kind of a different thing than how they treated Karelin, though."
Did it cross his mind how he would have fared against Emelianenko that night?
"I guess a little bit," he says. "I would have done a much better job."
You can change the tenses to "I
will
do a much better job," because now he'll have the chance this weekend. If you want a parallel to the old Pride days when both men where king, Henderson does offer this: Expect each of them to appear in their vintage forms.
"Obviously Fedor is real dangerous whether he's in shape or out of shape -- I've seen him where he's really out of shape and he still knocks guys out or pulls through and win the fights," he says. "But as far as his two losses, it might diminish it a little bit, but it probably re-motivated him to where he's going to come in in shape and that's the Fedor I want to fight.
"He's going to be a little more mobile bouncing around and a little more offensive that first round. I just need to implement my game plan and wear him out at the same time, especially in that first round … that first round is going to be crucial."
That pretty much says it all.