September, 16, 2011
9/16/11
7:05
AM ET

By Brett Okamoto
ESPN.com
Archive
NEW ORLEANS --
Jake Shields
was a noticeable absence Thursday during the UFC's open workouts at the New Orleans Athletic Club.
Shields faces
Jake Ellenberger
in the main event on Saturday's UFC Fight Night: "Battle on the Bayou," just 16 days after the passing of his father. Jack Shields was 67 years old.
In a released statement, Shields said it only took "a few minutes" to decide he wouldn't pull out of the fight. He felt it was what his father would have wanted.
"It took me a moment to figure out what I wanted to do, but I figured the right thing to do would be to continue to fight with him being my manager and my biggest supporter."
Ellenberger expressed sympathy for his opponent but added Saturday would still be business and he expects Shields to be the best possible version of himself.
Shields is just five months removed from competing for the UFC welterweight title. The former Strikeforce middleweight champion came up short in a bid against
Georges St. Pierre
, losing via unanimous decision at UFC 129.
Ellenberger is still waiting for his first crack at the title and a win over the likes of Shields might be enough to get him there. He's won four straight since dropping a split decision to
Carlos Condit
in 2009.
St. Pierre is scheduled to fight Condit in October. After that, the list of contenders is short.
B.J. Penn
has already failed in two welterweight title fights.
Nick Diaz
was dropped from a title matchup after failing to attend news conferences. Another two candidates in
Jon Fitch
and
Johny Hendricks
are slated to fight in December.
Although certainly not one of the louder personalities in the UFC, Ellenberger has tried to let his fists talk for him. Three of his last four fights have ended in knockout.
"I think at the end of the day it comes down to winning," Ellenberger said. "Eventually, if you keep winning, you're going to get a title shot. It also comes down to how you win -- impressively, and not just squeaking by."
<
MacDonald taking a page out of Lytle's book?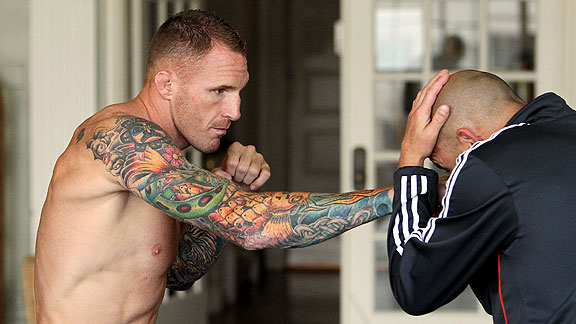 Josh Hedges/Zuffa LLC/Zuffa LLC via Getty ImagesCould Jason MacDonald be challenging his inner Chris Lytle ahead of a fight with Alan Belcher?
Veteran middleweight
Jason MacDonald
was thrilled to return to action earlier this year at UFC 129 following a year-long layoff due to injury.
But how long does the 36-year-old, father of four want to continue fighting?
Last month, welterweight
Chris Lytle
retired from mixed martial arts, despite a 5-1 record in his previous six fights, to spend more time with his family. He said a big factor in his decision was he didn't enjoy training as much as he used to.
MacDonald, who fights
Alan Belcher
on Saturday's main card, said the story hit home.
"I know I belong. I wasn't a one-fight wonder," the Canadian said. "I've fought the who's who of the middleweight division. It's never a question of do I belong, it's how much longer do I want to do this?
"I could relate to Chris Lytle's story. I've got four children. I'm not a title contender. Some people might say that's a poor thing to say -- I'm realistic. A big win over Alan and I'm still a lot of fights away from a title. You start asking yourself how many fights you want to do."
MacDonald wouldn't say he's ready to retire just yet, but the 12-year pro said he wouldn't fight it when the time came.
Belcher nearly gave up hope he'd ever fight again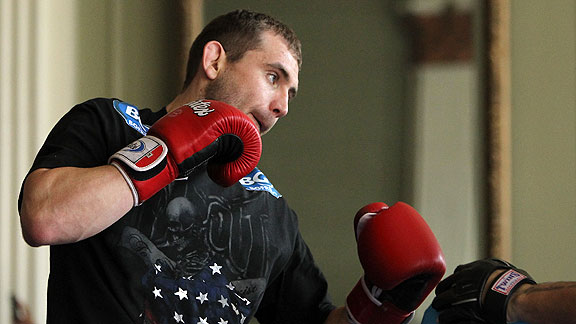 Josh Hedges/Zuffa LLC/Zuffa LLC via Getty ImagesA sense of hopelessness nearly got the best of Alan Belcher.
Middleweight contender Alan Belcher admits he pretty much gave in to the frustration and despair of a serious eye injury late last year.
The 27-year-old underwent surgery to repair a detached retina in 2010. During the process, Belcher allowed himself to envision a life away from fighting. Given the extreme commitment the sport requires, that simple act was like admitting defeat.
"I kind of started conditioning my mind to accept it one way or another," Belcher said. "Kind of thinking, 'So be it.' When you go that far, you pretty much are saying, 'I'm not going to fight anymore.'"
Belcher halted his diet and focused his mind on other activities. Once he was cleared to resume training, however, he says it was amazing how quickly his mentality returned.
"It's pretty funny. The body and mind have a great memory," he said. "You come back just like you were before."
September, 16, 2011
9/16/11
6:22
AM ET

By Brett Okamoto
ESPN.com
Archive
NEW ORLEANS -- To a certain degree,
Jake Ellenberger
is familiar with what
Jake Shields
is going through.
On Aug. 30, Shields's father, Jack, passed in his sleep at the age of 67. After consideration, he opted not to pull out of his welterweight fight against Ellenberger on Saturday in New Orleans. The fight will go on as planned in the main event of UFC Fight Night.
Ellenberger has never been asked to fight immediately after losing a loved one, but he has dealt with a family health issue for the past two years. His twin brother, Joe, who was on his way to a spot on the UFC roster, was diagnosed with a life-threatening bone marrow disease in 2009.
"It's hard to not be driven by emotions," Ellenberger told ESPN.com. "I've been in a similar situation. My twin brother was diagnosed with bone marrow disease. That was extremely hard to go through and it's still something we deal with every day.
"I've used it to motivate me. We're not guaranteed anything in this life. You have to stay focused mentally and use it to your advantage."
No one is quite sure what to expect from Shields this weekend, just a little more than two weeks removed from the tragedy. In addition to his role as Jake's father, Jack also managed his son's career and was, in many ways, his best friend.
In his experience, Ellenberger says the gym can be a healthy distraction to a fighter facing loss.
"When you go back into training after something like that, it kind of takes your mind off everything else," he said. "But once you leave, it's still something you deal with. Fighting is so mental. I'm really not sure how it's going to affect him."
Of course, as his opponent, Ellenberger has prepared for nothing short of Shields' best.
The two had gone back and forth a little in the media during the prefight buildup, but now Ellenberger says he feels nothing but respect for a guy who would step up and take the fight despite what's happened.
"Beyond fighting and beyond rivalry, you have to feel for somebody like that," Ellenberger said. "It's never easy to go through loss. I've done it. I can relate. At the end of the day, your family is most important to you.
"He's a professional for still taking the fight. That's his job. So, I respect that about him."
It's puts a bit of a cloud on what is otherwise the biggest opportunity of Ellenberger's career.
The 26-year-old has compiled a professional record of 24-5, including a 4-1 mark in the UFC. His lone loss came via split decision to
Carlos Condit
in his 2009 debut, one month after learning of his brother's condition.
A high profile win over the likes of Shields might be all it takes to propel Ellenberger to a title shot. Fighting in a main event for the first time since joining the UFC, he's prepared to take full advantage of the opportunity.
"For me, it's keep my composure and dictate where the fight goes," he said. "I think that's going to be the keys to winning this fight. Jake Shields is very good in a few areas. If I can make him play into my strengths, I win this fight."