August, 19, 2013
8/19/13
12:38
PM ET
Not long ago,
Uriah Hall
was a highly touted UFC middleweight prospect; not anymore. Hall might soon be looking for another promotion to call home.
After Hall suffered his second consecutive loss, a split decision to
John Howard
at UFC Fight Night 26 on Saturday in Boston, promotion president Dana White cast doubt on the fighter's future inside the Octagon. There's no question that Hall possesses the physical skills to compete in mixed martial arts; what he lacks is a fighter's mentality. And it's leading to his downfall.
"I love Uriah Hall," White said. "I have a great relationship with this kid. He's one of the nicest human beings you could ever meet; he's not a fighter, man.
"

Uriah Hall has all the physical attributes to be amazing. He's got speed. He's got power. He's just unbelievable. But he doesn't have what it mentally takes to fight [in the UFC].

"

-- UFC president Dana White, on Uriah Hall's listless showing against John Howard
"If I could take [featherweight] Brad Pickett's brain and heart and put it inside Uriah Hall's body, there'd be some damage done. Uriah Hall has all the physical attributes to be amazing. He's got speed. He's got power. He's just unbelievable. But he doesn't have what it mentally takes to fight [in the UFC].
"I don't know [whether Hall will be released]. I have to think about this one. I don't like talking about stuff like that [at postfight Q&A sessions with media]."
Though White refused to say whether Hall will be released by the promotion, the topic is expected to come up for discussion when UFC officials gather at their next meeting.
What bothered White, and most onlookers Saturday night, was the constant friendly gesturing between Hall and Howard. The fighters gave each other high-fives, and occasional hugs, throughout the three-round affair. Their behavior brought a smattering of boos from the crowd of 12,539 at TD Garden during and after the bout.
"That was a high-five competition," White said. "We're not here to high-five; we're not here to shake hands. You can do all that when the fight is over; you're here to fight."
The excitement over Hall began to build during his time on Season 17 of "The Ultimate Fighter" series. Hall was the most dominant fighter on the show. His high-level striking produced several memorable knockouts, leading to the belief that he would become a force in UFC.
[+] Enlarge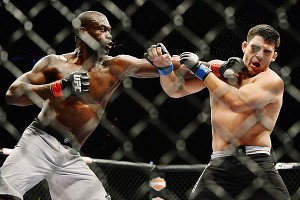 Al Powers for ESPNUriah Hall, left, first showed signs of passivity in a losing effort against Kelvin Gastelum in the TUF finale.
The hype, however, started to fizzle April 13 when Hall was upset by
Kelvin Gastelum
in the TUF finale -- losing a split decision. Hall showed signs of weakness on the ground during that fight.
But it wasn't Hall's performance inside the cage that evening that raised concern from White; it's what Hall said afterward.
"He was this killer [who] everyone was afraid of on TUF," White said. "Then he comes into the big show where it all really matters, and this is going to make your livelihood and everything else, and he turns into this different person -- this super-nice guy.
"He was telling me after the Kelvin fight: 'You know, I just really like him. He's a really nice guy.' OK. Well, that really nice guy just took everything you've ever wanted.
"Do you understand what I'm saying to you? Do you get that? Does that make sense to you? I guess it doesn't make sense to him."
Howard, who competed in UFC Saturday for the first time since getting cut by the promotion after his June 2011 loss to
Matt Brown
, secured another fight with the promotion. The showing wasn't a memorable one for Howard -- that high-fiving act with Hall might have cost the Boston resident a few local fans -- but White isn't holding it against him.
"He won," White said of Howard. "He will fight again.
"He usually doesn't fight that way. That's not how he fights. Uriah is so nice that he makes the other guy really nice."
When Howard does return to the Octagon it isn't clear if he will again compete at middleweight. White has not yet decided whether to pencil Howard in at 185 pounds or return him to welterweight.
August, 16, 2013
8/16/13
7:43
AM ET
It could be perceived that
Chael Sonnen
, who will be fighting for the last time at light heavyweight Saturday night in Boston, has nothing to lose.
That, however, would be the furthest thing from the truth.
Sonnen, a former No. 1 middleweight contender who returns to the division after Saturday's bout, will step inside the Octagon at
UFC Fight Night 26
against
Mauricio Rua
as determined as ever to win. This fight is as important to Sonnen as any he's had in his pro career, and he didn't cut a single corner while preparing for it.
[+] Enlarge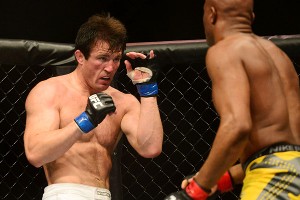 Mark J. Rebilas/USA TODAY SportsDespite a pair of losses to Anderson Silva, Chael Sonnen still insists he's the superior fighter.
He is hungry to defeat Rua, not only to end a two-fight skid, but to put himself in position to achieve his ultimate goal -- a third fight with former 185-pound champion
Anderson Silva
. And nothing motivates Sonnen like the mention of Silva's name.
"I want to fight Anderson Silva," Sonnen told ESPN.com. "It was never about titles, it was never about the title with
Jon Jones
; Jon just happened to have the title.
"I wanted to punch Jon in the face; I wanted to beat him up. I heard all his talk of who deserved it [the title shot]; I didn't even care about all that crap. If you want to fight a guy, go fight him. And if there's a belt on the line, that's just a byproduct.
"I want to fight Anderson Silva more than I want to wake up tomorrow morning. I don't care if he has got the belt or not. I don't accept the outcome of either of [our] fights; I don't acknowledge that for one day he was the better fighter than me."
With three title shots, all losses, in the past three years, Sonnen isn't focused on facing the middleweight champion at this time. At 36, the possibility of landing another title shot is fading.
"

I want to fight Anderson Silva more than I want to wake up tomorrow morning. I don't care if he's got the belt or not. I don't accept the outcome of either of [our] fights; I don't acknowledge that for one day he was the better fighter than me.

"

-- Chael Sonnen
Still, Sonnen rules nothing out. A victory over Rua would get him back in the middleweight title conversation. And without a doubt, the quick-witted, trash-talking Sonnen will take over from there.
"Anytime you're in the top 10, you're in title contention," said Sonnen, who is ranked sixth among middleweights by ESPN.com and ninth by UFC.com. "We have a new ranking system and it's very important to operate within the confines of that system.
"Anybody in the top five will go for that title. Shogun is in the top 10 [at light heavyweight] and I haven't won a light heavyweight fight in a considerable amount of time. With that said, I have had only one light heavyweight fight. But it's always important to win, especially if you can beat a top-10 guy.
"Shogun is a true legend; he's a former world champion. He's the guy [Jon] Jones beat to win the title. And he's ranked No. 8 in the world [at 205 pounds by UFC.com]. So I have a lot of reasons and motivations to win, aside from my pride and ego."
But nothing is pushing Sonnen to succeed Saturday night more than the possibility of a third fight with Silva. The fact that Silva has a rematch Dec. 28 with the man who dethroned him,
Chris Weidman
, only serves to heighten Sonnen's enthusiasm.
Weidman shook up the mixed martial arts world July 6 by knocking out Silva in the second round at
UFC 162
. The loss was Silva's first in UFC competition.
[+] Enlarge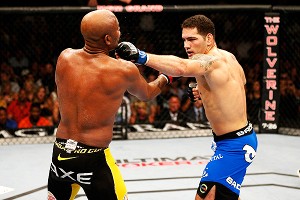 Josh Hedges/Zuffa LLC/ Getty ImagesChael Sonnen believes Chris Weidman, right, should handle Anderson Silva again when they meet in a December rematch.
The way Sonnen envisions things, Silva will no longer be in position to call the shots after his rematch with Weidman. With much less leverage, Silva-Sonnen III will look a lot more attractive to the former champion.
"I believe Chris Weidman will destroy him again," Sonnen said. "This is not a knock on Anderson Silva; he's an awesome fighter. And he's had an amazing career. But in the history of boxing, in the history of MMA, a rematch has never favored the older fighter.
"You're talking about a decade of an age difference. It's very, very unrealistic to believe that Anderson is going to win that [rematch]. This is not to say he can't do it, but it's unrealistic to see how that's going to happen.
"But it doesn't change that fact that he's a great fighter, and it doesn't change that fact that I want to fight Anderson Silva."
First, Sonnen must take care of business Saturday night in Boston. A solid performance will go a long way toward getting him a third fight with Silva, but a win certainly increases the probability. And if Weidman does what Sonnen expects him to do at
UFC 168
in Las Vegas, Silva might be receptive to a third go-round.
August, 15, 2013
8/15/13
8:28
PM ET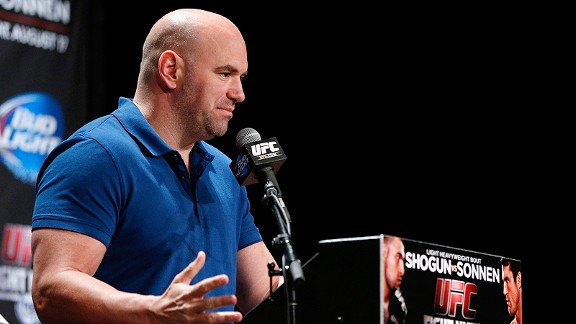 Josh Hedges/Zuffa LLC/Getty ImagesUFC president Dana White has vented his frustrations in regard to dealing with the Massachusetts State Athletic Commission.
Returning to his former hometown of Boston to put on a show Saturday night hasn't been much fun for UFC president Dana White. UFC Fight Night 26 will go off as scheduled, but the promotion has faced many obstacles along the way.
The Massachusetts State Athletic Commission in June required all foreign fighters scheduled to appear on the card to obtain Social Security numbers. To save their event, UFC officials scrambled to meet the requirement.
Chael Sonnen, who has received testosterone replacement therapy exceptions in numerous jurisdictions, was challenged by the local commission just weeks before the event. Last week, he was cleared to compete.
That would have seemed to be the end of UFC's troubles in Massachusetts, but there was more to come. According to White, Boston City Council President Steve Murphy has banned anyone 18 years of age and under from attending Saturday night's event.
"When I come back East [to Boston] and have to deal with these blatant lying politicians, it's unbelievable," White said. "It's the same stuff we're going through in New York.
"Everyone knows why we are not in New York. It's the same guy [New York State Assembly Speaker Sheldon Silver] who's not making it happen. And everybody knows what's going on with this Murphy guy -- it's the [Culinary] union. It's just ridiculous."
The Las Vegas-based Culinary Union has been in a longstanding labor dispute with Station Casinos and co-founder Lorenzo Fertitta, who is also CEO and chairman of Zuffa LLC, the parent company of UFC.
August, 14, 2013
8/14/13
1:33
PM ET

By Brett Okamoto
ESPN.com
Archive
UFC Fight Night 26
suffers from the same ailment nearly every UFC card will suffer from the rest of the year: It's not
UFC 168
… or
167
… or
166
.
Chris Weidman
versus
Anderson Silva
is a fighting fan's Christmas.
Georges St-Pierre
versus
Johny Hendricks
is Thanksgiving. And
Cain Velasquez
versus
Junior dos Santos
III will feel like a second birthday to us all this year.
Chael Sonnen
versus
Mauricio Rua
this weekend at TD Garden in Boston sort of feels like Flag Day in comparison.
But that said, there's a lot to like about Flag Day. Top to bottom, this is one of the stronger UFC cards fans will witness this year. Some events are structured around one fight and one fight only. Boston, on the other hand, features plenty to watch for.
FIVE STORYLINES
The legend of Conor McGregor
We are all getting way too carried away about McGregor -- but it's impossible not to. Simplest way to put it: When McGregor fights, you want to watch, and when he talks, you want to listen. It's not just that he's entertaining; he has this contagious passion about what he does. During a recent visit to Las Vegas, McGregor said he was so excited he stayed up shadowboxing in his hotel room until 5 a.m. He's in a hurry to be at the top, and
Max Holloway
wants to slow him down.
The curious case of Uriah Hall
You hear all the time how important the mental aspect is in martial arts. Hall has shown he has the physical tools, and on the surface, nothing seems out of sorts for him mentally. But that loss to
Kelvin Gastelum
in
The Ultimate Fighter Finale
was awkward. His team said he liked Gastelum too much to hurt him. Many of those watching called it cockiness. Neither is really an acceptable excuse for a fighter as talented as Hall. Expectations are high for him against
John Howard
.
The resurgence of Mike Brown
Brown hasn't really been under the spotlight for years, but for longtime martial arts observers he'll always be a name that jumps off the page. Two wins over
Urijah Faber
in the WEC put him on the map, but truth is Brown was just one of those guys who was always fun to watch. Something went wrong along the way, and the now 37-year-old endured a 2-4 stretch amid rumors of distractions in his personal life. He's back on a two-fight win streak coming into this fight against
Steve Siler
.
[+] Enlarge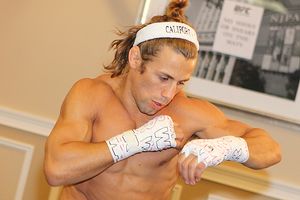 Ed Mulholland for ESPN.comAny loss at this point for MMA veteran Urijah Faber would be considered a major setback.
The quiet contenders
Since 2011,
Matt Brown
and
Mike Pyle
are a combined 11-2 in the Octagon, yet you won't find them on any top 10 welterweight rankings. Neither is willing to make a big point of that publicly, but there's no question both are getting a little anxious. After his last win, Brown said, "Just because a bunch of media people don't believe I'm good enough for a title shot doesn't mean it's true." Pyle, winner of four in a row, is itching to sign a fight against a top-10 opponent.
That Faber guy is back again
You can almost see the bile form in Faber's throat when forced to answer the same questions over and over leading up to these nontitle fights. "How much you got left in the tank, champ?" "Getting close to another title shot, Urijah, what's that feel like?" "Is the belt still the goal, buddy?" We should all come to this understanding that Faber feels great, he's excited to fight, and he wants a title shot, but the UFC won't give him one yet so he needs to keep winning. This fight against
Yuri Alcantara
might not feel big, but it's big for Faber. Any loss is a major setback.
FIVE QUESTIONS
What does Alistair Overeem look like?
He was Superman against
Brock Lesnar
and Clark Kent against
Antonio Silva
. No stranger to performance-enhancing drug accusations, Overeem is in a critical spot. He didn't look the same in February, his first appearance since producing a high testosterone-to-epitestosterone ratio in Nevada last year. He told ESPN.com he would never apply for testosterone-replacement therapy, despite tests that showed low levels after his last fight. There are a lot of variables floating around. Can Overeem be Superman again in the midst of them?
[+] Enlarge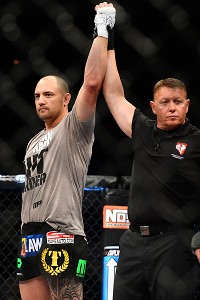 Al Powers for ESPNIf Travis Browne can pass a difficult test against Alistair Overeem, he could be the biggest winner of the night.
Is Travis Browne for real?
Browne passes the eye test. He moves. He has heavyweight knockout power. His grappling is underrated. He seems like he's in shape, and his only loss came after his hamstring busted in the opening minute of a fight. Overeem -- whether he's at his best or not -- is going to test him, though. If Browne is spectacular, he could be the biggest winner of the entire night.
Is 'Shogun' still elite?
Rua is slowing down. It never really felt as though he was going to lose to
Brandon Vera
last August, but we were sort of expecting a windmill dunk and got a weak layup instead. Then in December, it seemed like he was operating on fumes against a physical
Alexander Gustafsson
. Three of the last five men Shogun has defeated are now retired. How worried should we be about this?
Is the self-proclaimed 'Gangster' going to lose three in a row?
Whether you like Sonnen or not, this is a man who does not avoid tough fights. He has gone from Silva to
Jon Jones
to a light heavyweight contest against a former champion in Rua. Sonnen is undersized for this division -- a fact made obvious by his decision to return to middleweight regardless of what happens in Boston. Sonnen can survive a loss if it comes to it, but a proposed fight against
Vitor Belfort
can't.
Is Michael McDonald the third-best bantamweight in the world?
Both ESPN.com and UFC rankings still have McDonald trailing Faber. Both fight on this Boston card. No doubt, a certain contingent of MMA fans would rank McDonald ahead of Faber heading into this weekend, but it's close. If the 22-year-old runs through
Brad Pickett
, it will be difficult not to bump him up.
WHO'S ON THE HOT SEAT?
Michael Johnson
[+] Enlarge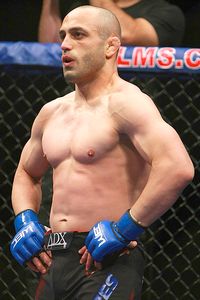 Dave Mandel of Sherdog.comManny Gamburyan is in need of a victory just as bad as Saturday's opponent and former TUF teammate Cole Miller.
The once promising career of a TUF runner-up has hit a major crossroads. Johnson looked like a tough matchup after disposing of
Shane Roller
and
Tony Ferguson
, but he was nearly knocked out by
Danny Castillo
before suffering back-to-back losses. He's still not out of his league against
Joe Lauzon
-- at least we think.
Manny Gamburyan
Seems like a lifetime ago that Gamburyan fought his way to a WEC title shot against
Jose Aldo
. Fighting Gamburyan is like fighting an angry fire hydrant; he's compact and seemingly made of metal. He also has a long history with the UFC, although a 1-3 record in his last four fights is tough to look past.
Cole Miller
Might as well discuss Gamburyan's opponent as well. These two know each other well from their days on the TUF 5 reality set on Team
Jens Pulver
. Now, Miller needs a win just as badly as his former teammate, having gone 1-2 since his drop to featherweight last year.
WHY YOU SHOULD CARE
Because there's still more to 2013 than a middleweight rematch, even though it doesn't feel like it sometimes … because over the course of his career, Shogun is 6-for-6 when it comes to knocking out opponents following a loss … because two of the most explosive heavyweights are incredibly hungry going into the same fight … because Brown and Pyle are fighting each other with the exact same chip on their respective shoulders … because McGregor might be the most fun athlete the UFC has on its roster.