February, 12, 2013
2/12/13
1:30
PM ET

By Chuck Mindenhall
ESPN.com
Archive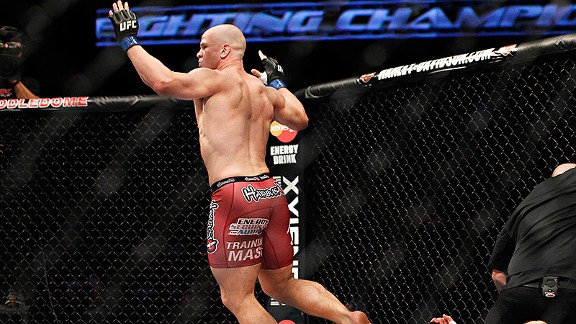 Ric Fogel for ESPN.comIn his previous fight in the UFC, Ryan Jimmo finished Antthony Perosh in 7 seconds.
Ryan Jimmo
does things a little differently. He says on his UFC profile that one of his heroes is Albert Einstein, and that he worked as a "ninja" before fighting. He can quote the philosophies of bodybuilder Dorian Yates as easily as he can mimic Bruce Lee's moves.
There's a wide range of things going on with Jimmo; he's one of the fight game's interesting characters. And yet, to this point he has made a career to this point on the UFC's periphery.
Jimmo did have that brief moment on the "Ultimate Fighter 8," but lost the entryway fight to the house against
Antwain Britt
. That might have been a blessing in disguise, he says. And while fighting in Canada's Maximum Fighting Championship, where he was the light heavyweight champion, he feasted on UFC veterans -- Sokoudjou,
Marvin Eastman
,
Jesse Forbes
and
Wilson Gouveia
.
That was 14 rounds of hard toil, but he won them all.
Yet, when the Canadian finally did debut in the Octagon at UFC 149 in Calgary last July, the fight didn't even last long enough to satisfy the bull riders who'd gathered into the Saddledome. It was over in seven seconds. One big right hand and boom. Down went
Anthony Perosh
.
Jimmo picked up an extra $50,000 by earning knockout of the night. His $50K per-punch-thrown is the best average in the UFC heading into 2013. It was so fast, that you wonder if it counts as experience.
"

He likes to throw his hands. I think he's been boxing since he was 14. He did some wrestling, so I can see him coming out and wanting to mix it up with some hands and some stand up. If he wants to wrestle that's okay, too, but I see this primarily as a stand-up fight.

"

-- Ryan Jimmo, on fighting Anthony Perosh
"You don't gain a ton of experience being in the ring for seven seconds, but every organization does things differently -- their pageantry is different," Jimmo told ESPN.com. "And when I say that, I mean all the build up -- the video interviews, getting comfortable with the staff who are going to be handling you and seeing how they do things. So I guess I gained that experience. And afterward all the media attention, I gained some experience there as well."
Now that he's dealt with the process and gained a few fans, he can move on to headier things -- like encores. This is where things get tricky. Jimmo faces
James Te-Huna
on Saturday night in London at UFC on Fuel 7. The New Zealander Te-Huna has quietly (and violently) strung together a three-fight win streak in the 205-pound division, with a couple of first round knockouts. In fact, seven of his last eight victories have come via KO or TKO.
So though a flash knockout isn't out of the question for a guy like Jimmo who likes to stand and trade, there's always the chance a flash knockout could work the
other
way, as well. Jimmo could end up being the one with smelling salts in his nostrils. This is something he's thought about.
"James Te-Huna is a big strong aggressive guy," Jimmo says. "He likes to throw his hands. I think he's been boxing since he was 14. He did some wrestling, so I can see him coming out and wanting to mix it up with some hands and some stand up. If he wants to wrestle that's okay, too, but I see this primarily as a stand-up fight. If it happens to go to the ground I'm one 100 percent comfortable there. And if it's stays on the feet? I'm okay with that, too."
Jimmo originally hails from Saint John, New Brunswick, but spent his training camp with the Blackzilians in Delmar Beach, Florida. He endured a tough weekend watching teammates
Rashad Evans
and
Alistair Overeem
lose fights they were favored to win at UFC 156 ("you know, this is the sport it is -- anyone can win, anyone can lose," he says), but has been so wrapped up in training that holidays have come and went without his notice.
"I've been training since October," he says. "There's no snow down here, you know, and my mother had to call me and she said, 'Merry Christmas, Ryan!' and I said, 'Is it Christmas, Mom? I need to go back to the gym, I need to take my nap and there's a chicken breast cooking. Merry Christmas to you, mom. How are things?'"
[+] Enlarge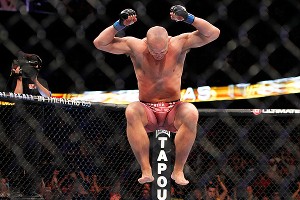 Ric Fogel for ESPNRyan Jimmo has been doing more celebrating than fighting as of late.
Though he may have missed out on the holiday cheer in the great White North, Jimmo is finally getting his chance to shine in the UFC riding a 17-fight winning streak. And the Jimmo you see on Saturday night isn't necessarily the one who fought in the MFC and defended his 205-pound belt twice.
This is a guy who feels he can finally align himself with the stakes.
"I kind of held back and fought a little more conservatively in smaller shows because I didn't have as much to gain and I had more to lose," he says. "If I lost in a lower league, well, you know you're not going to the UFC now.
"Also for me, [UFC 149] was a time to shine and I trained very hard to have that kind of power and aggressiveness in training. So when it came time, it was over and it wasn't anti-climactic at all. It was the time for me to go in there and really use my skills like I knew I could and not be conservative with it."
That's true. It's near impossible to be conservative on the delivering end of a seven-second knockout.
February, 12, 2013
2/12/13
12:45
PM ET

By Chuck Mindenhall
ESPN.com
Archive
Dennis Siver
and
Dustin Poirier
are nothing alike. Siver is shaped like a fire hydrant with spring-loaded legs; Poirier is sleek and aerodynamic.
Cub Swanson
understands these obvious differences better than anybody right about now. He first had Siver in his sights for Saturday's fight in London. Then Siver got injured and morphed into Poirier, which required Swanson to reconfigure his settings on the fly.
[+] Enlarge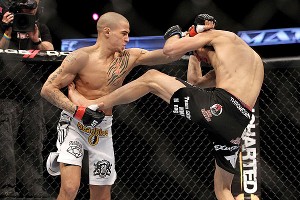 Ed Mulholland for ESPN.comDustin Poirier, left, presents an entirely different type of challenge than was originally planned for Cub Swanson.
Yet if anybody's been through the fight game's most active pun of "rolling with the punches," it's Swanson. He's had fights tailored, altered and scotched as much as the next guy.
"I had just gotten back from Albuquerque training with Greg Jackson and Mike Winkeljohn, and they said, 'OK, this is the way we're going to fight this fight [with Siver], these are the things we like,'" Swanson told ESPN.com. "Then I get back my gym in California [Tru MMA], and I get on the same page with my boxing coach and
then
they go 'Siver's out, here's a new guy.'
"The other guy [Siver] was a short, stocky, standard fighter, and the new guy [Poirier] is a tall, lanky southpaw. I just kind of laughed. I had a feeling something was going to happen, so I said, let's do it. I was excited because I like fighting guys who are a little bit different every time, and I feel like it shows depth in my game."
The Poirier-Swanson co-main event at UFC on Fuel TV 7 looks good on paper. Poirier rebounded from his loss to
Chan Sung Jung
in a No. 1 contender spot by choking out
Jonathan Brookins
in December. Swanson is coming off of a knockout victory over
Charles Oliveira
at UFC 152, which will always be remembered for Oliveira's delayed shutdown process after absorbing a couple of body shots and then the big overhand.
In fact, it was the third knockout win in a row for Swanson, who re-emerged in 2012 as a contender at 145 pounds. Just like that, there's power in his game again.
"I thought about dropping down to 135, started dieting down, but I didn't feel very good and started to get weak," Swanson says. "I decided to give weightlifting and strength training another shot. The first few times I tried lifting weights I didn't like the way I felt, and we finally developed a way of working out where I wouldn't lose my speed.
"I walk around about 175-180 pounds, and get up to about 185. I was 185 when I got the phone call for this fight. I put on a lot of size, and I don't feel like I've lost any of my speed. I have my accuracy and my speed and finally have some power behind it. I'm not worried about breaking my hands anymore. It's all coming together."
Suddenly the featherweight division -- which has always been a popular destination for resurrectionists and transplants such as
Frankie Edgar
,
Clay Guida
and
Nik Lentz
-- is strong. So strong, in fact, that the "Korean Zombie" and
Ricardo Lamas
are waiting on title shots while
Jose Aldo
defends his belt in August against
Anthony Pettis
. Figure in
Chad Mendes
and up-and-comers such as Poirier and Swanson, and 145 begins to look like one of the deeper divisions in the UFC.
So where would a win stack Swanson in the grand scheme of things?
"I know I'm right up there," he says. "I'm not afraid of anybody. I have a pretty good record and my losses are to the top guys. I want to get back in that mix, and be mentioned in the top featherweights. As far as title fight talk, I just want to be mentioned -- I don't really care about it right now, I'm just enjoying the ride and enjoying winning fights."
Swanson refers to his rough patch between 2009 and 2011 as "growing pains," mixed with a little bad luck. In that stretch he went 2-3, with losses to Jose Aldo, Chad Mendes and Ricardo Lamas. In other words, he lost to the division's elite. At some point, he says, "I'd love to get those losses back," but heading into Saturday's fight there's a renaissance going on with Swanson. It's in his voice. It's a kind of emphasis that comes with experience and prioritizing. What it says is that wins and losses and pecking orders are all fun conversations.
But his emphasis is on remembering why he's in the fight game to begin with.
"I'm finally enjoying what I do," he says. "I don't do a whole lot of interviews usually. I just like training hard, fighting, and getting back to my normal life."
And the wiser Swanson feels he's looking at his past when he sizes up Poirier.
"I think he's a tough kid," he says. "He's gotten this far off of being well-conditioned, having a lot of heart and being well-rounded. He kind of reminds me of myself a couple of years ago. I just don't feel like he's turned that corner yet and I feel very good about this fight.
"I feel like he plays into my style very well and it's going to make for a good fight."