MMA:

UFC middleweight title
July, 30, 2012
7/30/12
2:07
PM ET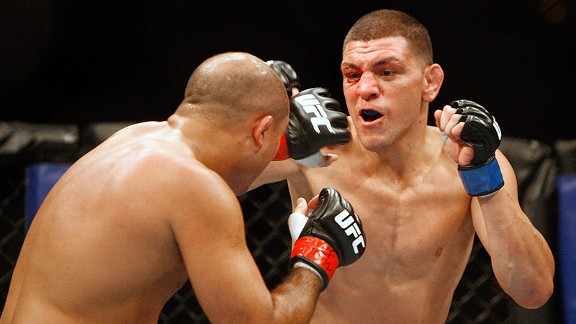 Marc Sanchez/Icon SMIWelcome back (sort of): Nick Diaz hasn't finished serving his suspension and already he's making things interesting again.
After nearly six months of radio silence, the mixed martial arts community finally received a dispatch from
Nick Diaz
late last week. The message itself came secondhand but -- just as we suspected all along -- it confirmed two things.
First, the former Strikeforce welterweight champion is returning to MMA.
Second, things in Diaz's world still look wonderfully weird.
We have yet to hear anything straight from the fighter's mouth, but the 352-word screed from manager Cesar Gracie posted on his fight team's official website on Friday to announce Diaz's comeback certainly didn't disappoint. Diaz has kept a fairly low profile since announcing a spur-of-the-moment retirement amid the frustration of a February loss to
Carlos Condit
and his subsequent year-long suspension by the Nevada State Athletic Commission after testing positive for "marijuana metabolites."
Now he's back and judging from the words of his coach, he's back with a vengeance.
Gracie's message -- written in the form of an open letter -- is equal parts press release and personal essay. As brief as it is, it nonetheless brims with the unique blend of spectacular bravado and startling intimacy that have long made this coach and his top stars so captivating.
Like the fighter it represents, the letter jumps quickly from topic to topic and back again without much warning. The longtime trainer's frustrations are palpable as he characterizes the last few months as "a trying time" and his melancholy barely hidden at "the prospect that one of our team's most talented fighters had decided to leave the sport." Throughout the piece, Gracie's tone straddles the line between wistful and defiant and when he aptly describes his prized pupil's style as "a combination of technical brilliance and raw violence," it's legitimately touching, almost beautiful.
Those feelings are fleeting though, as a few paragraphs later Gracie snaps back into full-on Skrap Pack Mode, lashing out against the "malicious incompetence" of "NSAC bureaucrats" and vowing to fight Diaz's suspension in court, all without a hint of doubt as to the outcome.
In short, Gracie's message is vintage Diaz.
Oh yeah, and one more thing: In his first fight back from retirement, Diaz wants to face the greatest mixed martial artist of all time.
"Since [welterweight champion
Georges St. Pierre
] will be fighting Condit, [Diaz] has to look elsewhere," Gracie writes. "He will respectfully ask for a fight with
Anderson Silva
."
Of course he will.
[+] Enlarge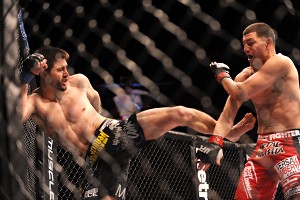 Rod Mar for ESPN.comDespite dropping his last bout at welterweight, Nick Diaz wants to try his hand at middleweight champion Anderson Silva.
I mean, you didn't think Diaz was just going to end his retirement and return to MMA without saying
something
completely amazing, did you? More than anything else, it's this brand of stunning audacity that has epitomized the guy's entire fight career.
Here is a man who is not only coming off a loss, but who less than a year ago had a welterweight title shot yanked out from under him due to an inability to fulfill his prefight media requirements and is now serving a second career suspension for marijuana. So, with his immediate future still totally in doubt, Diaz -- obviously -- asks for a superfight against the UFC's longest standing champion.
Seriously, you couldn't make this stuff up.
Gracie says he'll meet with Dana White next Monday to "discuss this and other issues" and (considering how things went last time) any notion that Diaz deserves a bigger, more high-profile bout will probably be met with cackling laughter from the UFC president.
And yet …
And yet …
And yet, matchmakers currently find themselves in a bit of a pickle in dreaming up Silva's next challenger, don't they?
With his legacy the only thing left for him to care about, the 37-year-old champion is currently turning his nose up at a proposed bout with the inexperienced but dangerous
Chris Weidman
. There is talk that
Rashad Evans
might drop down from 205 pounds and vie immediately for the title and a suddenly robust group of middleweight contenders continue to jockey for position just offstage.
Where the UFC goes with
that
sticky situation is anyone's best guess.
Meanwhile, with Condit and St. Pierre set to meet before the end of the year and another ensemble cast of title hopefuls fighting it out amongst themselves, there doesn't appear to be an easy welterweight matchup befitting Diaz's singular standing in the sport, either.
So, ignore for a moment all of the problems. Forget for just a second all of the reasons why it is a flatly ridiculous idea and you have to admit, Diaz versus Silva might solve a lot of the UFC's ongoing matchmaking problems in one fell swoop.
[+] Enlarge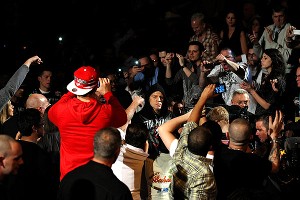 Josh Hedges/Zuffa LLC/Getty ImagesThere's no shortage of Nick Diaz fans who would love to see him return against Anderson Silva.
Certainly, it would sell better than Silva-Weidman and maybe better than Silva-Evans, too. Despite it all, Diaz remains one of the sport's more incomparable showmen. His fanbase is loyal (bordering on rabid) and if they showed up to the tune of 400,000 pay-per-view buys to watch him fight Condit for an interim 170-pound title, imagine what the numbers might look like for a bout against "The Spider"?
In the meantime, Weidman would have the chance to rack up one more litmus test fight in order to bolster his resume (who knows, perhaps against Evans) while Condit and St. Pierre would get time to set the welterweight world back on its proper axis.
Would Diaz win a fight against the bigger, stronger, craftier Silva? No, almost certainly not.
Would he even make it to fight night without pulling some new and interesting gaffe? That's debatable.
But, sanity aside, would we all still pay to watch it? Absolutely.
As is always the case with Diaz, it might just come down to the question of whether the ends justify the headaches.
Yes, a fight with Silva is a crazy longshot, more pipe dream than anything else, but even if it never happens -- wow -- we should all be glad to finally have Diaz back.
Things are just so much more interesting when he's around.
July, 13, 2012
7/13/12
5:24
AM ET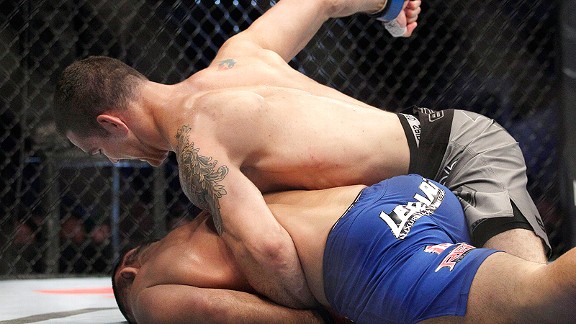 AP Photo/Jeff ChiuDon't sleep on Chris Weidman. Mark Munoz can tell you what happens when you do.
There was a considerable gnashing of analytical teeth leading up to Chris Weidman's midweek main event against
Mark Munoz
at UFC on Fuel TV.
The general consensus among the experts was that this bout between two accomplished amateur wrestlers, keen to stake a claim in the UFC middleweight division, was nearly too close to call.
Munoz had been the veritable wrecking machine suggested by his nickname -- the Filipino Wrecking Machine -- since dropping to 185 pounds almost three years ago, putting together a 6-1 mark that had him within striking distance of a title shot. His opponent had been no less impressive, rolling in with an overall record of 8-0, despite taking thee of his previous four UFC bouts on short notice. Weidman was a slight betting favorite leading up to the fight, but the general feeling was that he and Munoz were almost ridiculously evenly matched on paper.
Yeah, paper stinks.
Surely even the people who picked Weidman to edge Munoz were shocked by what they saw on Wednesday night, as the 28-year-old from Long Island dominated all facets of the bout over 6 ½ minutes en route to one of the year's more unsettling TKOs.
In doing so, Weidman not only gashed Munoz open with a sickeningly sweet standing elbow before finishing him with a barrage of ground strikes that turned just plain sickening, he may as well also have taken a hammer to the title picture in the 185-pound division.
It was just five days ago, after all, that we were lamenting the sudden lack of compelling middleweight matchups for
Anderson Silva
. Having dealt with
Chael Sonnen
in
karmically fitting fashion
at UFC 148, the aging champion's prospects for finding another opponent befitting both his skills and his place in the history of the sport appeared bleak. All at once Silva's best options for cementing his legacy felt like
retirement
or
fighting
Jon Jones
, both of which apparently sounded unappetizing to the champion himself.
Then Weidman smashed Munoz on a night when the UFC was perhaps the only live professional sporting event on national television. And while it would be disingenuous to pretend the performance raised him to Silva's legendary level in one fell swoop, it did make the middleweight division look suddenly vibrant again.
Indeed, the most surprising and impressive part of Weidman's win over Munoz was simply his comprehensive dominance. Not only did he take the former NCAA Division I national wrestling champion down at will, but he controlled the scrambles, appeared continually on the verge of finishing things with a number of submissions, and physically overmatched a guy previously regarded as powerhouse at this weight with ease. When Munoz finally
did
free himself of Weidman's clutches and looked to unleash his vaunted heavy hands on the feet, Weidman knocked him out less than two minutes into the second round.
It's tough to imagine anyone putting together a more compelling case for a title shot during the course of a single fight. Where few people were excited about the prospect of seeing Munoz take on Silva, Weidman now seems like the kind of talent that might just pique the public's interest.
UFC President Dana White has been initially noncommittal about where the victory leaves Weidman. Depending on how things go during a few upcoming bouts,
Hector Lombard
,
Michael Bisping
or
Alan Belcher
could all probably make credible arguments to be Silva's next opponent. If nothing else, that means there should be some lively debate in the coming weeks about where the middleweight division and its great champion are headed next.
It also means that UFC matchmakers suddenly find themselves a far cry from where we thought they were less than a week ago.
Suddenly, the company has at least one good option. That's an improvement.
July, 9, 2012
7/09/12
2:14
PM ET
In the immediate aftermath of his second-round TKO loss to
Anderson Silva
on Saturday at UFC 148, a dazed and disappointed
Chael Sonnen
didn't seem to know exactly what had happened.
"You know, he got me with a good shot," Sonnen told UFC color commentator Joe Rogan inside the cage, his voice betraying the uncertainty of a man still trying to piece together how things had gotten away from him. "I was on the ground and he got me with a good knee; other than that, I'm just going to have to look at the tape."
No shame in that, really. A total of 13 guys have tangled with the UFC middleweight champion in the Octagon, and in the end they've all probably come out feeling pretty much the same way. When Sonnen
does
go back to review the footage, however, he'll see something few of Silva's previous opponents will have seen, something a lot more heartbreaking.
He'll see a winnable fight undone by yet another careless mistake. He'll see one more bout lost because of the unforced errors and mental lapses that have plagued him throughout his entire career.
The first 6½ minutes of "the most anticipated rematch in UFC history" looked a lot like Sonnen's first meeting with Silva at UFC 117 in August 2010. The challenger dominated the opening round with his trademark wrestling skills, and in the early stages of the second round he continued to pressure and muscle the champion around the cage, nullifying most of Silva's attack when "The Spider" didn't have a big, fat handful of tights.
Everything seemed to be going according to plan.
Then came the spinning backfist that might well haunt Chael Sonnen for the rest of his days.
[+] Enlarge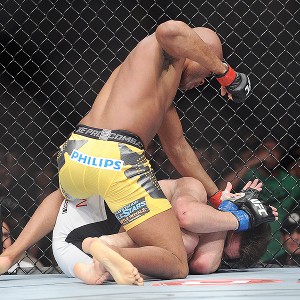 Al Powers for ESPN.comThe second Silva-Sonnen fight was starting to look a lot like the first -- until this happened.
As is so often the case with immediate postfight interviews, Sonnen's initial account of how things ended failed to tell the whole story. Truth is, with 3:31 left in the second, he had Silva right where he wanted him -- on defense, pressed against the chain link, fighting off an array of takedown attempts -- when Sonnen inexplicably launched into that wild, spastic backfist, missed by a mile, and fell down.
It was an out-of-character moment of flash from a guy whose offense is typically meat and potatoes. If Sonnen had landed it, we'd probably still be talking about how cool it looked.
But he didn't.
Instead, he fell on his butt, his face suddenly stricken with the terrified look we might all get if we'd just spent two years talking a raft of trash about the greatest mixed martial arts fighter in history and suddenly found him standing over us with his fists clenched.
Twenty-eight seconds later, the fight was over.
In retrospect, that spinning backfist comes off looking like a needless risk in the midst of a bout Sonnen was solidly winning. With the benefit of hindsight it looks, frankly, dumb.
And yeah, maybe it's unfair to criticize a guy for a split-second, spur-of-the-moment decision made in the heat of battle, one that was surely more the product of instinct than forethought. Maybe it's wrongheaded to think that if Sonnen had just played it straight, he might be walking the mean streets of West Linn, Ore., right now with the real UFC title belt, instead of a $30 knockoff.
[+] Enlarge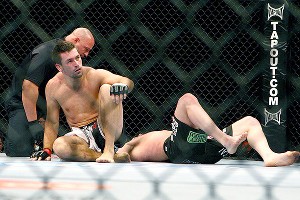 AP Photo/Tom HeveziA history of mistakes: Demian Maia capitalized on a Chael Sonnen error at UFC 95 back in February 2009.
But the fact remains, this is how Chael Sonnen loses fights. This is how he's always lost fights. He starts fast and gets ahead, only to make some critical error that costs him everything.
There was Silva's triangle choke at UFC 117, which came just minutes before Sonnen would have claimed UFC gold. There was UFC 95, when he tapped to the same choke from
Demian Maia
after controlling the first two minutes of the fight. There was December 2007, when Sonnen conceded with a scream to Paulo Filho's arm bar in the second round of a WEC title fight the former Oregon wrestler was winning. Keep going back, keep looking at the losses, and you'll find many of them are eerily similar.
On Saturday night, it was a slightly different kind of mistake, but the end result was the same.
It's strange to think that a guy so talented and so good at the mental part of the fight game outside the cage could be so prone to such blunders during his bouts. It's perhaps the weirdest kind of hole a fighter can have in his game, and it's one that Sonnen has been incapable of closing while racking up a 27-12-1 record during a 15-year career.
If it seems odd to us, imagine how frustrating it must be for him.
Seconds after succumbing to Silva's strikes on Saturday, Sonnen may not have been able to put it all together in his mind, but when he watches the tape what he finds might look all too familiar.
When he sees it with his own eyes, I think he's going to want this one back.
July, 3, 2012
7/03/12
11:26
AM ET
Conventional wisdom says this weekend is finally "put up" or "shut up" time for
Chael Sonnen
.
After six years of mediocrity followed by 3½ years of glorious superstardom, it's easy to think Sonnen's entire MMA career could boil down to the 25 minutes (or less) he'll spend in the cage Saturday with
Anderson Silva
at UFC 148.
If Sonnen manages to craft another stunning upset performance like the one we saw at UFC 117 -- this time without
pulling an Earnest Byner
-- even his staunchest critics will have no choice but to concede his place in the record books. He will have cashed in on perhaps the longest con in UFC history, turning in an Oscar-worthy performance during each step of his slow march to becoming No. 1 in the world.
On the other hand, if Silva makes good on his poorly translated promise to have Sonnen eat his own teeth this weekend, no one outside of West Linn, Ore., will cry for the man who has fashioned himself into the sport's first real villain. We will shed no tears because, aside from the injuries Silva may inflict during their rematch, the wounds Sonnen has suffered of late all have been self-inflicted.
In the rare instances he's broken character during his latest UFC run, even Sonnen himself admits: It ain't easy being the bad guy.
The months of trash talk, the arguments about testosterone replacement therapy, the Twitter controversies and even the guilty plea on federal money-laundering charges -- conventional wisdom dictates that this weekend we'll find out whether it has all been worth it for him.
Then again, conventional wisdom has never seemed to apply to Sonnen, and considering where he was less than five years ago, maybe we already have our answer.
Had the MMA media existed as it does today when Sonnen began his fighting career in earnest in 2002 (after one bout in 1997), we likely would have looked at his amateur wrestling credentials and trumpeted him as a blue-chip prospect. During the first half-decade of his run in MMA, however, it looked as though Sonnen was never going to fulfill that potential.
By autumn 2007, his immense talents had yielded surprisingly middling results. He'd grown into an unsigned 30-year-old journeyman still plodding his way through the indie scene with more than two dozen fights already on his résumé. During 2005-06, he'd had his shot at the big time, but had washed out of the UFC after losing two of three fights in the Octagon, both of them by submission.
To Sonnen, it must have seemed as though his athletic career was all but finished when a strange confluence of events rocketed him back into the UFC in early 2009. With the momentum of being the uncrowned 185-pound champion of the WEC behind him, surely a man as shrewd as Sonnen recognized the unique and serendipitous nature of the opportunity.
[+] Enlarge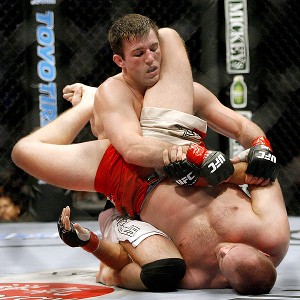 Gregg DeGuire/Getty ImagesChael Sonnen's first stint with the UFC -- a 1-2 run before being cut -- didn't go over so well.
In the years following, he's done everything he's had to do -- no more and no less -- to become one of the biggest stars in his field.
Has he lied? Has he cheated? Has he made a fool of himself in public? Sacrificed his reputation? His health? Maybe his future? Only he knows for sure.
But ask yourself, if you had worked your whole life in pursuit of one professional goal only to wake up one morning and realize the chance was about to pass you by, if you realized you were about to finish your career as a disappointment, if
you texted your boss and it turned out he didn't even know who you were
, what would you do?
Think of what you would do just for the chance to make it right, then imagine what a man like Sonnen might do.
Once you consider that during the past five years he's risen from the relative anonymity of the independent circuit to become one of the sport's biggest draws, transforming himself from a nobody into the career-defining nemesis of the greatest mixed martial artist of all time -- well, there's only one reasonable conclusion to draw, isn't there?
Chael Sonnen already has won.
March, 23, 2012
3/23/12
5:39
AM ET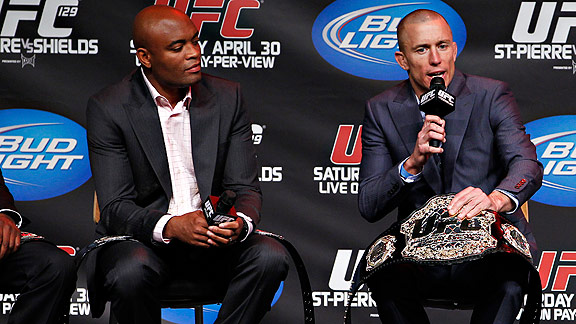 Ric FogelThe time for talk is over: Let's get Anderson Silva, left, and Georges St. Pierre together in the cage.
The UFC's long lost welterweight champion sounded downright chipper on Wednesday, when he beamed in via satellite to the company's all-purpose Canadian news conference.
Georges St. Pierre
has been in Los Angeles rehabbing his surgically repaired right knee lately and it seems like the California living agrees with him. The No. 1 ranked 170-pound and No. 2 ranked pound-for-pound fighter in the world appeared highly optimistic about his progress (he's on track for the fastest return from an ACL tear his doctors have seen, he said) and about the possibility he might get back in the cage as early as November.
St. Pierre even sounded fairly positive about the one topic he's been least enthusiastic about over the last year or so -- a future fight with middleweight champion
Anderson Silva
. Where previously GSP didn't seem too keen on the idea, he unexpectedly left the door open this week.
"If everything goes well, like the stars are aligned and everything, maybe we'll see one day in the near future about what's going to happen," St. Pierre said. "Am I going to go up [in weight]? Is [Silva] going to come down? It's too far to think about it right now, but it's something that can happen, of course."
Read those words once and they probably sound like nothing more than fairly typical GSP platitudes. Read them twice though and it's hard not to notice -- hey, wait a second -- the stars already
are
aligned.
Truth is, there will never be a better, more opportune time to book the Silva-St. Pierre superfight than right here, right now.
Think about it: In the past, the biggest obstacle to actually setting up the mythical bout was GSP's claim that he'd need several months of inactivity to naturally bulk up to 185 pounds. Well, he's got that time now, doesn't he? It's fairly easy, in fact, to imagine the process of packing on 15 pounds dovetailing nicely with St. Pierre's rehab efforts over the next eight months.
Not only that, but there may also never be a better time than right now to excuse the longtime titlist from the welterweight ranks. Interim champion
Carlos Condit
has his own extremely intriguing things going on and it would be simple -- not to mention marketable -- enough to have Condit fight the winner of the freshly announced
Jake Ellenberger
-
Martin Kampmann
fight sometime this fall. Provided Condit wins, he could lose the interim tag and then rematch
Nick Diaz
next year, as soon as Diaz's marijuana suspension lapses.
Assuming Diaz doesn't really hang up his gloves to become an amateur triathlete and herbal caregiver, of course.
[+] Enlarge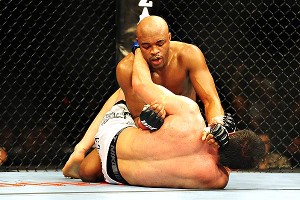 Mark J. Rebilas for ESPN.comAfter a rematch with Chael Sonnen, the challenges at middleweight are few and far between for Anderson Silva.
The way things are playing out at middleweight, that division might also have a perfect window to stage a superfight sometime around St. Pierre's targeted end-of-the-year return. We now know the UFC is close to locking down a June date for Silva to finally give
Chael Sonnen
a second crack at the title. After that, the 185 pound division's schedule really opens up.
Matchmakers look nearly fresh out of options for giving
Mark Munoz
a credible No. 1 contender fight and Tim Boetsch's scrap with
Michael Bisping
at UFC 148 sure isn't going to produce the next middleweight title challenger. At least, it better not. So, unless we all agree we're OK with Munoz proving his worth as top contender in a bout against the 8-0
Chris Weidman
(which would be acceptable, I guess) it appears there will be no clear-cut next in line for the Silva-Sonnen winner.
Unless the next in line is Georges St. Pierre.
Maybe it sounds fanciful (and possibly unfair to slot him for such a superfight in his comeback from knee surgery) but GSP would be the most compelling and lucrative opponent of all.
If we're allowed to strap on our fantasy matchmaker caps for a moment, we could just tell St. Pierre that -- while it's great that he's on pace for a record-setting recovery -- he shouldn't strain himself, because he's just going to be fighting for the middleweight title at the UFC's traditional Super Bowl weekend show on Feb. 2, 2013.
March, 21, 2012
3/21/12
6:16
AM ET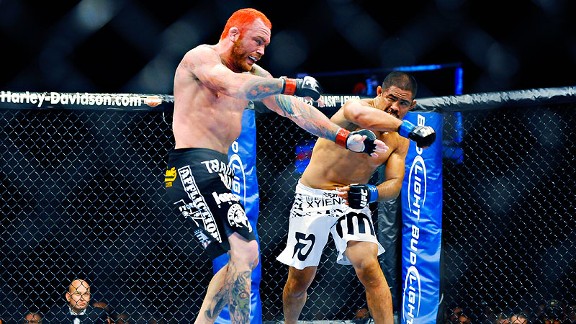 Rogan Thomson/Icon SMIStopping Chris Leben was supposed to launch Mark Munoz into the title mix.
Mark Munoz
told ESPN.com's Brett Okamoto this week
he was surprised when UFC matchmakers chose to pit
Michael Bisping
against
Tim Boetsch
at UFC 148, rather than give Munoz a crack at either one of them.
Come to think of it, that makes two of us.
Whatever the UFC's reasoning for temporarily sidestepping the former NCAA national wrestling champion to book Boetsch versus Bisping, the middleweight division suddenly seems trapped in an odd state of limbo because of it.
Even though he's been inactive since withdrawing from a scheduled title eliminator against
Chael Sonnen
two months ago to have painful, but fairly minor elbow surgery, the road to the next shot at the middleweight crown still runs through Munoz.
In other words, if he doesn't have a No. 1 contender fight, nobody has a No. 1 contender fight.
Bisping-Boetsch is an odd little scrap because, while it's certainly a compelling bout, it's not a particularly instructive one. The simple fact is, no matter which guy emerges victorious at UFC 148, he won't be ready for a title shot and
that
threatens to leave the winner of Sonnen's summertime clash with Anderson Silva without an immediate challenger.
In a world where the welterweight division is waiting for the return of
Georges St. Pierre
, the lightweight division is trapped in a seemingly endless string of rematches and the newly devised flyweight division is already on hold for a do-over, that can't be good.
[+] Enlarge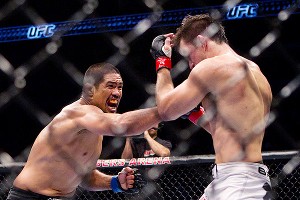 AP Photo/Darryl Dyck/The Canadian PressAt this point, all roads to Anderson Silva should go through Mark Munoz.
Meanwhile, the rest of the middleweight top 10 is rapidly filling out its dance card.
Vitor Belfort
is already committed to a backtracking fight against
Wanderlei Silva
once filming on "The Ultimate Fighter: Brazil" wraps and rushing
Chris Weidman
into a fight with Munoz would feel like a fairly clumsy upward leap for the undefeated prospect.
So, either Munoz is
already
the No.1 contender for the winner of Sonnen-Silva and he just doesn't know it yet, or it's easy to get the impression the entire division is headed nowhere fast.
Munoz contends he'll be ready to get back in the cage around roughly the same time Bisping and Boetsch will square off in July, but the UFC reportedly hasn't budged on getting him a fight. Perhaps company brass want to make doubly sure he's healthy before booking him a date. Perhaps -- as conspiracy theorists are already whispering -- matchmakers are looking to rehabilitate Bisping as one of its most popular international attractions following his loss to Sonnen. Perhaps they feel Boetsch needs one more fight before they start to view him as a legitimate threat at middleweight.
Or perhaps, we're just over intellectualizing. Maybe the UFC needed to make a fight, so it made one. In any case, it's a decision that effectively leaves Munoz (and the 185-pound title picture) in the lurch.
Prior to surgery, he'd ripped off four straight wins in 12 months during 2010-11. It appeared his two-round victory (via corner stoppage) over the notoriously tough to finish
Chris Leben
at UFC 138 had set him up for big things in 2012.
Now, it seems like nobody -- Munoz included -- knows exactly what to think.
December, 2, 2011
12/02/11
2:58
PM ET
Both
Michael Bisping
and
Jason Miller
say they're perfectly content with the circumstances of Saturday night's "Ultimate Fighter" season 14 finale.
Never mind that they seem to be caught in the middle of the UFC's divorce from SpikeTV and (perhaps due to the uncertainty surrounding that split) their otherwise pay-per-view quality bout has been relegated to free television and the intimate settings of The Pearl at the Palms. Never mind the fact the fight company canceled the prefight news conference and open workouts this week, appearing satisfied to ride out the end of this marriage in shared silence.
Miller and Bisping are fighters, so they don't concern themselves much with that stuff. Or at least if they do, they don't let on.
Likewise, neither guy will cop to being overly concerned with the stakes of their grudge match or where they stand in the middleweight rat race, which has only gotten murkier over the past few days.
Here's what we think we know at this exact moment: Anderson Silva's 36-year-old shoulder will likely keep him out until June, at which point the UFC may or may not be planning to showcase its 185-pound champion in a 100,000-seat mega stadium in Sao Paolo, Brazil, against an opponent still to be announced. We'd all previously assumed that TBA would be
Chael Sonnen
, but with each passing day it appears more and more likely the promotion will stick to its guns about The
Rashad Evans
Rule and not let Sonnen sit out to wait for his title shot.
[+] Enlarge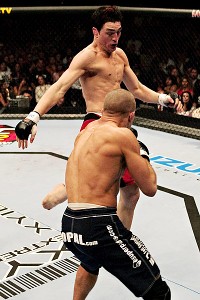 Josh Hedges/Getty ImagesJason Miller is hoping for a better outing in the Octagon than last time around.
Rumors ran hot and heavy last week that the former Oregon wrestler might face off with
Mark Munoz
at the UFC's second live show on FOX, but a few days ago Sonnen went on record saying he believes he'll get the winner of Bisping versus Miller instead. Naturally, there's also a decent chance Sonnen is just saying stuff for his own amusement, so his words really leave us no closer to answers than we were before.
Bisping, who has been hovering on the outskirts of contender status for some time, doesn't believe a win over Miller would do much to move him up the ladder. He intimated this week that he sees this fight simply as a chance to get some added cage time, earn a little more money and shut the mouth of a guy it turned out he didn't particularly like while they filmed a season of reality television together. By that same token, though, a loss to an Octagon newcomer, no matter how accomplished, could be disastrous for his title aspirations.
For Miller -- who returns action for the first time in more than a year -- a second run in the UFC gives him a chance to prove he's more than just a television personality, that when he's not dropping one-liners on out-of-shape bullies on MTV2, he has what it takes to compete at MMA's highest level. A win over Bisping would show he's been underrated these last few years of globetrotting and sporadic competition, while a loss (especially a bad one) would raise significant questions about his long-term future in the Octagon.
Being so preoccupied by the damage they plan to do to each other, it doesn't seem like the fighters will care a lick about the long-term until after the fight Saturday night. Until then, they're happy to leave such big-picture questions to fans and media types.
It's just that, with no prefight news conference, there isn't a great place to ask.
October, 20, 2011
10/20/11
1:07
PM ET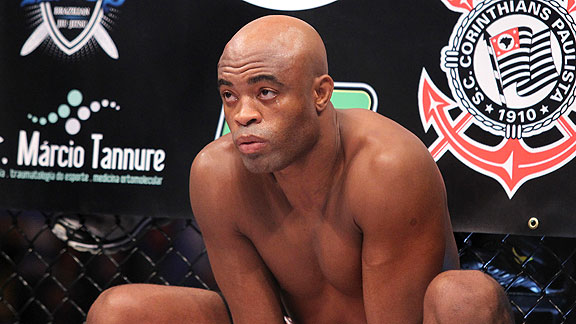 Ed Mulholland for ESPN.comA vow of silence: Anderson Silva's actions, strangely enough, speak volumes.
A strange thing is happening in the middleweight division, where it used to be pretty easy to separate the loudmouth pro-wrestling heels from the sober professionals.
In the immediate aftermath of Chael Sonnen's win at UFC 136, however, the rhetoric coming from Anderson Silva's camp has been nearly as weird and nonsensical as the stuff we typically expect from Sonnen. It's almost enough to make you wonder if Silva and his people are just giving the crazy-talking Oregon grappler a taste of his own medicine.
The 185-pound champion hasn't had a lot to say thus far about Sonnen's newly rescinded challenge for a loser-leaves-town rematch during Super Bowl weekend, except to cover his mouth and giggle at the audacity of it. Meanwhile, Silva has dispatched manager Ed Soares to tell anyone who will listen that they're not all that interested in giving Sonnen another shot at the title. At least not right now.
"I think Chael's delusional, man ...," Soares told
HDNet's Inside MMA recently
. "Take a number and get to the back of the line. You had your opportunity."
What to make of this strategy? Of course, it's just gamesmanship. I mean, we all hope it is.
To actually deny Sonnen's status as No. 1 contender would be to exhibit a disconnect with reality befitting Sonnen himself. Even after his 14-month absence from the cage for his various personal and professional transgressions, he remains the second-ranked middleweight in the world and his bout with
Brian Stann
12 days ago in Houston was roundly considered a title eliminator going in.
[+] Enlarge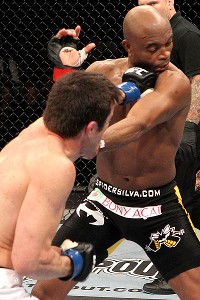 Josh Hedges/Zuffa LLC/Getty ImagesAnderson Silva has been taking it on the chin -- and responding in kind.
After easily cruising to victory over Stann, a second fight between Sonnen and Silva is now being referred to as "the biggest rematch in MMA history." It's the middleweight match-up fans want most for Silva and would be the hottest-selling 185-pound match the UFC could make between now and, well, eternity. It would give "The Spider" another shot at his nemesis, the opponent who gave him the stiffest test of his UFC career and the guy Silva's camp has implied would get smoked the second time around, provided everybody involved has normal testosterone levels and healthy ribs.
And now the champ doesn't want to do it? Yeah, right.
When Soares dismisses Sonnen as a realistic foe and insinuates that Silva would rather take a comparatively much easier, much lower-profile fight against
Michael Bisping
-- as
he did this week
-- they're clearly just messing with Sonnen as much as Sonnen is trying to mess with them. It stands to reason that nothing would irritate a guy like Sonnen more than being ignored and -- that's exactly what the champion has done so far.
But as much as he sometimes acts like one, Sonnen is not a schoolyard bully. You can't just ignore him until he goes away. Silva's camp knows that, and they also know it's only a matter of time before the UFC greenlights second bout between the two fighters. When that happens, Silva will take it and take it gladly.
Otherwise, we might start thinking Sonnen is the sane one in this scenario.
October, 5, 2011
10/05/11
12:46
PM ET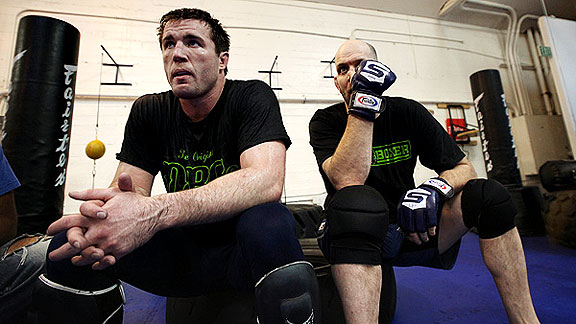 Dave Mandel for Sherdog.com MMA fans knew Chael Sonnen could put up, but who would have guessed he could shut up?
Both
Brian Stann
and
Chael Sonnen
have played it pretty cool in advance of their middleweight title eliminator on Saturday at UFC 136. Neither guy has had much need for trash talk or fighting words, saying the built-in stakes and obvious implications of this bout speak for themselves.
The pair has been so equally gracious and complimentary, that if you take the names out of their quotes, it's kind of hard to tell who has said what.
"Nobody wants to fight him, but somebody's got to [do it]," one guy has said.
"I think he had a lot of people he wanted to fight [but] nobody would fight him," the other has said.
Such a subtle approach is to be expected from Stann, who's gone 10-3 during his Zuffa career all while a exuding a classy, levelheaded cool. For Sonnen?
Not so much. After years of being overlooked and dismissed as a second-tier talent, he broke out in 2009-10 behind a four-fight run at UFC gold and a campaign of verbal attacks on his opponents the likes of which we've never seen before in MMA. Suffice to say, those tactics made him a pretty huge star.
[+] Enlarge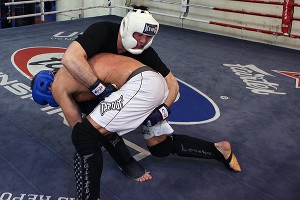 Dave Mandel for Sherdog.com Chael Sonnen has focused on wrestling and not pro-wrestling tactics leading up to Saturday.
Against Stann however, Sonnen's professional wrestling heel persona has been painted into a bit of a corner. He couldn't very well come out blasting the former US Marine and bona fide war hero with the same vitriol he'd used so successfully against
Anderson Silva
, now could he? To his credit, Sonnen contends he wouldn't want to do that anyway, saying he respects Stann and expects a heck of a test from him.
To a certain extent, these guys are right to let this bout speak for itself. It's a compelling matchup of styles -- the physically imposing power striker versus the decorated, tenacious amateur wrestler -- and the winner will go on to meet the world's top pound-for-pound fighter for the UFC's 185-pound title. As far as storylines go, that's usually good enough.
In this case, though, it feels like Sonnen versus Stann has flown under the radar a bit. Most of the media attention leading up to the weekend's event in Houston has focused (rightly, perhaps) on guys like
Frankie Edgar
,
Gray Maynard
,
Kenny Florian
and
Jose Aldo
. Just like the positioning of their fight on the actual bout sheet, the two middleweights have been reduced to supporting roles.
There's nothing wrong with that, but it's kind of unusual for a high-stakes fight involving Sonnen -- especially considering he's making his return after 14 months away from the cage, a time when he fell from being No. 1 contender to being suspended for violating the California Athletic Commission's drug policy to being indicted on federal mortgage fraud charges.
After emerging on the other side of all that adversity, you'd expect Sonnen's comeback to feel bigger, more important. Yet, while this fight hasn't been forgotten by any stretch, it also hasn't taken on the momentum it might have attained had it been promoted with a bit more vigor.
When it's all said and done, you'd think a fight pitting the man fans love to hate against a fast-rising "All-American" hero would be more than just a subplot.
September, 29, 2011
9/29/11
12:01
PM ET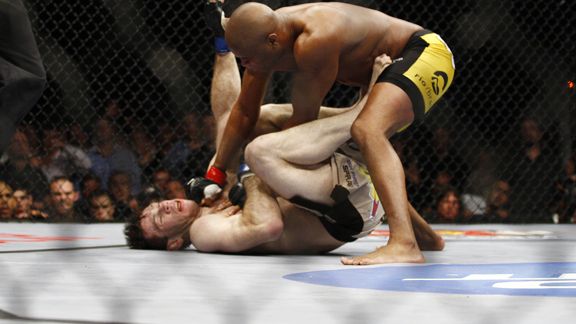 Ed Mulholland for ESPN.comDon't believe Anderson Silva packs a punch at 205? Just ask Forrest Griffin.
At least among fans, the popular vision of Anderson Siva 's future includes him defending his UFC middleweight title against either
Chael Sonnen
or
Brian Stann
and then engaging in one or both epic superfights against welterweight champ
Georges St. Pierre
and light heavyweight titlist
Jon Jones
.
It's a nice idea, but one fraught with pitfalls and hang-ups, most of which have already been discussed on this website and others. If weight-bending, big-money superfights are what we're after for Silva, it's hard not to wonder if a somewhat more pedestrian rematch against old foe
Dan Henderson
isn't just more realistic, but better for all parties involved.
Henderson wants this fight, as he's made it clear in nearly every interview he's done since winning the Strikeforce light heavyweight title. Silva's camp says he would take it, just as soon as his shoulder heals up. Meanwhile, St. Pierre would get to stay at 170 pounds, where he rightfully belongs, and Jones could focus on the meat grinder of upcoming challengers that will be lining up for him in his own weight class over the next year or so.
[+] Enlarge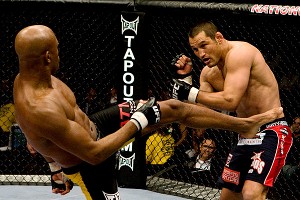 Josh Hedges/Getty ImagesA rematch between Anderson Silva, left, and Dan Henderson at 205 might benefit both parties.
Hendo versus Silva II has already been talked about, obviously. Henderson says he and the UFC discussed the possibility before he ultimately settled for a bout with
Mauricio Rua
. To date though, all discussions seem to indicate this fight would happen at 185 pounds which seems, frankly, less than ideal.
Granted, Silva continues to express a desire to finish his career at middleweight, but Henderson has adopted a fairly hard-line stance against competing at 185. Can't blame him; it's tough on a 41-year-old body to cut the weight and his performance against
Jake Shields
in his last middleweight appearance was less than inspirational. On the flipside, as soon as he hopped back to the heavier weights, he immediately started knocking people out again, and hasn't stopped.
Why would the UFC give its middleweight champion a fight against a guy who doesn't want to fight at middleweight? Instead -- if Silva beats Sonnen/Stann and Hendo beats Rua -- doesn't it make more sense to entice "The Spider" into a fight at light heavyweight, where Henderson will be most dangerous and where Silva has looked like an absolute wrecking machine in two previous appearances?
That way, in the somewhat unlikely event that Silva were to lose, he'd still be marketable as the UFC middleweight champion. If he won, well, that would only make the possibility of a fight against Jones seem all the more real.