May, 6, 2012
5/06/12
12:17
AM ET
EAST RUTHERFORD, N.J. -- When
Nate Diaz
bolted the 155-pound division 2½ years ago, he had lost three of four fights and was in need of a change. He tried to kick-start his career as a welterweight; and yet, after four fights there, he went 2-2.
For as promising as his UFC career started -- going 5-0 after winning Season 5 of "The Ultimate Fighter" -- people weren't talking about Diaz after his one-sided beatdown at UFC 129 against
Rory MacDonald
at UFC 129.
Nick Diaz's little brother had essentially plateaued.
Yet on Saturday night, in just his third fight in his reimagining as a lightweight, Diaz is now in pole position for a title shot in what might be the promotion's most competitive division. His second-round submission of New Jersey native
Jim Miller
put an exclamation mark on his latest run. Diaz tapped out the hometown hero with a guillotine choke -- on national television, no less.
To put that in perspective, consider this: Nobody -- not
Gray Maynard
, not
Frankie Edgar
, not Benson Henderson -- has ever stopped Miller (now 10-3 in the UFC).
"I just trained hard for the fight, and I just went in there and fought hard and it went good," said a terse Diaz at the postfight news conference.
Indeed he did. Saturday was the night that Nate Diaz truly arrived. And talk about a turn of events -- who would have thought six months ago that, when discussing a Diaz in a title fight, it would be Nate instead of Nick.
But that's where we're at. Since returning to lightweight, Nate Diaz finished
Takanori Gomi
, landed a record number of strikes against
Donald Cerrone
and now became the first fighter to finish Miller. What's up with the resurgence?
[+] Enlarge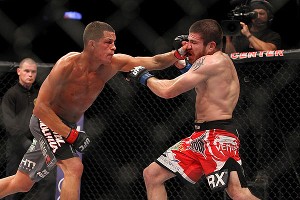 Ed Mulholland for ESPN.comNate Diaz, left, has been on a tear since returning to the lightweight ranks.
To hear him say it, it's all about pushing the right buttons in training.
"I'm getting matchups with top contenders at lightweight, and that's a little motivating," he told ESPN.com. "It's hard to stay motivated and fight somebody that nobody knows, who you're kind of more popular than. I don't mean to sound like I'm all popular, but sometimes it's hard when everybody expects you to win. I like fighting a top contender and being counted out.
"I feel it in training," he said. "[Miller] is supposed to beat me? We'll see."
The Stockton native will likely be an underdog in his next fight, too. It was announced tonight that the new No. 1 contender in the 155-pound division will wait out the Edgar/Henderson bout to face the winner, even if the fight takes place very late in 2012.
"He's going to wait for the title shot," Dana White said. When asked about waiting, Diaz simply replied, "I'm down for whatever, but [waiting] sounded great to me."
And, just like it was for Henderson, beating Miller was the way to a title shot. Miller said the game plan was to pressure Diaz and make move backward while staying out of his range.
Easier said than done. Miller couldn't get anything going in the first round and got caught in a scramble that led to him tapping in the second. Afterward, Miller doffed his cap to Diaz's superior game plan.
"He fought a beautiful fight, and he had my number," Miller said of Diaz.
Diaz has had everybody's number that he's faced since returning to lightweight. Perhaps he said it best himself in the postfight news conference.
"Yeah, he's tough," he said. "It was him or me, and I'm glad it went the way it did. Guess I got lucky, just my time to shine, I guess."
May, 4, 2012
5/04/12
6:14
AM ET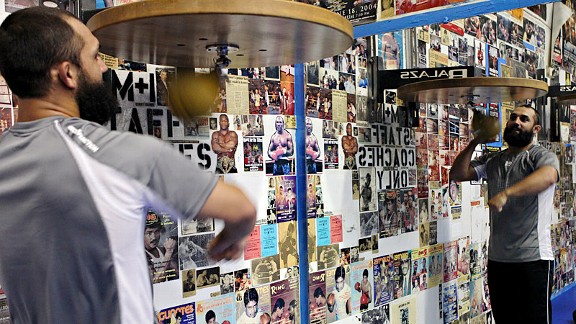 Ed Mulholland for ESPN.comEven with a possible title shot looming, Johny Hendricks can't afford to look too far ahead.
NEW YORK -- For as stacked as the UFC 146 card appears for Memorial Day weekend, it's really two title fights (
Urijah Faber
/
Dominick Cruz
and
Chael Sonnen
/
Anderson Silva
) and a pack of glitzy non-consequential match-ups (
Cung Le
/
Rich Franklin
and
Forrest Griffin
/
Tito Ortiz
).
Not so for New Jersey and this weekend's free UFC on FOX 3 card. No belts will change hands, but situations are in play. Complicated situations. Theoretical ones. Titles dangling in the balance, right there for some and just out of reach for others. And there is, of course, much obfuscation.
For example: If
Nate Diaz
capitalizes on his broadcast television main event and downs
Jim Miller
, he is essentially guaranteed a title shot at 155 pounds. However, with Benson Henderson and
Frankie Edgar
fighting for the title in August, that shot might come in a wintry month like December. That's a long time to wait for a guy who A.) fights for money, B.) likes fighting and C.) has a nice head of momentum. When asked if he'd wait in that situation at Thursday's news conference, Diaz said simply, "I have a fight on Saturday."
This drew a New York cheer. Diaz, for all his volume in punching, is a man of few words.
If Jim Miller beats Diaz, on the other hand, he isn't guaranteed anything. Rather, he is guaranteed to be cheering for Frankie Edgar at UFC 150 when Edgar fights Henderson, because in that case Miller would potentially get to fight Edgar (his erstwhile training partner/friend).
Got it?
Here's what Miller had to say when asked if he's confused by Diaz getting a title shot with a win (even though he's 3-3 in his last six lightweight bouts) while he (10-2 as a lightweight in the UFC) won't necessarily:
"You know, honestly, it doesn't matter to me right now. I've got a fight in two days, and that's where my focus is. From doing that [10-2 record] and having that seven-win stretch and dealing with the rematches in this division, it really cemented that things change -- and things happen. So I'm not going to sit here and try and predict what'll happen with a win or with a loss. I'm just focused on the fight itself, and after that, then it's time to speculate about the next fight."
If he won't speculate, we sure will, and we'll add a name to the mix:
Anthony Pettis
.
Pettis, who is a quasi-No. 1 contender, will be coming back to full health some time in the summer. Logic would say that the winner of Diaz/Miller will end up fighting Pettis to establish a true No. 1 contender, while Henderson/Edgar II plays out.
Meanwhile, the co-main event has its own wild set of conditions. Should
Johny Hendricks
beat
Josh Koscheck
, he is the No. 1 contender for a title fight. Problem is, once again, that
Georges St. Pierre
and
Carlos Condit
are likely fighting in November to settle up the permanent and interim belts. There's no way that Hendricks will want to wait for that to play out for a spring 2013 title fight.
Yet if
Koscheck
wins, he will have to pull for Condit to beat St. Pierre to have a word in the title conversation.
Confused? You should be. If we learned anything from the final prefight news conference, it's this -- the UFC doesn't want repetition. Koscheck/St. Pierre and Henderson/Miller happened too soon ago to happen again. The UFC craves new blood.
It's the most complicated contender-type card that ever was, and it's going down Saturday night in New Jersey.
First UFC "super fight" in January?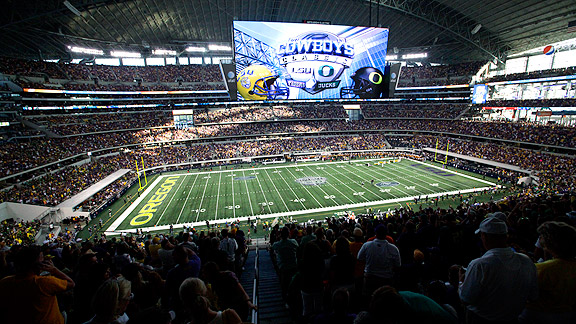 AP Photo/Tony GutierrezCowboys Stadium could be hosting a UFC mega-card as early as January.
In the post news conference scrum, a media member asked Dana White about a potential fight card at Cowboys Stadium in Dallas, a venue which can hold 100,000 people.
White said all that flirtation about holding an event there was not only real, but is a serious possibility. He also alluded to a big January card that could potentially be so massive.
"We're always looking for a potential big fight," White said. "We've always wanted to do a fight, and we've been talking to [Jerry] Jones and his crew about doing a fight down in Dallas Cowboys Stadium, but we need a fight big enough to do it. The last fight that I was going to try and make there was Brock [Lesnar] and Fedor [Emelianenko]."
There is potentially a fight out there that's big enough.
Running through the timelines of "super fight" candidates for a place like Dallas Cowboys Stadium, or a second event at the Rogers Centre in Toronto (or at the old, reliable stand-by in Las Vegas), one could envision a
Jon Jones
/Anderson Silva match-up at least being discussed.
Think about it. If Jones beats
Dan Henderson
in September, that would be four months ahead of January -- perfect for the turn around. Anderson Silva fights in July. Should be beat Chael Sonnen for his record 10th title defense, there would be only one way to raise the ante -- and it wouldn't be to take on
Mark Munoz
or
Hector Lombard
.
It would be to fight Jones, who'd have tidied his own division up just in time. Is that what the UFC has in mind?
"I don't know," White said. "We'll see what happens. We'll see what we end up putting together."
New York state of mind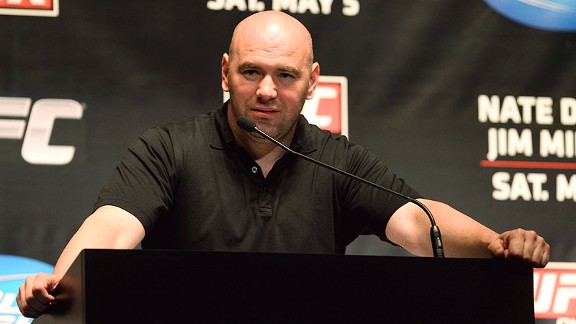 Ed Mulholland for ESPN.comExpect something special from Dana White & Co. when MMA finally gets sanctioned in New York.
By now, everyone knows about the MMA ban in New York, even as we make our way through open-minded 2012. This is why the UFC dangles its product just across the Hudson River -- to reinforce that all notions of "human cockfighting" are antiquated and hyperbolic. Whether the sport hasn't been sanctioned in the Empire State is about "gangsters" in the Culinary Union (as Dana White says) or something less ominous, it depends on whom you talk to.
But when MMA
does
finally get legalized in New York, the UFC plans on doing it big.
"When we finally do break through and do a big event here, I think the event at Madison Square Garden that we do will be huge, and it's be a great time to pull off a Fan Expo here in New York," White said. "I think it would be huge."
In the meantime, those in New York who want to catch MMA in a live setting must go underground. Or, underwater. For MMA, there's light at the end of the Lincoln Tunnel, across the way in East Rutherford, N.J., where the UFC will once again mock New York with the one thing it doesn't have.
May, 2, 2012
5/02/12
5:33
PM ET

By Chad Dundas
ESPN.com
Archive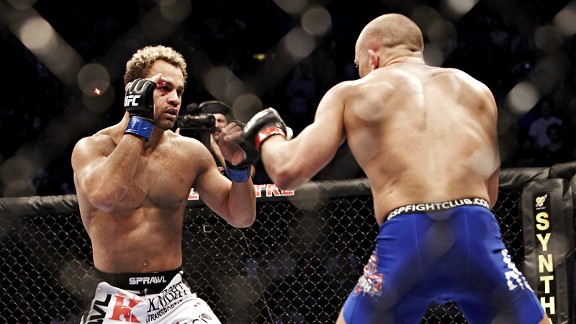 Marc Lecureuil/Getty ImagesCan Josh Koscheck turn back time -- and turn back the next wave of welterweights?
Over the last year or so, the UFC welterweight division has unexpectedly become a young man's game.
If we'd had to guess back in the halcyon days of, say, UFC 124, it might have seemed a good bet that
Georges St. Pierre
would've cleaned out his weight class by now; that we might be talking about him moving up a division and about a potential superfight against
Anderson Silva
being in the immediate offing.
As it turned out, nothing could be further from the truth.
Due to St. Pierre's lengthy injury layoff and the rapid rise of a new breed of 170-pound challengers, the welterweight ranks have undergone a significant revival since December 2010. That is, since the last time GSP whooped up on
Josh Koscheck
.
Suddenly, the ESPN.com welterweight top five is stocked with fresh opponents for St. Pierre (whenever he returns), all of them still comfortably in the athletic prime of their mid-to-late 20s:
Carlos Condit
,
Nick Diaz
,
Jake Ellenberger
,
Johny Hendricks
-- this is
their
show now.
Thirty-somethings like Koscheck,
Jon Fitch
and
Jake Shields
have been relegated to the bottom half of the top 10 rankings. Worse than that, there's a growing and palpable feeling that their time has passed.
Unless.
Unless.
Unless the division's original malcontent has anything to say about it.
When Koscheck fights Hendricks on Saturday during the UFC's third live show on Fox, it'll likely constitute the 34-year-old veteran's last real chance to launch himself back into the thick of the 170-pound title hunt. It's also pretty easy to frame this matchup as exactly what it is: A meeting between the welterweight class' sturdy old guard and its new wave of exciting young upstarts.
As a guy who has traditionally reveled in the role of villain, perhaps this could be Koscheck's final opportunity to really stick it to fans, as well.
Even without taking sides, it's clear that the more interesting way forward for the division at large would be a victory for Hendricks here. After all, whereas we think we've already seen the best Koscheck has to offer (it was good, but not quite good enough), Hendricks is the more unproven commodity, and therefore the more interesting one.
We have no idea how Hendricks might fare against St. Pierre and that's exactly why we like him. Ditto for guys like Condit, Diaz and Ellenberger. On the other hand, we've witnessed the French Canadian champion put Koscheck through the wringer twice before, and we have no reason to believe another meeting would be any different.
To a slightly lesser degree, the same goes for Fitch, Shields,
Thiago Alves
,
B.J. Penn
and the rest of yesteryear's top welterweight contenders.
A victory for Hendricks means the division gets to continue the renewal we've seen over the last year. It means it can go on being one of the most vibrant and interesting weight classes in the sport. A win for Koscheck obviously wouldn't undo that entirely, but it would send the 170-pound youth movement staggering a bit.
We should likely stop short of saying a Koscheck victory would be a victory for the old dogs of the welterweight division -- as the man himself would probably remind us, a win for Koscheck is a just a win for Koscheck -- but it certainly would be a significant defeat for one of the guys fight fans are hoping will carry us into the future.
February, 28, 2012
2/28/12
11:49
AM ET
A lot of things should go into booking Benson Henderson's next fight, beginning with marketability and ending with scruples.
Does the UFC book an immediate rematch with a very deserving
Frankie Edgar
? Or do they give the shot to
Anthony Pettis
, who was the last man to defeat Henderson back at WEC 58?
Never mind the merits of
Nate Diaz
and
Jim Miller
for the time being. They are set up on a distant horizon, too distant to factor into a demanding public's want of matchmaking immediacy.
And still, both situations are complicated.
If the UFC eschews Edgar's request for a rematch, it looks like he's getting a raw deal for a guy who has been nothing but a model champion for the last two years. Did he complain about having to back up his victory over
B.J. Penn
? Under his breath, maybe. He also handled the Maynard series with the kind of professionalism that fans could get used to. For all his deeds, how can the UFC simply ignore the case he's presenting for rematch in a fight that was so close enough as to warrant one?
There are plenty of reasons, and most weigh around 155 pounds.
The fact that Edgar has been involved in consecutive rematches at the top of the lightweight division means it's been off limits to contenders for going on two years. That's a long time to hijack a division, fair or not. For one disgruntled former champion, there's a mob scene going on just below him of people who have their own cases to hear. The perpetual logjam at the top at 155 pounds isn't Edgar's fault, or Pettis's, for that matter. Or Jim Miller's, or Melvin Guillard's, or Donald Cerrone's.
If the UFC books Edgar/Henderson II, all the contenders who have been looking for an opening for that belt will effectively be snubbed yet again. "What's right?" Edgar asked at the postfight news conference at UFC 144, meaning he's done right by the UFC, and now it's time for the UFC to do right by him.
Maybe so, but "what's right?" in this case is a complicated question.
[+] Enlarge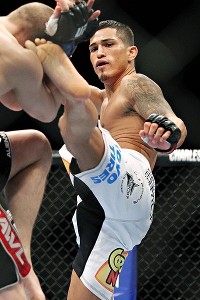 Josh Hedges/Getty ImagesMomentum is back on Anthony Pettis' side, but will he be allowed to make the most of it?
And of all the wayside contenders to lose out in a new rematch scenario, Pettis would be the one most affronted. He was the one who lost out on the
last
rematch scenario. Remember, it was the reigning WEC lightweight champ Pettis who came into the UFC as the No. 1 contender to fight the Maynard/Edgar winner to start 2011. When the fight went to a draw, Pettis, who was then 23 years old, didn't want to sit out and wait and so took a stay-busy fight with
Clay Guida
. Then he lost, and that set him back a full year. Now he knocks out
Joe Lauzon
and re-establishes himself as a (less clear-cut) No. 1 contender, and his reward could be to stand aside again.
Or to take a fight and stay busy while this thing sorts out.
That's not an ideal situation to be in once, much less twice. People fight to make money, but also to earn a chance at a belt. That's the ultimate goal, and at some point it becomes a goal held in vain when no opening in the title picture can be found.
So what does the UFC do? Does it book the rematch with Henderson and Edgar, and do what's right by one deserving man? Or does it open the belt up for business, and allow Pettis to finally walk toward the light?
Tricky stuff. But you can see why Dana White is so bent on having Edgar drop down to 145 pounds to challenge
Jose Aldo
. It's the only scenario where everybody more or less wins -- and traffic can get moving in both divisions.