December, 7, 2012
12/07/12
7:08
AM ET

By Josh Gross
ESPN.com
Archive
Along the way,
BJ Penn
committed himself to doing only what he wanted. If it wasn't fun, it wasn't worth his time.
To the delight of many people over the past 11 years, that sometimes meant walking into a cage to fight.
So the 33-year-old former UFC welterweight and lightweight champion's decision to end a brief retirement, get off the couch and accept a bout with hotshot Canadian welterweight
Rory MacDonald
wasn't a surprise. Penn can be impulsive, and time is not on his side; he sought an itch and scratched it.
Oh, he wanted to return. He wanted to put young MacDonald in his place and take another crack at a Tristar Gym fighter. Penn also missed being mentioned in rarefied terms. He wanted that again -- a vain, revealing and honest admission. The same could be said over his concerns about legacy, which, to be fair, are hardly new.
Yet none of these things pushed boundaries, a Penn specialty. What did? Random amped-up drug testing administered by a group unaffiliated with the UFC. Via the Voluntary Anti-Doping Association, Penn and MacDonald are the first fighters in mixed martial arts to undergo urine and blood testing for substances including EPO, human growth hormone and synthetic testosterone. On Wednesday, VADA tested Penn for the third time.
"If I was gonna make a comeback I wanted to make it as safe as I can," the Hawaiian said last week in the run-up to Saturday's UFC on Fox 5 event in Seattle. "I'm not saying Rory MacDonald is using steroids. That's all it is. I'm protecting myself."
Penn surely didn't return to the UFC to be tested for drugs, but he wasn't going to do so without being tested as rigorously as he wanted.
In a nutshell, whether it works out or not, this is how Penn has handled his career.
He angled to make it to the Octagon. He is among a select few fighters who can say he began his career there.
He pushed to fight for a UFC title and did in his fourth contest. Penn, however, wasn't ready for the moment.
He obtained a shot against
Matt Hughes
at 170 pounds. This time he shocked the world in his debut at the weight and captured the belt.
He coveted a contract with the UFC that allowed him to fight for Japan's K-1 promotion. That didn't happen, and it led to a contentious departure from the UFC and an odd sequence of matches that hurt the way his legacy is viewed. He wanted to fight at middleweight and light heavyweight, and he did. And he looked chubby and sluggish, infuriating as it was for fans who love him, away from the Octagon in the midst of his prime.
He desired the UFC welterweight title once more and re-signed with the promotion, though the belt never returned.
He aimed at the UFC lightweight title, the one that eluded him in his fourth fight. This played out the way he hoped when he ran through
Jens Pulver
.
Because fighting at lightweight, where he appeared dominant, wasn't challenging enough, Penn eyed a rematch with
Georges St-Pierre
at 170. He suffered through a rough TKO after 20 minutes. All for an itch he wanted to scratch.
[+] Enlarge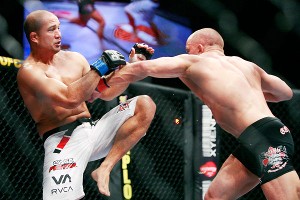 AP Photo/Eric JamisonBJ Penn bit off more than he could chew in a rematch with Georges St-Pierre.
Penn has come off like a happy warrior leading up to Saturday's card.
He restocked his camp with old faces, tailored, like always, just the way he wants. One Penn associate described the fighter as being "so relaxed and confident. He hasn't been like this in a while. I'm feeling good about it."
The Prodigy maintains a unique place among fighters. Admittedly not much of a stick-and-ball athlete, Penn was preternaturally talented for MMA. Speed, flexibility, balance, technique -- he possessed it all, yet on the eve of bout No. 27, scuffling at 1-3-1 since 2010, this is a man lamenting that his name is missing from discussions of the best, a man craving a lasting, meaningful legacy.
MacDonald, nearly a head taller than the Hawaiian, suggested thinking like that could get Penn hurt.
"He said he's fighting to get his legacy back," MacDonald said. "I don't know if it's true or not, if it's his motivation or not. But if that is true, if you're fighting for someone's opinion, for some status, it's the wrong reason to fight."
Penn, it so happens, wants his opponents to chirp. Last week he claimed it was wonderful that MacDonald called him fat, among other things. Said Penn: "I couldn't ask for more."
Looking directly at MacDonald during the final pre-fight news conference in Seattle on Thursday, Penn reiterated the point. He wanted to tell the young fighter that he better be ready to live up to his words.
So he did.
"I'm a glass half-empty kind of guy," Penn said. "I don't want to be known as being good back in the day. I want to be one of the best. I still think I have something left to accomplish."
December, 6, 2012
12/06/12
6:15
AM ET
By Michael Landigan
ESPN Stats & Information Group
Archive
Fireworks are sure to fly Saturday at KeyArena in Seattle when UFC lightweight champion
Benson Henderson
defends his title against
Nate Diaz
. Here is a look inside the numbers for the UFC on Fox main event:
6 -- Inches in reach advantage for Diaz (76 to 70).
Diaz is 3-0 since dropping back down to 155 pounds, where he has used his reach advantage and unorthodox boxing style to outclass
Takanori Gomi
,
Donald Cerrone
and
Jim Miller
on the feet. After landing only 62 significant strikes combined in back-to-back unanimous decision losses to welterweights Dong Hyun Kim and
Rory MacDonald
, Diaz landed a UFC-record 238 significant strikes in his classic stand-up battle with Cerrone at UFC 141. Henderson hasn't fought with a definitive reach disadvantage since his unanimous decision victory over
Mark Bocek
at UFC 129.
48 -- Percentage of takedowns Henderson has completed, as well as the percentage of takedowns Diaz has defended.
A former two-time NAIA All-American wrestler, Henderson might look for the takedown early if the reach of Diaz becomes a problem. Henderson's preference was to keep the fight standing in his two close decisions over fellow wrestler
Frankie Edgar
, but he completed a combined 10 of 11 takedowns in unanimous decision victories over Bocek and Miller. Diaz does have a history of being controlled on the ground as all five of his UFC losses have come at the hands of high-level grapplers. After being taken down a combined 10 times in losses to Kim and MacDonald, Diaz was put on his back only once in five attempts by Miller.
20 -- Number of submission attempts by Diaz, eighth most in UFC history.
If Henderson does choose to bring the fight to the ground, he must be wary of the high-level Brazilian jiu-jitsu skills of Diaz. Eight of Diaz's 11 UFC wins have come via submission, most of any active UFC fighter. His guillotine finish of Miller at UFC on Fox 3 in May was the first time Miller had been submitted in 25 professional fights. Finishing Henderson will be no easy task, however, as the lightweight champ has not been submitted since his third career fight back in 2007. Henderson has made a habit of escaping deep submission attempts in his rise to prominence but would be wise not to test those Houdini skills against the
Cesar Gracie
black belt.
19:00 -- Henderson's average UFC fight time, longest in UFC history (minimum five fights).
Henderson has been criticized for his inability to finish a UFC opponent, as he has not tasted victory via knockout or submission since catching Cerrone in a guillotine back at WEC 48. The streak figures to be difficult to end against Diaz, whose armbar loss to
Hermes Franca
in 2006 remains the only time he has been finished in 23 professional fights. Both fighters also have never been knocked out in their careers, increasing the probability that, no matter who emerges with the belt, the bout is likely to go distance.
Statistical support provided by FightMetric

December, 5, 2012
12/05/12
3:38
PM ET

By Josh Gross
ESPN.com
Archive
From
Jake Shields
to
Gilbert Melendez
to
Nick Diaz
,
Cesar Gracie
has groomed popular mixed martial arts champions, though never a UFC king.
That will change Saturday if
Nate Diaz
topples lightweight champion
Benson Henderson
at UFC on Fox 5 in Seattle to win his first professional belt.
"My whole team has been champions somewhere down the line," Diaz said during a conference call last week. "Maybe it's my turn to represent for my team."
If so, it would mark the culmination of something few people thought possible until recently.
"Here's Nate without those titles," Gracie said. "It would be huge for him to get the most prestigious belt of all."
Huge … well, of course. A win for Diaz, who at 27 remains the "kid" of the group, represents the crowning achievement for a contingent of fighters who literally became men together at Gracie's academy in Concord, Calif.
Gracie met Nick Diaz and Nate Diaz 13 years ago, when elder brother Nick forced his baby brother to go to the gym and train. At Gracie's they were treated the same as everyone else, which is to say they weren't treated any way at all.
"You've got to remember, there's always a lot of kids going into an academy," Gracie said. "You don't really differentiate anybody and don't think anything of it. They have to differentiate themselves.
"They have to stand up by staying the course. We'll get a lot of guys and I'll fully expect not to see them five years later. We didn't give Nate any special attention or anything like that. It was sink or swim, and he swam."
Minnows swim, too, they just won't scare other fish. In time -- despite his tall and skinny build, despite his brother's looming shadow and despite a dearth of wrestling in his game -- Nate, like the guys around him, grew dangerous in predatorily deep waters. That's how it was, because that was their world.
Shields and the elder Diaz scrapped all the time -- iron sharpening iron and such. They shared designs on becoming MMA champions and propelling the team forward, which in the early days included putting Nate, who wasn't yet old enough to drive, heads-up with Melendez, a college wrestler.
Nate was mostly pushed around in the beginning, "but he was as squirmy and tenacious as always," Melendez said. "Just a lot of fight in him. No one can last three five-minute rounds with Nate or three five-minute rounds with me in the training room, but we can do it with each other. And we'd battle each other a lot like that."
Ahead of Diaz's contest with Henderson, Melendez described his close friend as "tough to handle," keenly aware of what's happening in a fight, prone to filling opponents full of anxiety while maintaining his sanity, and "10 times more tactical now" than he was a couple years ago.
"I think Nate totally looks up to Nick's style and learned from him the way I learned from Jake," said the Strikeforce lightweight champion. "We're pretty much students of big bros."
From white belts to black belts, from aspiring fighters to top-ranked champions, Melendez described the camp as "more than a team."
[+] Enlarge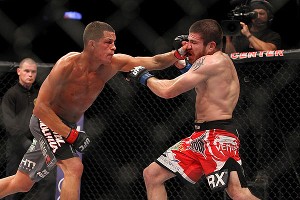 Ed Mulholland for ESPN.comNate Diaz, left, looks to become the first fighter from Cesar Gracie's camp to win a UFC title.
"I've been to other gyms and saw people throw hissy fits, throwing headgear and going on rants," he said. "That's never it for us. Nothing like that. Believe it or not, we beat the crap out of each other sometimes, and afterwards we just brainstorm how to make each other better and we go out and have some food. It's been really good."
Riding a three-bout winning streak at 155 after a stint at welterweight, the younger Diaz has never looked better -- or bigger, a benefit of moving up in weight and all that eating. Forged out of gym fights, street fights and brotherly fights, Henderson's challenger mimics a thrilling style by combining accurate volume punching with an active guard and potent submission game.
"He doesn't only copy Nick," Shields said, though the brotherly effect on Nate's game is unmistakable. "Nate does train with different people and has that influence. When I spar Nick and spar Nate, I definitely see a lot of the same stuff, but different techniques as well."
Diaz is especially useful with range and reach, and he can catch anyone on a hip toss. He'll need the full scope of his skills to upend Henderson, who comes into Saturday's contest the bigger, stronger, faster, more athletic man.
On the surface, that's trouble. Diaz has a reputation for struggling against larger grapplers, especially those intent on going to the judges.
However, since winning Season 5 of "The Ultimate Fighter," eclipsing his 25th birthday, and returning to 155 from 170, the kid doesn't come off like one anymore.
"A hilarious journey," Melendez called it. More importantly, he hasn't self-destructed like his 29-year-old brother, whose costly run-ins with promoters, fellow fighters, state athletic commissions and media are well-documented.
As an example: Nate, the current No. 1 lightweight contender, despises interviews, probably more than anyone alive, Shields said. Yet at last week's media call, he proved capable of showing up.
"I'm sure he's learned a few things here and there," Melendez said. "He'll play the game and I think he's serious about winning the title.
"He makes his own choices. His big brother helps him a lot, but he's still his own man."
December, 5, 2012
12/05/12
1:37
PM ET
"The Prodigy" has always been an enigma.
B.J. Penn
retired in 2011, citing the unpresentable condition of his face after a three-round brawl with
Nick Diaz
. He told Joe Rogan in the postfight interview, "I've got a daughter, and another daughter on the way. I don't want to go home looking like this."
Of course, nobody believed him.
That was 18 pay-per-views ago at UFC 137 in Las Vegas. It took less than a year for the reach of obsoletion to hit Hilo. Once Penn began to fade into "was," the old fire began to burn in him again to get back to "is." So he called out upstart
Rory MacDonald
, the one guy in the welterweight division nobody wants to fight right now.
Is he crazy
, people wondered.
A lightweight masquerading as a welterweight against a middleweight masquerading as a welterweight
?
What's he thinking
?
The truth is, we never really know what Penn is thinking. He's just B.J. being B.J., and a left-field callout is par for the course. That's why people love him. He's never been explicable.
Yet at the heart of it, the reason he circled MacDonald to end that brief retirement feels like it has less to do with MacDonald than with something broader. It was, to be perfectly cliché, the lure of greatness. What the one-time UFC lightweight and welterweight champion was trying to say on the media call a couple of weeks back is that there's nothing romantic about the past tense.
"I actually texted Dana [White] awhile back and said, 'Dana, I watch all these interviews and all these people talking, and no one says my name when they talk about the greatest fighters anymore … and I really don't like that,'" Penn said. "That was actually a big part of my motivation to come back and look strong and do a good fight here on Dec. 8. I want to be known as one of the best."
And besides, at just 33 years old, Penn shouldn't be a thing of the past. But the real question is, was he ever great to begin with?
There have been times in his career when Penn has realized his potential, yet he could never sustain it. He was just 5-5-1 in title fights in both the welter and lightweight divisions, yet he was in 11 title fights and defended the 155-pound belt three times, and never fought cans. He's had loud
moments
of greatness (
Matt Hughes
at UFC 46,
Sean Sherk
,
Diego Sanchez
, even the first
Georges St-Pierre
fight), just as he's had moments of extreme disappointment (usually as a welterweight).
To this day it's hard to know which it's going to be.
Maybe that's why, perhaps more than any other MMA fighter in the sport's aboveground history, Penn is so scrutinized before a fight. We love to gauge his demeanor as much as his midsection. Is Penn interested? Is he in shape? Is he motivated? Did he train hard? Is he running along the bottom of the Pacific Ocean with a large boulder cradled in his arms?
In short -- does he care?
Heading into his fight with MacDonald on Saturday night in Seattle, the indications are that Penn does care. The time away fuels this optimism. There are the visible abs. There is the "thing to prove." He's got motivation from having been forgotten. There's his ongoing rivalry with Tristar Gym and MacDonald's comments.
Those things you can read into.
But more exciting is his sincerity. When we believe Penn is sincere, it means something. It's as good as momentum. It adds to the primal literalness that Penn brings to the fight game, as if there was never such a thing as manufactured hype. It adds to the wild eyes and the lizard tongue and all the face-slapping on his walkout to Israel Kamakawiwo'ole's mix of "Hawaii '78/E Ala E." It is Penn's aura, and the very embodiment of island life and the warrior spirit.
We like that version of him, the old-school Penn. MacDonald calls himself "Ares," the Greek god of war? Penn is war incarnate, son. He
is
conflict.
That's the B.J. Penn whom fight fans love, and the one he's trying to get back to. Not the one who is 1-4-1 in his last six fights at 170 pounds. And, if history tells us anything, the other Penn is never far away. While St-Pierre guards against complacency like an obsessionist since losing to
Matt Serra
, Penn has embodied complacency too often, to be sure.
Which will it be? See there, that's the thing: We don't know. But after more than a year away from the fight game, there's something about Penn that transcends his 16-8-2 record and makes you want to believe him.
And that's what returns Saturday night -- Penn's unique air of mystery.
December, 5, 2012
12/05/12
8:16
AM ET

By Franklin McNeil
ESPN.com
Archive
If the opportunity for a rematch with
Carlos Condit
presents itself, fast-rising welterweight contender
Rory MacDonald
will leap at it.
MacDonald wants that rematch, and isn't shy about expressing his sentiment: Condit is the only fighter to beat him inside the Octagon. But don't take MacDonald's openness about wanting a rematch with Condit as evidence that he's failing to focus on matters at hand. He has a fight Saturday night in Seattle with
BJ Penn
. And MacDonald is 100 percent determined to walk away from the cage that evening victorious.
The only reason he has mentioned Condit's name over the past several weeks is that people have regularly requested his thoughts on the former UFC 170-pound interim titleholder.
And it is not part of MacDonald's makeup to avoid answering questions truthfully.
"I answered those questions honestly," MacDonald told ESPN.com. "I would like to fight Carlos next; that's my honest answer.
"I completely understand what's in front of me Saturday night. That is 100 percent my focus: BJ Penn on Dec. 8. I'm just honest with myself and honest with everybody in the media asking me questions. I don't want to give half-truths or beat around the bush when asked a question."
Honestly, MacDonald (13-1) knows no other way to communicate. It's an essential part of his character and has played a major part in his development as a mixed martial artist. MacDonald is just 23 years old, but his age should not be considered when measuring his maturity level. One month before his 21st birthday, MacDonald relocated from Kelowna, British Columbia, to Montreal in 2010.
He traveled across Canada to begin full-time training at TriStar gym. The decision to move was easy for MacDonald; it was made a few days after his first professional loss.
"If you watch that fight, you can see the intensity in my face," MacDonald said of his first meeting with Condit, a third-round TKO on June 12, 2010, at UFC 112. "And I fought that way. It's not my style and I paid for it that night. He beat the [crap] out of me."
As a result of that loss, MacDonald -- being honest -- concluded he needed to make a major change in order to take his career to the next level.
"I've had a lot of experiences and I've learned from every one of them," MacDonald said. "That's made me the person I am today.
"Moving to Montreal was the biggest experience."
While that decision was easy, MacDonald had been making tough decisions for several years. From the age of 16 he'd been living on his own. He's an independent thinker, though wise enough to listen to and accept any point of view that might prove beneficial. This formula has served MacDonald well thus far as a professional fighter.
Having one of the best trainers in mixed martial arts, Firas Zahabi, in his corner, and several top fighters for sparring partners -- including UFC welterweight champion
Georges St-Pierre
-- have helped MacDonald improve in all areas of fighting.
Being honest, an independent thinker, mature beyond his years, confident and physically talented has placed MacDonald on the cusp of MMA greatness. Defeating Condit in a rematch would go a long way toward achieving the high expectations many have for MacDonald, but first he must take care of business Saturday night.
Penn is the most determined he's been in many years. The former UFC lightweight/welterweight champion is motivated to again have his name mentioned as an all-time MMA great.
And Penn isn't just offering lip service to promote the bout. He's in the best shape ever for a 170-pound fight.
"It's good for him that he respected me enough that he actually worked a little bit and got himself in shape, because he's going to need it," MacDonald said.
"At the end of the day I can't control what type of shape BJ is going to be in or what level of skill he possesses. I can only control myself. If I start worrying or stressing about things I can't control that's just going to be a damper or weight on my shoulders that I feel I don't need."
That's just MacDonald being honest again. And it's another reason why the odds favor him leaving the cage Saturday night with his hand raised.
Condit, who is coming off a unanimous-decision loss to St-Pierre at UFC 154 on Nov. 17, might want to pay close attention to MacDonald on Saturday. The two could be back in the cage for a rematch sometime in 2013.
And next time around, MacDonald won't be overwhelmed by the moment or an inexperienced fighter inside the Octagon.
December, 4, 2012
12/04/12
7:22
AM ET

By Franklin McNeil
ESPN.com
Archive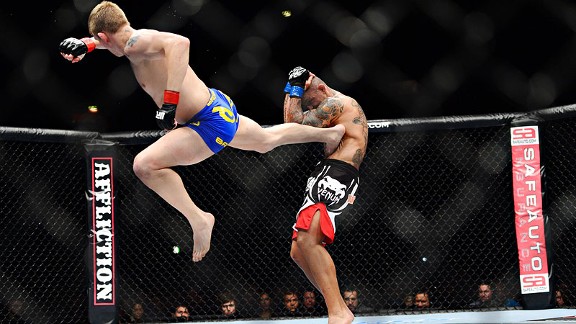 Martin McNeil for ESPN.comLifting off: Expect to see Alexander Gustafsson's full arsenal on display against Mauricio Rua on Saturday.
Light heavyweight contender
Alexander Gustafsson
has looked impressive inside the Octagon, especially during his current five-fight win streak.
With each fight his striking becomes sharper and more accurate. His footwork has improved to the point that, coupled with a stiff jab, he easily controls how much space exists between himself and an opponent.
Getting hit by Gustafsson is a given; returning the favor is proving more problematic for the opposition. Fighters are finding it very difficult these days to get close to Gustafsson.
But there is much more to his game than what's been on display thus far.
Gustafsson, who is ranked sixth among 205-pound fighters by ESPN.com, will face former titleholder
Mauricio Rua
on Saturday night in Seattle.
Both fighters enjoy competing on the feet. But if you think Gustafsson, who is 14-1 with nine knockouts, will only find success against Rua by dominating the stand-up battle, think again.
"Oh man! Alex's striking has gotten better," fellow UFC light heavyweight contender
Phil Davis
told ESPN.com. "But he's a guy who's not content with where he is as a fighter; he's constantly growing.
"His wrestling has gotten better. He has some really slick takedowns. He's dangerous on the top and bottom now. He has always been dangerous from the top with his hands, but now he has some pretty good submissions, too."
This ringing endorsement from Davis isn't to be taken lightly. He knows first-hand the progress Gustafsson has made in the past two years. Davis is the fighter who handed Gustafsson his lone professional loss. And Davis is quick to admit that Gustafsson is not the same guy he submitted in April 2010.
And Davis should know. After their showdown at UFC 112, Gustafsson and Davis decided to become training partners. It's a partnership that has paid off handsomely for each fighter: Davis' striking has improved immensely since sparring regularly with Gustafsson at Alliance MMA in San Diego.
Gustafsson, who still does the majority of his training in Stockholm, has taken his ground skills to a much higher level with Davis' help.
"I've learned a lot from him and he's learned a lot from me," Gustafsson told ESPN.com." We have a great relationship. "We're teammates; we train together."
But expanding his training camp would have meant little if Gustafsson hadn't committed completely to mixed martial arts. Before his bout with Davis, MMA was a part-time gig for Gustafsson. Much of his day was spent working construction.
But the loss to Davis served as an eye-opener. Determined to unearth all his talents, Gustafsson decided to quit the construction job and become a full-time mixed martial artist.
"To be at the top level of the division and to compete in UFC, you have to do this full time," Gustafsson said. "You can't just do this as a hobby. You have to fully commit to it.
"Every fight is a learning experience, whether it's a win or a loss. You have to improve; that's how you develop. I try to get better with every fight -- my boxing, my wrestling, my jiu-jitsu, everything. It's been an ongoing process and it hasn't stopped."
Striking alone makes Gustafsson competitive with Rua; the improvements he's made in other areas make him a genuine threat.
Davis for one believes Saturday night will be Gustafsson's coming-out party. It is in this fight that Gustafsson will likely get to put all his skills on display.
"The timing [of the fight with Rua] couldn't be any better," Davis said. "Alex has come into his own as a fighter. There's so much about his game the public hasn't seen inside the Octagon."
Rua (21-6, 18 wins by knockout) is arguably the toughest test of Gustafsson's career. But that doesn't concern Gustafsson. He welcomes the opportunity to square off against a seasoned striker like Rua. He's also confident that his hand will be raised when the bout is over.
While Gustafsson is focused on Rua, his confidence allows him to sneak a peek at what awaits after Saturday night. And Gustafsson likes what he sees.
UFC president Dana White has hinted that the Rua-Gustafsson winner could become the top contender at 205.
"When I win this fight with Shogun, I will be more than ready [to win the light heavyweight title]," Gustafsson said. "I know I have the tools to beat [
Jon Jones
].
"Shogun is my only focus right now, but when I beat him I know I will be more than ready to fight for the title. And I know I will take the belt. I just know it."
December, 3, 2012
12/03/12
11:48
AM ET
Matt Brown
is the protagonist in an adventure tale that's still being told. His is a story with so many highs and lows, so many ebbs and flows that he can describe for you the gutter (in sincere detail) while sketching a general idea of the penthouse (his very own silo, maybe).
The plot is a continuously rolling thing that boils down to the essence of all human drama -- just stay alive. Only his story intersects with the fight game.
Toward the end of 2011, Brown lost a fight to
Seth Baczynski
, his fourth loss in five UFC bouts. All of the losses were of the submission variety. For a guy who'd already overcome so much in life -- addiction, overdosing on heroin, losing his father, a stint on "The Ultimate Fighter 7" -- it looked as if Brown was perhaps mortal after all.
But you don't get a nickname like "The Immortal" unless you are ruthlessly resilient. To the UFC's credit, it did not cut the Ohio native Brown, a blue-collar scrapper in the welterweight division. Instead, it threw him in the Octagon with another TUF alum in
Chris Cope
, and that was the beginning of Brown's latest resurrection. He's won all three of his bouts this year heading into his Dec. 8 fight with a similarly resilient
Mike Swick
.
From life on the bubble to an inspirational tale is heartwarming stuff, right? Not if you've never been into tidy Hallmark sentiments.
"I don't really think about it," Brown told ESPN.com. "I've learned just [to] take it one fight at a time, to not worry about the past or the future, and just worry about what you've got to do today to be the best you can."
A boring, staid statement like that in the hands of other men might test your immune system toward clichés.
But Brown is sincere. If you've listened to him talk at any point in his four years in the UFC, you know that he doesn't get too high on the highs, nor too low on the lows. It truly is a "one foot in front of the other" proposition. He's not eyeing the 170-pound belt, because he doesn't do horizons. He doesn't do animosity, trash talk or social media eavesdropping, either. In fact, between training with
Robert Drysdale
and Mark Meacher out in Las Vegas and his camp back in Ohio, he barely kept up with what was going on with the outside world.
For example, asked how it felt to hear the recently victorious
John Hathaway
calling out the winner of the match between him and Swick -- to be in a position where guys are trying to get to
him
, rather than the other way around -- Brown suppressed a yawn.
"I don't care. I don't pay attention to that stuff," he says. Then it dawned on him, and he added: "I thought [Hathaway] and
Matt Riddle
had a little beef or something? I thought he was going to end up fighting Riddle."
In other words,
Dan Hardy
(who had the beef with Riddle) and Hathaway are interchangeable to a guy who doesn't put much thought into anything other than what's in front of him. And right now that's a nationally televised bout with Swick, who came back from a stomach ailment that sidelined him for 2½ years to knock out
DaMarques Johnson
in August.
[+] Enlarge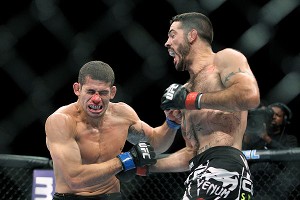 Ed Mulholland for ESPN.comThough technically sound, Matt Brown has no qualms about mixing it up in all-out brawls.
"[Swick] presents a lot of challenges. He's got fast hands, he's an explosive guy," Browns said. "He's got a pretty solid punch that will hurt you pretty good. And he seems to have a good ground game. So yeah, all around, he's pretty solid. He'll give you a lot of problems on all aspects."
Anybody who's paid attention to Brown's career knows that he's technical, but he's willing to brawl as well. He
does
brawl, because to him it's never anything other than a fight. A Brown scrap is always a combination of technique, savagery, instinct and attrition. His in-cage gravitas makes it that much more intense.
Swick is much the same way.
What's the hunch? That as they kick off the big UFC on FOX 5 card, you can't help but think this one could be a showstopper. That, even though it is fourth billing to
Nate Diaz
versus
Benson Henderson
,
Alexander Gustafsson
versus
Mauricio Rua
and
BJ Penn
versus
Rory MacDonald
, that it could sneak off with some end-of-the-night bonus money.
You'd think that, but history suggests otherwise. For all of the careening in Brown's career, there's one thing he hasn't accomplished in 13 fights -- he's never been awarded an end-of-the-night bonus in anything. That's almost hard to believe when you think about it, but it's true.
"I always think I've got fight of the night," he says. "Then I don't get it."
Maybe Saturday night, Brown uses this theme to begin a new chapter to his incomplete adventure tale.
November, 27, 2012
11/27/12
6:40
AM ET
August, 15, 2012
8/15/12
12:47
PM ET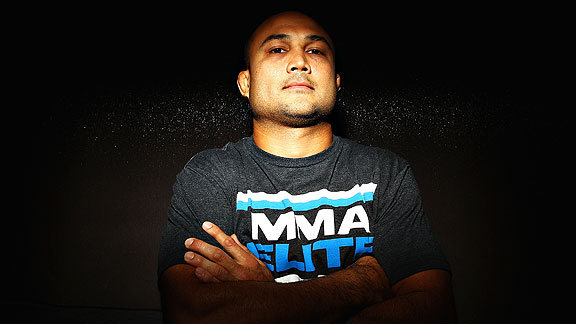 Ryan Pierse/Getty ImagesYou know you're getting a stacked card when B.J. Penn isn't even in the co-main event.
The first UFC on Fox was a "bonus" that we had never asked for, nor did we complain when we got it (or, at least until
Cain Velasquez
made the work too easy that night for
Junior dos Santos
). That was the table-setter for the seven-year relationship between the UFC and Fox -- a heavyweight championship fight, broadcast as a privilege to fans as a red carpet, prime time affair.
The event was so touted and singled out that Benson Henderson and
Clay Guida
, a guaranteed piece of entertainment that night, was relegated to Facebook status with no chance for TV air time.
In retrospect, it seems impossible that a bout like that would get neglected. But it kicked off a new era, and the triumph didn't belong to the new champion dos Santos alone. He was the small picture. The real triumph belonged to the UFC and to MMA in general, for breaking down the partition between niche and mainstream.
Here we are after four network TV shows, and that wild-on-paper first one remains the biggest.
Since then we've seen some reaches, some cautionary tales and some "must never" repeats. There was
Rashad Evans
against
Phil Davis
, a pair of wrestlers who were intent on three rounds of nihilistic frustration. There was the
Jim Miller
/
Nate Diaz
fight that barely seemed audible in communicating to crossover audiences. There was
Brandon Vera
/
Mauricio Rua
, the fight with the golden
Jon Jones
sweepstakes, even if merit and good sense were the compromise. The fights on that card panned out great, if only it wasn't going head-to-head with the Olympics.
And if, you know, the stakes were more sellable.
Yet for all those free shows -- shows that turned the media into ratings weathervanes -- none had the full artillery that we know the UFC is capable of. That changes in December for the fifth show. Whether it's been put together on pressure to deliver after these so-so showings or otherwise, the fifth Fox card is a rare showcase of excitement, relevance and meaningful stakes.
It's the kind of card that brings back the "ultimate proving ground" notion. The card, barring injury, controversy and fluke interventions, has it all.
There's a belt on the line, as Henderson defends the 155-pound title against Nate Diaz. There's a No. 1 contender fight between
Alexander Gustafsson
and Mauricio Rua. And then there's
Rory MacDonald
and
B.J. Penn
, a scrap so fun to think about in nature that people speculated it might be the headliner for the show. The event is so stacked that it's third on the depth chart.
When you break down these three fights -- and the UFC is working on a
fourth
fight, let's not forget -- it looks like a blowout show. The idea of Henderson encountering the younger brother of "Stalkton" is enough by itself. Any Diaz brings polarity to the cage -- a Diaz fight is a talked about fight. And here is younger brother Nathan challenging the flying confidence of bigger/stronger/more athletic Henderson, who is setting out to break all of Anderson Silva's records.
That's a great stage for a title fight.
The others are showcases. The young Swede Gustafsson needs to beat a "Shogun" caliber opponent to warrant a title shot. Well, that's what he gets. And if his name weren't being bandied about as the last big intriguing fight for Jon Jones at light heavyweight, maybe this thing doesn't attract. But his name
does
have that glint to it, and if he beats Rua, we can then begin comparing his long reach with Jones' without adding the "he's still green" asterisk.
Likewise, if Rua wins his stake for a title shot is no longer in question. He'll have earned the right to fight again for the belt.
The last fight is classic, and you can thank all 38 of those stitches over MacDonald's eye for jumping it from a pay-per-view to a free fight. Penn and MacDonald has the two ships passing in the night vibe. There's Penn and his Hall of Fame resume coming out of "retirement" against the 23-year old MacDonald, who is so serious that he changed his nickname from the juvenile-sounding "Waterboy" to "Ares," the Greek god of war.
Know why that one is fun? Because there's a sense that MacDonald is moving closer and closer into his mentor/training partner Georges St. Pierre's space. St. Pierre will have already fought
Carlos Condit
a couple of weeks earlier. If he defends the welterweight belt, and MacDonald shows up and blasts Penn as so many suspect he will, the inevitable conflict takes on added drama. Drama's half the game.
In MacDonald and Gustafsson there is the future. In Penn and Rua, there are storied careers. In Diaz/Henderson, there is high voltage entertainment with a title on the line.
That's a fun night of fights, worthy of a big pay-per-view event. But it's free, and that's telling. What exactly does it tell us? That the ultimate proving ground on Dec. 8 extends beyond the fighters. It extends to the UFC itself.
And the UFC is loading up to meet the challenge.