May, 18, 2012
5/18/12
6:24
AM ET

By Chad Dundas
ESPN.com
Archive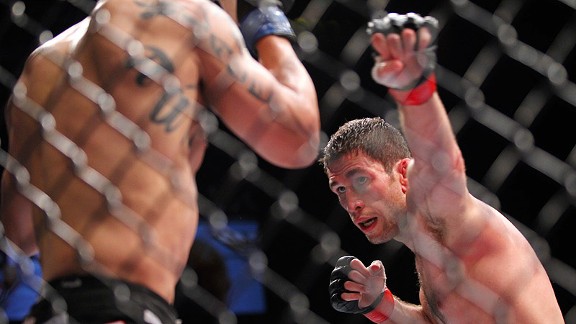 Ed Mulholland for ESPN.comExtra-ordinary: Amir Sadollah looked mediocre against a less-than-imposing Jorge Lopez.
It would probably be generous to say that
Amir Sadollah
's split decision win over Jorge Lopez received mixed reviews this week.
Unless by "mixed" you mean that A.) A lot of people thought Lopez should've gotten the nod from the judges and B.) Folks on Twitter couldn't decide whether it was better to have dozed off in the first, second or third round, there was not a ton of dissenting opinion about this fight. It just wasn't that great, and getting sandwiched between the technical brilliance of
Donald Cerrone
and the wonderful insanity of
Chan Sung Jung
certainly didn't improve anyone's perspective on it. As a result, it got fairly universally panned by critics.
Even Dana White acknowledged that Cerrone's bout against
Jeremy Stephens
should have been the co-main event of the unfortunately named UFC on Fuel TV 3, instead of Sadollah versus Lopez.
Nine fights and nearly four years into his UFC career, Sadollah must present something of a unique quandary for matchmakers.
Despite scoring an important win on Tuesday night -- one that improved his record to 6-3 (which, let's face it, somehow sounds way better than 5-4) and helped him bounce back from an August loss to
Duane Ludwig
-- he's never going to be champion, or even top 10 in his weight class. Far worse, in the Lopez bout he struggled to look convincing against a 24-year-old unknown who came in with an 0-1 record in the Octagon and just a single career victory over an opponent anyone has ever heard of before (Waachiim Spiritwolf).
If a more intelligent, more likable guy ever took up mixed martial arts, I can't think of his name, but the underwhelming performance against Lopez just puts an exclamation point on a run where six of Sadollah's last seven fights have gone the distance. There might not even be a compelling case for putting him on television again in the near future.
[+] Enlarge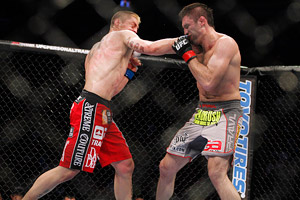 Ric Fogel for ESPN.comOne-the-job training: Amir Sadollah's apprenticeship and pro career have been rolled into one.
Considering all that, it would be tempting to look at the sum total of Sadollah's stint in the Octagon and call it a disappointment. In fact, the exact opposite is true. As perhaps the most unlikely "big name" fighter on the UFC roster, his career has already been a total success.
Though he was 4-0 as an amateur at the time, Sadollah had exactly zero professional fights under his belt when he caught an express train to the UFC by winning Season 7 of "The Ultimate Fighter" reality show in 2008. He was 27 years old before he first set foot in the Octagon, and while his seasoning as a fighter was just beginning, his overall growth as athlete was probably already complete.
Imagine that. It would be a little like playing a few touch football games, winning a televised punt, pass and kick contest and then, in your late 20s, getting a starting job in the NFL.
Could
anyone
succeed under those circumstances? Could anyone be reasonably expected to
compete
? And while they tried to compete, would a bunch of people sit around posting messages on Twitter about what a crappy job they were doing tackling Adrian Peterson? Because that's essentially what happens to Sadollah.
Fine, maybe most times it's more like he's out there trying to tackle Danny Woodhead, but whatever.
Frankly, the fact that Sadollah has even won six fights in the Octagon as little more than a rookie is amazing and speaks to his exceptional talent. Clearly however, his entire UFC experience has been a case of too much, too soon. Even the organization appears to at least tacitly understand this, as you now can't apply to appear on "The Ultimate Fighter" without a handful of professional bouts on your résumé.
At a stage when most welterweights would just be finding their sea legs, Sadollah is competing in high-profile, televised "co-main event" fights against (theoretically, at least) UFC-caliber opponents. At a point where most 170-pounders would just be starting to think about getting noticed by one of the bigger organizations, he's already made the transition from "up-and-comer" to "sturdy UFC veteran."
Has it worked out for him? Maybe is some ways. Certainly he's attained more exposure and made far more money than he might have by taking a more conventional route to the UFC. Maybe that's the most important thing.
In a case like Sadollah's though, you have to wonder. You have to wonder what his career arc would have looked like if he'd had 6-8 pro fights before coming to the UFC. You have to wonder if taking a shortcut to the top by winning "The Ultimate Fighter" was the best thing to happen to him as a fighter, or the worst.
May, 17, 2012
5/17/12
5:35
AM ET

By Chad Dundas
ESPN.com
Archive
Donald Cerrone
gets a lot of credit for being exciting.
We laud his technical striking skills and proficient ground game, offering as evidence 14 stoppages among his 18 professional wins. We like to say he's a "natural born fighter" -- a compliment in our world -- because he obviously loves his job so much. Spend a few minutes talking to the "Cowboy" and you come away feeling certain there's nothing he'd rather do with his Saturday nights than beat somebody up for money.
He's funny, flashy, confident-bordering-on-cocky and there's an edge to him that's just a little bit scary. In short, he's everything fans want in an MMA fighter.
After watching him dismantle
Jeremy Stephens
on Tuesday at the UFC's third live show on FuelTV though, one thing is clear: Amid all the praise we heap at his feet, we still don't give Cerrone enough credit for being smart.
That's a shame, because while the showy skillset and the flair for the dramatic will likely keep getting him big fights in the Octagon, it's his brain that will give him a chance to win them.
[+] Enlarge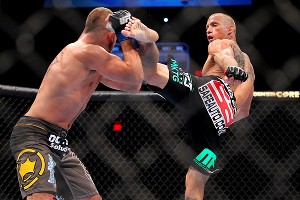 Ed Mulholland for ESPN.comA mix of brains and brawn proved highly effective for Donald Cerrone on Tuesday.
Cerrone's unanimous decision win over Stephens was nothing if not shrewd. He clearly learned some things during his December 2011 loss to
Nate Diaz
, a fight where he let the prefight trash talk go to his head so badly that he sprinted out of his corner and into the teeth of Diaz's attack at the opening bell. Though he lasted the full 15 minutes against the current No. 1 contender, the fight was clearly over by the middle of the first round -- it may have been over before it began -- after Diaz had already battered and frustrated him with his trademark speed-bag punches.
Leading up their showdown in Fairfax, Va., Stephens had tried his hand at getting into Cerrone's dome, saying he thought Diaz "broke" the Colorado native during their bout. This time however, Cerrone proved above the verbal fray. Sure, he made Stephens eat his words (especially that ill-conceived line about how Stephens "[didn't] care about his kicks") but he did it with craft instead of wrath.
Getting suckered into a brawl against a power-puncher like Stephens is a good way to end the night explaining your strategy to the ringside doctor, so Cerrone opted for a slightly more advanced game plan. He engaged Stephens at range, punished his legs with a steady diet of -- ahem -- kicks and picked apart his defense with an unpredictable mix of punching combinations and even the occasional takedown.
That's the longwinded way of saying Cerrone simply
out-fought
Stephens on this night.
The end result was that "Lil' Heathen" looked completely out of his league and Cerrone reestablished himself as one of the UFC's top-tier lightweights. Now 5-1 in the Octagon, he appears to have learned one of the cage's most valuable lessons: Everyone loses. Everyone experiences adversity. The fighters that stick around for the long-term are the ones that make adjustments.
Cerrone made them wonderfully for this fight. Frankly, he needs to stay in that habit, because now comes the most important stage of his young UFC career. From here, he can either make his loss to Diaz look like an aberration -- that one time he let his emotions get the best of him and he got beat -- or he can fall back into the trap of being the guy who is good enough to defeat everyone
except
the best fighters in his division.
Of course, nobody wants to be the latter.
Ever active, Cerrone is angling for an appearance at UFC 150 in August, when the Octagon comes to his old stomping grounds in Denver. That timing would seem to dovetail nicely with the return of top contender
Anthony Pettis
, who reportedly had surgery for an undisclosed injury in March. If not Pettis, Cerrone could make a good first real test for
Edson Barboza
, provided the 26-year-old Brazilian can get by replacement opponent
Jamie Varner
later this month at UFC 146.
Whoever matchmakers line up next, Cerrone used his performance at UFC on Fuel 3 to remind us (and maybe himself) of what should be a golden rule for him moving forward: When he fights with his mind instead of running on pure heart, he ranks among the best in the world.