January, 15, 2013
1/15/13
12:21
PM ET

By Franklin McNeil
ESPN.com
Archive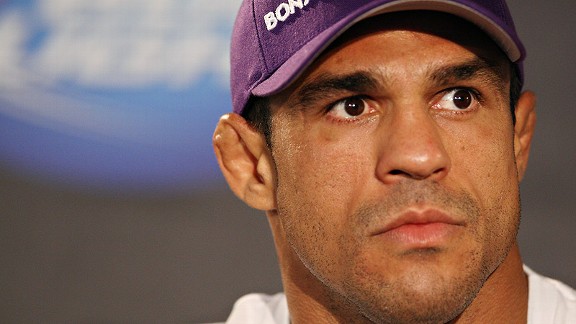 Ed Mulholland for ESPNFirst things first: Vitor Belfort is focused more on opponent Michael Bisping than on future title shots.
A UFC middleweight title shot awaits
Michael Bisping
if he leaves the Octagon victorious Saturday night in Sao Paulo, Brazil, according to promotion president Dana White.
No such guarantee has been extended to Bisping's opponent,
Vitor Belfort
. But that's just fine with the former UFC light heavyweight champion. Belfort could make a fuss about it, and 10 years ago he probably would have. In the early days of his mixed martial arts career, Belfort was more about himself.
How could he not be, after winning a UFC heavyweight tournament in February 1997 at age 19?
Time, however, has a way of forcing some men to dig deep and examine their attitudes. Not everyone is willing to take such a task seriously -- but Belfort did. And the once self-centered teenager didn't necessarily like what he discovered. Over the years, Belfort would become a husband and father -- and his life changed for the better.
No longer is he at the center of his world; Belfort's top priority these days is his family. He'll do anything to secure their present and future, even if it means becoming a company man.
The Brazil native is a UFC company man. It is the reason he has remained calm after not being guaranteed a 185-pound title shot with a win Saturday night in his home country.
"I am very happy," Belfort, 35, told ESPN.com. "Dana White knows what he is doing and I trust him. He's the promoter of the organization. My job is to just follow orders and I accept it. And I will make sure I do my part and deliver. I'm always there for the organization and the fans.
"

Dana White knows what he is doing and I trust him. He's the promoter of the organization. My job is to just follow orders and I accept it.

"

-- Vitor Belfort, on being a company fighter and putting his trust in the hands of his promoter
"So this will be just another day at the office, and I will stop Michael Bisping. That's it, that's my job."
Some might wonder, what has gotten into Belfort? Has he lost his edge, his fire, his competitiveness? Has he sold out to UFC's corporate dollars?
It's none of those things. What has happened to Belfort over the years is that he simply matured. Belfort is at peace with himself. He's in a better place these days. Life has been very good to him and he appreciates every day to its fullest.
His love for mixed martial arts over the years has also greatly improved. He now puts his heart and soul into the sport. And the result is reflected in his level preparation for Saturday night's showdown with Bisping.
"Today, I weigh 198 [pounds]; I'm treating myself good, great diet," Belfort said. "I'm in the best shape of my life.
"[Training partner and former UFC light heavyweight champion]
Rashad Evans
said: 'Man, the last time I saw you like this was when you were 19 years old.'
"I feel young. I feel motivated."
Like a 19-year-old?
[+] Enlarge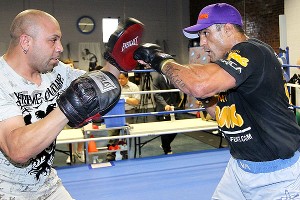 Ed Mulholland for ESPNThirty-five, going on 19: A revitalized Vitor Belfort feels as strong as he did when he first won a UFC title.
Belfort's rejuvenation isn't just physical or emotional. He might not get an immediate title shot with a win over Bisping, but becoming a champion still remains his ultimate goal -- even if he isn't ready to come right out and say it. He's knows the reason White will not grant him a second shot at middleweight titleholder
Anderson Silva
at this time. That first-round knockout he suffered -- via a Silva front kick to the jaw at UFC 126 -- is too fresh on the minds of fight fans.
But Belfort is a very spiritual man, and he greatly believes a title shot is in his foreseeable future. He just needs to keep winning -- that fourth-round submission loss to light heavyweight champion
Jon Jones
in September has no bearing on his standing at middleweight.
Taking that fight with Jones at UFC 152 was Belfort being the consummate company man. UFC won't hold that setback against him, and Belfort knows it.
"I'm in the best time of my life," Belfort said. "I'm enjoying every single moment. I'm happy; I'm ready to win [Saturday night]. I'm ready to conquer each step that's in front of me toward my main goal.
"I'm just taking it step by step. It's not being arrogant, but I don't like to talk about something that's in the future. Right now I have Michael Bisping and that's the most important fight of my career. We can talk about the future after this fight.
"But my ultimate goal, everybody knows, is winning, getting to the top of the chain. That's my main goal."
October, 4, 2012
10/04/12
10:57
AM ET

By Franklin McNeil
ESPN.com
Archive
When word came down earlier this week from UFC president Dana White that Friday's flyweight bout would determine the No. 1 contender,
John Dodson
jumped for joy.
Dodson has envisioned fighting for the 125-pound title; he just didn't know how soon that opportunity would come.
Now he knows: Defeat
Jussier 'Formiga' da Silva
on the UFC on FX card at the Target Center in Minneapolis, which Dodson expects to do, and flyweight titleholder
Demetrious Johnson
is next.
Dodson is excited about making that scenario a reality. But his excitement isn't based solely on personal gratification.
Of course, he's motivated by the possibility of achieving his long-awaited goal -- to become a UFC titleholder. There is, however, another source motivating him -- the mixed martial arts students he teaches in Albuquerque, N.M.
Dodson is a professional instructor at Team Jackson-Winkeljohn, where he also trains for his UFC bouts. Each day when he's done with his regular fight preparation, Dodson turns his attention to the students.
"I was teaching until the day I left for Minnesota," Dodson told ESPN.com. "I use [my students] as extra motivation for myself because I like looking in their faces and seeing how proud they are of me. They are actually texting me as I get ready to fight for the No. 1 contender fight and telling me how proud they are of me. That's an excellent thing to hear."
The pride is reciprocated. Dodson loves the enthusiasm and commitment his students demonstrate during classes.
Their progress warms his heart. Dodson says some students aspire to become professional fighters, but most just enjoy working hard to improve their bodies.
Physically, Dodson will be alone Friday night inside the cage with da Silva.
But when the horn sounds to start the fight, Dodson will have each and every one of his students fighting with him in spirit. They have played a major role in getting him prepared for da Silva.
"Competitively, they help me a lot," Dodson said. "I'm there teaching them techniques, but actually I'm relearning it myself -- things that I forgot about doing years ago, like a basic armbar, how to make it tighter. Yet you see people trying to finish an armbar with their feet crossed. They're not supposed to be doing that, that's a big no-no."
Throughout his training/teaching camp, Dodson was reminded of little mistakes he can't afford to make against da Silva, a high-level jiu-jitsu practitioner. It's the lone area where da Silva has a technical advantage over Dodson.
"He's a four-time world champion," Dodson said of da Silva. "You can't get any better in jiu-jitsu than him. The ways that he can get your back, submit and get different positions -- he moves very, very fluidly. I have to make sure that I can pick him apart. What I have to do is stand and bang, not get taken down and don't let him touch my back. And if he does touch my back, make him pay for it.
"But he only has jiu-jitsu. This is mixed martial arts. You have to have more than one art to sit there and think you're the best. I have a well-rounded game. My striking is better, my wrestling's going to be better and my jiu-jitsu is going to be on par with his. I'm not going to say [my jiu-jitsu] is going to be better than his; he's won world championships."
Aside from having more technical skills at his disposal, Dodson believes he has the physical edge as well. Dodson gives up two inches in height to da Silva, but he views being the shorter fighter works to his advantage.
Being able to fight at 125 pounds is a godsend for Dodson. Though he has competed at featherweight and bantamweight, fighting as a flyweight is where Dodson is at his best.
[+] Enlarge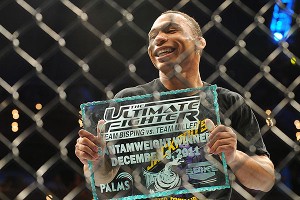 Al Powers for ESPN.comFormer TUF bantamweight winner John Dodson takes on Jussier da Silva on Friday for a chance at Demetrious Johnson's UFC flyweight title.
"When I was at bantamweight, I was the fastest fighter," Dodson said. "Everyone who stepped in the cage with me said I was either faster than them, quicker than them or had more agility. But going down a weight class, I still have that speed, explosiveness and tenacity but I'm adding more strength. Now that I'm fighting guys my own size, I feel that I am stronger than the other 125-pounders I compete against.
"I am kind of beefy. I'm short, stocky and 5-foot-3. I'm like a tree stump."
Then there is the confidence factor. The support Dodson receives from his coaches, teammates and students at Team Jackson-Winkeljohn is invaluable.
But there were times in his career when that support wasn't enough, giving Dodson doubts about how good he was or could become. That changed in 2011 when he competed on "The Ultimate Fighter" reality show.
"Fighting on 'The Ultimate Fighter' and actually winning it built up my confidence," said Dodson, who was TUF bantamweight winner during the "Team Bisping vs. Team Miller" season. "A lot of people said I had no finishing power. And I knocked out three of the four people I fought. My confidence level isn't where it was two years ago, it's much higher. I have more faith and belief in myself. I know where I am now."
And Dodson has a good idea where he will be Friday night after spoiling da Silva's UFC debut -- celebrating somewhere in Minneapolis. Shortly thereafter he plans to return to Albuquerque and begin preparing for Johnson.
When he arrives, there will be MMA students eager to resume their roles in helping him get ready for the next big fight.
June, 19, 2012
6/19/12
5:47
AM ET

By Chuck Mindenhall
ESPN.com
Archive
In the most compelling of the 22 UFC fights going on this weekend,
Gray Maynard
and
Clay Guida
will scrap in Atlantic City.
It's a fun fight to handicap. It's an aggravating fight to try and figure out exactly what it is that's at stake for the winner.
Let's start with the obvious -- the Friday night headliners on the Jersey Shore have a lot in common. They both have wrestling, though Maynard's is thought to be better. They both are coming off losses to current and erstwhile champions. They both hover near the top of a division where the UFC hoards its talent.
They both beat
Nate Diaz
.
It's this last thing that makes everything complicated and turns promises into fleeting little things. Diaz, riding a three-fight winning streak, is penciled in as the next in line to face the winner of
Frankie Edgar
/
Ben Henderson
. That fight isn't set to take place until Aug. 11 at UFC 150 in Denver (and here we should knock on wood, given the rash of injuries plaguing this summer). That means Diaz could be in limbo until at least November, depending on how badly they hinder each other.
Realistically, Diaz could be looking at December should he wait.
But the winner of this UFC on FX 4 fight will have three things going for him. One, he will have beaten the other. Two, he will have beaten the other
plus
Nate Diaz. Three, he will have won last, and everybody knows what's latest has a way of becoming what's most relevant.
Of course, it gets even more complicated when you stick the recovering
Anthony Pettis
into this company. Guida beat Pettis, too. But Pettis beat Henderson. Henderson beat Guida. It's a mad round-robin that could give matchmaker Joe Silva existential vertigo if he doesn't have a stubborn battle plan.
So what's at stake for the winner of Maynard/Guida this weekend? Search me, brother.
[+] Enlarge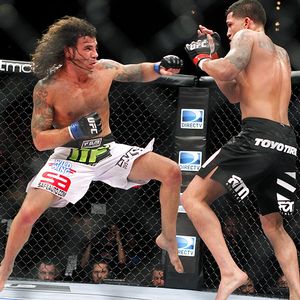 Ric Fogel for ESPN.comClay Guida, left, holds a win over Anthony Pettis, who has defeated Benson Henderson, who has defeated Guida ...
If Maynard beats Guida, perhaps he's too early for another title shot. A bout against Pettis -- whom he's had choice words for in the past -- could be in the cards. Or, if Diaz can be tempted into redeeming himself from that Fight Night card back in 2010 where he lost a split decision to Maynard, maybe the UFC syncs up the schedules and makes that a No. 1 contender's bout.
Then there's also the off-chance of Maynard/Edgar IV, should Edgar win too. After all, they are 1-1-1 in the series. (This couldn't possibly happen, could it?).
But if Guida wins, it's a little different. Guida has wins over both Pettis and Diaz, so he would look like a more obvious No. 1 contender. The problem there is the UFC may not want to play back Guida/Henderson, the greatest Facebook fight of all time that took place on the first UFC on FOX card in November. Guida lost a decision to Henderson in that one. So, if Guida were to win Friday night, it would either be Diaz again -- whom he beat by split decision at UFC 94 -- or Edgar, should he beat Henderson. That is, unless Edgar beats Henderson controversially to dial up the trilogy.
In other words, there's absolutely nothing clear about where the winner of Guida/Maynard will stand. There are so many trump cards in play that it's going to boil down to druthers. Right now, it looks like Diaz is next for a title shot. By Saturday, it could look like Guida. Or Maynard. The only thing we can be semi-certain of is that the UFC will try and avoid unwanted repetition.
Looked at as a whole, Guida and Maynard will be fighting for, if not for title contention, at least the right to hold onto their arguments.
January, 21, 2012
1/21/12
3:04
PM ET

By Chuck Mindenhall
ESPN.com
Archive
Feel-good stories in MMA are hard to sustain, and even harder to get off the ground. As quick and cobbled as the story of the Blackzilians is being put together as a sort of wrecking crew/adoption agency, old tendencies are returning to its fighters.
This isn't a happy trend.
One week ago,
Anthony Johnson
failed to make weight (by a country mile) in Rio de Janeiro at UFC 142, marking the third time in two different weight classes he's showed up to the scale way over. He was cut for the third strike after losing to
Vitor Belfort
. Now
Melvin Guillard
, who recently relocated to Florida full-time to train with the Blackzilians, gets submitted in a round by
Jim Miller
.
If any of this looks familiar it's because he was tapped by
Joe Lauzon
in his previous fight at UFC 136, which was thought to be something of a winking aberration. Turns out it wasn't, and it never really was. The fact is that nine of Guillard's 10 losses have come via submission. The other fight he lost (against Jake Short in 2004) was a decision. Guillard has never been knocked out, but he dangles neck and limb out there to be snatched while pursuing knockouts.
[+] Enlarge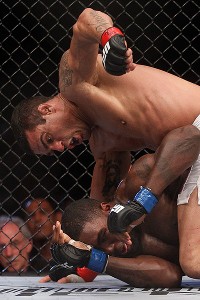 AP Photo/Felipe DanaMelvin Guillard's loss -- coupled with Anthony Johnson's defeat to Vitor Belfort -- made it one bad week for the Blackzilians.
His fixation is leaving him vulnerable. For as much as it's fun to watch Guillard's aggression, it plays out like roulette.
Yet the case of Guillard is interesting, because so many people -- coaches, fans, honchos at Zuffa -- see him as a fighter that's a few tweaks from being a champion. He has the quicks and athleticism to rival any lightweight, and arguably the strongest hands in the division. There's no doubting his explosiveness. In fact, he had Miller in trouble early by landing some big shots. Then again, lapses in judgment have always hindered him, both in and out of the cage. And those lapses in judgment in the cage put him in all kinds of hot water against smart grapplers, the kind who feast on mistakes.
Lauzon told me that he was leery of four offensive moves that Guillard presented, and he had them easily memorized before their fight. He saw all of them in the 47 seconds they stood across from each other. As for the defensive side of the equation? No worries at all -- Guillard trends offensively. He trusts his offense enough to override any specific holes in his submission defense.
And at this point that sort of thinking is the problem unless he's fighting somebody who accommodates him by not playing jiu-jitsu.
Against wrestlers (
Shane Roller
,
Evan Dunham
,
Waylon Lowe
), Guillard does fine. Against guys who like to stand and bang (
Jeremy Stephens
,
Dennis Siver
), he's right at home. But against submission specialists (
Nate Diaz
, Joe Lauzon, Jim Miller), guys who can force mistakes or at the very least pounce on them, he gets caught.
After the Miller choke, ESPN.com's Brett Okamoto suggested Guillard needed to be locked in a room with some black belts for a year, then he'd return a champion. Whether that's true or not, it couldn't hurt.
But the mistakes are the thing. Against Miller it was an ill-timed flying knee that allowed the grappler to get things to the ground. From there it was clinical -- just as Miller went to mount, Guillard scrambled and gave up his back. Seconds later, he was tapping.
[+] Enlarge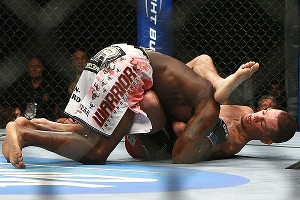 Dave Mandel/Sherdog.comFriday was hardly the first time Melvin Guillard's poor submission defense was exposed.
This has become a recurring theme for Guillard, who for just a little while at Greg Jackson's Academy in Albuquerque seemed to have found a balance in his game that might be described best as "smart aggressiveness." The thing that Jackson and striking coach Mike Winkeljohn were working on with Guillard was ultimately judgment, with a broader focus on his maturity. He was riding a five-fight winning streak when he left Jackson's for Boca Raton midway through training for Lauzon. Up until then, he was beating wrestlers and boxers.
Since then he's 0-2 against jiu-jitsu aces. Losing the way he did long before he got to Jackson's.
Would it have mattered if he'd stayed in New Mexico? Who knows. But Guillard is a work in progress, and it's been a pretty lousy week for the Blackzilians.
January, 21, 2012
1/21/12
1:51
AM ET

By Brett Okamoto
ESPN.com
Archive
NASHVILLE -- It's time for
Jim Miller
to get a title shot.
Of all the marquee names that make up the top of the 155-pound division, none should be higher right now than Miller's. The division has a great title fight in line next month between
Frankie Edgar
and
Ben Henderson
. Regardless of who wins, Miller should be next.
The six-year veteran did exactly what we've come to expect of him Friday, turning in a rock-solid performance with a first-round submission win over
Melvin Guillard
.
Afterward, Miller refused to cry for title shots -- it's not his style. Even when he was riding a seven-fight win streak in 2011, Miller shied away from explicitly saying, "Me next."
This time, however, he didn't have to. Guillard did it for him at the news conference.
"You can't count Frankie in this because he's No. 1, but at the end of the day, me and Jim Miller are the best two guys in this division," Guillard told ESPN.com.
"We're two guys people run from. People are not lining up to fight me and Jim. I admire Jim Miller. Facing him, I was probably the most nervous I've been in a long time."
If the one reason Miller (21-3) can't fight for the title in his next fight is that he lost to Henderson in August, sorry, that's not enough. Just as it's not in his personality to call for title shots, Miller is also not one to make excuses -- even though he had a legitimate one for that performance.
During training camp for that fight, Miller contracted mononucleosis. In the days leading up to the event, he came down with a kidney infection as a result of a difficult weight cut.
Miller downplays the effect both ailments had on his performance, saying he should have been able to adjust his gameplan to overcome it. He points to the fact that, despite those challenges, he nearly caught Henderson in multiple submissions.
That ability to regularly catch opponents in potentially fight-ending scenarios is what, Miller believes, will allow him to eventually win and hang onto the belt.
[+] Enlarge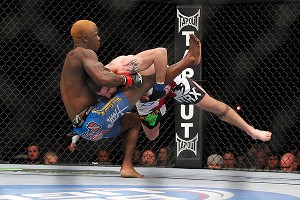 Ric Fogel for ESPN.comJim Miller, right, overcame a rough start before toppling Melvin Guillard.
"I train to be dangerous," Miller said. "In my last fight I had Ben in serious trouble half a dozen times. It would have taken just little adjustments to end the fight. I know I can put guys in trouble."
It's not that it isn't a close race at the top of the division. To suggest guys like
Anthony Pettis
,
Joe Lauzon
,
Nate Diaz
and
Clay Guida
aren't firmly in the title hunt is inaccurate.
No one has built a case better, however, than Miller. If he is not next in line, the UFC should at least allow him to fight the one who perceivably is.
Edgar has garnered a lot of respect for his ability to rally back from difficult starts -- just see both fights against Maynard. On Friday, Miller demonstrated the same type of heart, overcoming a combination from Guillard, which had him rocked in the first minute.
Following the win, Miller admitted he didn't even remember the final sequence of taking Guillard's back and locking in the rear-naked choke.
"I don't really remember much of it, to be honest," he said. "I kind of went into work-mode. I don't know how I took his back. I just knew I wanted to squeeze as hard as I could once I had it."
Miller might not have initially remembered much about the win, but hopefully the UFC does -- and rewards him accordingly.
January, 19, 2012
1/19/12
2:22
PM ET

By Josh Gross
ESPN.com
Archive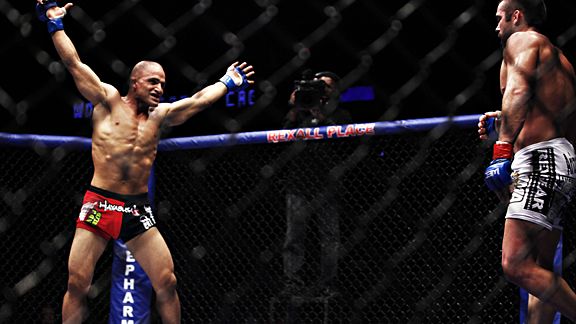 AP Photo/Phillip ChinKamal Shalorus, left, defied the naysayers by following his dreams as a wrestler turned MMA fighter.
VAN NUYS, Calif. -- The simple surroundings suit the men in the room.
They are Russian, Armenian, Iranian and American. Young and old. Heavy and slim. None of that matters though, not to Sarkis Darmandjian, otherwise known as Coach Sako, whose repurposed two-car garage has, for 13 years, housed SK Golden Boys Wrestling Club in the heart of the San Fernando Valley.
Everyone in the room speaks the same language, he said. All wrestlers do.
Coach Sako is old school. A proud Armenian, he grappled his way through life and wants the same for anyone he comes in contact with.
He's quick to regale guests with tales like the time he spoke out against the Russian boycott of the 1984 summer Olympic games. Visiting professors at the University of Minnesota, where Sako trained for the U.S. Olympic trails, were KGB, he exclaimed. They didn't bother him much. The CIA checked in on him once, but that was a story for another time. At this moment Sako was serious about talking wrestling.
"That's Jeff Blatnik," he said, pointing to a faded newspaper clipping affixed to a wall. "I used to train him." Blatnick famously wrestled his way to a gold medal in Los Angeles, well before pioneering UFC fans knew him as a color commentator. Blatnick chuckled at the mention of "Coach Sako." The Armenian didn't coach him, Blatnick said, but they did train together from 1982-1984.
That connection to mixed martial arts is hardly unique to Sako's life.
On the mat this Wednesday evening was UFC veteran, and fellow Armenian,
Manny Gamburyan
. So too a relative newcomer to the joint, someone special, Sako says.
Kamal Shalorus
, a native Iranian, is nine days out from a fight, his first for the UFC since
Jim Miller
stopped him in March. He's in good spirits and claims to be in terrific shape. His weight, 162 pounds, is 25 less than at similar stages in previous fight camps. And Shalorus, like Sako, is well versed in the universal language of wrestlers, which Blatnick explained harkens back to the beginning of civilized life.
Shalorus, head shaved and broad-chested, finds himself far removed from the sheep farm he grew up on. His family warned him not to leave.
It would be dangerous. Too dangerous. Life threatening. But he went because he had to. Life called out to him. First he moved to London.
While wrestling for England, he met an American girl, a Texan from Austin. He followed her, fell for the liberal enclave, reveled in Americana like Thanksgiving, and realized the generosity of people often dispels the words of politicians and actions of governments.
"Everyone scared me," he said. "They said don't go, you will die. But something flashed in my mind. I said I'm going to follow my star. No matter what, I have to go. I'm going to see the different world. And I'm glad I did."
"

Everyone scared me. They said don't go, you will die. But something flashed in my mind. I said I'm going to follow my star. No matter what, I have to go. I'm going to see the different world. And I'm glad I did.

"

-- Iranian Kamal Shalorus, on leaving his family to pursue his dream
After his Olympic wrestling dreams went quiet, Shalorus, 39, found mixed martial arts -- an "awesome" sport, he said. Trained in the Texas state capital, he started fighting in 2008 and signed with Zuffa a year later. Shalorus is a powerhouse, the kind of physical specimen who will boast the body of a ripped 25-year-old when he's twice that age.
Over the last year, Shalorus departed Texas for California, settling in multicultural Los Angeles, which claims the largest Persian population in the world outside of Iran. Living among that group is Shalorus' new manager, Nima Safapour.
"I don't know if there's another manager that can culturally understand him the way I can," Safapour said. "His family, his mentality, the way that he sees things. Similar to Ed Soares or Alex Davis with the Brazilian fighters. You're not going to connect with someone unless you're really from that culture. So we just automatically hit it off culturally, but individually as well. We had a lot of synergy.
"We see the world in a very similar way. We're very proud of our background but understand there's a world outside national boundaries as well. Sometimes human beings can be a little too tribal in the sense that we create boundaries for ourselves, which makes it difficult for us to interact with people that are different from them. You look at a person like Kamal, who lived and travelled all around the world and found a place for himself everywhere he's gone; we're talking about an individual who's very open minded to the world and people."
Like many exiles of the 1979 Iranian revolution, Safapour and his family settled in the U.S. He grew up in the Bay Area, went to college at UCLA, studied law at Columbia University, and eventually landed in Southern California. Three and a half years ago, Safapour, 35, gave up practicing real estate and corporate business law to manage fighters.
He met Shalorus at a Zuffa fighter summit in Las Vegas and they hit it off. Shalorus said he was looking for a change, a chance to reinvent himself after the Miller stoppage, and the possibility of connecting with a larger Iranian community than the one Austin had to offer was intriguing.
[+] Enlarge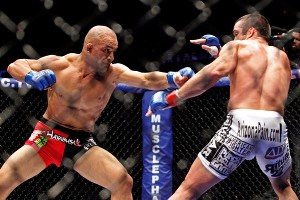 AP Photo/Phillip ChinKamal Shalorus, left, made his bones as a powerful wrestler in the WEC.
"I caught his attention because I was an Iranian manager," Safapour said. "He caught my attention because he was an accomplished UFC fighter from Iran."
Soon enough, Shalorus became part of the family, so much so that he settled into Safapour's place as a roommate. They often talk about traveling the world, and life back in Iran. Neither described himself as overly political, but sometimes these things can't be avoided.
On the day of my visit to the Golden Boys Wrestling Club, an Iranian nuclear scientist was blown up in Tehran. Tensions remain high in the region, with talk of Iran shutting down the Strait of Hormuz, a choke point between the oil-rich Persian Gulf and the open ocean.
Presidential candidates on the Republican side speak of inevitable war with Iran.
"I see what's going on but politics is so heavy sometimes," Shalorus said. "I'm not qualified to discuss what's going on in countries because my education and my information is not enough. But I know people have a hard time in Iran. I hope people one day have freedom to talk, freedom to choose what kind of life they have, because my sisters and brothers my people live there. I wish all the best for them and I'll do anything for them."
Shalorus embraced the opportunity of Western nations, though he does pine time to time for his farm in Azerbaijan, where much of his family moved when he was a boy.
"We are farmers and sheep herders. I miss my sheep. I miss my dogs. I miss my horse. It's very simple," he said. "No mortgage, no credit, nothing. Anything you have is yours. You work and after work you're finished. Here sometimes work isn't finished. You have to do so much stuff. We have a very poor life but at the same time you're free to live. I miss that."
Shalorus will return home for three weeks following his match this Friday in Nashville against unbeaten Russian Sambo fighter Habib Nurmagomedov. In a manner of speaking, Shalorus plans to do so well before the long flight; he has remembered his wrestling roots, something Coach Sako happily took credit for.
"His wrestling is good," Coach Sako said. "He's been practicing."
Shalorus smiled and remembered what his father used to say: "You wrestle, we watch and we laugh."
January, 19, 2012
1/19/12
7:33
AM ET

By Brett Okamoto
ESPN.com
Archive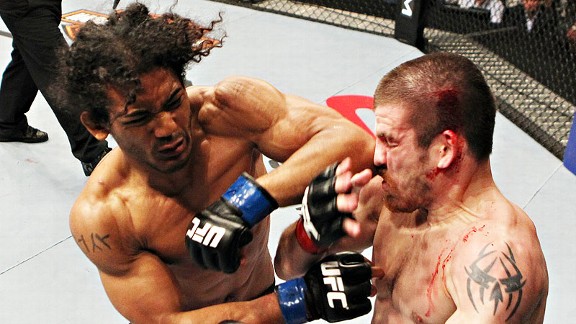 Josh Hedges/Getty ImagesJim Miller, right, sees his loss to Ben Henderson as more of a detour than a setback.
When it comes to ranking UFC lightweights, it's
Frankie Edgar
and
Ben Henderson
. After that, it gets tricky.
Hopefully that task gets easier Friday, when
Melvin Guillard
meets
Jim Miller
in the main event of the first UFC card to air on FX.
It's a fight that, had it happened six months ago, would have likely produced a No. 1 contender. Midway through 2011, Miller was riding one of the longest active win streaks in the UFC at seven. Guillard was right behind with five.
As it turns out now, though, this is no top contender fight. Both lightweights closed out the year with a loss. Guillard was submitted in 47 seconds by
Joe Lauzon
, which was only slightly more deflating than the one-sided decision loss Miller suffered at the hands of Henderson.
If one of these guys isn't the next challenger to the lightweight belt, however, who is?
Nate Diaz
began the year as a welterweight.
Gray Maynard
just had a shot; two actually.
Donald Cerrone
,
Clay Guida
,
Anthony Pettis
-- all have recent losses.
For that reason, Guillard (29-9-2) says going strictly off talent and quality of wins, it's not crazy to suggest Friday should still be a top contender fight.
"Being fair, I see myself beating Jim and then fighting immediately for the title," Guillard told ESPN.com. "But other people's opinion matters. To fans, a win over Jim Miller doesn't solidify me as a top contender. If that did happen, I would have to deal with fans telling me it's not fair and that I'm not ready.
"But I think it's the No. 1 contender fight. You look at the talent pool in 155 and, hands down, me and Jim are the top two guys."
Miller (20-3), who believes he was one win away from a title shot before the loss to Henderson, offered a slightly different picture. With Maynard having lost only to the champion and Diaz's impressive showing against Cerrone, Miller admitted he had likely fallen behind those names.
"Gray's only loss was to Frankie, so you probably have to have him still at No. 3," Miller said. "Diaz put himself way up there. He just won and my last fight was a loss, so I'd put him ahead of me right now.
"It's so dense at the top. I'm looking for tough fights. I'm trying to earn that spot again."
The truth is there likely isn't a wrong answer here. So little separates each of the top lightweights, the next title contender will be the one who finds a way to stand out. Diaz stood out at the end of 2011. Guillard and Miller have the opportunity to at the start of 2012.
Talking on his loss to Henderson, Miller described it as "a detour more than a setback." Even though the winner of this fight is likely still one fight away from the belt, the detour doesn't have to be a long one.
"Before Donald lost, I thought he'd be next," Guillard said. "Now you've got Nate creeping back up. You just don't know what's going to happen.
"Maybe it will take one more fight; maybe another. I don't know. But I want it to be in 2012, because that's when I said I'd win the title."
Miller would welcome Aldo, but not weight cut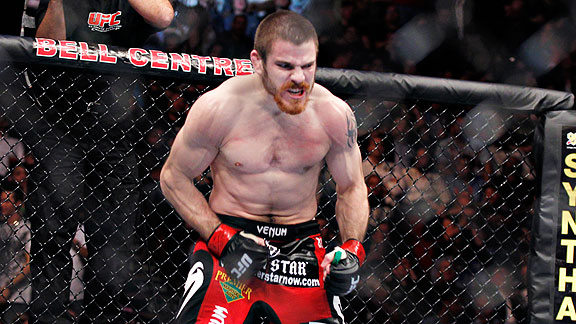 Ric Fogel for ESPN.comJim Miller wouldn't mind a bout with Jose Aldo -- just not at featherweight.
With the UFC running out of viable options for featherweight champion
Jose Aldo
, we could see more lightweights make the jump in search of a quicker title path.
Miller, however, says he won't be one of them.
As badly as the seven-year veteran wants to hold his first UFC title, Miller told ESPN.com that cutting to 145 pounds is not a realistic option. He's done so just once in his career, for a fight in 2006.
"At that time, I only walked around at 162 pounds," Miller said. "I'll push 180 pounds now. I'd love the opportunity to fight Aldo. It's out of respect. That's the kind of challenge I like, but I have no plans on dropping the weight.
"Wait until he makes the move to lightweight,
then
I want a crack at him."
Guillard says impatience, not overconfidence, led to loss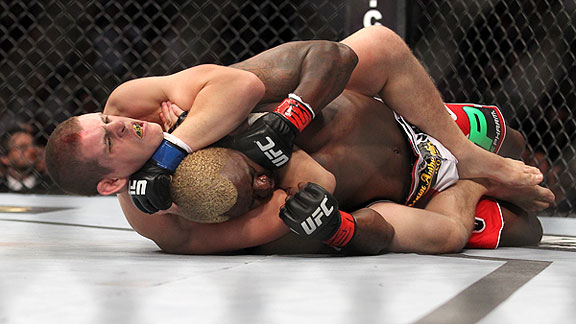 Ed Mulholland for ESPN.comMelvin Guillard's haste cost him dearly against Joe Lauzon.
Following the quick loss to Lauzon at UFC 136, some accused Guillard of having zero respect for his opponent, illustrated by the way he danced his way to the Octagon.
Guillard told ESPN.com he actually asked to fight Lauzon because of his respect for him and downplayed any attention critics placed on his pre-fight behavior.
"I always walk out like that," Guillard said. "Actually, I never know exactly how I'm going to walk out until that moment comes. That's just walking out of a tunnel. I didn't know walking out of a tunnel was such a big deal to a fight."
What did cost him, Guillard said, was he tried to make things happen too early in the fight. To help him increase his patience, both in the cage and in personal matters, Guillard enlisted the help of a sports psychologist for the first time after the loss.
That doesn't mean, however, he's restraining the aggressive style that's come to define him. Guillard says he'll always be a high pace, knockout-style fighter. He's just focusing more on the little things that facilitate the finish.
"Don't worry," Guillard said. "I'm not going to be a boring fighter. I would kick my own self in the back of the head if I ever became a boring fighter."