February, 29, 2012
2/29/12
1:15
PM ET

By Chad Dundas
ESPN.com
Archive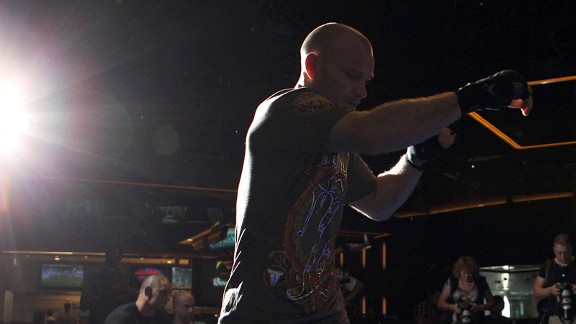 Josh Hedges/Getty ImagesWhen it comes to breaking through, Friday might be the light at the end of the tunnel for Martin Kampmann.
Science fiction writers could probably spend entire careers offering alternate histories for
Martin Kampmann
.
Example: What if Kampmann hadn't come out on the losing end of a razor thin decision against
Jake Shields
at UFC 121?
What if the judges had sided with the vocal majority who thought he should've gotten the nod over
Diego Sanchez
in March 2011 in their bloody, hard-fought cable TV main event?
What if Kampmann's unanimous decision win over
Rick Story
three months back -- originally announced as a split verdict, like maybe the judges had considered taking that one from him, too -- had been the cherry on top of a five-fight win-streak instead of a two-bout slump buster?
No long meditation on the butterfly effect is needed to know that if any of the above had come to pass, well, Kampmann probably wouldn't be taking on
Thiago Alves
on Friday in a fight that feels like a stretch as a main event, even for one of the UFC's new live shows on FX. On a Friday night, no less.
If Stephen King can crank out 800-plus pages speculating about a couple of guys going back in time to try to stop the Kennedy assassination, we can take a couple of sentences to acknowledge what Kampmann has learned the hard way during the last year and a half: That the line between contender status and just being middle-of-the-pack in the UFC welterweight division is slim, and the margin for error essentially nonexistent.
If Kampmann had defeated Shields and/or Sanchez (some people believe he rightfully did both) maybe
he
would have been fighting
Georges St. Pierre
in late spring or early summer of last year. Or maybe he would have met up with
Jake Ellenberger
in a No. 1 contender bout in late 2011 or early 2012. Heck, given Kampmann's 2009 win over
Carlos Condit
, maybe it would have been him in the cage against
Nick Diaz
fighting for the interim 170-pound title at UFC 143, instead of "The Natural Born Killer."
Or maybe not. This is all speculative, of course. It's possible things could have gone off the rails for Kampmann in a thousand other ways. Perhaps his UFC 103 loss to
Paul Daley
-- arguably his only
real
misstep of the last few years -- would still have been enough to hold him back.
Whatever the case, instead of finding himself considering the intricacies of the welterweight title picture right now, Kampmann's current reality is Friday's bout with Alves, where the stakes are, at best, uncertain.
[+] Enlarge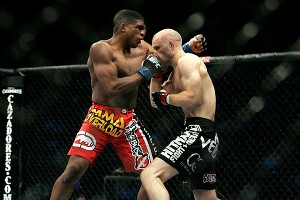 Tim Heitman for ESPN.comWhat if Martin Kampmann, right, hadn't lost to Paul Daley way back at UFC 103?
Alves is just 2-3 during his last five appearances and his only two wins since October 2008 came as the middle leg of John Howard's three-fight losing streak and over a debuting unknown in
Papy Abedi
. He's already been to the mountain top, fighting St. Pierre at UFC 100, and came out on the wrong end of a terribly lopsided decision loss. A return trip is starting to feel more and more unlikely.
At this point, the book is out on Alves, who starts like a house of fire and then fades late when his opponents can impose their game plans on him. The only real juice in this fight is the stylistic matchup -- both guys like to bang and Kampmann doesn't fit the blueprint of the wrestle-first fighters like Story, GSP and
Jon Fitch
who've given Alves all sorts of trouble.
What does it all mean when a 1-2 fighter takes on a 2-3 fighter on cable TV on a night the public isn't used to seeing fights and just 24 hours before a far more hyped-up women's bantamweight title bout hits the airwaves? Nobody knows. It's just one both guys know they don't want to lose, that's all.
Losses, we all know, are bad. Even losses that maybe should have been wins. Just ask Martin Kampmann.
Because he's a professional fighter, Kampmann would likely blame himself for his recent rough turns of fate. He'd probably tell you it was his fault for "leaving it in the hands of the judges."
Really, though, he's not to blame, and that makes it hard not to wonder "what if."
While we're engaging in fantasy, perhaps we could also indulge one where the fighters in our sport in 2012 don't have to fear "leaving it" in the purview of the judges. Maybe there's an alternate universe out there somewhere where the rules are better and the judges can be counted on to do a decent job.
February, 29, 2012
2/29/12
7:06
AM ET

By Brett Okamoto
ESPN.com
Archive
Joseph Benavidez
pretty much has two birthdays now. There is his original birth date, just like everyone else, and the day he learned he'd get to fight at 125 pounds.
It's always a good day when a fighter finds out he gets to compete in his ideal weight class, but the significance of this goes even further for Benavidez -- who says he feels "reborn" as a flyweight.
His career had hit a maddening spot during these past 18 months. He wasn't going to receive another title shot at 135 pounds after having lost to champion
Dominick Cruz
twice while in the WEC, but at the same time he was respected enough by UFC matchmakers that they refused to put him against rising prospects.
The result was Benavidez accepting undercard fights against competition that didn't make a lot of sense. Through two fights in the UFC, he has yet to see the main card and has faced unranked opponents in
Ian Loveland
and
Eddie Wineland
.
"I call that the purgatory of the bantamweight division," Benavidez told ESPN.com. "The UFC is trying to build that division; so, I can't get a title shot. But they also don't want me knocking off the up-and-coming guys.
"I felt I took some random fights. I was so excited to fight in the UFC, but I was on Facebook [portion of bouts] and the undercard, fighting a guy coming off a loss. I felt I deserved a little better than that."
As it turns out, the UFC agreed. The promotion announced late last year Benavidez would be included in its four-man flyweight tournament, which officially begins Friday at UFC on FX 2 in Sydney.
[+] Enlarge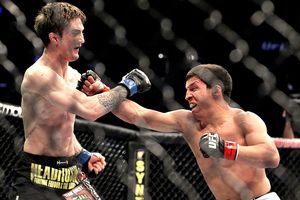 Ed Mulholland for ESPN.comDefeating Ian Loveland, left, did little to raise Joseph Benavidez's stock or profile.
Benavidez (15-2) faces Japanese flyweight Yasuhiro Urishitani. The winner will meet either
Demetrious Johnson
or
Ian McCall
in the final.
For the first time in his career, Benavidez isn't eating unnecessary meals or lifting weights in an attempt to put on unnatural weight. The opportunity to fight for a title is back in the picture as well -- the first 125-pound title in UFC history at that.
"It's something I think about all the time," Benavidez said. "Being the first flyweight champion would be history. I'd be immortal. No matter what I do, that's always there.
"I bought a house after the Loveland fight. I wanted something grown up like an elephant or some flowers to put on the mantel. I decided I need a UFC belt. I don't have one so I just put a picture of it. It's something I visualize every day."
His light schedule in 2011 -- it was the first time since 2006 he didn't fight at least three times -- might have actually benefited Benavidez.
"

I bought a house after the [Eddie] Loveland fight. I wanted something grown up like an elephant or some flowers to put on the mantel. I decided I need a UFC belt. I don't have one so I just put a picture of it. It's something I visualize every day.

"

-- Joseph Benavidez
While he's known as a permanent member of Team Alpha Male in Sacramento, Calif., Benavidez likes to visit other camps when he has the opportunity.
Prior to his first two fights in the UFC, he traveled to Las Vegas to train under the late Shawn Tompkins. Earlier this year, he went there again to work with Muay Thai instructor Shawn Yarborough and boxing coach Jimmy Gifford.
With no fight to prepare for in the last six months, Benavidez was able to push himself without the fear of having to pull out of a contest if he injured himself. He's evolved as a result.
"I'm never
not
motivated to train," he said. "Actually, when I don't have a fight I'm training the hardest because I'm not worried about getting hurt."
While trying to not look too far ahead, Benavidez admits it's been nice to know exactly what's next should he win this week. Past that, in addition to a UFC title, he wouldn't mind seeing his name appear on more pound-for-pound rankings.
Considering he's competed at a higher weight class his entire career and lost to only one man, Benavidez says there's already a case for him to be in the rankings. Finally at 125, he's got the opportunity to erase all doubt.
"I definitely think there is an argument," said Benavidez, on whether he's on the top-10 list right now. "I'm second-best in a division I wasn't supposed to be in. But there are so many good guys in this sport it's hard to list pound-for-pound.
"I'm looking to accomplish that -- make myself a pound-for-pound name."
February, 24, 2012
2/24/12
1:17
PM ET

By Chad Dundas
ESPN.com
Archive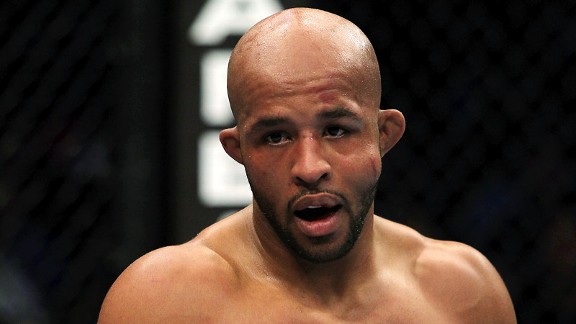 Josh Hedges/Zuffa LLC/Getty ImagesDemetrious Johnson is bringing a rule change with him when he debuts at flyweight.
The four men involved in the tournament to crown the UFC's first-ever flyweight champion won't make their 125-pound debuts in the promotion for another eight days, but already they're shaking things up.
During a recent appearance on
Tapout Radio
, tournament participant
Demetrious Johnson
revealed the contract for his tourney bout against
Ian McCall
includes a provision for a fourth, "sudden victory" period in the event their fight is a draw after its three regularly scheduled rounds.
"I don't know if anybody has said anything about it and this is the first time I'm mentioning it -- that [McCall and I] had to sign for a 'sudden death' bout," Johnson said. "If it goes three rounds and the judges can't decide who the winner is then we'll do a fourth round."
Johnson said he didn't know for certain if the same was true for the tourney's other first round bout -- pitting
Joseph Benavidez
against
Yasuhiro Urushitani
-- but is guessing that will be the case.
"I can't say if it's going to be for Joseph and Yasuhiro because I'm not going to say that the UFC made those guys sign, too," Johnson said. "I'm telling you, specifically, that I signed a contract for an extra round on the bout agreement. I'm not going to say that [Benavidez and Urushitani] did. I'm assuming, in my unprofessional opinion, that they did as well."
Probably a fair assumption. Also, a smart move by the UFC. If the tournament's opening rounds are scheduled for just three rounds, as Johnson indicates, it's a good bet that one or both of the organization's first flyweight fights will need assistance from the judges to determine a winner. A draw in either fight -- while still a rarity in MMA -- would obviously be a disaster for what the fight company has otherwise planned as a cut-and-dried two-round bracket.
It's also a little unorthodox. Short of the truncated "exhibition" fights of the "Ultimate Fighter" reality show, we've never seen this sort of arrangement in the UFC before. Since both opening-round flyweight fights are taking place in Sydney, we have to assume the promotion will be acting as its own regulatory body, and therefore can sort of make its own rules. (You know, within reason).
To date, the UFC has always stayed true to the unified rules during its international events. That's typically been a good thing and adding an extra round to the flyweight tournament bouts seems an innovative and positive step. The extra rounds probably won't be needed, but in the event that they are and all fighters have contractually signed off on them, there should be no problem.
Perhaps the UFC's experiment with "sudden victory" rounds could even lead to changes in the way draws are handled stateside. Nobody likes a tie, after all, and few would likely argue with a safe and sane solution to eradicating them.
Who knows? Perhaps the UFC's flyweights will prove to not only be the organization's newest, smallest additions, but also agents for change.