October, 9, 2012
10/09/12
7:36
AM ET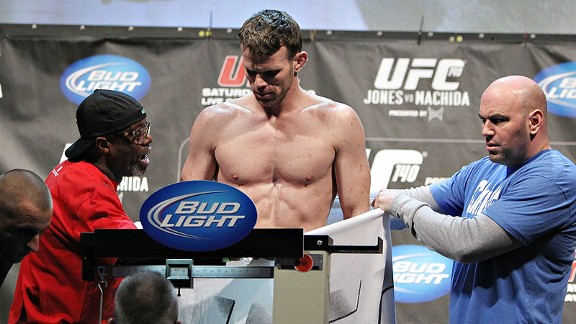 Josh Hedges/Getty Images Just not cutting it: A second straight weight cut flop cost Dennis Hallman his place on the UFC roster.
Even during a year where injury and adversity have been the norm in mixed martial arts, this past weekend felt like an especially hectic one for the UFC.
If the August cancelation of UFC 151 represented rock bottom for the organization's ongoing scheduling woes, then UFC on FX 5 may well have set a new standard for sheer chaos after two crises struck within 24 hours and two high-profile bouts were stricken from the card at the last minute.
Dennis Hallman's 155-pound fight against
Thiago Tavares
was called off on Thursday after the 36-year-old veteran failed to make weight.
Jeremy Stephens
was an even later scratch when he was reportedly arrested just before noon Friday on charges stemming from an alleged assault that took place in 2011.
Last we heard, Stephens was still in jail in Minnesota, awaiting the end of the holiday weekend before he's able to find out what the legal system has in store for him next. Meanwhile, we can only assume Hallman is back home in Washington by now, coping with the family turmoil that led to his sudden release from the company.
"Every card has drama now," lamented UFC president Dana White on Friday night, after spending much of the day negotiating with police in two states to spring Stephens in time to fight
Yves Edwards
. "Every day when I get up it's like a big soap opera. This is my life. It sucks, but it's part of having 475 guys under contract from all over the world. [Stuff] happens, and I'm the guy who deals with it."
How White ultimately chose to deal with both Hallman and Stephens will no doubt be the cause of at least some debate moving forward.
[+] Enlarge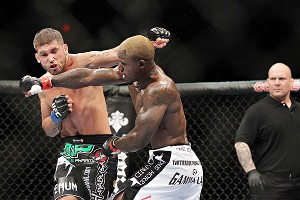 Ed Mulholland for ESPN.comOff the hook: Jeremy Stephens might be in hot water with the law, but he still has a job with the UFC.
In the end, Hallman was paid some $60,000, but he also was fired and the UFC president says he's not likely to be welcomed back. This was the second straight time Hallman has missed weight -- a cardinal sin in the fight game -- and it seems proper that he take some time to sort out his family issues before resuming his career. With more than 70 fights under his belt during a 16-year run in the sport, the door to the Octagon may well have closed on him for the last time, even if it did feel sort of jarring to hear White say the words at the event's postfight news conference.
"Hallman's not coming back ... " White said. "He's got a lot of personal problems and I hope that the show and win money that I gave him helps him and his family to fix whatever needs to be fixed. Business-wise? This [paying Hallman] was the stupidest thing in the world to do. As a human being? It was what I wanted to do."
By contrast, Stephens kept his job, though he'll leave Minneapolis without his promised purse after spending all Friday night (and then some) behind bars. For now, White said he believes Stephens' claim that he has been wrongly accused by police in his home state of Iowa. Beyond that, he gave the impression the company won't take further action until the case is resolved.
"Jeremy Stephens is a young, dumb kid who made a mistake and then made a bigger mistake by not taking care of it ... " White said. "But I'm always going to believe my guy and support my guy until I'm proven wrong or he goes and handles this situation and we find out what the real story is."
Even for a company with a reputation for responding rapidly when things go awry, the run-up to this event must have made for a unique test for UFC brass. Though the execution wasn't exactly flawless, in retrospect it does feel like the promotion had each fighter's best interests at heart.
Still, there will be questions: Should Hallman have gotten one more chance? Should Stephens have been pulled from the fight card immediately upon his arrest? Who knows.
Critics could likely spend days hashing out the various moral ambiguities here, but perhaps the handling of these situations merely reinforced what we already knew: That UFC marches to its own beat. White & Co. make moves they believe are right, seemingly without heed to public opinion or external pressure and they very rarely if ever apologize for them.
To be blunt, they don't care what the critics think. And if we learned anything this weekend, it's that this doesn't seem like it's going to change anytime soon.
October, 6, 2012
10/06/12
8:06
AM ET
MINNEAPOLIS -- Not so fast, UFC heavyweights.
Antonio Silva
proved he won't go quietly into the night on Friday, as he corralled a limping
Travis Browne
and slugged his way to a first round TKO victory in the main event of UFC on FX 5.
It was a fight that was meant to further clarify the pecking order in a suddenly deep -- well, deep-ish -- 265 pound division, but "Big Foot"'s emphatic and surprising win might have only muddied the waters. The hulking former EliteXC champion came into this fight off back-to-back losses to
Daniel Cormier
and
Cain Velasquez
and made no bones about the fact this was a must-win for him if he wanted to keep pace in the turbulent heavyweight ranks.
"For me, I knew it was kill or die, and I got the kill," Silva said at the postfight news conference, after dealing Browne his first career loss.
In the early going it seemed as though Browne's quickness and mobility might win the day, as he opened up with some confident, flamboyant offense. He threw an overhand right that pushed Silva back and added a spinning kick and then a front kick that showed off the athleticism many thought would give him the edge. That flash may have come at a price, however, as Browne later said he suffered a leg injury during the first striking exchange of the fight.
Roughly three minutes later he stumbled into the cage to avoid a strike from Silva and took a crushing right hand that landed flush on the jaw. Browne dropped, and "Big Foot" followed him down with a barrage of wild lefts, forcing referee
Herb Dean
to call a stop to the action. After the particulars were announced to the crowd, Browne limped noticeably as he left the cage.
"On the first kick I threw, my left hamstring popped like three times," he said. "But putting that aside, Big Foot came out and won the fight. I'm not trying to take anything away from the guy. I'll come back stronger."
[+] Enlarge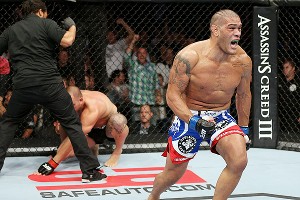 Josh Hedges/Getty ImagesAntonio Silva stomped all over Travis Browne at a time when nothing short of an impressive win would do.
The heavyweight landscape has been somewhat uncertain of late. Suspended No. 1 contender
Alistair Overeem
likely won't fight again until 2013 and the UFC has moved to fill the void with a rematch between champion
Junior dos Santos
and Velasquez at UFC 155. So, until the organization determines exactly where, when and how Overeem will return, there stands to be a handful of fighters all jockeying for a place in line.
It was thought Friday's bout would make a case for Browne to be included in that group, but it was not to be. On the other hand, where this upset win leaves Silva remains somewhat murky. He was close to a 2-to-1 underdog coming in and had been all but been written off as a serious threat to the upper echelon of UFC heavyweights.
Now, we might have to reevaluate that assessment. Luckily, we've got at least a few months to put it all in perspective.
"This was a big fight for the heavyweight division and for these two guys, with Travis being undefeated and Bigfoot looking to get back into the mix," UFC President Dana White said. "He did that tonight … He saw that [Browne] was hurt and he went in and he finished; he capitalized on it. He looked good tonight."
October, 5, 2012
10/05/12
6:07
AM ET
MINNEAPOLIS -- A person can extrapolate a lot from a weigh-in, almost all of it pure guesswork. However, one thing is certain of
Travis Browne
leading up to his heavyweight main event fight against Antonio "Bigfoot" Silva this weekend at UFC on FX 5.
He's coming in light.
The undefeated Browne -- whom oddsmakers see as a bit more than a 2-to-1 favorite over Silva -- tipped the scales at 246 pounds Thursday during the official prefight weigh-in at Pantages Theatre in downtown Minneapolis. It's the lightest he's ever been during his two-year UFC career.
By contrast, "Bigfoot" came in just slightly heavier than his normally rock-solid 264 pounds, hitting the upper limit of the UFC heavyweight division at 266. Afterward the two engaged in an intense, nose-to-nose staredown that ended only when the hulking former EliteXC champion's coaches succeeded in pulling him behind the curtain at the side of the stage.
For a guy who was 250 pounds during his last fight against
Chad Griggs
at UFC 145 and 255 versus
Rob Broughton
before that at UFC 135, Browne's lean look is noteworthy, if not stunning. While it might be a mistake to try to deduce a fighter's strategy simply from watching him climb up on a scale in his underpants, the weight loss also isn't an accident. Coming in so much lighter likely affirms the popular notion that he'll try to out-quick and out-maneuver Silva rather than match muscle with him.
Or at least, that has seemed to be Browne's modus operandi in the past.
Previous to this, his lowest mark had been the 247 pounds he weighed against the much taller
Stefan Struve
at UFC 130. During that bout, he looked particularly nimble on his feet while he bounced, circled and peppered Struve with leg kicks as a prelude to a highlight reel, Superman punch KO during the final minute of the first round. In fairness, he also looked a little sloppy at times and survived a fleeting choke attempt from Struve during the fight's lone ground exchange.
[+] Enlarge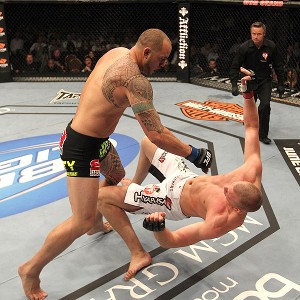 Al Bello/Getty ImagesA shredded Travis Browne efficiently settled matters with Stefan Struve at UFC 130.
Against "Bigfoot," conventional wisdom says Browne will want to stay off the mat entirely. It's no good to have a guy nicknamed after Sasquatch lying on top of you, as
Fedor Emelianenko
found out the hard way in February 2011.
To that end, Silva could shape up as an interesting physical test for the 6-foot-7-inch Hawaiian fighter, who hasn't faced off against a ton of behemoths en route to a 4-0-1 mark in the Octagon. Browne's UFC record so far includes once-and-future light heavyweights Griggs and
James McSweeney
as well as the sleek, 230-pound
Cheick Kongo
and the doughy, 6-2 Broughton, who carried a few too many of his 261 pounds around his midsection when they met. Prior to Friday, the biggest heavyweight Brown has fought in the Octagon has been Struve, who is "Skyscraper" tall but more lanky than anything else.
Though he comes in off back-to-back losses, Silva will be an entirely different animal. His best chance here will be to use his size and strength to stifle Browne's mobility against the fence and/or eventually bring him to the mat. That's what he did with such success in his win over Emelianenko in the opening round of the Strikeforce heavyweight grand prix last year. Against the smaller, quicker
Daniel Cormier
six months later, Silva was forced to fight on the feet and, despite weight, power and reach advantages, paid for it in the form of a first-round KO defeat.
In any case, we probably won't have to wait long to find out what either guy has in mind. In 34 combined fights, Browne and Silva have let their bouts go to the judges only five times. For his part, Browne has five wins that lasted less than a minute and nine of his 14 career fights have ended in the first round.