April, 25, 2012
4/25/12
11:47
AM ET

By Chuck Mindenhall
ESPN.com
Archive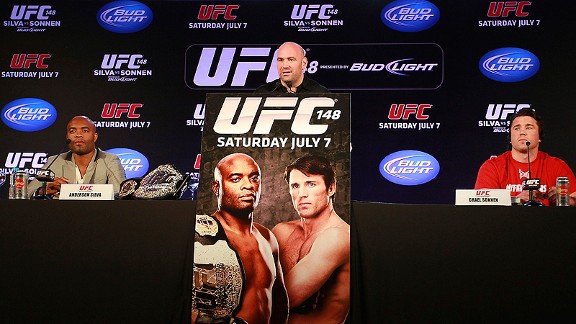 Buda Mendes/Getty ImagesTuesday was all about breaking the news to Brazilian fight fans, and hyping the relocated card.
There's a danger in thinking out loud. And, at this point the UFC must realize this better than anybody.
For the past couple of months,
Chael Sonnen
was assuredly fighting
Anderson Silva
in Silva's native Brazil, and the only thing left was to sort out the nagging details. Those details finally got in the way, and now the fight is headed for Las Vegas, which is a bit of crushing news for romantics.
Yet when you think about it, didn't this thing always feel too good, too tantalizingly ominous to be true? The brazen American getting dropped into hostile territory in an attempt to take the belt from the company's best-ever fighter? This was dramatic overload. It was the "Rumble in the Jungle" -- only it wouldn't be held at a neutral site. This was Sonnen being lowered into a burbling cauldron. It was the odds being stacked so impossibly against him that the situation shared more in common with movies than reality (think "Rocky IV").
And from the American perspective, the sweeteners were Sonnen's motormouth
in conjunction
with the immensity of the setting. The event was targeted for Rio de Janeiro's Joao Havelange Stadium -- a.k.a. Engenhao -- which could feasibly hold a record number of people (between 60,000-80,000).
Sonnen was played up to be the man of risks -- the security risk with an overnight bag of asterisks. Bold enough to walk the plank. Silva was to be the deliverer of comeuppance. The rectifier. Fighting in Brazil
for
Brazil.
For the sport of MMA, it was history in the making, in a setting as big as their rivalry.
[+] Enlarge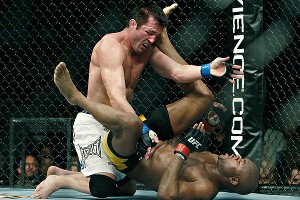 AP Photo/Jeff ChiuNow that the rematch has been moved to Vegas, Chael Sonnen can concentrate more on Anderson Silva and less on audience participation.
Only it didn't get entirely made. The rematch is officially happening on July 7 at the MGM Grand in Las Vegas, the "fight capital of Earth" as Sonnen says. Another way of looking at it is like this: Sonnen/Silva II is happening in a common setting on a big weekend of fights.
In a news conference yesterday from Rio de Janeiro, Dana White broke the news of the switch and explained the problems they had in securing a venue in Brazil. White, Silva and Sonnen showed up in person first and foremost to apologize, and second to redirect hype.
No doubt this whole thing is a bummer for the UFC, who sensed the historical value we're talking about.
It's disappointing to Calgary, the Canadian city that is likely losing featherweight champion
Jose Aldo
to fill the void at UFC 147.
It's disappointing for Silva, who has fought an 11 times in the States, once in Canada, once in Abu Dhabi and once in Rio as a UFC employee. He is 14-0 in those fights, which means he doesn't exactly have any big druthers. But his fifteenth fight -- and remember, every fight these days could be his last -- was meant to be epic. It was meant to shatter the UFC 129 attendance record -- in his native country.
None of that will happen now.
The good news is the fight is booked -- that's the practical thing to remember. UFC 148 now looks like the most loaded card of the year, a card the promoters could easily dub as "Rivals" with all the continuations in play -- Sonnen/Silva II,
Urijah Faber
/
Dominick Cruz
III,
Tito Ortiz
/
Forrest Griffin
III. It's a lot of sequels and trilogies in a city where whatever happens is meant to stay there. And that's a little salt on the wound to Brazilians and romantics and any fan of "Mission: Impossible."
Yet plenty of people will like this switch. There's a lot of foot traffic in Vegas come Memorial Day weekend, and this fight becomes accessible. The American media will rejoice because now they can attend without having to secure visas. This thing becomes a lot more convenient to cover.
But we weren't dealing in conveniences; we were dealing in historic backdrops. We were dealing in extreme
inconveniences
, which is exactly why Sonnen-Silva II in Brazil was so alluring. The "Rumble in the Jungle" wouldn't have been nearly as compelling as the "Fracas in Las Vegas."
And it's disappointing to wave good-bye to what could have been, especially knowing the magnitude of the thing that nearly was.
January, 10, 2012
1/10/12
12:53
PM ET

By Chuck Mindenhall
ESPN.com
Archive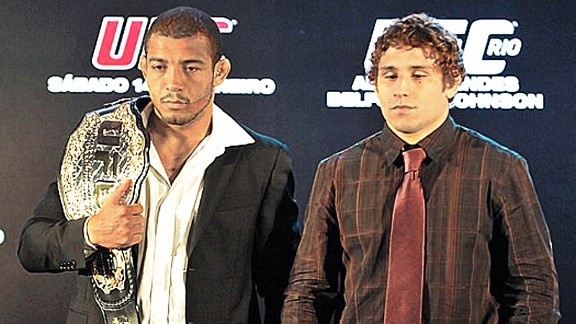 Sherdog.comNo one can blame Jose Aldo, left, and Chad Mendes if they feel lost in the shuffle.
It's fight week, and the most we're hearing about UFC 142 is coming from concerned third parties about how nobody's talking about UFC 142. It is a pay-per-view, after all, with a title at stake. It is happening only one time zone removed from eastern standard in Rio de Janeiro, so it can't be a hindrance to sleep schedules.
Yet this card is tiptoeing across the calendar. Even Dana White didn't exactly tweet out his traditional "It's Fiiiight Weeeek!" He merely wrapped quotes around Anthony Johnson's tweet to the same effect.
Maybe it's because of Stanislav Nedkov's visa problems.
But more likely it's something else, possibly what some western types are calling "inundation." How many fight cards can be promoted as "big events" in the space of a calendar year? How many fight cards can be promoted, period? How many can be completely cared about?
Zuffa is planning to roll out in the vicinity of 40 fight cards in 2012, hitting hot markets (Montreal), old ones (Sydney), barren ones (Omaha), familiar ones (Japan) and new ones (Stockholm) -- on Fox, FX, Fuel and PPV. There are only 52 weeks in 2012. With plans to run concurrent "Ultimate Fighter" shows in the States and in Brazil, plus the live coverage of the weekly fights on the reality show, that makes for a year of constant action. No offseason. Just fights after fights after fights.
That's not even factoring in Bellator's schedule. All told, MMA is requiring us to be obsessed to catch it all. (Note: In the quest to attract mainstream fans, has anybody thought about the casualization of existing diehards? Saturation does things to a man.)
But you know what gets lost in that many fight cards? Hype. And hype has been joined at the hip of the fight game for better than a century -- hype is White's raison d'etre. We need somebody to tell us that
Yushin Okami
is the best fighter to ever come out of Japan, because that sounds outrageous coming out of our own imaginations. We need healthy delusions, strong enough to make hard-earned income appear to us as disposable income. White's a master here. He can burst the seams of what looks otherwise ordinary. But in 2012, with the worldly takeover Zuffa is planning and the merciless globetrotting schedule, he can't possibly be the same circus barker. This year will have to involve inertia.
Which brings things back to this weekend's fight card. UFC Rio will have to go off without a lot of hype. In a roundabout way, that makes it perfectly hyped. There is nothing epic about the matchups. There's a featherweight fight between
Chad Mendes
and
Jose Aldo
, and if the wrestler Mendes has a say in things it could be a five-round toil where he eats a lot of punches in dogged pursuit of single-leg takedowns. It doesn't help that featherweights haven't yet caught up to the bigger weight classes in fetching PPV dollars.
[+] Enlarge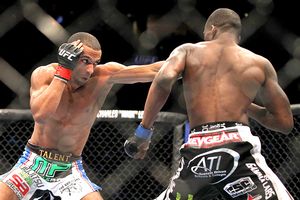 Ed Mulholland for ESPN.comEdson Barboza, left, is one to watch -- but not necessarily one who can carry a promotion.
The co-main event is intriguing, with
Anthony Johnson
debuting as a middleweight against
Vitor Belfort
, but then the night becomes about Brazil's own -- which is fine for a card that's realistically all about Brazil to begin with. If there was a fight that stood out like a
Donald Cerrone
versus
Nate Diaz
, it's got to be
Terry Etim
versus
Edson Barboza
. That's a lightweight clash of two highly explosive future stars.
Erick Silva
is also one to watch. But this weekend he's stepping into the Octagon almost anonymously against Carlo Prater (remember him?). There's some intrigue on the card, if you care to find it. It's not a
bad
night of fights, and it's not a spectacular one.
But from the promotional standpoint, you know a card is adrift when the biggest story heading into a main event is that
Gray Maynard
is helping train one of the participants. Things feel a little detached this week -- and it's a feeling that could become familiar going forward, particularly as the UFC breaks from being strictly America-centric. There will be more cards that sneak up on us in this way, more cards that feel like nonevents.
That's new terrain for the fight fan, at least when we're used to the buzz traditionally beginning with fight week. When we changed into 2012, it became something grander and less immediate, something like "fight year."
Now it's a matter of adjusting our enthusiasm.
September, 6, 2011
9/06/11
1:01
PM ET

By Chad Dundas
ESPN.com
Archive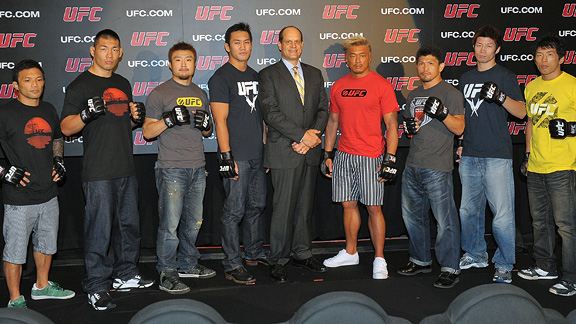 Koki Nagahama/Getty ImagesExpect to see Japan's brightest stars in action when the UFC makes a return the country.
The last time the UFC trekked to Japan,
Tito Ortiz
won the company's vacant light heavyweight title with a unanimous decision victory over
Wanderlei Silva
in the main event.
That was April 2000 and the win touched a run of five successful title defenses that lasted until September 2003 and made Ortiz's bones as a surefire future hall of famer. For Silva, it was his last appearance in the Octagon for seven and a half years, but in the meantime he fought 25 times in Pride (almost exclusively in Japan) won that organization's 205-pound title and solidified his place as one of MMA's all-time greats.
Funny how things work out. As the UFC on Tuesday officially confirmed Feb. 26, 2012, as its first trip back to Japan in more than a decade, Ortiz and Silva are the only men from that original card at the Yoyogi National Gymnasium (it was UFC 25, in case you're wondering) who are still on the promotion's active roster.
While a rematch been a resurgent Tito and a 185-pound Wanderlei seems unlikely (sure would be fun, though), the mere fact that both could potentially be available for the planned show at Saitama Super Arena is the first clue to exactly how pretty the UFC is sitting as it prepares to re-invade a Japanese MMA scene mired in a chaotic, half-decade long slump. With a recent show in Rio de Janeiro drawing rave reviews from fans, analysts and company employees alike, UFC brass also have a pretty good template for how to ensure these one-off international events are successful.
[+] Enlarge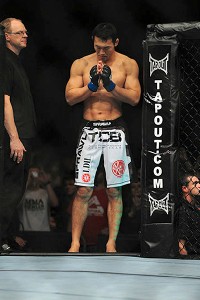 Martin McNeil for ESPN.comExpect to see Yushin Okami at home and right at home in his new weight class sometime next year.
Fewer full beers will likely be heaved in the direction of the Octagon, fewer soccer chants will likely sung during the fights, but look for the company to make sure UFC: Japan is framed as a tribute of sorts to that country's rich history in MMA, just as it did in Rio in August. Especially with the event planned for an arena that was previously the old stomping ground of the Pride organization -- and with Zuffa now owning the vestiges of that former promotion -- expect frequent nods (and probably a few knowing winks) to the past.
As promised during this week's official announcement, the company will surely stock the card with homegrown talent, in similar fashion to when Brazilian fighters went 7-1 against foreign opponents at UFC 134. That means expect top draws like featherweight phenom
Hatsu Hioki
, middleweight
Yushin Okami
and newly minted welterweight
Yoshihiro Akiyama
to get the call. Akiyama especially appears to have been kept on the UFC roster for the express purpose of making his 170-pound debut at home.
In addition, the UFC has a wealth of non-Japanese fighters who are nonetheless known to fight fans in that country. Fresh off his win over
Brendan Schaub
in Brazil, former Pride heavyweight champ
Antonio Rodrigo Nogueira
has already said he wants to fight on the Tokyo show. With
Brock Lesnar
scheduled to return to the UFC in early 2012, and possessing his own modest fame in Japan from his days in professional wrestling (not to mention his only non-UFC MMA fight), could a meeting with Nogueira be in the offing? If not Big Nog, Lesnar could potentially fight former Pride and K-1 fighter
Alistair Overeem
oversees too, as soon as Overeem's signing is official. The major sticking point to those potential bouts could be the UFC's ability to convince Lesnar, the notorious homebody, to make the trip.
[+] Enlarge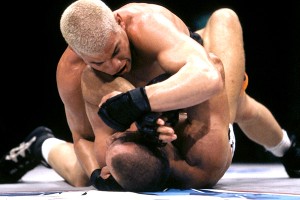 Susumu Nagao/Getty ImagesFor old time's sake: A rematch between Tito Ortiz and Wanderlei Silva would seem like a natural fit.
No matter. With former multidivisional Pride champ
Dan Henderson
reportedly on the verge of a UFC return, and Pride standbys like
Mirko Filipovic
,
Quinton Jackson
and
Mauricio Rua
(just to name a few) under Zuffa contract, there is no shortage of other potential matchups that might make sense for the Japanese show, some of them very compelling. Oh, did I mention Tito versus Wanderlei II? A guy can dream, right?
As others have already pointed out, a single, stand-alone UFC show won't be enough to breathe new life into the flagging Japanese fight scene. Yet UFC brass came away from Brazil claiming the country had sufficiently wowed them during UFC: Rio as to make it a frequent future stop. Certainly Japan is capable of similar fervor for MMA, as evidenced by the huge crowds and monster TV ratings the sport used to draw in Pride's heyday. Perhaps the biggest unspoken possibility of all is that (if the political and social climate seems to its liking) the UFC might decide that, going forward, Japan is worthy of more than one show every 10 or 11 years.
August, 19, 2011
8/19/11
11:16
AM ET
By Mauricio Rua
Special to ESPN.com
Archive
In this ESPN.com blog, former light heavyweight champion Mauricio "Shogun" Rua discusses what went wrong against Jon Jones, dealing with his brother Murilo's retirement, and operating on all cylinders ahead of UFC 134 in Rio.
Rio de Janeiro -- I've had six months to think about the way I lost my UFC light heavyweight belt to
Jon Jones
. When you lose a fight, it's always a tough process and there are many things to consider as to why it happened, what can be done differently and where and what to do next.
One guy is going to win, one guy is going to lose -- but usually there are not only one or two things to evaluate as to what you could have done differently, but a combination of several things. I worked hard to correct those mistakes I made in the Jones fight ahead of this UFC Rio bout with
Forrest Griffin
.
Really, in the Jones fight, what happened was I got hurt early on and I was having some trouble finding the right distance in the fight. I was also getting tired, and throwing leg kicks spends a lot of energy which is why I didn't throw so many of them, and there was also the risk of being taken down; it was a combination of factors which stopped me from performing at my best. But whatever I did wrong in training for that fight, it doesn't take Jones's merits away and he was the better fighter that night.
Some people think I was out of shape and are worried about my knees still being hurt after I had so much trouble with them. That isn't the case -- there's nothing wrong with my knees, and they were 100 percent ready for that fight, as it was all cleared by the doctor. We made the biggest effort in doing my rehab as perfectly as possible and the UFC was kind enough to let me come back on a date that was proper to do it, according to the doctors. I have no injury excuses.
As a professional fighter, you always have some injuries, even if they are minor. It's impossible, or very rare, to go through a camp without any pain. Right now I'm 100 percent, without any injuries and ready to go, but we always have to work around pain and work around injuries, and as a fighter you are always trying to make the best of it.
On 'Ninja' Rua's retirement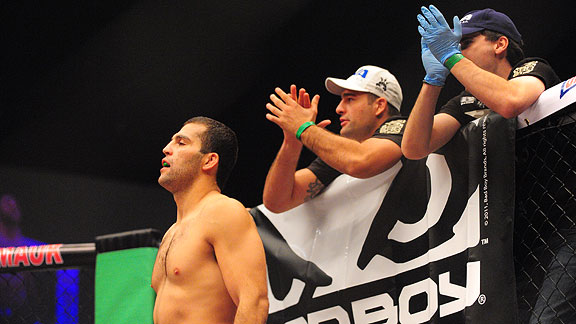 Martin McNeil/ESPN.comMauricio Rua was in his brother's corner for what would ultimately be Murilo's final fight.
My elder brother, Murilo, recently retired from MMA. Retirement for a professional fighter is never an easy thing. You prepare yourself for that day but, to us, it's like it will never come. We have been discussing with my brother and our manager his retirement for quite a while, and we had come to a decision that, winning or losing aside, it would be soon. After his last fight, and the way he lost, there was no reason to keep doing it for him.
He was tired and didn't have the fire to train hard every day anymore, as he has been on this road for long. Obviously, it's a bit tough for him and for the family, but he is working with MMA and doing a bunch of stuff, so with time he will transition better to his new types of work in MMA. As a family, we took it gladly and happy cause we love him and knew it wasn't being right for him anymore.
However, I still have his full support and he has helped me prepare for this huge fight with Forrest Griffin in Rio. Everyone is getting into MMA in Brazil now and this is a huge stage for me to get back on track.
You can follow Rua on Twitter at shogunrua and watch him battle Forrest Griffin at UFC 134 on Saturday, Aug. 27, on pay-per-view
June, 17, 2011
6/17/11
8:51
AM ET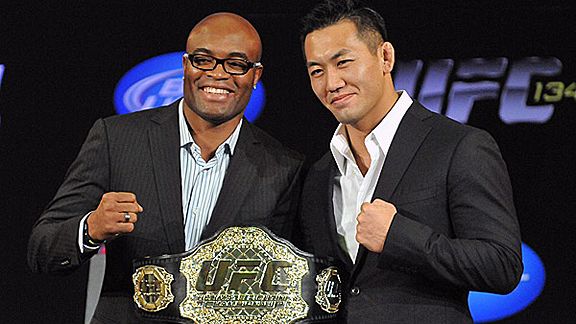 Courtesy of Sherdog.comTime hasn't exactly healed all wounds between Anderson Silva and Yushin Okami.
Yushin Okami is promising a victory over UFC middleweight champion when the pair square off at UFC 134.
More
May, 15, 2011
5/15/11
3:27
PM ET

By Brett Okamoto
ESPN.com
Archive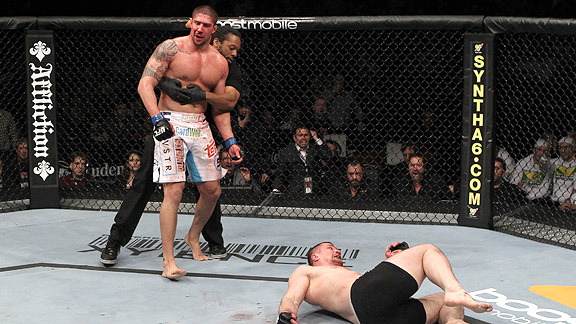 Al Bello/Zuffa LLC/Getty ImagesStanding tall: Brendan Schaub seems a logical next opponent for Antonio Rodrigo Nogueira.
Now that
Antonio Rodrigo Nogueira
has
made it known he will be fighting at UFC 134
in Rio this summer, there are at least two UFC heavyweights sitting by the phone waiting for an invitation to join him.
Mirko " Cro Cop" Filipovic
and
Brendan Schaub
have each made his interest in the fight known. Earlier this month, Nogueira's boxing coach Luis Dorea told a Brazilian publication he personally hoped for Filipovic. Filipovic responded during an interview with Fighters Only that he also wanted the fight.
But Schaub and his management still believe he's the most deserving of the fighting Nogueira in the legend's home country. The former "Ultimate Fighter" cast member is on a four-fight win streak, including a knockout win over Filipovic in March.
"We are lobbying daily for the fight," said Schaub's manager Lex McMahon in a text to ESPN.com. "As of now, we have not been offered the fight. We are optimistic that if [Nogueira] is healthy, Brendan has a good shot to be his opponent in Brazil.
"Also, I'm a huge Cro Cop fan and have tremendous respect for him, but it seems a stretch that Cro Cop would fight [Nogueira] in Brazil after Brendan knocked him out with one of the most vicious KOs I've ever seen. Brendan is one of the most dominant fighters in the division and we're hopeful the UFC will reward him with the great honor of fighting in Rio."
Nogueira hasn't fought since February 2010, when he was knocked out in the first round by current heavyweight title holder
Cain Velasquez
. Surgeries to his hip and knee have led to the longest inactive period in the 34-year-old fighter's career.
Filipovic is coming off back-to-back knockout losses for the first time in his storied 10-year career. The most recent, a third round stoppage at the hands of Schaub at UFC 128, prompted UFC president Dana White to speculate it was "probably" his last fight with the promotion.
May, 5, 2011
5/05/11
4:57
PM ET
By Mike Whitman/Sherdog.com
ESPN.com
Archive
A battle of submission specialists is in the works for August, as middleweights
Rousimar Palhares
and Alexandre Ferreira will likely square off at UFC 134 "Rio."
More »
April, 28, 2011
4/28/11
8:55
AM ET
By Marcelo Alonso/Sherdog.com
ESPN.com
Archive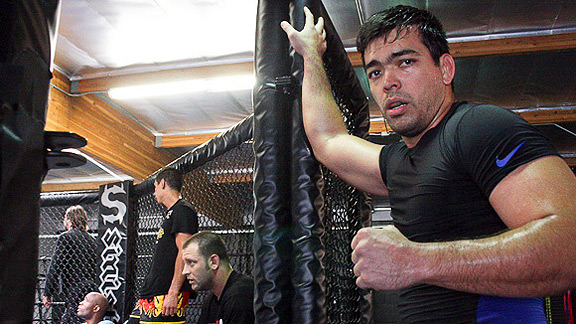 Marcelo Alonso/Sherdog.com Like every other Brazilian fighter, Lyoto Machida wants in on the UFC's Rio cage party.
Plenty of Brazilians have made known their desire to compete at UFC "Rio" on Aug. 27 at the HSBC Arena in Rio de Janeiro, Brazil -- the UFC's first event in Brazil in more than a decade.
Add
Lyoto Machida
to the list.
The historic show will feature a middleweight title bout between longtime champion
Anderson Silva
and the world-ranked
Yushin Okami
, along with a rematch pairing former light heavyweight titleholders Mauricio "Shogun" Rua and
Forrest Griffin
with one another.
More »
April, 19, 2011
4/19/11
12:14
PM ET
By ESPN.co.uk
ESPN.com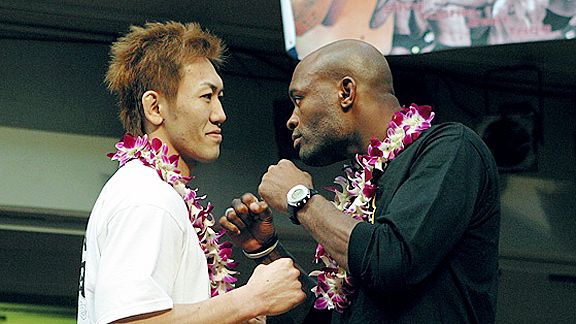 Jeff Sherwood Anderson Silva would rather open old wounds than bury the hatchet with Yushin Okami.
Anderson Silva
has opened up an old wound by accusing
Yushin Okami
of milking his disqualification victory over five years ago. Payback is sweet though, and that is exactly what The Spider intends to deliver at UFC Rio.
More »