January, 29, 2012
1/29/12
12:57
AM ET
CHICAGO -- A lot of people drew blanks when trying to come up with ways that
Michael Bisping
could defeat
Chael Sonnen
. In the end, a lot of people were drawing blanks as to how Bisping lost. Such is life in fighting.
The penultimate stage to the middleweight title ended up being closer than expected, but Sonnen prevailed on the judge's scorecards (30-27, 29-28, 29-28), and it looks like he's headed to Sao Paulo for his long-awaited rematch with
Anderson Silva
. But it wasn't the same dominant Sonnen we've seen against
Yushin Okami
,
Nate Marquardt
,
Brian Stann
and through nine-tenths of the Silva fight. This time he was challenged against the game British fighter, who came in with near stumblebum odds as a 4-to-1 underdog.
Though the third round was clearly Sonnen's, through much of the first two stanzas it was Bisping who outstruck Sonnen on the feet and took turns controlling the action against the fence. He thwarted many of Sonnen's double-leg takedown attempts, and when he did get taken down, he was able to use the cage to get back up. He worked Sonnen well in the clinch and scored with dirty boxing. But Sonnen did enough with the takedowns in the eyes of the judges to nudge things his way. In fact, one judge even gave Sonnen the second round, which played out pretty convincingly in Bisping's favor.
"The only round I knew I had was the third," Sonnen said at the postfight news conference. "I thought I might have had one of the first two, but I didn't know [for sure] I had it. I heard 30-27; I knew that went for me. But I didn't hear unanimous decision. If I'd heard unanimous I would have breathed deep right then.
"I thought it was a split decision. And that was my goal -- to win a controversial split decision."
That last part, of course, was a joke on his part. But when asked if he knew the fight was close going into the third and that prompted him to fight with a sense of urgency, Sonnen said he didn't have his bearings enough to fully know.
[+] Enlarge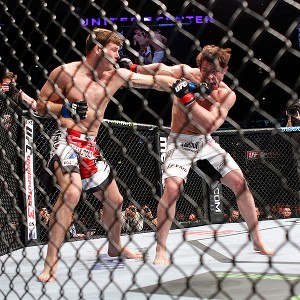 Ross Dettman for ESPN.comMichael Bisping, left, gave Chael Sonnen all he could handle in Rounds 1 and 2.
"Yeah, I knew we were in the middle of a close fight," he said. "I went in there to win the third round -- I had a sense of urgency for sure. I think we both did. I think we both knew we were in the middle of a hard fight. But you've got to understand, [Bisping] hit me so hard in the first round, I wasn't positive when we were in the third. I was just glad when it was over."
In the toil, Sonnen may have lost a little steam for a rematch that has been could go down as one of the biggest in UFC history. Had he walked through Bisping as he did Stann at UFC 136, the collision course with Silva would look like just that -- a collision course. But doubt will inevitably creep back into the equation with him looking more vulnerable than he has in a couple of years.
But the rematch with Silva seems destined to happen nearly two full years after the first went down at UFC 117 in Oakland. Instead of 17,425 people cheering him on, there will be 100,000 people expecting his comeuppance in Brazil. When asked about the fight in Sao Paulo, Sonnen made it clear he won't balk at the opportunity.
"It sounds like you're concerned for my safety," he said. "But in fairness, ladies and gentleman, you might want to pick up your local newspaper. Chicago isn't exactly a haven for civility at all times -- I don't know if I'm completely safe on the streets around here. And secondly, if those blowhards with their blow darts want to come at me, they can send anybody they want -- but don't send anybody you want back."
Might have been harder than people expected, but he got the job done. Now get ready for an inundation of Sonnen in both hemispheres.
January, 27, 2012
1/27/12
1:05
PM ET
Dana White made a few things clear during Thursday's news conference in Chicago -- or, at least clearer -- about what's at stake on Saturday. The rest will have to be inferred.
The most up-to-date picture looks like this: The winner of
Chael Sonnen
and
Michael Bisping
will fight for the middleweight title in June (tentatively). That fight will happen in Sao Paulo -- even if Bisping pulls the upset, leaving British fans plenty of time to acquire their Brazilian visas. This will all happen unless the winner suffers a significant injury, or
Anderson Silva
doesn't recover in time from the bursitis ailment that has sidelined him. Sonnen's safety in Sao Paulo isn't even an issue, whether it's in front of 100,000 ticked off partisans or not. If things don't go exactly as planned,
Dan Henderson
lurks in the same vague way he has been lurking for months now.
In the light heavyweight division, the winner of
Phil Davis
and
Rashad Evans
gets an immediate crack at
Jon Jones
. Unless it's Davis, and Davis doesn't win emphatically. Then it could be Henderson -- but, according to White, "we'll see what happens."
Davis' wrestling style at Penn State belongs in a Hefty bag (according to Evans) and Evans is on drugs (according to Davis). It's up in the air at which card the winner will challenge Jones, but Montreal might still be in the running. Or maybe Atlanta in April.
[+] Enlarge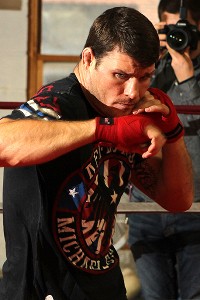 Josh Hedges/Zuffa LLC/Getty ImagesMusic to his ears: Michael Bisping is one large hurdle away from a title shot.
And that's where things stand heading into the big UFC on Fox 2 event this weekend. A lot at stake, and a lot depends on a lot. In other words, things are exactly where things stood before the news conference. Three of the four guys are guaranteed title shots, while Davis -- who's still green enough not to care -- will need to raise some eyebrows in victory to procure his. It's up to him to outdo the one-armed Kimura that did in
Tim Boetsch
.
But in the re-emphasis of hypothetical outcomes, White did make it clear that Brazil is where Silva would be defending his title. There have been a lot of inquiries as to whether or not the UFC would consider holding the 185-pound title fight in England should Bisping win. It won't. Whether it's Bisping or Sonnen, they will be made into interlopers come June in a fight that's expected to draw the biggest crowd ever assembled for a UFC event. They are fighting for the chance to become sacrifices, which is exhilarating.
Otherwise, it looks like this -- Evans is on drugs, Davis' wrestling is trash, Bisping knows where Sonnen can stick that fake belt and, speaking of Sonnen, don't believe a word that he says because, according to Dana White, "Chael is nuts." That much he was perfectly clear on. And whatever all this tells us, whether it's informative or new, it sets the table for a big night of fights with a lot of unfiltered characters.
That's part of what makes this sport interesting, and why it bursting in on a million conservative homes is fun to think about. We just can't predict how things will play out.
January, 18, 2012
1/18/12
11:34
AM ET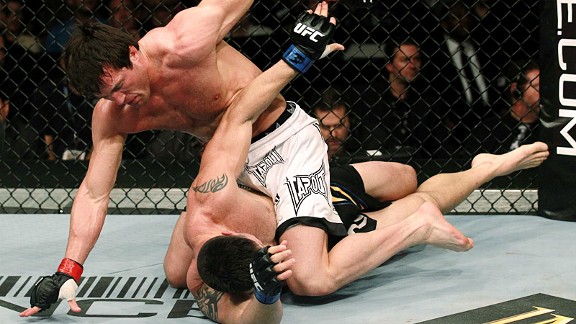 Nick Laham/Getty ImagesChael Sonnen, top, might as well book his flight to Brazil for an Anderson Silva rematch.
When Dana White announced that
Mark Munoz
was out of his UFC on FOX 2 fight with
Chael Sonnen
just 11 days before the Jan. 28 card, it sent MMA's Twitter feeds into dawning.
It trickled in like this: Too bad for Mark Munoz (he's such a nice guy, and let's hope he's OK). Great for
Michael Bisping
(and very deserving). What happens to
Demian Maia
(somebody plug
Rousimar Palhares
in, and let him charge). Great for
Chris Weidman
(what an opportunity to fight Demian Maia).
It's a lot of epiphany to absorb in one scroll and, as always, people exercised their right to congratulate other people as publicly as possible.
One interesting thing was that many seemed to think that the new makeshift lineup was better than the original, if not far more just -- Bisping should have been fighting Sonnen all along. In other words, we were sitting on a pile of unaired complaints until yesterday, which is exactly why UFC matchmaker Joe Silva doesn't have a Twitter account.
Yet there was one thing that nearly everybody outside of England agreed upon -- with the new pairing of Sonnen and Bisping in a middleweight title eliminator, Sonnen just got clearance to land in Sao Paulo for his fight with
Anderson Silva
come June.
Michael Bisping, for as sturdy and willing and ultimately successful as he is, won't match up well against a guy who fights horizontally. British fighters aren't known for their wrestling. Worse, the British can't stop Americans from wrestling, not with snarky verbal protests, anyway. This thing looks one-sided. Even Vegas opened the books with Sonnen better than a 4-to-1 favorite. With odds like that, it looks like a Strikeforce event.
[+] Enlarge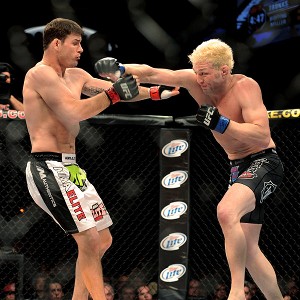 Al Powers for ESPN.comThe old jab-and-run routine won't be an option for Michael Bisping come Jan. 28.
Yet despite all the quickly digested excitement of the Chicago card rearrangements, think about the (potential) gift this is to Sonnen.
He went from fighting a guy in Munoz who looked like a huge monkey wrench in his plans to rematch Silva, to the type of fighter he is accustomed to dominating. Sonnen doesn't do Muay Thai plum, and he doesn't tolerate jab-and-retreat. He tackles. Then he buries his head in chests and flails the loosest appendages he can toward the supine man's head. He did it to
Nate Marquardt
,
Yushin Okami
and
Brian Stann
. His thing is to conquer.
Against Bisping, it's hard to envision it going much differently. Bisping should show up to Chicago with a bow on top.
At least, that's the thinking. While Chris Weidman looks like a
Charlie Brenneman
special for Demian Maia, Bisping appears more like a turnstile for Sonnen. The puncher's chance will always be in play, but he might need to land it from his back.
And if Sonnen does walk through Bisping as so many believe, he might consider throwing out this all-purpose word in his postfight speech:
Obrigado
.
After all, there will be millions of paulistanos saying the same thing.
December, 6, 2011
12/06/11
3:10
PM ET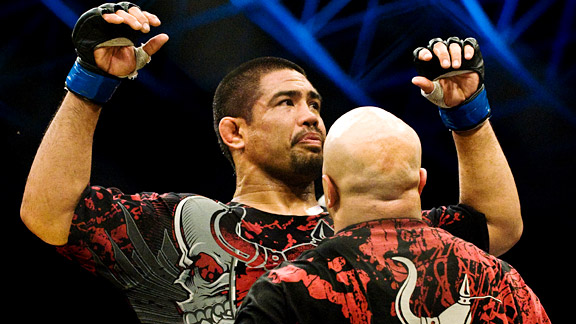 Martin McNeil for ESPN.comThe only thing standing in the way of quite possibly the biggest bout in MMA history is Mark Munoz.
Most people don't know what bursitis is, but for MMA dramatists the definition might be this: A condition known to delay, and sometimes prevent, history.
Anderson Silva has bursitis in his shoulder, and can't/won't fight until June. By some not entirely total coincidence, there's a card being looked at for Sao Paulo in June that isn't so much a card as a historic happening. The idea is to host a UFC in a soccer stadium that seats 100,000 people. Silva is expected to headline this theoretical event. All 100,000 partisans would like to see him punish Chael Sonnen, who has become a national scourge.
People in North America want to see the fight, too, because Sonnen is an audacious national scourge who came close to beating Silva the first time through at UFC 117. Sonnen sells drama. He sells fights. He sells loathing, sides and asterisks. To top it all off, there's a feeling out there that he has Silva's number, and it's invasive enough to play over Silva's doubts (presumably) and drive (hopefully).
While Silva rehabilitates, Sonnen will happily take an interim fight with Mark Munoz on Jan. 28 to renew his rights to a title shot. If it's fine by Sonnen, it's fine by the UFC, who likes the idea of stacking its Fox cards with big, translatable fights. But this is one of those title eliminator's where what's at stake isn't just the No. 1 contender spot to take on Silva in a deafening setting south of the Equator. What's at stake is an epic situation, full of the most contemplative color and an epoch-defining sense of moment, versus a very basic one.
[+] Enlarge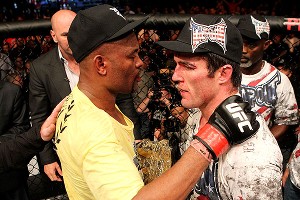 Josh Hedges/Zuffa LLC/Getty ImagesIt's all on you: Chael Sonnen's fate is in his own hands.
Munoz versus Silva doesn't come close to the concept of Sonnen/Silva II. Imagine if Joe Bugner had defeated Muhammad Ali right before the "Thrilla in Manila" with Joe Frazier? There might have never have been a "Thrilla in Manila." A chapter of boxing's lore would gone missing.
Munoz is in the very unique spot to thwart perhaps the biggest rematch in the history of the UFC. Why the biggest? Because Anderson Silva is considered the best pound-for-pound fighter in the sport, winner of all 14 UFC contests, and Sonnen is his only nemesis. For a champion who is as decorated and feared as Silva, Sonnen is the only one to emerge as a rival. Rivalries deepen sports -- the UFC has had very few with the emotional draw as this one. It's one of the reasons Silva's mythos hasn't extended to everybody. He hasn't had a career rival to win over and/or divide fans, nor that one opponent to push him beyond the limits of ordinary competitiveness.
And for as cliché as it is to say, Sonnen feels like a piece of kryptonite being shipped down to Brazil. Munoz is the solid piece of granite. That's why the Munoz/Sonnen fight has the feeling of watching a hot blackjack player start to get up with all his winnings, only to throw down his whole stack and let it ride for one more hand. Munoz is the dealer.
For him, Sonnen is a gateway to a title shot. On the other side, Munoz looks like a tripwire set right in front of destiny. For Sonnen, and all believers he may have made, the music could stop in January.
[+] Enlarge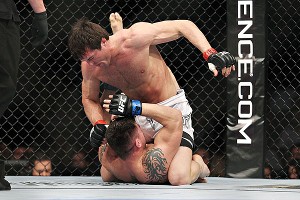 Ed Mulholland for ESPN.comChael Sonnen, top, more or less shares a game plan with Mark Munoz.
And if you look at the stylistic wrestler versus wrestler set-up, Munoz looks like he could be a major monkey wrench. Sonnen has long ago done away with all the trimmings; he is a telegraphic wrestler who wants to bury his head in your chest, take you down and club you with fists and elbows. Munoz is also a wrestler, very strong, very able, very instinctive. Unlike Sonnen, he has power in his right hand that could close the deal quick. This is not a stay-busy fight so much as a trap fight, with so much more than a title shot hanging in the balance.
If Munoz wins, there's curiosity as to how he'll do against his old friend Silva. If Sonnen wins, for once there will be a fight and a situation where hyperbole becomes impossible.
Looked at like that, it's Munoz's task to render the Sonnen/Silva sequel too good to be true.