August, 11, 2012
8/11/12
11:07
AM ET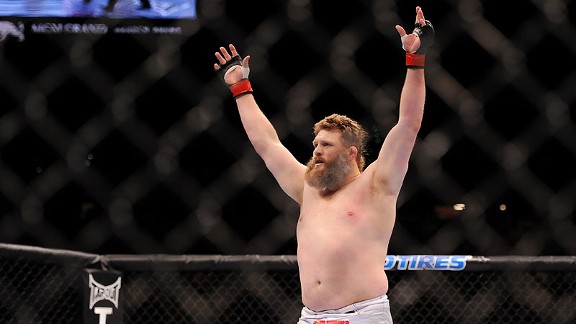 Rod Mar for ESPN.com
It's barely underway, but there's already drama trickling out of "The Ultimate Fighter 16" house. Not from the crop of welterweight participants, who are still shrouded in mystery and being canned for preservation just like the old Spike days.
It's from the coach, UFC heavyweight
Roy Nelson
, who hand-picked a peculiar coaching staff to help mold the upstarts -- people who didn't necessarily meet with UFC president Dana White's approval.
Who were they? There was former Strikeforce light heavyweight champion/current Bellator fighter Muhammad Lawal, who is serving a nine-month suspension for testing positive for an anabolic steroid; there was Kurt Angle, the professional wrestler and one-time Olympic gold medalist; and then Victor Conte, who's ran the gamut of morality in all things steroid related.
Not exactly the most fetching bunch of names -- in fact, it reads like a devil's den of asterisks. But it does make you wonder what exactly Nelson and the proposed coaching staff would have been teaching. And that begs a further question -- wouldn't that make for compelling television? This is "reality" television, after all, where drama and conflict are meant to play out candidly. That we commonly talk about TUF as being a house of bottled-up testosterone sort of broadens the set of qualifications to a visionary like Nelson.
Wouldn't that crew know how to manipulate, canalize and redirect testosterone?
That's a sadistic maybe, because we'll never know -- Dana White put the kibosh on it. And that he did, both head coach and big boss have been barbing at each other via interviews and on Twitter. White told MMAFighting.com that Nelson is being a "pain in the a--." Nelson told MMAJunkie.com "I'm always at the back of the bus when it comes to the UFC. I'm trying to further MMA to the next level, hold journalists up to higher standards, holding fights to higher standards, holding promotions to higher standards, holding athletic commissions to higher standards, and even holding the fans to higher standards."
It sounds like a pioneering effort was being hatched by Nelson. Instead, he is compromising with more savory names that make sense to the company and brand image. They are Skrap Packers like
Jake Shields
and
Gilbert Melendez
, and the Diaz brothers, Nick and Nate.
You know it's a strange situation when the Diaz's appear more savory than the alternative. The conflict between coach Nelson and opposing coach
Shane Carwin
isn't the centerpiece of drama -- it's between Nelson and White, who've been contentious off and on for years.
It wasn't that long ago that Nelson was meeting with White to discuss the matter of just
staying
on the UFC roster. A win over
Dave Herman
later, and the boldness we saw from Nelson on TUF 10 comes storming back. White has never been a fan of Nelson's attitude, the Falstaffian physique, nor the nature of all that hair and beard. Yet he still gives him opportunities.
Nelson has done an infuriating job of politely ignoring White's tastes. And he still dances to White's tune.
All of this should dial up the intrigue just a little bit when the new season of TUF airs in September on FX. But it's a reminder once again that the inmates don't run the big house (even the most persistent inmates). White does. And in this case it's hard to find fault with his reasoning for saying no to a coaching staff of Lawal, Angle and Conte. When associations are so strong, dissociations can be smart.
But you can't help but feel a pang. When a show is accused of growing stale and here comes Nelson thinking way outside the box, wouldn't it have been fun to see what was up his sleeve?
January, 24, 2012
1/24/12
2:19
PM ET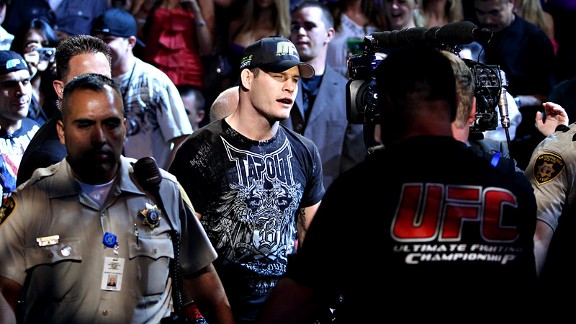 Ed Mulholland for ESPN.comWill Michael Bisping's Octagon experience kick into high gear come fight time?
It's been a long while since
Michael Bisping
was an underdog heading into a fight. In fact, the last time was back in 2009 when he fought
Dan Henderson
at UFC 100. On that occasion, with all the tensions of the "Ultimate Fighter 9" still playing in the shallows of public perception, the Brit showed up as a 2-to-1 dog. And even then there were a lot of people that thought Vegas was sleeping on Bisping a little bit. (By the time Henderson's right hand sent Bisping into the twitches, the line was long forgotten).
Since then the "Count" has been the "Bully" in Joe Silva's matchmaking.
Jason Miller
,
Jorge Rivera
,
Yoshihiro Akiyama
,
Dan Miller
and
Denis Kang
were all long shots to beat Bisping. Ditto
Wanderlei Silva
, who managed to spring the upset. For the last three years, Bisping has grown used to being the mark, not the marksman. He's been batting down the grabbing hands of opportunists on his climb, rather than clutching at the ankles of the guys above him.
That changes in Chicago. Against
Chael Sonnen
-- who fell to Bisping when
Mark Munoz
had to pull out of his scheduled fight with bone spurs in his elbow -- he is a 4-to-1 underdog.
This is unusual terrain for Bisping. And it's an incredible line for a guy who has won four in a row (finishing his last two). In fact, it's the kind of line that says two things: 1) For the last three years Bisping has had a cushy schedule for a guy who considers himself "title ready," and B) we now view Sonnen as a tyrant. In the time it's taken Bisping to make his way up the rungs enough for a bigger challenge, Sonnen has transformed from a journeyman to a contender, from an afterthought to a showman, and from cusp prelimer to PPV headliner. He contradicts himself ruthlessly in the media, but he keeps beating guys (coldly, methodically) and came close to cashing in Silva, too. The Sonnen case is one for 18th century exorcists.
Or maybe Malcolm Gladwell.
But Bisping has always been Bisping. And to become something other than Bisping he'll need to beat Sonnen, who also happens to be the guy he can take his cues from. Sonnen stood as a lofty underdog against
Yushin Okami
at UFC 104 and
Nate Marquardt
at UFC 109. Heading into that stretch he scored a workman-like decision over Dan Miller, and before then had lost to
Demian Maia
(triangle choke). So what did he do? The only thing he could. He laid the pestle down on top-ranked Okami in a fight many thought he didn't deserve, then ransacked Marquardt for three straight rounds to the point that he suddenly looked like a real impediment for
Anderson Silva
.
Out of nowhere, Sonnen beat two top-end guys who were trying their damndest to get back to Silva. This time it's Sonnen who is trying to get back to Silva (even if he says otherwise), and it's Bisping's chance to spoil that return trip. In other words, here's Bisping's chance to become Sonnen. Win it, and he'll assuredly be an underdog in his next fight, too. That's the goal -- Sao Paulo against longer odds still.
Yet lose, and it could be another three years before Bisping's an underdog again, and that's no kind of consolation.
December, 4, 2011
12/04/11
1:31
AM ET

By Brett Okamoto
ESPN.com
Archive
LAS VEGAS -- Following the conclusion of Saturday's middleweight fight between Jason Miller and Michael Bisping at "The Ultimate Fighter" Season 14 finale, UFC president Dana White tweeted it was the most one-sided fight in the promotion's history.
It probably wasn't quite that. It was, well ... something.
In time, the TKO win Bisping (22-3) claimed midway through the third round will be viewed as nothing more than a positive result. It extends his current win streak to four and moves him one step closer to a middleweight title shot in 2012.
In the immediate future, however, it will be classified as one of two things: Either a dominant performance by a man ready to fight for the UFC title or an uninspired one, over an opponent who mysteriously gassed out before the fight even started.
Which do you see it as?
Miller (23-8), who was fighting in the UFC for the first time since 2005, was visibly exhausted in the second round. He continued to play to the crowd, purposefully dropping his hands during exchanges, but it seemed the biggest effect
that
had was making it easier for Bisping to finish him.
As Bisping put it, by the time that happened, the fight was already over.
"That's normally the sign of a man who has nothing left to do," Bisping said. "He tries to have a bit of bravado, so at least he looks tough while he gets his a-- kicked."
But as impressive as a knockout win over Miller is -- it's only happened once before -- it didn't seem like a perfect week if you're a No. 1 contender hopeful.
On Friday, Bisping missed making weight on his first attempt. He missed by a mere quarter-pound, which came off after just "10 minutes" on the treadmill, but rumors of a difficult weight cut for the Brit quickly circulated.
[+] Enlarge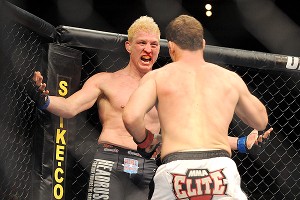 Al Powers for ESPN.comA quickly winded Jason Miller offered next to nothing against Michael Bisping.
In the fight, he showed evidence of stamina issues himself, despite dominating from the second round on. When asked about both his own and Miller's cardio, Bisping pointed to the quick pace of the fight.
"That's nonsense," Bisping said, on whether he or Miller had cardio issues. "I guarantee you Jason didn't gas. I guarantee you he could have gone five rounds.
"When someone is landing body shots on you like I was, your cardio gets affected. You take the best runners in the world -- start kicking them, and they'll get tired."
Miller, who was transported to the hospital Saturday, tweeted a different opinion.
"Got tired," Miller tweeted. "Thanks for watching. I'll be back stronger next time."
To Bisping's credit, he certainly did more than a few things right to secure the finish. He overcame an early headbutt from Miller, which left a large welt on his forehead. He defended the majority of takedowns and kept pressure on when it was clear Miller had wilted.
Whether he had difficulty with the weight cut or not, one can't argue with the result.
"He's a tough, durable guy," Bisping said. "But I knew he couldn't take that pace. I backed up a few times and he didn't even want to get to his feet. For someone with no punching power, I think seven of my last eight opponents have gone to the hospital."
Before the main event Saturday, the UFC officially announced a middleweight fight between Chael Sonnen (26-11-1) and Mark Munoz (12-2) on Jan. 28, which will determine the next No. 1 contender for champion Anderson Silva.
Is a rare finish over Miller enough to have the UFC second-guess that decision? Well, it depends on how you look at it.
December, 2, 2011
12/02/11
2:58
PM ET

By Chad Dundas
ESPN.com
Archive
Both
Michael Bisping
and
Jason Miller
say they're perfectly content with the circumstances of Saturday night's "Ultimate Fighter" season 14 finale.
Never mind that they seem to be caught in the middle of the UFC's divorce from SpikeTV and (perhaps due to the uncertainty surrounding that split) their otherwise pay-per-view quality bout has been relegated to free television and the intimate settings of The Pearl at the Palms. Never mind the fact the fight company canceled the prefight news conference and open workouts this week, appearing satisfied to ride out the end of this marriage in shared silence.
Miller and Bisping are fighters, so they don't concern themselves much with that stuff. Or at least if they do, they don't let on.
Likewise, neither guy will cop to being overly concerned with the stakes of their grudge match or where they stand in the middleweight rat race, which has only gotten murkier over the past few days.
Here's what we think we know at this exact moment: Anderson Silva's 36-year-old shoulder will likely keep him out until June, at which point the UFC may or may not be planning to showcase its 185-pound champion in a 100,000-seat mega stadium in Sao Paolo, Brazil, against an opponent still to be announced. We'd all previously assumed that TBA would be
Chael Sonnen
, but with each passing day it appears more and more likely the promotion will stick to its guns about The
Rashad Evans
Rule and not let Sonnen sit out to wait for his title shot.
[+] Enlarge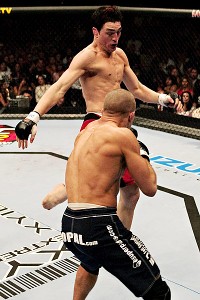 Josh Hedges/Getty ImagesJason Miller is hoping for a better outing in the Octagon than last time around.
Rumors ran hot and heavy last week that the former Oregon wrestler might face off with
Mark Munoz
at the UFC's second live show on FOX, but a few days ago Sonnen went on record saying he believes he'll get the winner of Bisping versus Miller instead. Naturally, there's also a decent chance Sonnen is just saying stuff for his own amusement, so his words really leave us no closer to answers than we were before.
Bisping, who has been hovering on the outskirts of contender status for some time, doesn't believe a win over Miller would do much to move him up the ladder. He intimated this week that he sees this fight simply as a chance to get some added cage time, earn a little more money and shut the mouth of a guy it turned out he didn't particularly like while they filmed a season of reality television together. By that same token, though, a loss to an Octagon newcomer, no matter how accomplished, could be disastrous for his title aspirations.
For Miller -- who returns action for the first time in more than a year -- a second run in the UFC gives him a chance to prove he's more than just a television personality, that when he's not dropping one-liners on out-of-shape bullies on MTV2, he has what it takes to compete at MMA's highest level. A win over Bisping would show he's been underrated these last few years of globetrotting and sporadic competition, while a loss (especially a bad one) would raise significant questions about his long-term future in the Octagon.
Being so preoccupied by the damage they plan to do to each other, it doesn't seem like the fighters will care a lick about the long-term until after the fight Saturday night. Until then, they're happy to leave such big-picture questions to fans and media types.
It's just that, with no prefight news conference, there isn't a great place to ask.
December, 2, 2011
12/02/11
1:20
PM ET
LAS VEGAS -- People knew things before we did -- that's what we suspect we know now. That's why the fight week buildup to
Michael Bisping
and
Jason Miller
-- a fight with vague insinuations toward a high contender spot -- is unique. Unique in a short shrift kind of way for the headliners.
Traditionally leading up to a fight card, there are open workouts to attend, a news conference, a definitive place to be for the weigh-ins and media mixers. For Spike's final broadcast show, the finale of the 14th season of "The Ultimate Fighter," it has all the hype of a straight to DVD movie. There are acrimonious underpinnings between the UFC and Spike. Where once it was a powerful relationship full of unified presence, now you have to pay active attention to know what's going on. The hurtful last words that aren't being said? "We'll always have Griffin/Bonnar." In lieu of a news conference, the UFC held a press junket of sorts inside the Fantasy Tower at the Palms. Dana White was out of town.
Through this whole thing, Michael Bisping is and has been the odd man out. The Briton is used to floodlights surrounding his bouts, large arenas during them, and media blitzes before and after to activate his peeves. That's only part of it. Bisping is within periscope range of a title shot, and beating Miller won't likely advance his cause. In fact, it was originally thought that Bisping was fighting well beneath him, back when the UFC was trying to saddle him against
Chael Sonnen
as the coaches on TUF 14.
"Fighting Jason, I don't think he gives me the right to fight for a title," Bisping told ESPN.com's Brett Okamoto earlier this week. "He's not the name. He's not the guy to do it."
Think about that. Bisping took 10 months off between fights to make a crab-like movement toward the title. For exposure? Doubtful. Bisping is a resident TUFer by now. This was his third stint on the show (once as a participant, twice as a coach). Maybe we're looking at his sentence for the spitting incident that occurred against
Jorge Rivera
.
Of course, people have warmed to Miller's chances over the course of the last couple of months, to the point that many wouldn't even view it as an upset should he pull it off. He returns to the Octagon after nearly seven years, and "return" is a funny word for a guy who has but one cameo appearance in the promotion, back at UFC 52 against
Georges St. Pierre
. With Miller having fought in Dream and Strikeforce -- to go along with his outsized cult of personality -- this one has an interleague vibe going on that's hard to get a firm grasp on. How does it play out?
If the week leading up is any indication, quietly.
TUF lessons from El Cucuy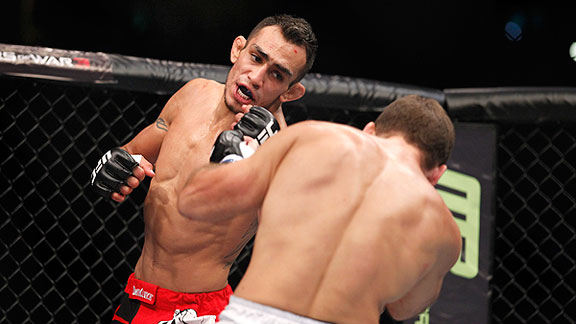 Ross Dettman for ESPN.comBreaking through: Tony Ferguson is already leaving a mark in the UFC.
Last season's TUF winner,
Tony Ferguson
, is on this weekend's card as well. He won the season as a broadcast welterweight, and before that achievement could even sink in "El Cucuy" cut down to be a lightweight and fought Aaron Riley's at UFC 135. How did that pan out? Riley was eating from a tube after a brutal left uppercut broke his jaw. For all the talk about TUF no longer producing threatening talent to the established names in the sport, Ferguson looks like a huckleberry.
"If you want your life to change, then don't get stuck up in all the B.S. that goes along with it, all the people that come around -- just keep doing what you do," he told Ariel Helwani in response to what advice he'd give future TUF alum. "Keep doing what you were doing just before you got to the Ultimate Fighter" show. Make sure that you're still giving 150 percent inside the gym everyday, and make sure nothing gets to your head. Why? Because true champions are made that way."
Doesn't sound like a guy who is resting on his laurels.
Miller's Chael moment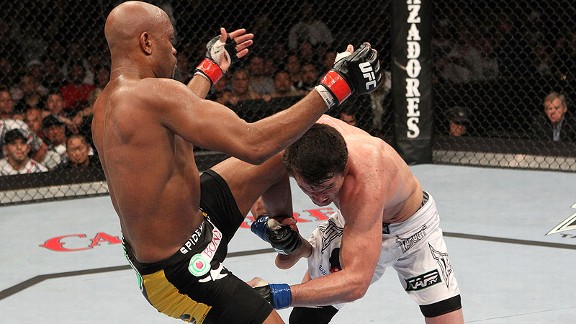 Josh Hedges/Zuffa LLC/Getty ImagesJason Miller knew what it felt like to be taken down by Chael Sonnen long before Anderson Silva did.
Essentially Jason Miller got his chance to coach on "The Ultimate Fighter" because Chael Sonnen was still suspended when it came time to sign on the dotted line. Miller isn't Sonnen, but he has had the pleasure of fighting Sonnen back a decade ago on something called "Rumble on the Reservation" in California.
"You mean when he double-legged me through the cage?" Miller told ESPN.com. "I got hurt from that s---, too, because I went through the bottom of the floor. We broke through the cage, and I twisted my ribs because he fell on me so hard. That was crazy. We were fighting on an Indian Reservation. I was selling tickets outside with my hands wrapped. That's how crazy it was. It was a weird thing.
"So, yeah, we broke right through the floor. Then they tried to fix it for like three minutes, and I was getting angry, because I wanted to get [Sonnen] back for that. So I was standing in the corner going, 'what the hell.' And finally the referee was like ... alright, let's continue, but don't go over there [pointing to broken floorboards]. Avoid that spot. Fight over there [pointing to safe end]. So we had a weird gentleman's agreement not to go over there [toward the hole]. It was kind unspoken. It was crazy."
Miller lost the decision, but gained a piece of lore.
December, 2, 2011
12/02/11
7:23
AM ET
LAS VEGAS -- Things are going to look and feel a lot different for
Jason Miller
on Saturday night.
In a small theater like the Pearl at the Palms, Miller will have about 14 feet of serviceable space to attempt one of his famous walkouts in his return to the UFC. As the UFC curtails accompanying girls and pyrotechnics, his walkout looks doomed from the start. Since it's a Spike show -- the final of its kind before the UFC takes its services elsewhere -- Miller might not even have a live camera on him when he does it. For a guy who just won "Ring Entrance of the Year" at the MMA Awards, he is coping with all of this best that can be expected. These are small prices to pay.
As for his forever in the making fight with
Michael Bisping
, his antagonist for the last several months on "The Ultimate Fighter," it'll be only the third time a non-title main event is slated for five rounds.
So much has changed or is changing or is about to change in the promotion that he returns to, that "Mayhem" can't help but feel right at home. He is used to flux. That's where he's been for the last six-and-a-half years through appearances with HDNet Fights, Dream, the WEC and Strikeforce (among others).
"I can't point to one single similarity, because it's such a vastly different time," he says of the difference this time through from 2005, when he fought his one and only UFC bout, versus
Georges St. Pierre
. "At that time, I was like, whatever, I'm fighting some French guy. I didn't care. I was like, he's handsome, I'm going to knock his face off.
"But it was a different time in my life, too. When I fought Georges, I was a kid not knowing what to do. I didn't understand life at all. I didn't understand what I was doing. I was trying to make 170 pounds. It was, all-around, a difficult time for me. Nowadays, I feel like I've grown up a lot. I got to go experience the whole world. I've got to see Brazil and Japan and all types of locales and meet different people. I grew up. And now grown up Mayhem gets to fight."
This version of Miller is a celebrity for reasons not entirely to do with fighting. In fact, plenty of people know him better from his "Bully Beatdown" show on MTV. He's charismatic enough to say he can smash two Jason Statham's on "Late Night with Jimmy Fallon" and come off as a lovable loon. For the last couple of months he was the coach on "the Ultimate Fighter," where he engaged in the usual hijinks and pranks with the ever-inflammatory Bisping, doing his lunatic eyebrow spike at each available chance.
If this is the grown up Miller we're seeing at 30 years old, you can guess at what he was like in his bygone younger days.
And yet, no matter how mischievious he gets, Miller rarely comes across as the heel in the situation. Remember the Nashville brawl, the one he incited by rather enforcedly requesting a rematch with
Jake Shields
, prompting the Diaz brothers, Nick and Nate, to get all up in his mug? Hey, he was just asking for a rematch, and things escalated. If anything, his timing could have been better.
In other words, Miller is a one-of-a-kind, and it's been a crazy jaunt back "home" to the UFC, one that Miller happily took his detours to arrive at.
"For all those crazy twists and turns, I don't know about phase two; this might be phase three or four," he says. "I don't know what phase this is
this
time.
"But I wouldn't change a thing. Sure, maybe I could have made more money somehow. Maybe I could have changed Coke to Pepsi, maybe I could have found my car keys. But, it doesn't matter. I'm really happy with the twists and turns it's taken."
For those who have followed his itinerant career through the various promotions, you know that his style is an aggressive one. Miller doesn't let his opponents get comfortable. He likes to be right in their face the whole fight. He's been like that against
Ronaldo Souza
, against Jake Shields, and against
Tim Kennedy
. He plans to come right at Bisping, too, whom he says is an overrated kickboxer who too often resorts to trying to outpoint opponents.
"I don't play that game. I come forward, I come forward, I come forward," he says. "I go for a finish. There's no way he's going to outpoint me. And he can't TKO me, because he doesn't punch hard enough. I'm just going to keep my hands up and keep moving forward. I'm not going to let him play that point game. It's silly. I'm too much of a veteran for that, and I'm too aggressive. He can't play that game for five rounds."
And after six weeks of hostile back-and-forth bantering with Bisping, whom he says there's genuine animosity toward, will the grudge outlast the rounds? Eh, Miller's a sportsman. He predicts that stuff (probably) ends after Saturday night.
"I think we can squash it after the fight," he says. "I would hope so. He lives really close to me. I don't want him burning my house down."