August, 19, 2013
8/19/13
12:38
PM ET

By Franklin McNeil
ESPN.com
Archive
Not long ago,
Uriah Hall
was a highly touted UFC middleweight prospect; not anymore. Hall might soon be looking for another promotion to call home.
After Hall suffered his second consecutive loss, a split decision to
John Howard
at UFC Fight Night 26 on Saturday in Boston, promotion president Dana White cast doubt on the fighter's future inside the Octagon. There's no question that Hall possesses the physical skills to compete in mixed martial arts; what he lacks is a fighter's mentality. And it's leading to his downfall.
"I love Uriah Hall," White said. "I have a great relationship with this kid. He's one of the nicest human beings you could ever meet; he's not a fighter, man.
"

Uriah Hall has all the physical attributes to be amazing. He's got speed. He's got power. He's just unbelievable. But he doesn't have what it mentally takes to fight [in the UFC].

"

-- UFC president Dana White, on Uriah Hall's listless showing against John Howard
"If I could take [featherweight] Brad Pickett's brain and heart and put it inside Uriah Hall's body, there'd be some damage done. Uriah Hall has all the physical attributes to be amazing. He's got speed. He's got power. He's just unbelievable. But he doesn't have what it mentally takes to fight [in the UFC].
"I don't know [whether Hall will be released]. I have to think about this one. I don't like talking about stuff like that [at postfight Q&A sessions with media]."
Though White refused to say whether Hall will be released by the promotion, the topic is expected to come up for discussion when UFC officials gather at their next meeting.
What bothered White, and most onlookers Saturday night, was the constant friendly gesturing between Hall and Howard. The fighters gave each other high-fives, and occasional hugs, throughout the three-round affair. Their behavior brought a smattering of boos from the crowd of 12,539 at TD Garden during and after the bout.
"That was a high-five competition," White said. "We're not here to high-five; we're not here to shake hands. You can do all that when the fight is over; you're here to fight."
The excitement over Hall began to build during his time on Season 17 of "The Ultimate Fighter" series. Hall was the most dominant fighter on the show. His high-level striking produced several memorable knockouts, leading to the belief that he would become a force in UFC.
[+] Enlarge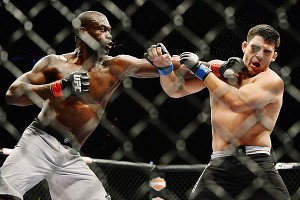 Al Powers for ESPNUriah Hall, left, first showed signs of passivity in a losing effort against Kelvin Gastelum in the TUF finale.
The hype, however, started to fizzle April 13 when Hall was upset by
Kelvin Gastelum
in the TUF finale -- losing a split decision. Hall showed signs of weakness on the ground during that fight.
But it wasn't Hall's performance inside the cage that evening that raised concern from White; it's what Hall said afterward.
"He was this killer [who] everyone was afraid of on TUF," White said. "Then he comes into the big show where it all really matters, and this is going to make your livelihood and everything else, and he turns into this different person -- this super-nice guy.
"He was telling me after the Kelvin fight: 'You know, I just really like him. He's a really nice guy.' OK. Well, that really nice guy just took everything you've ever wanted.
"Do you understand what I'm saying to you? Do you get that? Does that make sense to you? I guess it doesn't make sense to him."
Howard, who competed in UFC Saturday for the first time since getting cut by the promotion after his June 2011 loss to
Matt Brown
, secured another fight with the promotion. The showing wasn't a memorable one for Howard -- that high-fiving act with Hall might have cost the Boston resident a few local fans -- but White isn't holding it against him.
"He won," White said of Howard. "He will fight again.
"He usually doesn't fight that way. That's not how he fights. Uriah is so nice that he makes the other guy really nice."
When Howard does return to the Octagon it isn't clear if he will again compete at middleweight. White has not yet decided whether to pencil Howard in at 185 pounds or return him to welterweight.
August, 14, 2013
8/14/13
1:33
PM ET

By Brett Okamoto
ESPN.com
Archive
UFC Fight Night 26
suffers from the same ailment nearly every UFC card will suffer from the rest of the year: It's not
UFC 168
… or
167
… or
166
.
Chris Weidman
versus
Anderson Silva
is a fighting fan's Christmas.
Georges St-Pierre
versus
Johny Hendricks
is Thanksgiving. And
Cain Velasquez
versus
Junior dos Santos
III will feel like a second birthday to us all this year.
Chael Sonnen
versus
Mauricio Rua
this weekend at TD Garden in Boston sort of feels like Flag Day in comparison.
But that said, there's a lot to like about Flag Day. Top to bottom, this is one of the stronger UFC cards fans will witness this year. Some events are structured around one fight and one fight only. Boston, on the other hand, features plenty to watch for.
FIVE STORYLINES
The legend of Conor McGregor
We are all getting way too carried away about McGregor -- but it's impossible not to. Simplest way to put it: When McGregor fights, you want to watch, and when he talks, you want to listen. It's not just that he's entertaining; he has this contagious passion about what he does. During a recent visit to Las Vegas, McGregor said he was so excited he stayed up shadowboxing in his hotel room until 5 a.m. He's in a hurry to be at the top, and
Max Holloway
wants to slow him down.
The curious case of Uriah Hall
You hear all the time how important the mental aspect is in martial arts. Hall has shown he has the physical tools, and on the surface, nothing seems out of sorts for him mentally. But that loss to
Kelvin Gastelum
in
The Ultimate Fighter Finale
was awkward. His team said he liked Gastelum too much to hurt him. Many of those watching called it cockiness. Neither is really an acceptable excuse for a fighter as talented as Hall. Expectations are high for him against
John Howard
.
The resurgence of Mike Brown
Brown hasn't really been under the spotlight for years, but for longtime martial arts observers he'll always be a name that jumps off the page. Two wins over
Urijah Faber
in the WEC put him on the map, but truth is Brown was just one of those guys who was always fun to watch. Something went wrong along the way, and the now 37-year-old endured a 2-4 stretch amid rumors of distractions in his personal life. He's back on a two-fight win streak coming into this fight against
Steve Siler
.
[+] Enlarge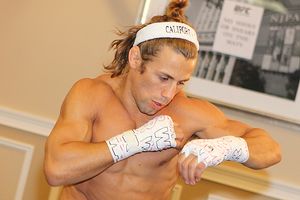 Ed Mulholland for ESPN.comAny loss at this point for MMA veteran Urijah Faber would be considered a major setback.
The quiet contenders
Since 2011,
Matt Brown
and
Mike Pyle
are a combined 11-2 in the Octagon, yet you won't find them on any top 10 welterweight rankings. Neither is willing to make a big point of that publicly, but there's no question both are getting a little anxious. After his last win, Brown said, "Just because a bunch of media people don't believe I'm good enough for a title shot doesn't mean it's true." Pyle, winner of four in a row, is itching to sign a fight against a top-10 opponent.
That Faber guy is back again
You can almost see the bile form in Faber's throat when forced to answer the same questions over and over leading up to these nontitle fights. "How much you got left in the tank, champ?" "Getting close to another title shot, Urijah, what's that feel like?" "Is the belt still the goal, buddy?" We should all come to this understanding that Faber feels great, he's excited to fight, and he wants a title shot, but the UFC won't give him one yet so he needs to keep winning. This fight against
Yuri Alcantara
might not feel big, but it's big for Faber. Any loss is a major setback.
FIVE QUESTIONS
What does Alistair Overeem look like?
He was Superman against
Brock Lesnar
and Clark Kent against
Antonio Silva
. No stranger to performance-enhancing drug accusations, Overeem is in a critical spot. He didn't look the same in February, his first appearance since producing a high testosterone-to-epitestosterone ratio in Nevada last year. He told ESPN.com he would never apply for testosterone-replacement therapy, despite tests that showed low levels after his last fight. There are a lot of variables floating around. Can Overeem be Superman again in the midst of them?
[+] Enlarge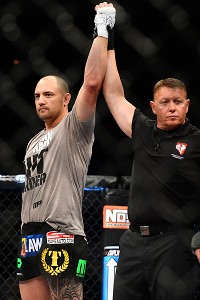 Al Powers for ESPNIf Travis Browne can pass a difficult test against Alistair Overeem, he could be the biggest winner of the night.
Is Travis Browne for real?
Browne passes the eye test. He moves. He has heavyweight knockout power. His grappling is underrated. He seems like he's in shape, and his only loss came after his hamstring busted in the opening minute of a fight. Overeem -- whether he's at his best or not -- is going to test him, though. If Browne is spectacular, he could be the biggest winner of the entire night.
Is 'Shogun' still elite?
Rua is slowing down. It never really felt as though he was going to lose to
Brandon Vera
last August, but we were sort of expecting a windmill dunk and got a weak layup instead. Then in December, it seemed like he was operating on fumes against a physical
Alexander Gustafsson
. Three of the last five men Shogun has defeated are now retired. How worried should we be about this?
Is the self-proclaimed 'Gangster' going to lose three in a row?
Whether you like Sonnen or not, this is a man who does not avoid tough fights. He has gone from Silva to
Jon Jones
to a light heavyweight contest against a former champion in Rua. Sonnen is undersized for this division -- a fact made obvious by his decision to return to middleweight regardless of what happens in Boston. Sonnen can survive a loss if it comes to it, but a proposed fight against
Vitor Belfort
can't.
Is Michael McDonald the third-best bantamweight in the world?
Both ESPN.com and UFC rankings still have McDonald trailing Faber. Both fight on this Boston card. No doubt, a certain contingent of MMA fans would rank McDonald ahead of Faber heading into this weekend, but it's close. If the 22-year-old runs through
Brad Pickett
, it will be difficult not to bump him up.
WHO'S ON THE HOT SEAT?
Michael Johnson
[+] Enlarge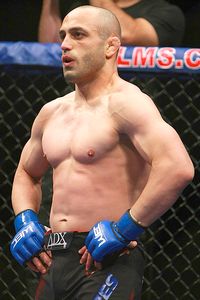 Dave Mandel of Sherdog.comManny Gamburyan is in need of a victory just as bad as Saturday's opponent and former TUF teammate Cole Miller.
The once promising career of a TUF runner-up has hit a major crossroads. Johnson looked like a tough matchup after disposing of
Shane Roller
and
Tony Ferguson
, but he was nearly knocked out by
Danny Castillo
before suffering back-to-back losses. He's still not out of his league against
Joe Lauzon
-- at least we think.
Manny Gamburyan
Seems like a lifetime ago that Gamburyan fought his way to a WEC title shot against
Jose Aldo
. Fighting Gamburyan is like fighting an angry fire hydrant; he's compact and seemingly made of metal. He also has a long history with the UFC, although a 1-3 record in his last four fights is tough to look past.
Cole Miller
Might as well discuss Gamburyan's opponent as well. These two know each other well from their days on the TUF 5 reality set on Team
Jens Pulver
. Now, Miller needs a win just as badly as his former teammate, having gone 1-2 since his drop to featherweight last year.
WHY YOU SHOULD CARE
Because there's still more to 2013 than a middleweight rematch, even though it doesn't feel like it sometimes … because over the course of his career, Shogun is 6-for-6 when it comes to knocking out opponents following a loss … because two of the most explosive heavyweights are incredibly hungry going into the same fight … because Brown and Pyle are fighting each other with the exact same chip on their respective shoulders … because McGregor might be the most fun athlete the UFC has on its roster.
April, 15, 2013
4/15/13
12:37
PM ET

By Chad Dundas
ESPN.com
Archive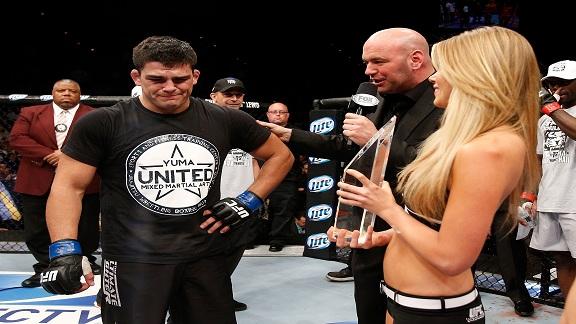 Two new stars were unexpectedly born Saturday night, when
Kelvin Gastelum
and
Cat Zingano
each beat the odds at "The Ultimate Fighter" Season 17 live finale in Las Vegas.
After beginning the season as the show's last pick, Gastelum turned the heavily favored
Uriah Hall
into MMA's latest straw man by upsetting the talented striker via split decision to win the TUF 17 crown. Zingano similarly rocketed out of obscurity and rebounded from a tough first round to TKO
Miesha Tate
in the third, claiming the chance to coach opposite
Ronda Rousey
on Season 18 and eventually challenge for her women's bantamweight title.
As far as plot twists go, these were both better than we might have expected from the UFC's flagging reality show -- a pair of surprise endings that suddenly made the hoary old institution of "The Ultimate Fighter" feel more relevant as it prepares to jump from the FX Network to the fledgling Fox Sports 1.
Credit Zingano as not only the biggest winner but the biggest catalyst for change. A week ago, she might have been an appropriate pick as a
contestant
on TUF's next season, which will jump yet another reality-show shark by having men and women live, competing side by side, when filming begins this summer. Now Zingano will have a full slate of hourlong episodes to introduce herself to the UFC faithful as coach, and she'll do it starring opposite the biggest sensation of women's MMA. Not to mention, if the early returns of her gutsy performance against Tate and exuberant postfight interview are any indication, she stands a decent chance of coming off as the more likable half of this particular coaching tandem.
Zingano's participation will offer a fresh angle to fans, who had already heard Rousey and Tate give each other an earful leading up to their March 2012 Strikeforce title fight. In the same way that the caustic feud between
Quinton Jackson
and
Rashad Evans
made Season 10 of TUF borderline unwatchable, the Rousey-Tate beef was best consumed in smaller quantities. Our brief glimpses of Zingano's personality suggest she might not play the trash-talk game, which portends good things for making Season 18 endurable.
Small victories.
Things turned in the exact opposite direction for Hall, who did as much to derail his own hype this weekend as Zingano did to kick-start hers.
Hall came into his bout with Gastelum as perhaps the most highly touted TUF finalist ever, drawing speculation he'd be an instant title contender in the middleweight division.
Unfortunately for him, that narrative fell flat when the 28-year-old member of Team Tiger Schulmann fought as if he wholeheartedly believed it, eventually conceding the decision to the underdog after a performance during which Hall looked great in flashes but entirely pedestrian the rest of the way.
That's the bad news. The good news is that just like Zingano's win, Hall's loss could ultimately prove to be positive, both for himself and for TUF at large.
Why? Two reasons: First, because Gastelum's victory demonstrated that amid all the babble about Hall, there might actually have been more than one noteworthy fighter on this season's show. If TUF's role in the UFC is to produce new faces for the company to promote, then the live finale worked like a charm. Instead of yielding Hall as the one breakout star we were counting on, TUF 17 gave us two interesting prospects (Hall
and
Gastelum). Make no mistake, that's a win-win.
[+] Enlarge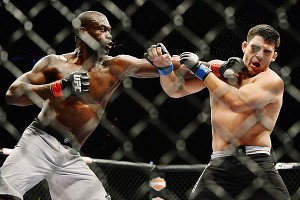 Al Powers for ESPNUriah Hall, left, will get a chance to mature as a fighter-- without the pressure of having to meet or exceed the growing expectations.
Second, as much as we're all mourning the demise of Hall's myth in the aftermath, the stakes here were actually very low for him. Truth is, he didn't lose much over the weekend except for the pressure of being "the next big thing" and the opportunity to get locked into the TUF winner's notorious "six-figure contract." He'll still almost certainly get the chance to be a UFC fighter, and now he'll begin his career in the Octagon under far less scrutiny and likely against far easier competition than if he'd slayed Gastelum in 30 seconds as we all expected.
Think about the alternative for a moment. Pretend Hall blew through Gastelum without breaking a sweat. This morning we'd all be trumpeting him as a contender at 185 pounds and agitating for him to leap into a bout with a top-10 guy. Knowing what we know about him now, how do we think that would've worked out for Hall? Answer: not well.
No, far better for Hall to get the time he needs to mature as a fighter and a competitor.
Over time, if he grows and improves and stops fighting like a man who thinks he can't be beaten, perhaps he can still come to be regarded as TUF 17's greatest talent, in the same way guys like
Kenny Florian
and
Gray Maynard
arguably surpassed the winners of their respective seasons when viewed through the filter of hindsight.
Upsets have long been a mixed bag for "The Ultimate Fighter." In this instance, wins by Zingano and Gastelum made the end of TUF 17 and the beginning of TUF 18 seem simultaneously exciting.
For a show that appears so intent on running itself into the ground, that was a welcome change indeed.
April, 12, 2013
4/12/13
8:25
PM ET

By Josh Gross
ESPN.com
Archive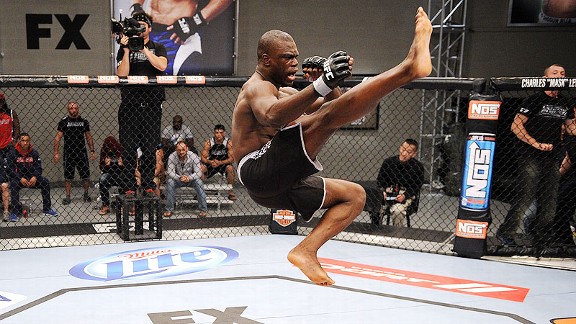 Al Powers/Zuffa LLC via Getty ImagesAllow TUF sensation Uriah Hall a chance to develop before crowning him the future of the sport.
There it goes, picking up steam. The
Uriah Hall
bandwagon, ladies and gents, is in full effect.
Dana White has touted Hall, who fights
Kelvin Gastelum
this Saturday in Las Vegas for "The Ultimate Fighter 17" crown, as the meanest, toughest, bestest fighter in the history of TUF. Like, ever. But he's a promoter and he's selling a TV show and a fight card, so anything he says has to be viewed through the looking glass.
That doesn't mean, though, that the rest of you get a pass.
While writing I was distracted by a tweet from a radio host in Houston who positioned Hall as the "2013 version of Mike Tyson."
How about the next
Anderson Silva
? People have somehow mustered the fortitude to suggest this as well.
Seriously.
Well how about a real world reality check -- people seem to need it. The top fighters Hall faced (
Costas Phillipou
and
Chris Weidman
) beat him. Phillipou wasn't remotely close to the fighter he is today. Weidman had just three fights, and finished Hall in three minutes.
So, can we hit the brakes on that out of control train? At least until Hall beats someone you've heard of, maybe a grappler.
GSP admits he was overweight
Deafening silence.
That's the Quebec Boxing Commission response to quotes from UFC welterweight
Georges St-Pierre
made this week to the Associated Press that, as best as he can recall, he weighed-in 170.4 pounds the Friday before defending his belt against
Nick Diaz
.
[+] Enlarge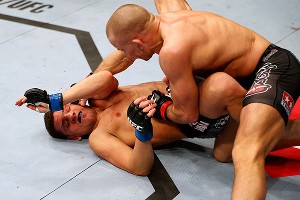 Jonathan Ferrey/Zuffa LLC/Getty ImagesIf Georges St-Pierre had been found unable to hit his contracted weight against Nick Diaz in Montreal, history would have been forever altered.
Credit the champion for saying what he did. I doubt taking the time to shed 0.4 pounds would have mattered on fight night. It's highly likely St-Pierre would have cut the weight and defeated Diaz. But anything is possible. If St-Pierre couldn't hit the contracted weight, history would have been rewritten in a significant way.
So the spotlight is thrust back on the Regie, whose reaction to this controversy has been less than ideal. When the story first broke a couple weeks ago, I pressed commission spokesperson Joyce Tremblay on whether or not St-Pierre was above 170 on the scale.
She confirmed, unequivocally, that St-Pierre did not stand on the scale above his contracted weight. Well, so much for that.
(Oh, right, the Regie doesn't count decimals. Even if their rules clearly state that they do. And even if the Regie, based on the leaked video featuring UFC vice president Michael Mersch, would have given the title contestants an hour to cut extra weight -- which seems in retrospect like a silly concession since decimals apparently didn't matter.)
And so there appears to be no reason to expect this bungled handling of a major championship fight will move past the bungling stage. While the Regie won't acknowledge its error(s), the UFC should be aware that this makes them look bad, too.
What else has the Regie messed up? How effective are their drug testing protocols? Their licensing procedures? Which of their other codified rules aren't they following?
I don't see why the UFC would want to be associated with a regulator like that.
The only reason the MMA world cared about Montreal on March 16 was the fact that a UFC championship fight was scheduled. A fight set at 170 pounds. Not 170.9 or 170.4. And therefore the promoter/sanctioning body/league/global leader in MMA should refuse to promote in Quebec again until the commission gets its act together.
Michigan House moves on amateur MMA legislation
A report from CBC News on Wednesday citing the St. Clair County medical examiner indicated Felix Pablo Elochukwu, a 35-year-old Nigerian-born amateur mixed martial artist who died at an unregulated event in Port Huron, Mich., April 6, found no evidence that his death was caused by trauma from the fight.
Elochukwu, living in Canada on a student visa, collapsed after three rounds in an Amateur Fighting Club event.
The name of the promotion is a misnomer. There's no such thing as "amateur MMA" in Michigan, because regulation isn't in place to make it so. State lawmakers had planned to fix that, and the timing of Elochukwu's death highlighted the urgent need for such a change.
On Wednesday, the Michigan State House passed Bill 4167, which would put in place regulations to govern the amateur side of the sport.
"For too long, the health and safety of amateur MMA fighters have been needlessly at risk because of the lack of state oversight," Joe Donofrio, a Michigan MMA promoter, said in a statement. "Sadly, during this time of unregulated combat, a fighter needlessly died. This bill rightly honors the memory of Felix Pablo Elochukwu by ensuring in the future that amateur fighters will be competing under the safest conditions possible."
The bill is headed to the State Senate.
What if: Aldo versus Curran?
Allow me a reprieve from the news.
What if UFC featherweight champion
Jose Aldo
fought Bellator featherweight champion
Pat Curran
?
[+] Enlarge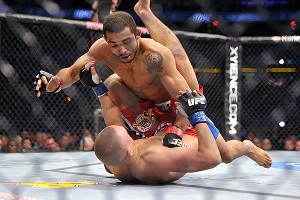 C.J Lafrance/Zuma Press/Icon SMIUFC featherweight champion Jose Aldo is the best in the world at 145 pounds. But a superfight against Bellator champion Pat Curran would be a very intriguing matchup.
Aldo is unanimously ranked No. 1 at the weight for a reason, and Curran has quickly shot up the rankings. In ESPN.com's estimation, he sits behind only the UFC king.
Curran is big for the weight. He's a very good athlete. He seems not to make mistakes. He strikes (offensively and countering). He can wrestle. And he can pull off dazzling submissions.
Aldo, of course, is a furious combination of speed and technique. He's a special breed, rightly residing No. 4 on this site's pound-for-pound list.
Could Curran pull off the upset? Sure. His defense is good enough to keep him safe over a five-round fight, and Aldo seems to go through spurts over 25 minutes where he fades or takes time off.
But the pick has to be Aldo. For all of Curran's attributes and success against multiple styles, including agile strikers and strong wrestlers, Aldo operates like he's on a different level.
April, 12, 2013
4/12/13
6:44
AM ET

By Brett Okamoto
ESPN.com
Archive
LAS VEGAS -- How much, exactly, is
Uriah Hall
ready for?
"The Ultimate Fighter" reality series has never seen anything like this. A relative unknown before the season aired, Hall is already the next big thing at 185 pounds -- and he hasn't even won the show yet.
This weekend's TUF Finale between Hall and
Kelvin Gastelum
is nothing but a formality to some. UFC president Dana White says he's actually received requests via Twitter that he book Hall to a middleweight title fight against
Anderson Silva
.
Repeat: White is receiving requests for a fight between the most dominant champion in UFC history and a current contestant on TUF.
"I don't know if that's ever happened," White told ESPN.com. "[Saturday] is the most talked about, anticipated UFC debut from The Ultimate Fighter since
Forrest Griffin
."
Even if Hall (7-2) blows Gastelum out of the Octagon on Saturday -- obviously Gastelum has plans of his own that don't coincide with this -- a title fight is out of the question. The UFC wouldn't book it, and Hall correctly doesn't want it.
How crazy should the UFC get with him, though? Here's a list of opponents the past seven TUF champions faced in their next fight (U.S. edition only):
Robert Whittaker
,
Anton Kuivanen
,
Tim Elliott
,
Darren Elkins
,
Aaron Riley
,
Erik Koch
,
Ryan Jensen
.
A middleweight name befitting that list wouldn't match the hype behind Hall. White, who comes across as a huge fan of Hall, would only say that if he wins this weekend, he'd face "a test" in his next bout.
After a contemplative pause, White added that Hall is "ready." Ready for what, exactly, remains vague.
"That's a good question," White said when asked what he thinks Hall is ready for. "This guy is 28 years old. He's got a lot of experience, and if you look at his two losses, Costa Philippou and
Chris Weidman
, the guy who's fighting Anderson Silva for the title [in July], it's not too shabby.
"I just think, I think this kid is ready. You never know, but if there is one guy [from TUF] that I had to say that about ... yeah, it could be him."
For the record, Hall and his team don't want Anderson Silva. They want a ladder to climb.
Hall cringed during an open workout on Thursday when a particular moment of the TUF season was brought up. In it, coach
Chael Sonnen
specifically tells him he has what it takes to defeat Silva.
"I was shocked," Hall said. "I was like, 'What? Give me time to build up.' I guess as a coach people see things in yourself that you don't see.
"Maybe down the line it's something that will happen, but it's nothing I'm pushing."
Gastelum (5-0), who admitted he's tired of the "hype" behind Hall, laughed when he talked about the Internet forums behind a Hall-Silva title fight, calling it "ridiculous."
Tiger Schulmann, Hall's trainer for 12 years, happens to agree with him.
"Anderson is the best ever, and to just say something like, 'Oh, Uriah can beat him,' is kind of stupidity," Schulmann said. "I've been in the game for a long time. I think Uriah has a lot of talent. I don't want to push him too quick. I think he needs to work his way up and get experience."
That's the downside, though, if there is one, of sending four consecutive TUF opponents to the hospital -- it sets awfully high expectations.
Then again, it was only September 2010 when Hall met Weidman in a fight promoted by Ring of Combat. Weidman (9-0) was only 2-0 when he fought Hall that night, meaning he was actually the less experienced of the two -- and he fights Silva next.
Perhaps the biggest landmark in Weidman's career thus far is his win over
Demian Maia
. He accepted that fight on 11 days' notice, when the UFC needed a replacement for the injured
Mark Munoz
.
Sometimes in this sport, whether you're really ready or not doesn't matter.
"I feel as a martial artist I'm still growing. There are still things I need to work on," Hall said. "[But] I'm accepting whatever they give me. What am I going to do [if they offer me a top-10 fight]? I've got to take it."