MMA:

Vladimir Matyushenko
April, 19, 2012
4/19/12
5:09
AM ET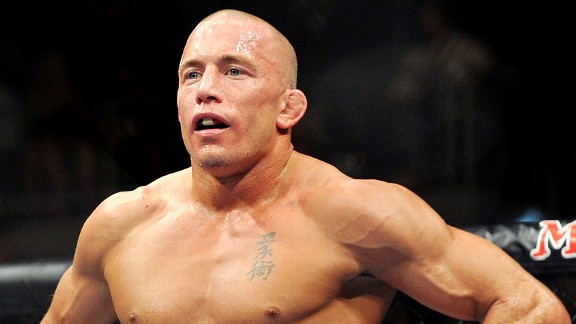 Jon Kopaloff/Getty ImagesLook out, GSP: One of your teammates might be hot on your heels.
This Saturday's main event between
Jon Jones
and
Rashad Evans
is the cautionary tale of what becomes of elite teammates who coexist in the same weight class.
It's fitting for this card, because you know who looks a lot like the Jon Jones of two years ago?
Rory MacDonald
-- the guy who is being showcased in the co-main event at UFC 145 against Che Mills. Why a showcase? Because it's an honest-looking challenge in a fight everybody expects the upstart to win. Just like when Jones fought guys like
Brandon Vera
and
Vladimir Matyushenko
. These fights happened right after Jones relocated from an anonymous upstate New York gym to Greg Jackson's contender's den in Albuquerque, N.M.
That was around the time he began training with Evans, who started off as his mentor -- the big brother who had a hand in molding raw talent. Even with Jones' radar going off, it didn't seem like Jones was coming for Evans' legacy at the time -- at least,
not to them
. To us, it always appeared different.
You see where things ended up.
Another win narrows MacDonald's path to the top. The top is the determined goal for a young fighter who wants to rewrite history at 170 pounds. That means the top will also present itself as a crossroads, because
Georges St. Pierre
-- a training partner that MacDonald calls his mentor -- currently occupies that rarified space. MacDonald moved across country, from British Columbia to French Quebec, to train with St. Pierre.
Since then he's won a pair in a row, including a one-sided drubbing of
Nate Diaz
. To be the best, you learn from the best.
Problem is, there can be only one best.
When I spoke to MacDonald for a piece in ESPN the Magazine last month, he laid it out.
"There's no question that I'm going to be champion; it's about when," he said. "And that's not my only goal in this sport. First, I'm going to get that done, but you guys will see in the future, I'm going to accomplish things that nobody else has done in this sport. I have a long career ahead of me; I just have to stay smart."
Right now, MacDonald and St. Pierre are leaving such eventualities to blow around in the abstract. That's fine. There are a million scenarios that could prevent a GSP/MacDonald encounter down the road. MacDonald, only 22, could slip along the way -- or move up in weight. Ditto St. Pierre, who has flirted with middleweight. St. Pierre could retire, or never recover from that knee injury. He could even lose to Condit.
Easier to imagine? He just keeps being GSP, the dominating force who is forever vigilant of complacency -- the last of his known vulnerabilities (thanks to
Matt Serra
).
But MacDonald is coming. If he beats Mills (and does so impressively), he'll be a consensus top-10 welterweight. From there, all rungs take him a little bit closer to detachment. There's a reason it's lonely at the top.
"At the moment, you know, Georges is a friend of mind, and we train at the same gym with the same trainers with the same regiment," he said in the Magazine interview. "Georges has looked out for me for the last year and been a good friend, and I have to respect that. I just never say never, but Georges is a friend of mine, and it's something I can't answer right now. I don't foresee it."
Neither did Jones see the clash on the horizon with Evans. Not seeing it doesn't mean it's not on course to happen, it just means it's preferable not to look.
In a year or two, it could be MacDonald in the headlining spot fighting for the belt. His potential is great enough that it doesn't seem far-fetched in the slightest. If and when the time comes, to achieve what he's after, the man standing in front of him can't matter.
December, 26, 2011
12/26/11
3:40
PM ET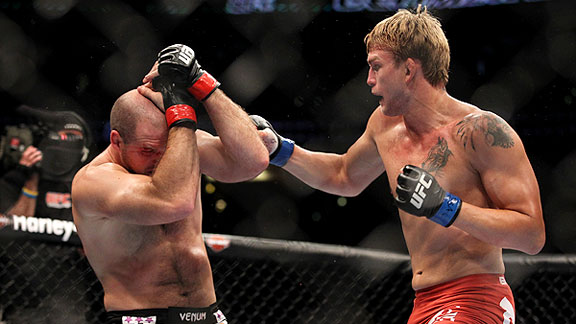 Ed Mulholland for ESPN.com
Had
Rich Franklin
been more privy to
Alexander Gustafsson
, we'd either be talking about the rung-climbing Swede as a foil to
Jon Jones
(more than we are now) or not talking about him at all. It was a tailor-made passing of the guard moment that never happened.
That's because Franklin, who was offered a fight with Gustafsson at UFC 133 on short notice when
Antonio Rogerio Nogueira
was injured, had only the foggiest notions about "The Mauler," so he politely declined the bout. Franklin was interested in marquee fights, and was looking for more of "a name." Gustafsson wasn't that.
Not yet, anyway -- but the times they are a changin'.
Gustafsson was supposed to fight
Vladimir Matyushenko
that night in Philadelphia, but ended up with
Matt Hamill
when Matyushenko was injured. It was a carousel card, full of patchwork matches that soured Joe Silva's understanding of the cosmos. Nevertheless, Gustafsson made the most of his moment, and knocked out Hamill in the second round. Those who witnessed his rude treatment of
James Te Huna
and
Cyrille Diabate
might have seen this coming. That he very abruptly knocked Hamill out of the fight game for good was the surprise.
To cut to the chase, after that performance, Franklin (along with plenty of others) has now heard of Alexander Gustafsson. And that makes his rescheduled match with Matyushenko this weekend at UFC 141 a sort of catapult moment for the 24-year-old. Already a cusp top-10 fighter in the tumultuous 205-pound division, an emphatic win over the stalwart Matyushenko would legitimize Gustafsson as a contender in 2012. As unflattering as it seems, Matyushenko has become a clear definition of the term "gatekeeper."
And if any of this seems hurried, consider that this was a similar situation that Jon Jones found himself in toward the end of 2010, when he himself had to get through the brute wrestler Matyushenko. He did, and with menacing ease. What happened next? Jones went about tyrannizing 2011 by earning, winning and defending his belt (twice). So much for bringing these guys up slowly. Jones tried to clean out the division in the space of a calendar year. Now the word you hear bandied about with his name right now is "unparalleled."
Gustafsson's rise in the ranks has been far quieter, and realistically won't be the expedited course that Jones got. But when you look at his poise in the Octagon, his versatility (two wins by KO, two by submission in the UFC), and the upside -- precision, length, chin, desire -- he has the feel of a noisemaker. The difference is the landscape. When Jones beat Matyushenko, the light heavyweight belt was a hot-potato accessory. A year later, the belt is part of the man. And the pool of challengers is fairly shallow. In fact, there are only three names that come to mind who are close to challenging Jones --
Dan Henderson
,
Rashad Evans
and
Phil Davis
.
Gustafsson has a chance to join that company of Friday night.
How "serious" is he as a contender? It boils down to Matyushenko. Win, and momentum builds into top-10 fights, and guys like Franklin begin to appear as a step backward.
Lose, and the road forks from destination Jon Jones towards the tundra of
Krzysztof Soszynski
.
October, 13, 2011
10/13/11
8:29
AM ET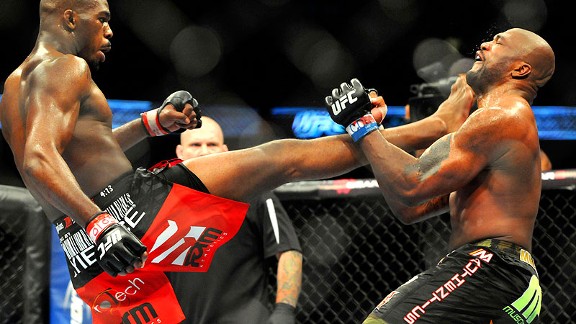 Dustin Bradford/Icon SMIOn to the next one: Jon Jones just recently turned back Quinton Jackson's challenge.
By the end of December, if
Jon Jones
is still the UFC's light heavyweight champion, we'll know that he's just as centered as he is prolific.
Four fights in 10 months would be tough on anybody not in desperate need of cash and exposure -- but four fights over 10 months with escalating pressures and stakes, inflated expectations and increased scrutiny is something else.
It's warped. Happening at warp speed for a 24-year-old adjusting on the fly to media demands, stardom, promotional pressures, appearances and all the bodily/mental taxations in between. And these are just the personal issues that he's been left to deal with since squeezing the chakras from
Ryan Bader
.
What we see is Jones' overall hit list in 2011, the more public half of the marvel.
He ran through Bader on Feb. 5; he threw an artisan beatdown on then-light heavyweight champion
Mauricio Rua
after bringing a purse-snatcher down in Paterson, N.J., on March 19; he beat former champion
Quinton Jackson
in his first defense on Sept. 24. On Dec. 10, he'll fight another former champion in
Lyoto Machida
. The process to and through these pairings is too absurd to recount, but suffice to say that somehow,
Rashad Evans
-- yet another former champion -- factored into every fight without having fought Jones. That fight belongs to 2012 (presumably). The thing is, the pressure and intrigue to each event gets progressively more as Jones goes along.
[+] Enlarge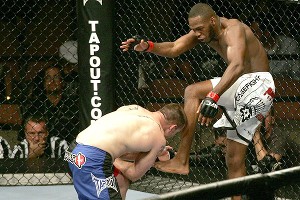 Cliff Welch/Icon SMILeaps and bounds: So far, no one has come close to testing Jon Jones.
Remember when people were calling the UFC smart for bringing Jones along slowly?
Somewhere along the way -- maybe when he smashed
Vladimir Matyushenko
in August 2010 or when he Picasso'd Brandon Vera's face -- the UFC shifted him in fifth and forgot about slow. That's where we find ourselves as he goes about cleaning out the division with amphetamine speed. It's a lot of prospects, defending and former champions to get through in the space of a year without time to reflect on anything.
And that's why you can't help but wonder about burnout when he faces Machida in Toronto.
What Jones is doing is unprecedented.
Chuck Liddell
defended his strap three times in 2006; two of those defenses -- against
Randy Couture
and
Tito Ortiz
-- were against former champions. That comes close.
Georges St. Pierre
fought four times in 2005, but none of them had title implications. Jones will have fought three former champions and one previously undefeated prospect. The annals of the UFC's history can't produce his equivalent.
So far he's handled the pressure of these events fine, though he's taking his time more as he goes along. He's finishing everybody, but chronologically speaking it's taking him an extra round to do it: Matyushenko (first round), Bader (second round), Rua (third round), Jackson (fourth). Of all of these, Machida is arguable the hardest to solve, and is possibly the best reactionary fighter in the game. The style match-up will be fun to contemplate.
So it's a dangerous fight for Jones on the basic match-up level. But Jones will have to continue staying hungry through the process just as his belly got full. That new Bentley he just got? It might have to represent things still to come instead of what's been accomplished so far. That's a hard mode to keep in, especially when you're 24 years old.
But give Jones his credit. Never has anybody gained a legacy so fast, only to dangle it out there as often to be snatched away.
September, 29, 2011
9/29/11
10:00
PM ET
It was at UFC 83 that Kalib Starnes took off.
Starnes fled the scene of a fight without actually leaving the cage against
Nate Quarry
-- and it made for an awkward experience. Kalib Starnes ran; Nate Quarry pursued; 15 minutes died in the interim. If there was ever a clear demonstration of the fine line between comedy and tragedy, this was it. In the end, one judge saw the fight 30-24. Another had it 30-26, and the last one -- a marathoner, no doubt, who didn't disagree with the aesthetic he was watching -- had it a standard 30-27.
In other words, neither people nor judges know what to think when a fighter runs. Whether it's for a whole fight, or just in pockets.
Jon Jones
is a far cry from Starnes, but he ran from
Quinton Jackson
at UFC 135 -- only he was far more selective when he did it. This was a skipped-over detail of the fight. A couple of instances when Jackson coiled back in a scramble, Jones high-tailed it out of there. He admitted as much during the postfight newser, saying, "there were a lot of times where Rampage swung at me, and, instead of defending technically, I kind of ran like a little girl."
Afterwards, on an ESPN podcast, Jackson talked about that very thing, and said that's one of the reasons he's contemplating a post-UFC career in boxing (ahem).
"I hate fighting people who are scared," he said. "When you fight somebody who is scared, you never know what they're going to do. They turn and run. That's why I'm gonna go to boxing. I'm gonna try boxing because they've got to stand with you. If I get knocked out I don't care because at least it's a fight."
[+] Enlarge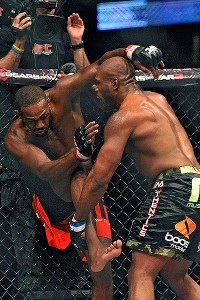 AP Photo/ Jack DempseyJon Jones, left, picked his spots as best he could against the hard-hitting Quinton Jackson.
Obviously, Jackson is bothered by Jones' retreating. Why? Because when Jones ran, it wasn't that he was hit and trying to recover like you see so often. He ran to avoid
getting
hit. This can be defended as fighting smart, but it can also be looked at as an unexpected new wrinkle in Jones' game, the wrinkle of caution -- particularly for a guy who has dominated everybody the UFC has put in front of him. Rampage sees a fight as literal; swing until somebody gets knocked out. Jones sees it as something more akin to art; swing until you need to get out of the way.
While he still out-landed Jackson 74-24 in total strikes according to FightMetric -- with 61 of those strikes deemed significant -- it was unexpected that Jones' first reaction in an exchange was to skedaddle. You say Jackson has knockout power? So did
Mauricio Rua
and
Ryan Bader
and
Vladimir Matyushenko
, all of whom have more knockouts in the last three years than Jackson (who has zero).
It's possible Jones got caught up in the moment. It's possible that his body and mind were parting ways for a few seconds here and there. It's a fight, after all, and one that had more pressure than Jones was used to.
Even still, he dominated en route to a fourth round rear-naked choke. It was his fight from the opening bell. But in a bout where so much went right for the champion, it was one little, barely registering detail that looked a little wrong.
June, 5, 2011
6/05/11
8:26
AM ET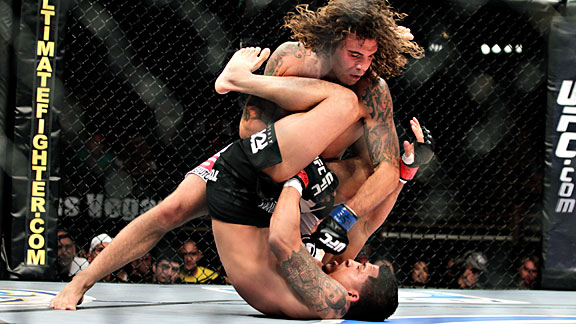 Ric Fogel for ESPN.comClay Guida, top, is punching his way toward title contention.
With his victory over
Anthony Pettis
at "The Ultimate Fighter 13" Finale,
Clay Guida
has positioned himself to make a run at the UFC's 155-pound championship. Could a title eliminator against
Jim Miller
or Benson Henderson await?
More »
April, 27, 2011
4/27/11
3:01
PM ET
By Mike Whitman/Sherdog.com
ESPN.com
Archive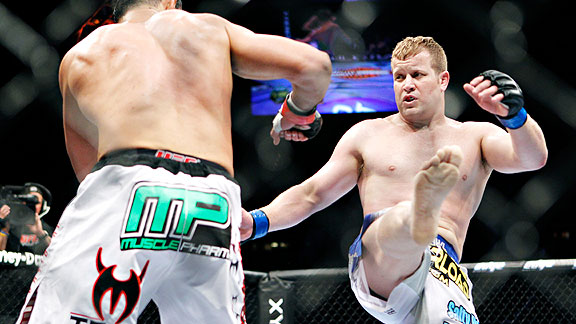 AP Photo/Eric JamisonTriple play: Jason Brilz stays busy as a father, fighter and firefighter.
Jason Brilz pulls his weight, just like any true family man. He does chores, cooks meals and participates in group discussions when there are lessons to be taught or learned, all while he is on the clock.
In addition to being a light heavyweight contender in the UFC, Brilz has been a full-time firefighter for the Omaha Fire Department in Omaha, Neb., for more than four years. He will step into the Octagon against former International Fight League champion Vladimir Matyushenko at UFC 129 on Saturday at the Rogers Centre in Toronto, but he plans to be back at work the following week, putting out fires and saving lives.
Brilz and his co-workers also serve as emergency medical personnel for the city -- a part of the job that makes up the majority of their runs.
"Just recently, a lady had a heart attack at her work," Brilz tells Sherdog.com.
More »
April, 21, 2011
4/21/11
1:51
PM ET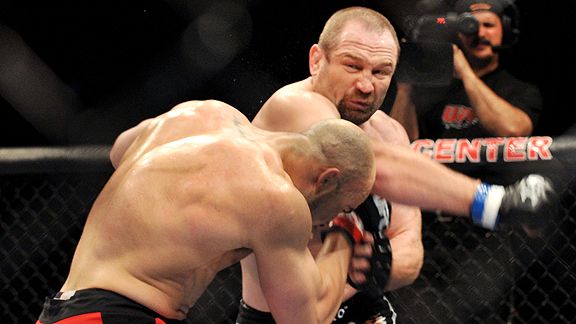 Jon Kopaloff/Getty ImagesNo surprise here: Vladimir Matyushenko is hoping to stand and trade with Jason Brilz.
Vladimir Matyushenko
likes his chances on the feet against UFC 129 opponent
Jason Brilz
. "The Janitor" also likes his chances of forcing a standup fight when they meet April 30 at the Rogers Centre in Toronto.
"He's a good ground-and-pounder, but I can defend it very well and keep him on the feet and make it a striking match that will be awesome," Matyushenko said recently on the Sherdog Radio Network's "Beatdown" show. "I've been training my striking skills for a while now and I couldn't show it. I think the fans are expecting me to do it and all my friends [are too]. I kind of want to show it to myself that I can do it. I do it in sparring and training all the time, but I wish I can show it on the stage in the cage."
The stage will be a big one in Toronto with the UFC reportedly selling 55,000 tickets for the event. If an enormous audience isn't enough to get inside a fighter's head, Matyushenko is expecting Brilz's layoff to affect him.
"Not fighting for a year, it kind of puts you in a situation where you start getting nervous and stuff like that. It's the mental preparation that's a big deal," Matyushenko said. "I think he's going to be nervous."
Brilz hasn't fought since May 2010. However, that last performance was an impressive one against
Antonio Rogerio Nogueira
at UFC 114. Brilz dropped a controversial split decision but put himself on the map in the light heavyweight division.
Matyushenko had planned on fighting him last November, but a back injury removed Brilz from the bout.
"I was ready for him back then. I've almost been training for him for half a year now," Matyushenko said. "I think it's a good matchup. He's a good wrestler. … It's kind of hard to say I know him inside and out because first of all, he hasn't fought in almost a year. Things can change. He may change his technique in that time. That's kind of a hard aspect of preparation for this fight."
Matyushenko fought replacement Alexandre Ferreira instead in November, stopping him in the first round. The win was Matyushenko's fourth in five fights. The lone loss in that stretch came to
Jon Jones
, who won the UFC light heavyweight title in March.
"I got in a bad position and I didn't get out of there fast enough," Matyushenko said. "Jones just used it well. It looked like he did his homework and he did exactly the same thing that I usually do to other fighters."
Although complimentary of Jones, Matyushenko said he'd "definitely" like another crack at the titleholder. He'd use a different strategy in a rematch.
"You have to put the pressure on him and actually get in exchanges and get in a fight," Matyushenko said. "You saw if he doesn't get hit, he's got a long reach and he uses that as an advantage. You have to bring the fight to him. It's not easy. It's going to be hard, but I think that's the only possibility."