August, 29, 2013
8/29/13
12:06
PM ET

By Brett Okamoto
ESPN.com
Archive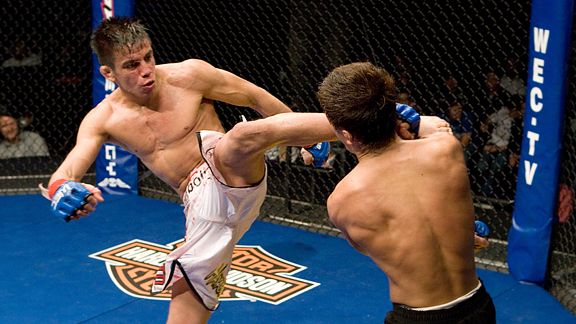 Josh Hedges/Zuffa/UFC/WECMiguel Torres defended his bantamweight title at WEC 40 in a 2009 thriller against Takeya Mizugaki.
From World Extreme Cagefighting's launch in 2001 to its eventual merger with UFC in 2010, the WEC produced a number of memorable bouts, typically in the lower weight classes.
With a number of former WEC fighters competing Saturday at
UFC 164
and one of its most infamous fights set to headline the card in Milwaukee, we took a look back at the best fights from the WEC's 10-year history through the eyes of founder and current UFC vice president of community relations Reed Harris.
So where exactly does the "Showtime kick" from
Anthony Pettis
rank among his favorite moments? Let's take a look back at Harris' top 10, including his personal memories of each one:
10. WEC 9: Olaf Alfonso SD John Polakowski, Jan. 16, 2004
Harris:
Both guys broke their noses in the first 45 seconds of the fight. It was a war. In fact, [UFC president] Dana White was at the fight and HDNet was at the fight. And HDNet reported back to [channel owner] Mark Cuban, "We have to get this on our network." Polakowski took the fight on like two days. Really good striker but not very good on the ground. But Olaf was such a stud back then, he was like, "You know what? I'll stand with him." He just stood there for three rounds and they threw bombs.
9. WEC 29: Carlos Condit SUB1 Brock Larson, Aug. 5, 2007
Harris:
It wasn't a fantastic fight, but what happened was Brock Larson was one of the strongest dudes I have ever seen. Like when that guy shook your hand, you were like, "Holy s---." He threw a punch at Condit, and Condit armbarred him, and it was so fast that I've never forgotten that moment. Larson was throwing bombs at him, he timed it perfectly and put that armbar on him and it was just, "Wow."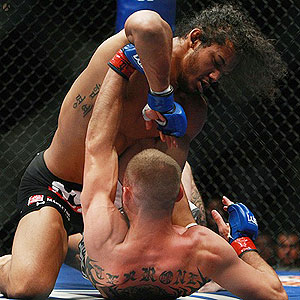 Dave Mandel for Sherdog.comBenson Henderson won the first of two battles against Donald "Cowboy" Cerrone by unanimous decision in an exciting 2009 tilt at WEC 43.
8. WEC 43: Ben Henderson UD Donald Cerrone, Oct. 10, 2009
Harris:
A lot of my memories about "Cowboy" are tied to Charles ["Mask" Lewis, Tapout co-founder]. Charles had gone and seen Donald, and he came to me and begged me to sign him -- and Charles was a guy who if he asked you to do something, he would call you every day until you did it. I remember how proud Charles was of [Cerrone]. He loved him.
7. WEC 44: Jose Aldo TKO2 Mike Brown, Nov. 18, 2009
Harris:
It was the kind of moment where I really knew how good [Aldo] was. I remember the first time he jumped out of the cage [after knocking out
Rolando Perez
at WEC 38], I ran him back and I had never yelled at a fighter before. Poor Andre [Pederneiras] was interpreting it and it was basically, "If you ever do that again, I'll cut you." His next fight he won, I walked into the cage and he was running towards the door. He looked at me and smiled, then sat down.
6. WEC 38 and WEC 51: Donald Cerrone vs. Jamie Varner, Jan. 25, 2009 and Sept. 30, 2010
Harris:
The fights between Varner and Cowboy [a technical-decision win for Varner followed by a unanimous-decision win for Cerrone] were epic. Those guys hated each other. There was so much going on behind the scenes. Biggest rivalry the WEC saw, by far. When Varner was fighting a year ago [in the UFC], he got sick, and I got a text from Donald saying something like, "You tell Varner to pull up his bootstraps and fight." I thought, "This is still going on and they haven't fought in [almost] two years."
5. WEC 53: Anthony Pettis UD Ben Henderson, Dec. 16, 2010
Harris:
The fight itself was great, even without the kick. I'll tell you, when Pettis did that, I literally said, "What the hell just happened?" I didn't process it. I was watching live, and the angle I had wasn't good. I saw what happened, but I didn't know what he had done -- how he had gotten from where he was standing to all of a sudden, Ben was down. It was the most amazing thing I've ever seen someone do in MMA.
4. WEC 34: Urijah Faber UD Jens Pulver, June 1, 2008
Harris:
I think we did about 1.5 million viewers, which for a company like WEC -- it's hard to be in that UFC space and command viewers. It was kind of a passing of the torch for Jens. I saw a lot of respect between the two but also a determination with Faber, like he was going to get through this. And I remember him dominating.
[+] Enlarge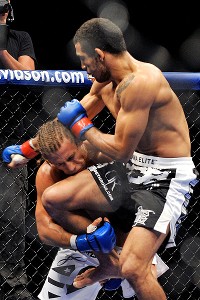 Jon Kopaloff/Getty ImagesJose Aldo's WEC featherweight title defense against Urijah Faber was an emotional ride for the future UFC champion.
3. WEC 48: Jose Aldo UD Urijah Faber, April 24, 2010
Harris:
I remember [afterward] Faber being hurt. I gave him a hug and asked how he was. His leg was a mess. Aldo cried in the back. He was so emotional. It was like all the work he had done in his life -- that moment was life-changing to him. I remember when he was standing in that cage before the fight and "California Love" came on, Jose's look was like, "Wow. This guy's got a lot of fans."
2. WEC 40: Miguel Torres UD Takeya Mizugaki, April 5, 2009
Harris:
It was such a war. I just remember how excited the crowd was and how brutal the fight was. There's nothing like seeing two guys in the dressing room who have given it everything they got. They had gone to battle. And when Miguel Torres was on, he really was like
Anderson Silva
. He had this aura about him.
1. WEC 48: Leonard Garcia SD Chan Sung Jung, April 24, 2010
Harris:
To have those two guys step up and fight the way they did leading into our pay-per-view -- I know it completely bumped our numbers. Part of the story people don't know is after the fight, I went to the dressing rooms and "Korean Zombie" was crying because he really thought he had won the fight. I was able to tell him he won the fight of the night bonus, which was $65,000, and just the elation on his face was something I'll never forget.
April, 10, 2013
4/10/13
1:25
PM ET

By Franklin McNeil
ESPN.com
Archive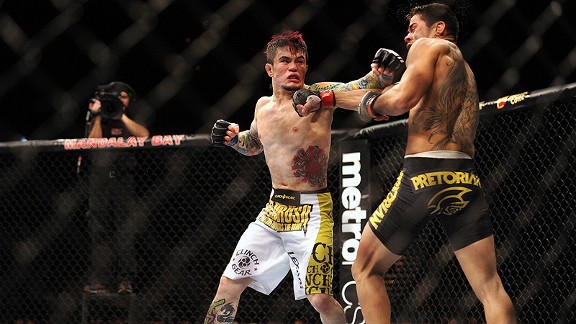 Rod Mar for ESPNScott Jorgensen will check his friendship with Urijah Faber at the cage door on Saturday.
It finally comes to an end Saturday night.
Scott Jorgensen
won't have to answer any more questions about his longtime friendship with upcoming opponent
Urijah Faber
.
When this fight was announced in February, Jorgensen knew he'd get bombarded with questions about the close relationship between Faber and himself. The former WEC featherweight champion played a key role in encouraging Jorgensen to become a mixed martial artist.
In the beginning Jorgensen was okay with the questioning and answered them without a hitch. It was easy, routine: Jorgensen just provided the same answers to the same questions. But the friendship questions never stopped, and soon Jorgensen started struggling to keep a straight face and his cool. Thus far, he has persevered. Just a few more days and Jorgensen can finally address the real issue surrounding this bout -- that this contest is potentially a fight-of-the-year candidate.
These are two highly skilled, highly aggressive bantamweights. And Jorgensen intends to give fight fans a performance they will not soon forget.
This TUF 17 Finale main event isn't about friendship; it's about a style matchup that likely will have every spectator inside Mandalay Bay Events Center on their feet.
"There are a lot more dynamics to this fight than the fact we are friends," Jorgensen told ESPN.com. "We're both very aggressive. We're both very mentally tough.
"He has great submissions. I hit hard from the bottom, from guard. He's got vicious elbows; I've got elbows. Our striking's dynamic, and we don't hesitate.
"These are the things that a lot of people are missing. This is a god matchup, style-wise, for excitement, for the fans. You have two guys who know what's exactly at stake. I'm not going to back down and he's not going to back down."
It's business as usual for two wrestlers who have stuffed their bank accounts with several "Fight of the night" and "Submission of the night" bonuses. Jorgensen and Faber rarely come up short in the excitement department.
This is the message Jorgensen has been trying to get across for weeks. But no one seemed to listen.
If he it was up to Jorgensen, he would have stopped answering those friendship-with-Faber questions a long time ago. But being the consummate professional, he continues to conduct himself appropriately and put on his best I-am-happy-to-answer-your-latest-friendship question.
Jorgensen's patience, however, is wearing thin. But in a few days it will finally come to an end -- no more questions about his friendship with Faber.
[+] Enlarge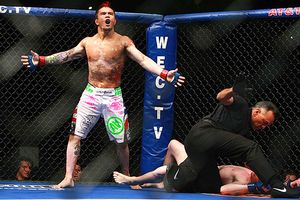 Dave Mandel/Sherdog.comJorgensen's hard-charging approach should make for great fight against Faber.
It doesn't mean that Jorgensen will have rid himself of answering single-topic questions. A win over Faber and Jorgensen might have to address a slew of inquiries regarding his thoughts on possibly fighting for the title.
It's a subject Jorgensen would prefer to avoid. He is a man who will take on anyone placed in front of him. If that opponent happens to hold the UFC bantamweight title, so be it.
Jorgensen just prefers not to talk much about potentially landing a title shot.
"It doesn't matter," Jorgensen said. "The title shots come when they come and the only way to get them is to continue putting up W's. I just go out there to fight; it's what I love to do."
Jorgensen also would love to win his second fight in a row. He defeated
John Albert
by first-round submission on Dec. 8 to end a two-fight skid.
Getting past Faber, who is ranked No. 2 among 135-pound fighters by ESPN.com, won't be easy. These two are very familiar with one another, having trained together in the past.
Each man will have a fight plan in place, but neither is likely to be married to it. There will be a lot of improvising in the cage Saturday night -- Jorgensen almost guarantees it.
"Come fight night he will bring his A game, I will bring my A game and we will put on a damn show and make ourselves proud," said Jorgensen, who is the ESPN.com seventh-ranked bantamweight. "I'm going to go in there and through my fists around until one of them hits him.
"I've got my game plan; he's got his game plan. I'm very bull-headed; he's very bull-headed."
Sounds like fight fans are in for a treat. This is a bout you might want to watch with a friend.
February, 13, 2013
2/13/13
12:04
PM ET

By Franklin McNeil
ESPN.com
Archive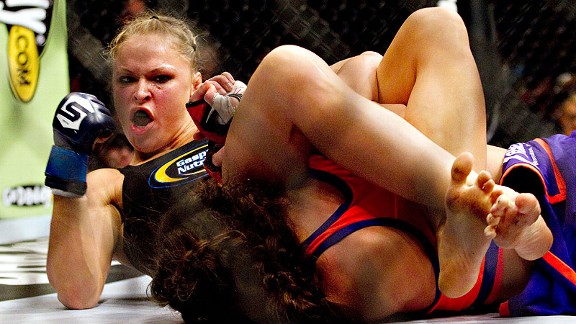 Greg Bartram/US PresswireRonda Rousey is bringing her patented armbar to the UFC women's bantamweight division.
She will walk into the Honda Center arena in Anaheim, Calif., on Feb. 23 to defend a title belt she neither asked for nor wanted.
Women's bantamweight champion
Ronda Rousey
makes her Octagon debut in the main event at UFC 157. She will face
Liz Carmouche
in the first women's bout in UFC history.
Rousey is the defending champion. It's a designation she isn't yet comfortable embracing. And who can blame her? The title was practically thrust upon her.
"When they [UFC] brought in the guys from WEC they gave (featherweight champion)
Jose Aldo
and (bantamweight champion)
Dominick Cruz
their belts," Rousey told ESPN.com. "They did that to me as well when they brought the women's division over. But I don't feel like I've really earned it.
"When [UFC president] Dana [White] gave me the belt, I told him I didn't want it, I wanted to fight for it. But he said, 'I'm going to give it to you anyway and you can think whatever you want.'"
"

When [UFC president] Dana [White] gave me the belt I told him I didn't want it, I wanted to fight for it. But he said, 'I'm going to give it to you anyway and you can think whatever you want.'

"

-- Ronda Rousey, on receiving the UFC belt
No disrespect to White or anyone else, but Rousey, who was the Strikeforce women's bantamweight titleholder before that promotion officially folded in January, believes no one can be called UFC champion until they compete and win inside the Octagon.
But UFC is the largest and most successful promotion in mixed martial arts, so when White issues a directive, fighters usually go along with it. Rousey saw no need to engage White on this issue.
While Rousey remains uncomfortable with being labeled UFC champion now, she deals with it. Besides, she has a bigger matter to address on Feb. 23 -- beating Carmouche and keeping women's mixed martial arts viable.
Unlike any other fighter, mixed martial artist or boxer, Rousey finds herself in a truly must-win situation. If she fails to defeat Carmouche, it's very likely that every female mixed martial artist will suffer.
UFC created a women's bantamweight division solely because of Rousey's success and star power. There is no other women's division in UFC, and there isn't any talk of creating others.
For now, the presence of women fighters in UFC depends on Rousey's continued success. She needs to beat every fighter placed in front of her for the foreseeable future to ensure that women mixed martial artists remain employed by the promotion.
Carmouche, and every other female fighter, is determined to dethrone Rousey. But if they succeed, they do so at their own peril – and that of every woman on UFC's roster.
It's that simple.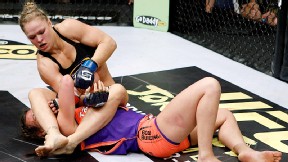 Esther Lin/Getty ImagesRonda Rousey is hoping a dominant display at UFC 157 will validate her status as UFC champion.
Rousey is very much aware of the precarious situation women's MMA finds itself in at the moment. But she is up to the task of fighting to keep women's MMA relevant in UFC -- even if it is just the 135-pound division.
"I don't mind having that kind of pressure on me," Rousey said. "I feel that the more pressure there is, the more I fight above myself.
"And I like to pretend like it's going to be the end of the world, the end of the world depends on whether or not I win the fight, because it is the end of the world for me.
"I'm fighting to win, and I'm fighting to keep women in UFC. And I'm not entertaining the idea about what will happen if I lose because I'm not going to lose."
Rousey's confidence is infectious. Despite such a heavy burden on her shoulders, she accepts the ordeal with a big smile on her face. She will not be deterred.
How can anyone not support this fighter who carries the weight of so many others on her shoulders?
Confidence, however, isn't the only thing Rousey that is relying on to get her pass Carmouche. She remains humble. Despite being a gifted athlete, Rousey never takes an opponent for granted. She isn't looking past Carmouche (8-2).
"[Carmouche] is a very dangerous fighter," Rousey said. "My last opponent,
Sarah Kaufman
, was also a former champion in Strikeforce. And was a very good striker, very disciplined. But she was very predictable and very easy to prepare for.
"Whereas with Liz, there are fights when she comes out with flying knees, or fights when she comes in with spinning back fists, or fights when she comes in throwing a right kick followed by a right hook right away. She's very unorthodox and very unpredictable.
"There are girls who've underestimated her before. She fought for the Strikeforce title against
Marloes Coenen
and dominated [Coenen] for four rounds and made one mistake and got caught in a triangle sent from God and lost the fight.
"She is just the type of person you don't underestimate, and I haven't been in the least. I don't care what people are saying or what oddsmakers are saying, I still consider myself an underdog in every single fight."
That's Rousey: never one to rest on her impressive laurels. No wonder she seems to become more dominant with each fight.
Rousey has won all six of her professional bouts by arm-bar submission. She also used the technique to finish all three of her amateur opponents in the opening round.
Her proficiency on the ground might cause some to question whether she is a one-trick pony. What will happen if Rousey finds herself in a standup battle or has to venture into the second round?
"I'm prepared for everything," Rousey said. "I train to be a mixed martial artist, not to be an arm-bar specialist. I train to be prepared for the worst-case scenario.
"The first round actually was always my worst. I used to call it first-rounditis when I was doing judo.
"It's so funny to hear all these girls say, 'If I get her out of the first round, I'm going to see the defeat in her eyes.' I'm like, 'Dude, I'm just opening up. You don't want to see what the second round looks like.'"
Maybe we'll get to see the post-first-round Rousey on Feb. 23. But be prepared; it could get frightening.
January, 23, 2013
1/23/13
7:10
AM ET
Title shots are nice, but they're hard to come by in the UFC's lightweight division.
Anthony Pettis
knows. Since coming over as the reigning WEC champion a little more than two years ago, he has lived in a world of obstructions.
There was the
Frankie Edgar
bottleneck situation, when every title fight extended into a classic title series. There was the
Clay Guida
setback (which exposed some wrestling deficiencies) and the
Jeremy Stephens
rebound fight (which showed he fixed some wrestling deficiencies). There was the ridiculous head kick to
Joe Lauzon
, which re-revved the title talk. Then there was a shoulder injury that docked him for a year.
Buzz kill.
And even now, as Pettis returns for his bout with
Donald Cerrone
on Saturday in Chicago, his path to a title shot looks more like a frontage road detour. Defeat his fellow WEC alum Cerrone, and the reward is to wait and see. That's because Strikeforce's longtime champion
Gilbert Melendez
has been expedited into a title tilt with
Benson Henderson
, which takes place in April.
Melendez gets the immediate shot, and Pettis' world remains complicated. It's limbo. It's contention. It's relevance. It's ring rust. It's trying to re-establish his bearings.
"It's weird right now," Pettis told ESPN.com's MMA Live Extra. "I've been promised title shots; I've been guaranteed title shots. So really [beating Cerrone] doesn't put me anywhere. I'm right at the top of the top. I've just got to keep my performances clean and sharp and strong and a title shot will come when it comes. But right now I'm just focusing on getting back in there. It's almost been a year."
Let's face it, UFC on FOX 6 is a kind of layered phenomena. You've got a flyweight title fight at the top between
Demetrious Johnson
and
John Dodson
, which is electric but not suited to everyone's tastes. That's why
Quinton Jackson
is in the co-main. Jackson is making his final Octagon appearance (allegedly) against the intrigue of the light heavyweight division,
Glover Teixeira
. Wheelhouse brawl, right? Maybe. In any case, that fight should be sad, fierce and brutal.
And it's not even the heart of the card.
[+] Enlarge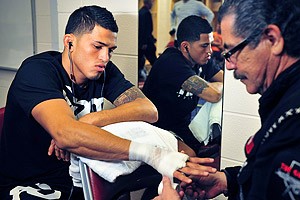 Kari Hubert/Zuffa LLC/Getty ImagesWin or lose, Anthony Pettis isn't sure what the future holds after Saturday.
The heart of the card is, of course, the one in the middle. Pettis-Cerrone is
the
fight. Pettis always brings it. Cerrone always brings it. If Pettis wants to stand and bang, Cerrone will oblige -- "Cowboy" never shrinks from the terms. And so long as Duke Roufus' protégé Pettis isn't fighting a determined wrestler, he recreates Chinese "wire fu." That's just what he does.
So even as the implications are up in the air, so will the kicks come fight night. And that's just about as far as Pettis is willing to look.
"For me, man, it's just to get back in there and mix it up," he said. "It's been almost a year since I fought and I want to stay relevant and show people that 'Showtime' has skills -- that I've got talent. Fighting a guy like Cowboy [Cerrone] is definitely going to give me that chance. He's a tough, tough guy, and it's not going to take one or two shots to drop him -- it's going to take a couple."
Cerrone, who has won eight of nine fights, is in contention, too. He called out Pettis because Pettis was the man in his way. Each fighter sees the other as an obstacle to reach what has become a far-off kingdom: that elusive chance at a title shot in the UFC's lightweight division.
That could be what's at stake. But when you're dealing in the Pettises and Cerrones of the world, the journey is just as much fun as the destination. As far as Pettis' ongoing journey goes, the future can be shaped by a simple objective come Saturday night.
"Make a statement," he said. "I'm tired of not getting the respect I deserve. Guys calling me overrated, 'one kick' this and that. I'm in my position for a reason, and I've got to show everybody why I'm right there at the top."
December, 5, 2011
12/05/11
1:28
PM ET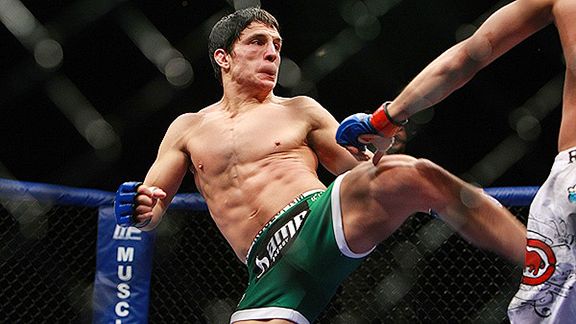 Dave Mandel/Sherdog.comBantamweight contender Joseph Benavidez is one of several fighters campaigning in a higher weight class.
Whether they realize it or not, the UFC has the best flyweights in the world parading around as bantamweights. (They realize it).
Some of them appeared on "The Ultimate Fighter" 14 finale on Saturday night. One of them looked undersized and overmatched (Louis Gaudinot). One of them looked underhyped and overlooked (John Dodson). Some of them are fighting for the bantamweight belt at the size of ventriloquist dummies.
Joseph Benavidez
is easily the No. 2 bantamweight in the world, but as a flyweight he could be a big fish.
Demetrious Johnson
gave
Dominick Cruz
some new looks and came up short. Short is how he'll succeed as a flyweight when the division is introduced in the UFC.
So, the next question is: When will that be? Media could only pry a single word from Dana White on the topic after the TUF 14 finale: Soon.
Soon could be early 2012, as was originally the target. Soon could be at some point in 2012. Or it could be a smokescreen term that means "we haven't really discussed it in earnest yet." Sean Shelby, who is the matchmaker for everything under 155 pounds, dreads the moment this division is introduced. He is already scattering so many jacks over the linoleum between the banties, the feathers and UFC sister outfit Strikeforce's lot.
But Shelby have to find it in him; the reality is that the flyweight division is coming. It has to. There are just too many guys straining to fight as bantamweights that would be better cast in a 125-pound setting. John Dodson didn't have to cut any weight. He was at 134 pounds at weigh-ins with all the cherubic dimples still embedded in his cheeks. Others on the scale dragged like walking dead, gaunt with their eyes set back under dark eaves.
[+] Enlarge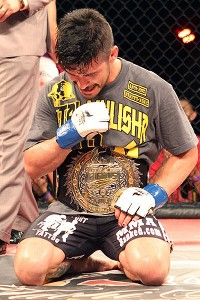 Jeff Sherwood/Sherdog.comIan McCall's prayers might be answered "soon," according to UFC president Dana White.
Besides the aforementioned fighters, there are plenty of guys out there who are licking their chops to prove themselves in the UFC.
Ian McCall
is widely considered one of the best flyweights going, and is the reigning Tachi Palace Fighting champion at 125. All "Uncle Creepy" wants for Christmas is eight sides to his cage. Then there are guys like
Jussier da Silva
and Mamoru Yamaguchi, the latter who looks like a holdover from 1970s Bruce Lee films. In fact, his handle is "the Illest Afro in Asia." There's one of the game's best counter strikers in Yasuhiro Urushitani, who defeated John Dodson by unanimous decision back in the day. And there are always woodwork guys, international discoverables, those yet to emerge.
In other words, there wouldn't be any shortage of talent at 125 pounds. And realistically, with 36 cards planned for 2012, the UFC could use the added division to help supply the workload/demand. It could benefit from one more belt to deepen a "Fight Night" card, or to power a co-main. As has been proven for all those years in the WEC and on this season of TUF, the jockeyweight divisions are loaded with combustible pieces. Dodson is like an electron in the cage. He was flipping off the Octagon posts like one of those "Sphere of Death" daredevils on their motorcycles. These flyweights are all springs and coils. Dueling acrobats.
Just how soon is "soon?" For all intents and purposes, the sooner, the better.
October, 21, 2011
10/21/11
2:11
PM ET

By Chad Dundas
ESPN.com
Archive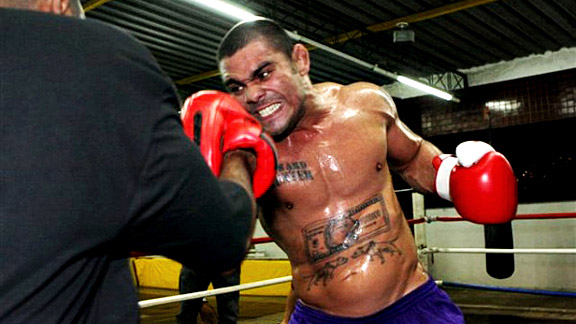 Sherdog.comA little more time spent in the gym might have salvaged Paulo Filho's career to some extent.
Of all the bizarre turns in the troubled career of
Paulo Filho
, his purported exit from MMA might be the strangest twist yet.
Once an undefeated message board darling considered one of the best 185-pounders on the planet, Filho's three-year tailspin into obscurity has finally come to this: The fighter told
Tatame.com
this week that he may well retire after a scheduled bout with
Mamed Khalidov
in November. Meanwhile, Filho's estranged manager contends that he is still dangerously addicted to drugs -- including Rohypnol, of all things -- and has squandered his earnings at the pharmacy as well as on pit bulls and roosters.
"I don't want this anymore," Filho said, making it sound like he would only go through with his fight against Khalidov at a KSW event in Poland because the contracts were already signed.
Though he said he's now over his substance abuse issues, Fliho goes on to claim that he's received death threats in his native Brazil over longstanding drug debts and that he was never paid by manager Rodrigo Riscada after three recent fights. Riscada, naturally, denies this.
"I'm kind of disappointed with this stuff, fighting and not getting paid," Filho said. "I don't want people comforting me; I just want what is mine."
The former WEC middleweight champion's career spiraled out of control after his inexplicable performance during his first career loss, to
Chael Sonnen
in 2008. So far, the 33-year-old has fought four times in 2011, amassing a record of 1-2-1.
If Filho really does call it quits next month, the legacy he leaves in MMA will be one typified by unfulfilled potential.
October, 21, 2011
10/21/11
2:08
PM ET

By Josh Gross
ESPN.com
Archive
Three years ago, something broke inside
Paulo Filho
and he hasn't been the same since. The sad and frustrating turn to a highly promising career -- emotional and psychological highs and lows, accusations from his handlers about drug abuse -- have apparently prompted the Brazilian to walk away early from a sport he seemed so perfectly suited for.
From 16-0 and No. 2 in the world at 185 pounds, to 22-4-2 and off the grid, Filho's is a cautionary tale. You think you have the tools to be great, then, rather suddenly, you don't and you aren't. For a 33-year-old man whose in-cage meltdown against
Chael Sonnen
in 2008 publicly signaled that something was very wrong, Filho's pro career is best represented by this question:
What could have been?
In peak form, Filho was a grappling force. If he wanted you on the floor, you went to the floor. If he wanted to hit you, he did. If he wanted to submit you, he probably did that too.
Look no further than the back-to-back fights with Sonnen to get a sense for how quickly things shifted.
[+] Enlarge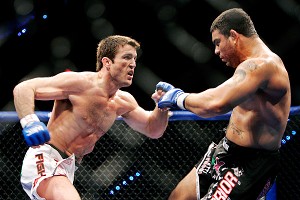 AP Photo/Wilfredo LeeThe wheels really started coming off Paulo Filho's career during a rematch with Chael Sonnen in 2008.
In 2007, Filho made Sonnen scream in pain as he levered an armbar. Eleven months later, Filho listlessly wandered about the cage like a zombie, not fighting, not doing much of anything, essentially handing his World Extreme Cagefighting title over to the wrestler. He failed to make weight by four pounds the day before the rematch. Back in his locker room afterwards, Filho barely acknowledged what had just happened. Not because he was in denial. He really seemed not to know.
After stepping to the top of the division with 16 wins in as many fights, the rematch with Sonnen kicked off a stretch of odd outings. He was released from Zuffa, never to return. Bouts in Japan and Brazil and Australia followed, but he wouldn't get a sniff of the U.S. fight scene again. His performances were mixed. Raw ability brought about wins, yet personal and professional demons made them harder to come by.
Any mention of Filho conjures up images of a powerful fighter. In reality, he's a lost soul, going so far as to get himself a facial tattoo like his hero Mike Tyson. He seemed to be always searching for something, and from the outside we could never get a sense what that was. Even those closest to him can't say for certain. Did he really want to find his way back to the top? They never knew. If that desire still existed, his performances and results suggested otherwise.
[+] Enlarge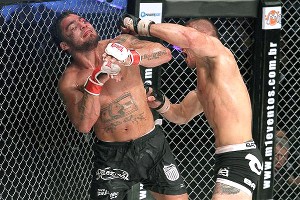 Marcelo Alonso/Sherdog.comTalent alone wasn't enough to get Paulo Filho by later in his career.
The timing of his troubles couldn't have been worse. Filho might have been champion at 185 when Zuffa folded WEC into the UFC. Who's to say what could have happened against
Anderson Silva
? Stylistically, he seemed like he would have been hell to handle for the UFC champion.
This was a fighter with the talent and game to be No. 1. He was never exciting, but that doesn't matter when all you do is win. After that facade was lifted, nothing went right for Filho. As the cautionary tale goes, talent alone isn't nearly enough, especially when stacked against counter forces the likes of which he's required to deal with.
Though it appears to be the case right now, here's hoping Filho's mixed martial arts experience won't define his life.
September, 8, 2011
9/08/11
6:53
AM ET
Duke Roufus has turned a small contingency of Midwestern fighters into his own personal "Ong Bak." Though he's got
Erik Koch
,
Pat Barry
and Danny Downes around on a regular basis, Roufus's flagship student is Milwaukee native
Anthony Pettis
, whose Hong Kong action cinema style makes up just about everybody's perception of what's being taught there. Roufusport MMA is right now synonymous with an exciting brand of fighting and Pettis ensures it.
That's why it's with a small amount of intrigue that we turn to Anthony's brother, Sergio Pettis, who turned 18 on Aug. 18. He has his first professional MMA fight Saturday at the Winnipeg Convention Centre as part of a CFC event. So how does he get ready for a pro MMA fight? By fighting in his first pro muay Thai fight just a few weeks beforehand.
"Yeah, I actually had my first pro muay Thai fight [in August]," he told ESPN.com. "I was more conservative in that fight, though. I won by decision, but the guy was one of them brawler-types so it was harder than I thought it would be. In my next fight coming up, I'm going to let it go and just have fun with it."
Pettis debuts against Kyle Vivian (0-3), and he'll enter the cage with an expectation -- some might say burden -- of delivering excitement. Not just to live up to billing as a Pettis, but as a Roufus fighter. It may fly under most people's radar, but it's a big deal for those in that sector of the 414 to see their youngest prospect get off to a solid start in what he hopes is a long MMA career.
"I am used to it now," the younger Pettis says of his brother, who'll be working his corner on Saturday. "It's not a bad thing, but obviously my competition's going to be a lot harder now; they see the last name and they're obviously going to expect a challenge. There's a lot of pressure, but it's alright, I think I can pull through and make the best of it.
"Anthony's the only one at the gym that knows me personally. He's my brother, so he knows when I'm having a bad day and when I'm having a good day. He helps me not get frustrated during training camp when I'm having an up and down week. But he makes me have fun with it."
The Pettis brothers both got involved in taekwondo when they were five years old, and each segued into kickboxing in their teens. Sergio has followed in his brother's footsteps the whole way, and is now looking to build up a name of his own. He might want to start with a more original alias, especially given the Roufus fighter's penchant for originality in nicknames. Anthony "Showtime" Pettis. Pat "Hype of Die" Barry. Danny "Boy" Downes. Erik "New Breed" Koch. These transcend your usual "Pitbull" handles.
So what's Sergio's?
"They call me the "Phenom" but that's Vitor Belfort's nickname, so I'm like, I don't know," he says. "He's pretty old, so I don't know if he can still be considered a phenom."
When you're 18, everybody is old, so he's got time to figure it out. For now, it's good enough that he's part of a burgeoning team that is making a name for itself similarly to how Greg Jackson built his team down in Albuquerque. In fact, Sergio says he sees the potential of Roufusport doing something Jackson-esque in the near future.
"That's the plan," he says. "[Greg] Jackson is known for winning fights and that's how it's going to be with Duke. Only, we're going to try to finish fights though."
It's the right kind of caveat, and it speaks to the mindset of Roufus fighters.
July, 13, 2011
7/13/11
6:32
AM ET

By Brett Okamoto
ESPN.com
Archive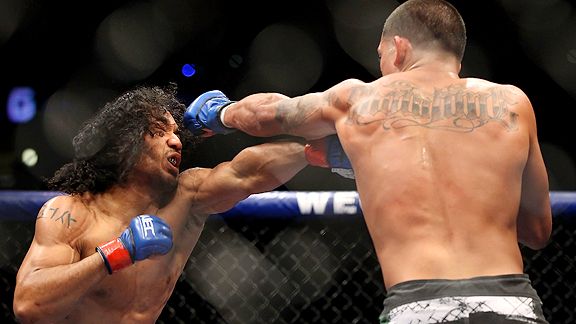 Christian Petersen/Zuffa LLC//Getty ImagesBen Henderson, left, couldn't keep his game plan together long enough to upend Anthony Pettis.
Ben Henderson
and
Clay Guida
had pretty much the exact same game plan when it came to approaching a fight against the flashy, athletic
Anthony Pettis
.
The difference was Guida stuck to it.
Going into the final fight ever in WEC history in December, Henderson's plan was to put Pettis on his back, neutralize his guard and take rounds -- exactly what Guida did in a decision win over him six months later.
But after literally months of promoting the lightweight title fight and anticipating a future unification bout against the UFC champ, Henderson wanted more than the conservative win. He wanted to make a statement.
"I had the Clay Guida game plan, but I didn't follow it," Henderson told ESPN.com. "I think it was a little of the UFC hype -- that the winner would fight for the UFC title. I wanted to show Frankie [Edgar] and Gray [Maynard] I could stay standing and beat Pettis at his own game.
"If I had followed the plan, I would have won -- no problem. I wanted to get risky and showcase my standup; show people, 'Hey, look what I can do.'"
[+] Enlarge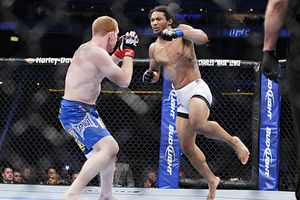 Ric Fogel for ESPN.comBen Henderson sees himself in the thick of the lightweight title mix.
We all know how that story ends: five fast-paced rounds capped off by a ridiculous, off-the-cage kick by Pettis, which Henderson described as something he'd once seen in Mortal Kombat.
The decision to play with fire cost Henderson the WEC title and made him the victim of a highlight reel that may never get old, but the 27-year-old says he has no regrets.
"I probably should have stuck to the game plan," he said. "But then again, if you never take risks you never grow as a fighter. You have to take your lumps on your way to being the best."
Seven months later, Henderson (13-2) has quickly worked himself back into title contention. After posting a decision win over
Mark Bocek
at UFC 129, the former WEC champ was offered a fight against
Jim Miller
(20-2) in August.
The matchup is being looked at as a step up in competition for Henderson. Although not known as one of the flashiest fighters in the division, Miller is widely considered next in line to fight for the title.
"I think he's definitely underrated," Henderson said. "He's not super flashy, he doesn't' give great quotes during interviews and he doesn't spout off just to be in the media. He's kind of low-key.
"He's definitely my biggest challenge. Every fight should be bigger than the last. We're similar in our fighting style. We're both ex-wrestlers. He's down to scrap and lots of close decisions go his way."
Should Henderson win, it's possible he'd move to the front of a long line of lightweights waiting for their shot at the belt. But as much he loved being the guy with a bulls eye on his back, he's not interested in forcing the issue.
If a title shot comes right away, he'll take it. But he won't ask for it.
"I have no idea where I'm at," Henderson said. "Who's to say? That's for Joe Silva and Dana White to decide and I'm sure they even disagree.
"I'm not in too big of a rush. Even if you have the belt, what then? You have to fight the next guy. It's not a race. Having the belt is good financially and the respect it brings, but the biggest goal is always to keep winning."