May, 18, 2012
5/18/12
6:24
AM ET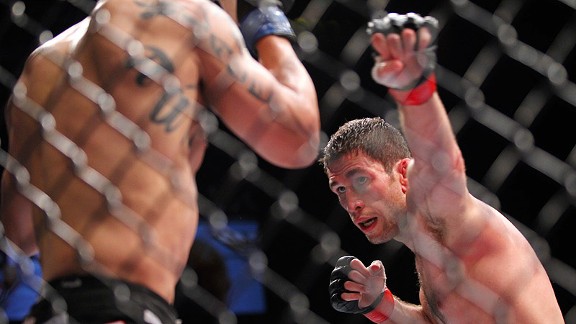 Ed Mulholland for ESPN.comExtra-ordinary: Amir Sadollah looked mediocre against a less-than-imposing Jorge Lopez.
It would probably be generous to say that
Amir Sadollah
's split decision win over Jorge Lopez received mixed reviews this week.
Unless by "mixed" you mean that A.) A lot of people thought Lopez should've gotten the nod from the judges and B.) Folks on Twitter couldn't decide whether it was better to have dozed off in the first, second or third round, there was not a ton of dissenting opinion about this fight. It just wasn't that great, and getting sandwiched between the technical brilliance of
Donald Cerrone
and the wonderful insanity of
Chan Sung Jung
certainly didn't improve anyone's perspective on it. As a result, it got fairly universally panned by critics.
Even Dana White acknowledged that Cerrone's bout against
Jeremy Stephens
should have been the co-main event of the unfortunately named UFC on Fuel TV 3, instead of Sadollah versus Lopez.
Nine fights and nearly four years into his UFC career, Sadollah must present something of a unique quandary for matchmakers.
Despite scoring an important win on Tuesday night -- one that improved his record to 6-3 (which, let's face it, somehow sounds way better than 5-4) and helped him bounce back from an August loss to
Duane Ludwig
-- he's never going to be champion, or even top 10 in his weight class. Far worse, in the Lopez bout he struggled to look convincing against a 24-year-old unknown who came in with an 0-1 record in the Octagon and just a single career victory over an opponent anyone has ever heard of before (Waachiim Spiritwolf).
If a more intelligent, more likable guy ever took up mixed martial arts, I can't think of his name, but the underwhelming performance against Lopez just puts an exclamation point on a run where six of Sadollah's last seven fights have gone the distance. There might not even be a compelling case for putting him on television again in the near future.
[+] Enlarge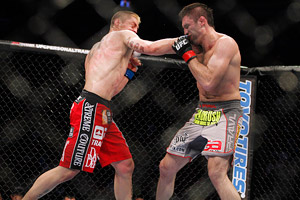 Ric Fogel for ESPN.comOne-the-job training: Amir Sadollah's apprenticeship and pro career have been rolled into one.
Considering all that, it would be tempting to look at the sum total of Sadollah's stint in the Octagon and call it a disappointment. In fact, the exact opposite is true. As perhaps the most unlikely "big name" fighter on the UFC roster, his career has already been a total success.
Though he was 4-0 as an amateur at the time, Sadollah had exactly zero professional fights under his belt when he caught an express train to the UFC by winning Season 7 of "The Ultimate Fighter" reality show in 2008. He was 27 years old before he first set foot in the Octagon, and while his seasoning as a fighter was just beginning, his overall growth as athlete was probably already complete.
Imagine that. It would be a little like playing a few touch football games, winning a televised punt, pass and kick contest and then, in your late 20s, getting a starting job in the NFL.
Could
anyone
succeed under those circumstances? Could anyone be reasonably expected to
compete
? And while they tried to compete, would a bunch of people sit around posting messages on Twitter about what a crappy job they were doing tackling Adrian Peterson? Because that's essentially what happens to Sadollah.
Fine, maybe most times it's more like he's out there trying to tackle Danny Woodhead, but whatever.
Frankly, the fact that Sadollah has even won six fights in the Octagon as little more than a rookie is amazing and speaks to his exceptional talent. Clearly however, his entire UFC experience has been a case of too much, too soon. Even the organization appears to at least tacitly understand this, as you now can't apply to appear on "The Ultimate Fighter" without a handful of professional bouts on your résumé.
At a stage when most welterweights would just be finding their sea legs, Sadollah is competing in high-profile, televised "co-main event" fights against (theoretically, at least) UFC-caliber opponents. At a point where most 170-pounders would just be starting to think about getting noticed by one of the bigger organizations, he's already made the transition from "up-and-comer" to "sturdy UFC veteran."
Has it worked out for him? Maybe is some ways. Certainly he's attained more exposure and made far more money than he might have by taking a more conventional route to the UFC. Maybe that's the most important thing.
In a case like Sadollah's though, you have to wonder. You have to wonder what his career arc would have looked like if he'd had 6-8 pro fights before coming to the UFC. You have to wonder if taking a shortcut to the top by winning "The Ultimate Fighter" was the best thing to happen to him as a fighter, or the worst.
May, 4, 2012
5/04/12
12:06
PM ET

By Josh Gross
ESPN.com
Archive
No matter how stunning
Johny Hendricks
' 12-second knockout of
Jon Fitch
was in December, stopping the second best welterweight on the planet won't mean much if the southpaw can't also defeat
Josh Koscheck
on Saturday.
"I have to win this fight to reach that goal [of becoming UFC champion]," said Hendricks, a 28-year-old two-time NCAA champion wrestler for Oklahoma State University, whose life essentially boils down to a never-ending series of high-bar scenarios (out-of-competition weight bumps not included).
Technically speaking, Hendricks needs a win in the co-main event of UFC's third event on Fox to be eligible for a shot at fighting for the welterweight strap.
Carlos Condit
is next in line, of course, and he's chosen to sit out while
Georges St. Pierre
recovers from major knee surgery, which won't happen fully until later this year. So, presuming he wins, Hendricks (12-1) will find himself in the midst of a hurry-up-and-wait scenario.
Having won two in a row since St. Pierre busted up his face with jabs at UFC 124, Koscheck, 34, should provide a solid test for Hendricks at the Izod Center in East Rutherford, N.J. The former title contender has the wrestling and athletic ability to, at a minimum, neutralize Hendricks' considerable game, which manifests through a mix of technical wrestling and power punches.
"If he wants to go back to it, if he wants to turn it into a wresting match, that's fine," Hendricks said. "I've prepared myself where that's one thing I want to see: How good my takedown defense is; how good my takedowns are. If I get to see it in this fight, great. If not, that's OK, too."
Koscheck hasn't suggested what his in-cage approach will be. Hendricks claims to be fine not knowing. Yet temptation must center on a knockout similar to the one that put away Fitch. Hendricks is self-aware enough to realize that honing in on a spectacular finish is the quickest way
not
to be on the right side of one.
"If the knockout comes, it comes," he said. "All I want to do is hit you about 85 percent [of potential power] and as quick as possible. The knockouts are great, but they don't happen very often. There's a reason why. If you go into a fight thinking you're going to knock someone out, for one, you're not going to train very hard. You're going to be so fixed on that by the second and third round you'll have lost confidence. By that time you may have lost the fight. I'm going in with all aspects of the fight open."
[+] Enlarge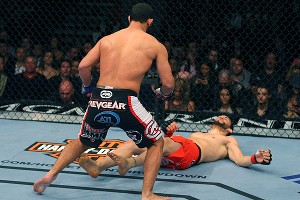 Donald Miralle/Zuffa LLC/Getty ImagesJohny Hendricks blasted his way on to the scene by knocking out Jon Fitch in Round 1.
As the match has been broken down, most pundits allow Koscheck an advantage in overall speed. Hendricks, it turns out, is not overly impressed by Koscheck, suggesting he's every bit as fast as his fellow wrestler.
The pair have been relatively quiet in advance of the fight. Hendricks is not a trash talker and Koscheck hasn't shelled out the same sort of verbal malevolence reserved for most other opponents over the years.
Still, Hendricks pointed to a pair of barbs that stood out to him.
First, Koscheck's contention that the win over Fitch was "a lucky punch."
Second, that Hendricks is "fat."
On the former, Hendricks sighs. He's been telling people he'd rather have luck than no luck at all.
And on the latter, the point is conceded.
"I am fat," he said. "I love my food."
Especially the "junk" variety. Not to mention a few beers from time to time. All of which leads Hendricks, a true good ol' boy, to blow up between bouts. He weighed 215 pounds following the Fitch bout, which is typical. But he's in shape now and, as competition nears, that's all that matters.
Hendricks knows how to win and make good on goals. He's managed to do both his entire life. By knocking out Fitch "people got to know who I am," he said, which was as much a milestone in his MMA career as it was a stepping stone toward his ultimate objective. Adding Koscheck to the list would get him that much closer.
February, 29, 2012
2/29/12
1:15
PM ET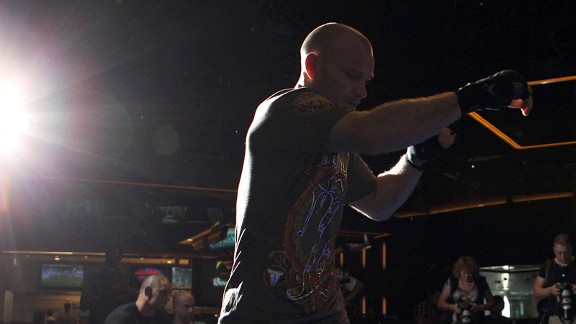 Josh Hedges/Getty ImagesWhen it comes to breaking through, Friday might be the light at the end of the tunnel for Martin Kampmann.
Science fiction writers could probably spend entire careers offering alternate histories for
Martin Kampmann
.
Example: What if Kampmann hadn't come out on the losing end of a razor thin decision against
Jake Shields
at UFC 121?
What if the judges had sided with the vocal majority who thought he should've gotten the nod over
Diego Sanchez
in March 2011 in their bloody, hard-fought cable TV main event?
What if Kampmann's unanimous decision win over
Rick Story
three months back -- originally announced as a split verdict, like maybe the judges had considered taking that one from him, too -- had been the cherry on top of a five-fight win-streak instead of a two-bout slump buster?
No long meditation on the butterfly effect is needed to know that if any of the above had come to pass, well, Kampmann probably wouldn't be taking on
Thiago Alves
on Friday in a fight that feels like a stretch as a main event, even for one of the UFC's new live shows on FX. On a Friday night, no less.
If Stephen King can crank out 800-plus pages speculating about a couple of guys going back in time to try to stop the Kennedy assassination, we can take a couple of sentences to acknowledge what Kampmann has learned the hard way during the last year and a half: That the line between contender status and just being middle-of-the-pack in the UFC welterweight division is slim, and the margin for error essentially nonexistent.
If Kampmann had defeated Shields and/or Sanchez (some people believe he rightfully did both) maybe
he
would have been fighting
Georges St. Pierre
in late spring or early summer of last year. Or maybe he would have met up with
Jake Ellenberger
in a No. 1 contender bout in late 2011 or early 2012. Heck, given Kampmann's 2009 win over
Carlos Condit
, maybe it would have been him in the cage against
Nick Diaz
fighting for the interim 170-pound title at UFC 143, instead of "The Natural Born Killer."
Or maybe not. This is all speculative, of course. It's possible things could have gone off the rails for Kampmann in a thousand other ways. Perhaps his UFC 103 loss to
Paul Daley
-- arguably his only
real
misstep of the last few years -- would still have been enough to hold him back.
Whatever the case, instead of finding himself considering the intricacies of the welterweight title picture right now, Kampmann's current reality is Friday's bout with Alves, where the stakes are, at best, uncertain.
[+] Enlarge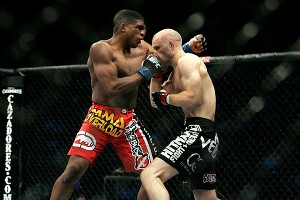 Tim Heitman for ESPN.comWhat if Martin Kampmann, right, hadn't lost to Paul Daley way back at UFC 103?
Alves is just 2-3 during his last five appearances and his only two wins since October 2008 came as the middle leg of John Howard's three-fight losing streak and over a debuting unknown in
Papy Abedi
. He's already been to the mountain top, fighting St. Pierre at UFC 100, and came out on the wrong end of a terribly lopsided decision loss. A return trip is starting to feel more and more unlikely.
At this point, the book is out on Alves, who starts like a house of fire and then fades late when his opponents can impose their game plans on him. The only real juice in this fight is the stylistic matchup -- both guys like to bang and Kampmann doesn't fit the blueprint of the wrestle-first fighters like Story, GSP and
Jon Fitch
who've given Alves all sorts of trouble.
What does it all mean when a 1-2 fighter takes on a 2-3 fighter on cable TV on a night the public isn't used to seeing fights and just 24 hours before a far more hyped-up women's bantamweight title bout hits the airwaves? Nobody knows. It's just one both guys know they don't want to lose, that's all.
Losses, we all know, are bad. Even losses that maybe should have been wins. Just ask Martin Kampmann.
Because he's a professional fighter, Kampmann would likely blame himself for his recent rough turns of fate. He'd probably tell you it was his fault for "leaving it in the hands of the judges."
Really, though, he's not to blame, and that makes it hard not to wonder "what if."
While we're engaging in fantasy, perhaps we could also indulge one where the fighters in our sport in 2012 don't have to fear "leaving it" in the purview of the judges. Maybe there's an alternate universe out there somewhere where the rules are better and the judges can be counted on to do a decent job.
February, 23, 2012
2/23/12
2:24
PM ET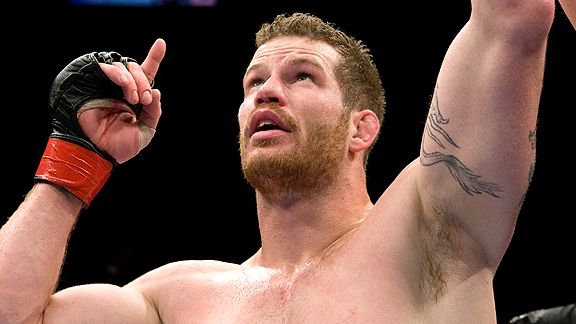 Josh Hedges/Zuffa LLC via Getty Images
The lesson here is a fairly simple one: Never say never.
There was a time, not so long ago, when it seemed like fans had a better chance of hitting the lottery than ever seeing
Nate Marquardt
fight in the UFC again.
Marquardt, we all recall, was released from the world's largest MMA promotion in June during a chaotic, whirlwind weekend that saw the Pennsylvania Athletic Commission yank him from a fight against
Rick Story
(who had already replaced the injured
Anthony Johnson
) when Marquardt's testosterone levels proved inappropriately high during prefight exams.
At the time, it all seemed very final. The news of Marquardt's firing was disseminated to the public via a succinct 12-second Internet video from Dana White. The UFC president later said he was "disgusted" with Marquardt's behavior and likened extending his time in Zuffa's employ to giving him a "fourth chance."
"Nate's done," White said in the days following. "I'm done with Nate."
Fast-forward eight months, after the former King of Pancrase signed and then worked his way out of a deal with the UK-based BAMMA organization without ever fighting there, and Marquardt is back. The middleweight contender turned theoretical welterweight will become the latest addition to the beleaguered Strikeforce roster and will reportedly fight self-proclaimed uncrowned 170-pound champion
Tyron Woodley
at an event to be named later.
A sliver of ambiguity White left surrounding Marquardt last summer -- "I don't know about Strikeforce," White said when asked if the newly unemployed fighter might find a home there. "Don't even ask me about Strikeforce." -- has blossomed into a whole new beginning. What once seemed like a lifetime ban has been duly downgraded to a simple demotion to Zuffa's slightly less popular broadcast platform. Fair enough.
What we don't know, exactly, is why.
We don't know what -- if anything -- has happened behind the scenes to change Zuffa's mind. We don't know if Marquardt has changed the particulars of his medical situation. We're not sure if he is still undergoing testosterone replacement therapy, which last June he credited with, among other things, saving his marriage, or if he's just promised to keep it within the legal limit this time.
Obviously, the circumstances of his dismissal haven't changed. "Facts are facts," White said at the time. Marquardt's history hasn't changed, either. He's still the guy who tested positive for steroids following a win over
Ivan Salaverry
back in 2005. He's still the guy who was already on notice in New Jersey for circumstances involving hormone therapy after his win over
Dan Miller
three months before he showed up to take on Story.
As of right now, we're left to assume the only thing that's changed is the passage of time.
It's eight months later. Everyone has cooled down from that initial burst of activity and anger and realized an MMA world where Marquardt is still under contract to Zuffa suits everyone in the equation better than the alternative.
That's nature of the fight game in 2012, of professional sports, really -- to be wholly uncompromising and yet incredibly transitory at the same time.
If there's one constant in this industry, it's that all things change. They change quickly, irreparably and forever.
Then, given enough time for everybody to get over it, they typically change back.
February, 16, 2012
2/16/12
2:14
PM ET
For
Carlos Condit
and the UFC, the reasons to wait for
Georges St. Pierre
are obvious.
St. Pierre is the champ, after all, and fighting him is still the holy grail for any welterweight who harbors ambitions of being recognized as the best in the world. The road to any legitimate 170-pound title has run through St. Pierre since 2006 and it will continue to do so until someone can knock him off his pedestal in a way that doesn't feel fleeting or fluky.
For Condit, that's a chance you absolutely cannot pass up. The "Natural Born Killer's" rise from WEC titlist to middle-of-the-pack UFC contributor to now interim UFC champion is a feel-good story of the highest order. Perhaps more than anyone, his career path was disrupted when
Nick Diaz
took a rubber mallet to the organization's welterweight plans. Condit must have felt a little like the last kid picked for playground basketball as he got shuffled through a series of prospective opponents and possible dates while the UFC tried (unsuccessfully) to manage Diaz's various peculiarities.
Now that Condit has triumphed over all of that and secured a fight with St. Pierre, it's perfectly understandable that he wouldn't want to risk losing it. Who would?
For matchmakers and number-crunchers, Condit versus GSP is certainly the most lucrative welterweight matchup the UFC could promote this year, or at least the next best thing, now that any immediate hopes for St. Pierre-Diaz have been dashed. Any time you can get a sniff of some actual competition for the most dominant 170-pound fighter in history -- who, we are continually reminded, is also your best pay-per-view draw -- I suppose you do everything you can to make that bout happen.
Feels like kind of a bummer though, doesn't it?
Here we have the most intriguing weight class in the UFC building an unprecedented sense of momentum, a talent pool that rivals that of the vaunted lightweight division, and now we have to push the pause button on the title picture for the next 10 months.
Any way you slice it, the decision to keep Condit out pending St. Pierre's recovery is logical, but it's not exactly ideal.
[+] Enlarge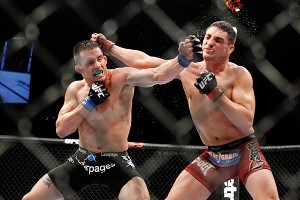 Ross Dettman for ESPN.comWhat MMA fan wouldn't want to see Jake Ellenberger, left, mix it up with interim champion Carlos Condit?
Why even crown an interim champion if he's just going to cool his heels for almost an entire year? Isn't the point of having an interim champ that he's available to defend the belt while the real champ is out? And if he can't put the title on the line against anyone other than St. Pierre, doesn't that make Condit more No. 1 contender than champion, interim or otherwise?
Condit made just one Octagon appearance during 2011 and if he waits on GSP until November, it will mean he's fought just twice in the last 16 months. That's an awful lot of down time and very few paydays for a guy who will turn 28 in April and who might now sit idly while the most potentially lucrative year of his fighting career passes into history.
It would be one thing if there wasn't anybody else for Condit to fight, but that's certainly not the case in the welterweight division right now. Watching
Jake Ellenberger
rough up
Diego Sanchez
on Wednesday night, it was hard not to imagine what a five-rounder between "The Juggernaut" and a technical wizard like Condit might look like. Or, for that matter, to wonder if Ellenberger's mix of physical strength, wrestling prowess and punching power might actually make
him
the most intriguing matchup for St. Pierre.
Now, we may never know. As it stands, the UFC is holding the line that Condit will likely wait for GSP, that Ellenberger could face the winner of Johny Hendricks' May meeting with
Josh Koscheck
and that -- for all intents and purposes -- the welterweight title may as well not exist until this winter.
And yeah, that might be the right thing to do, but that doesn't mean we have to like it.
November, 7, 2011
11/07/11
2:54
PM ET
For the first time in a long time, things don't sound totally hopeless for
Paul Daley
.
In a break from his previous declarations that Daley would "never fight in the UFC again" for sucker-punching
Josh Koscheck
after the bell at UFC 113, Dana White on Saturday night hinted that the British welterweight might one day win his way back into the fight company's good graces.
"We'll see what happens with [Strikeforce] first ...," the UFC president said at the UFC 138 postfight media conference in Daley's hometown of Birmingham, England. "The guy's got to win some fights. Any guy who loses in the UFC or other promotions, you lose, and you go get some wins somewhere else and come back."
White may not exactly sound ready to welcome Daley back with open arms just yet, but -- to paraphrase a line from "Dumb and Dumber" -- at least now he's saying there's still a chance. For Daley, that's what passes for progress these days.
If Daley's prospects now depend more on his win-loss record than his character issues, that's good news for him. Still, even as White softens his hard-line stance, it feels fair to wonder if Daley could even compete in a UFC 170-pound division that seems to get more competitive each day.
[+] Enlarge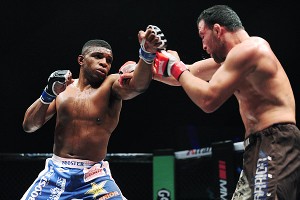 Martin McNeil for ESPN.comIf he does return, Paul Daley won't find the UFC's welterweight division in the same condition in which he left it.
Since his dishonorable discharge from the Octagon last year, Daley has gone 6-2 with wins over some decent mid-level talent. He's just 1-2 in Strikeforce, however, and his losses there to
Nick Diaz
and
Tyron Woodley
still feel like the best indicators of how he matches up against top-flight opposition. He's also failed to make weight three times, which never looks good when you're trying to rebuild your professional reputation.
Daley was 2-1 in the UFC during 2009-10, but the welterweight class has gone through a considerable overhaul during the past several months. The arrival of Diaz and
Jake Shields
from Strikeforce, the rise of a new contenders like
Carlos Condit
and
Jake Ellenberger
and the proliferation of wrestle-first standouts like
Rick Story
,
Charlie Brenneman
and
Johny Hendricks
, all make it questionable that Daley could once again be player in the division.
Even if Daley were one day invited back to into the Octagon, his stay there would no doubt be a steady diet of high level grapplers and -- as Koscheck and Woodley both pointed out -- those are his least favorite kind of opponent.
Clearly, any potential future in the UFC is better than none. Yet, as big a trick as it would be for Daley to fight his way back there, the bigger one might be proving he has what it takes to stick around long-term.
May, 20, 2011
5/20/11
6:31
AM ET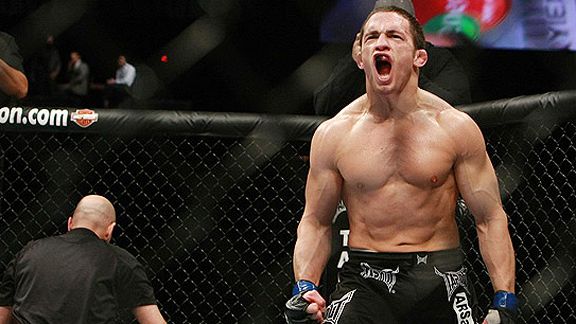 Sherdog.comGive Jake Ellenberger an opponent -- any opponent -- as long as it advances his career.
Jake Ellenberger
doesn't need to get his hands on
Georges St. Pierre
's blueprints to beating
Jake Shields
to know he can do the same.
"If they do make that match and me and Jake get to fight, he's not a hard guy to figure out. I feel like I can beat him right now," Ellenberger told Sherdog.com.
Rumor Central »