June, 8, 2012
6/08/12
6:42
AM ET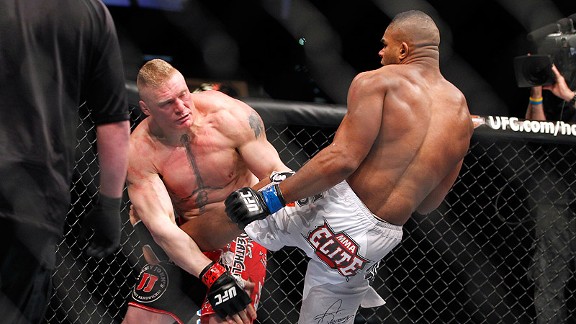 Ric Fogel for ESPN.comBrock Lesnar, left, hardly looked the part of a bona fide tough guy in his last UFC bout.
The only thing we know for sure is that
Brock Lesnar
didn't show up at UFC 146 by accident.
To hear promoters tell it, dislodging Lesnar from the friendly confines of his home in Alexandria, Minn., is akin to moving heaven and earth. The former UFC and WWE champion has a misanthropic streak a mile wide and given his druthers, he'd probably drive his sensible Chevy Aveo to and from the gym, take his 1989 Dodge Ram on the occasional hunting trip and go absolutely nowhere else.
As a result, eyebrows were raised industry-wide when Lesnar unexpectedly appeared in Las Vegas two weeks ago during the UFC's all heavyweight extravaganza. Dana White himself fanned the flames, implying the recently retired pay-per-view juggernaut was in fact considering a return to the Octagon. This week, when a series of semi-cryptic tweets from an internet radio host reportedly claimed Lesnar would make a comeback to the UFC by the end of the year, speculation began in earnest.
Is Lesnar really thinking about reviving his MMA career, or is this all part of a carefully orchestrated professional wrestling angle designed to draw attention to his current WWE run? Has he gone rogue, in an attempt to play the two organizations off each other? To paraphrase one of his ProGraps cohorts:
Is he serious, bro?
Now for the cold shower. At this stage, we have no choice but to file a Lesnar comeback in the "We'll Believe It When We See It" folder, alongside Bigfoot, UFOs and that new Dr. Dre album.
It's not likely, nor would it be particularly smart for Lesnar to return to the Octagon, and the big fella is nothing if not a calculated businessman.
Last we heard, he was locked into a new, sugar-sweet contract with WWE and as of this week the wrestling company was still referencing him by name on its flagship Monday Night Raw TV show. That's not something it typically does if it's planning to wash its hands of an individual talent.
Reports that Lesnar's relationship with WWE became strained almost immediately upon his return have been fast and furious online, but Vince McMahon's company has been surprisingly good at blurring the lines between fact and fiction as part of its so-called "reality era" during the past few months. The "truth" (such that it really exists) could be anything in between.
[+] Enlarge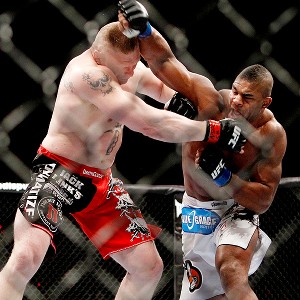 AP Photo/Eric JamisonAnother one-sided pummeling wouldn't do much good for Brock Lesnar's aura.
Smart money says the Lesnar-WWE marriage is probably legitimately tense -- go ahead, name one of his business relationships that hasn't been -- but not irreconcilable. In all likelihood the company's plans for a SummerSlam PPV bout between Lesnar and Triple H will come to fruition and Lesnar will end up fulfilling the terms of his current deal. Whatever they are.
As for an eventual UFC return, it would probably turn out to be more damaging -- both to his person and reputation -- than anything else for the 34-year-old heavyweight.
Lesnar's marketability as an athlete hinges on his status as a legitimate tough guy and that standing has already suffered significant hits after back-to-back losses to
Cain Velasquez
and
Alistair Overeem
. At this point, WWE can still bill Lesnar as the pro-wrestler who conquered the UFC, but how many more losses could that mystique endure?
How many more times could fans watch him get overwhelmed by Velasquez's punches or see him crumple against the cage after an Overeem body shot before their suspension of disbelief evaporates entirely? Not too many more times, certainly.
The things Lesnar accomplished in the UFC were, frankly, remarkable but even before those losses there were warning signs that the division's elite were catching up to him. Despite his ridiculous athletic gifts, the learning curve was just too steep, especially after his highly publicized bouts with diverticulitis. He came to the fight game too late in life to truly round out his skills, a fact only exacerbated by his choice to do the bulk of his training at home in his private gym, surrounded by handpicked teammates.
As Lesnar continues to age and the UFC heavyweight division continues to deepen, those factors obviously won't become any less pronounced, or the consequences any more forgiving.
Lesnar had an outstanding run in the Octagon but, even though the UFC would probably leap at the chance to get him back, it's over now.
At least, it should be.
April, 12, 2012
4/12/12
6:46
AM ET
Former UFC light heavyweight champion
Tito Ortiz
expects
Forrest Griffin
to be his final fight with the promotion on July 7, and he hinted his future could be in the WWE.
More »
April, 3, 2012
4/03/12
5:10
PM ET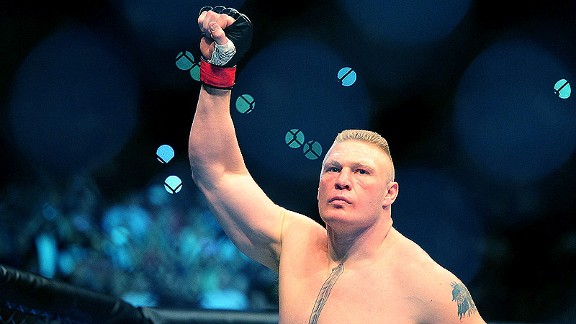 Mark J. Rebilas/US PresswireWhen it comes to his WWE career, time spent in the UFC seems like time well spent for Brock Lesnar.
Crowds at WWE live events have been growing more and more unpredictable in recent years.
As part of an evolution rooted in the company's popular "attitude era" of the 1990s, professional wrestling fans have taken to intermittently ignoring the best intentions of behind-the-scenes puppetmasters and -- gasp! -- occasionally exhibiting minds of their own.
Today, nearly two decades after crowds first started chanting
"die Rocky die!"
because they resented the way a 24-year-old golden boy named Dwayne Johnson was being foisted down their throats by promoters, it's fairly commonplace (bordering on clichéd) for wrestling fans to cheer certain "bad" guys while booing certain "good" characters.
According to the WWE company line, this is part of what makes said audience so great, though it's easy to imagine wrestling's army of showrunners and writers secretly find it irritating.
In any case, that unpredictable nature might have raised serious questions about how the so-called "WWE universe" would react to
Brock Lesnar
on Monday night, as he returned to the fold and stepped through the literal/metaphorical curtain for the first time since 2004.
After all, wrestling fans viciously taunted Lesnar on his way out the door eight years ago, chanting
"you sold out!"
and
"this match sucks!"
during his tiff with Bill Goldberg at Wrestlemania 20 because they already knew both guys were departing WWE immediately after: Goldberg to become an occasional color commentator at small-time MMA shows; Lesnar to make a failed try at playing in the NFL.
In the intervening years, Brock didn't have many tremendously nice things to say about pro-wrestling, speaking out against what he called the "WWE lifestyle" and telling Maxim Magazine in 2009, "You get so brainwashed ... the guys who get out are the smart ones, really and truly."
If his four-year UFC career did anything for him, it established his credibility as a legitimate tough guy only while simultaneously undermining it. Lesnar garnered quick and arguably unparalleled success in the Octagon, but eventually proved unable to hang with MMA's elite heavyweights, suffering embarrassing losses to
Cain Velasquez
and
Alistair Overeem
and twice seeing his path interrupted by reportedly life-threatening bouts with diverticulitis.
Lesnar additionally used his time in the UFC to reveal himself as a personality who is not easy to cheer. For the duration of his MMA career he was surly and boorish; mocking his opponents, needling fans and acting by turns aloof and hostile toward the media. Though his crossover fame instantly made him the UFC's biggest pay-per-view draw, many MMA fans never quite warmed up to him.
[+] Enlarge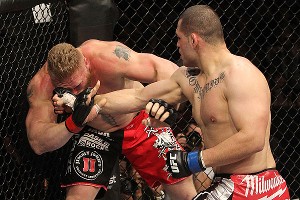 Josh Hedges/Zuffa LLC/Getty ImagesDespite failing against the likes of Cain Velasquez, Brock Lesnar was welcomed with open arms upon his WWE return.
Contrary to the mainstream stereotype, pro wrestling fans are smart enough to know all this. They understand both that Lesnar acted like a jerk throughout his UFC tenure and that he ultimately couldn't cut it at the sport's highest level. Frankly, there was no telling how the wrestling faithful would react to that knowledge as a noticeably smaller, slightly doughier and far, far less tanned version of Lesnar showed his face during the final segment of "Monday Night Raw" this week.
Answer: They love the guy, maybe now more than ever.
Lesnar was given a hero's welcome back to the world of professional wrestling. WWE fans -- given time to lick their wounds after Lesnar spurned them years ago -- appear to be more forgiving than their MMA counterparts.
In truth, the company stacked the deck in Lesnar's favor during his return by having him hit the ring and deliver his old school finishing move to John Cena, who is currently the good guy fans love to hate for his squeaky-clean image and status as a true company man.
Even amid a shifting landscape where WWE appears at times to be scrambling to keep up with the increasingly discriminating palate of its fan base and at times unapologetically obdurate in the face of it, one equation still worked like a charm: Pretty much anybody can get cheers by doing something bad to Cena.
Still, watching Lesnar slam Cena with his signature "F-5" facebuster, then prop himself up on the second rope to soak in the cheers, it was instantly clear that the big fella is back where he belongs now.
His flights of fancy with football and mixed martial arts are mercifully finished. They were always somewhat awkward fits, anyway. With his unique blend of size and natural athleticism, Lesnar could have been great at nearly any physical endeavor, but what he chose first upon graduation from the University of Minnesota in 2000 was professional wrestling.
It's the one thing he's been consistently great at for more than a few fleeting years. Now he's back to it and, while it's impossible to predict how wrestling fans will react to him over the long term, it's good to see "The Next Big Thing" once again in his natural habitat.
January, 6, 2012
1/06/12
6:48
AM ET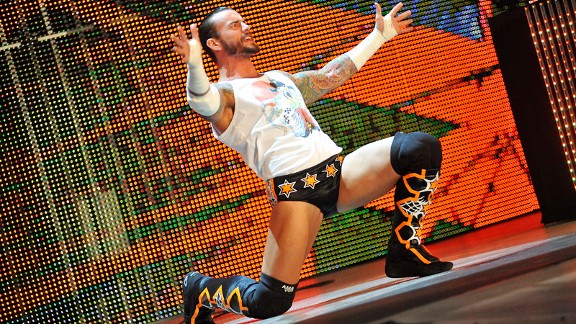 Moses Robinson/Getty ImagesReacting negatively to CM Punk is obligatory, because that's how MMA fans react to pro wrestlers.
It felt equal parts strange and obligatory, when the MMA world suffered a momentary conniption fit at the news that
Chael Sonnen
will have current WWE champion CM Punk escort him to the cage later this month during the UFC's second live network television broadcast.
Strange, because on the surface it's such a non-story: Minor celebrity walks attention-seeking MMA fighter to the Octagon for high-profile bout. Big deal. Makes sense.
After all, Punk (real name: Phil Brooks) is a noted MMA enthusiast and Sonnen's Jan. 28 title eliminator against
Mark Munoz
will go down in the WWE star's hometown of Chicago, where he enjoys enormous popularity. If involving Brooks in such a shoestring way brings a few more eyeballs to the UFC's next show on Fox and by extension to Sonnen, then it's pretty easy to see why both fight company and fighter would want him there.
However, the uproar the news caused among some fans also seemed totally fitting -- and, honestly, a little tired at this point -- since hating professional wrestling remains one of the American MMA community's favorite pastimes.
In truth, this kind of celebrity intrusion is actually commonplace in our sport and Brooks' part in Sonnen's entrance would be a complete nonissue, were he anything other than a pro wrestler.
Nobody cared when actor Kevin James cornered Jason Miller during his bout at the TUF 14 finale in December. Few even blink anymore when a 39-year-old Shaquille O'Neal routinely implies he wants to fight in the Octagon. One of MMA's most beloved and most respected analysts is a stand-up comedian and former sitcom actor, yet many fans have come to take Joe Rogan's word as gospel.
But professional wrestling's current "it" performer plans to walk from the locker room with an MMA fighter? My, how typically controversial.
[+] Enlarge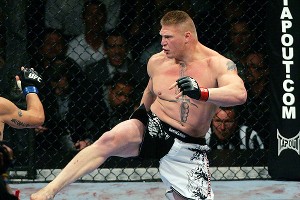 Cliff Welch/Icon SMI The world didn't exactly stand still when Brock Lesnar joined the UFC ranks.
If the well-documented online consensus is anything to go on, most MMA fans either despise pro wrestling's "fakeness" or care so little about "sports entertainment" that they feel compelled to remind the rest of us about it every single time the topic comes up. As everyone knows, the best way to prove you don't care about something is to take the time to type out a message about it and then hit "Post" in order to share that indifference with the world.
Exactly
why
some MMA fans harbor such disdain for pro wrestling, and why they delight so much in shouting it to the world is another matter entirely. Certainly, there is a fair amount of crossover between the two fan bases. A good chunk of current MMA fans were likely once pro wrestling fans and perhaps now they're embarrassed about it -- though I'm not sure why.
Additionally, many fans keep MMA close to their hearts and have come to feel protective of it after years of defending it against mainstream ignorance. Those people would now be loath to see MMA lumped in with anything the larger population considers "fake." On the other hand, it's been so long since pro wrestling held itself up as anything resembling unscripted competition that it's hard to see how the two would ever be confused, or how wrestling could be any kind of impediment to MMA's growing popularity. Certainly the biggest threats to MMA's continued march toward acceptance come from within, not from WWE.
In any case, none of that fully explains the intensity of the dislike, which at this point occasionally borders on neurosis. It's weird, it's ugly and most everybody would probably be better off if we could all agree that the world is big enough for
both
real fighting and the scripted variety.
By now we should know that the sky will not fall if the occasional pro wrestler like
Brock Lesnar
,
Bobby Lashley
or Dave Bautista tries his hand at MMA. Nor will the world come to a screeching halt if a professional wrestler wants to lead an MMA fighter to the cage later this month.
So long as Brooks stays on the outside of the chain link, his presence will likely do more good than harm.
October, 12, 2011
10/12/11
7:05
AM ET
In a conversation with
ESPN.com
on Tuesday,
Brock Lesnar
dismissed the notion that he'd consider a full-time return to professional wrestling, reiterating that he remains committed to the UFC and to mixed martial arts. That said, Lesnar's inclusion in a new wrestling video game underscores an on-going relationship with WWE and he admits that he could be interested in a one-off swan song in sports entertainment someday, like the one rumored with the Undertaker at this year's WrestleMania.
"I think under the right circumstances I will [have one last match]," Lesnar told ESPN's Jon Robinson. "I think if Vince McMahon and I were able to sit down at the same dinner table and break some bread that we could come up with some kind of game plan. At the end of the day, I'm an ultimate fighter. That's who I am and that's who I'll always be. I was an entertainer but at the end of the day, I'm still as real as it gets. I think a lot of things have to fall in the right places for something like that to happen."
With a five-round fight coming up against former Strikeforce heavyweight champion
Alistair Overeem
at UFC 141, Lesnar better darn well be fully committed to MMA. On the heels of his disappointing loss to
Cain Velasquez
at UFC 121 and another protracted absence during a second bout of diverticulitis, it shapes up as a must-win for him.
It would be interesting to see if UFC brass would ever cut Lesnar the kind of deal that would let him make a one-night-only appearance in WWE. Conventional wisdom says there's no way, but the mere fact that Lesnar's image appears in the newest WWE video game is perhaps a sign that the fight company would consider extending its biggest draw certain courtesies not available to just anyone.
April, 19, 2011
4/19/11
4:41
PM ET
By ESPN.co.uk
ESPN.com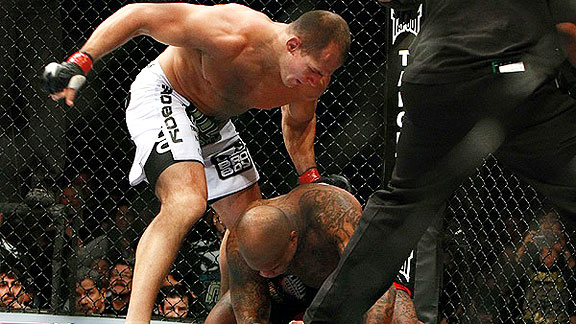 Dave Mandel/Sherdog.comCare for a "Dos?" Junior Dos Santos plans to unleash some of this on Brock Lesnar.
Junior Dos Santos sat at home and watched as
Shane Carwin
and
Cain Velasquez
sent
Brock Lesnar
sprawling to the mat, and he came to the same conclusion as many fellow onlookers: WWE stars cannot take a punch.
More »