September, 19, 2012
9/19/12
1:05
PM ET

By Brett Okamoto
ESPN.com
Archive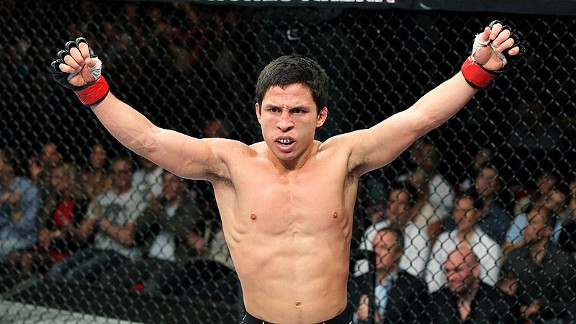 Josh Hedges/Zuffa LLC/Getty ImagesStrong and fearless, Joseph Benavidez takes aim at becoming the UFC's first flyweight champion.
The UFC will crown its first flyweight champion this week at UFC 152, making now the perfect time to rank who's who at 125.
Top-ranked
Joseph Benavidez
and
Demetrious Johnson
likely need no introduction by now, as they're set for the UFC 152 co-main event on Saturday in Toronto, but the rest of the names on this list might.
The flyweight division doesn't carry the most recognizable names in the UFC yet, but let us assure you that its Top 10 features loads of talent.
Here's a closer look at how ESPN.com staff members, including Chad Dundas, Josh Gross, Franklin McNeil and Chuck Mindenhall, see the division.
[+] Enlarge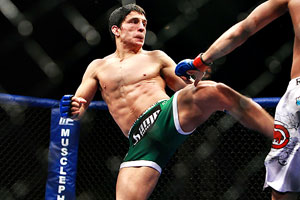 Dave Mandel for Sherdog.comOne of the most complete fighters in mixed martial arts, Joseph Benavidez gets an opportunity to compete in his natural weight class.
No. 1 Joseph Benavidez (16-2)
There's only been one mountain Benavidez hasn't been able to climb, and that's UFC bantamweight champ
Dominick Cruz
. Benavidez has two losses in six years, both to Cruz, and both very close. Now he's at his natural weight class and is the near-consensus pick to reign over the division. Wondering what he does well? Everything. He's one of the most composed fighters in the UFC, and his game has no holes. In fact, he's the only flyweight you'll find in the pound-for-pound rankings at ESPN.com.
McNeil:
The flyweight division's most fearless fighter also happens to be its most aggressive.
Mindenhall:
The division was created for him to dominate. With his diversity and strength, he will do just that.
No. 2 Demetrious Johnson (15-2-1)
Meet the fastest fighter in the UFC. Johnson's speed is one of the most talked-about advantages in the sport. Add in the fact he's also extremely technical, and it's almost not fair. Maybe the only way to slow him down is to keep him on the ground, which no one seems capable of doing. Even when Johnson gets put on his back, he's usually to his feet before judges even notice. And by the way, at 26, he probably hasn't hit his peak yet.
Dundas:
I'll consider it an upset if Johnson beats Benavidez, but not much of one.
Mindenhall:
The second McCall fight showed that Matt Hume's guy isn't all flash and thunder, but that he's a smart fighter who can execute tactically under pressure.
[+] Enlarge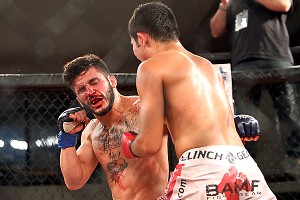 Jeff Sherwood for Sherdog.comIf there is such a thing as enjoying being hit, Ian McCall, left, proudly fits the description.
No. 3 Ian McCall (11-3-1)
McCall won't match the speed of his fellow flyweights, but he makes up for it with size and wrestling ability. He's a fighter's fighter -- the guy in the division (always seems like there's at least one) who seems to genuinely enjoy getting hit. McCall can be a bit of a slow starter, but he turns into a monster as a fight goes on. No one on this list is more influenced by the crowd, and his outright crazy side has a visible effect on some opponents over 15 minutes. He's had a bumpy road outside the cage, which could very well end up being the one thing that holds him back. In the cage, his ground-striking, takedown defense and boxing make him tough to deal with.
Dundas:
McCall spent 17 days in jail in August after his arrest for driving with a suspended license. If he can keep it between the lines, he's a potential champion.
Gross:
McCall may be his own worst enemy, and with competiveness brewing at 125, he won't do well in the long run fighting himself and the competition.
No. 4 Jussier da Silva (14-1)
The perception is da Silva poses no threat on his feet, but that's inaccurate. No, "Formiga" is no knockout threat, but watch him transition to an opponent's back without even needing a full takedown and you'll see what we're talking about. Ultimately, da Silva does need to improve his hands if he wants to topple the best, but his submission skills alone warrant this spot on the rankings. If the well-rounded UFC opposition can keep him on the outside, he's in trouble. But give Da Silva an opening to get where he wants and the Brazilian will be super-glued to your back. His only loss came at the hands of the man ranked right above him on this list.
McNeil:
That high-profile loss to McCall last year still haunts Formiga.
Mindenhall:
We know he can finish, but the question is, how does he handle the step up in competition?
[+] Enlarge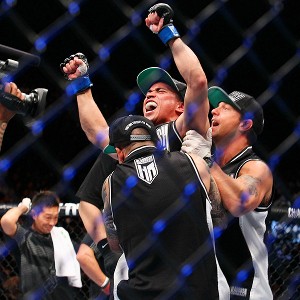 Susumu Nagao for ESPN.comWith the title path more open, striker Chris Cariaso looks to make an immediate impact at 125 pounds.
No. 5 Chris Cariaso (14-3)
Cariaso represents one of those situations where he really didn't
need
to drop a weight class, but the title path is more open at 125. He'll throw kicks to the leg and body like they're jabs, and he has good defensive instincts on his feet. He likes to counter with the right hand, which won't cause much damage on its own, but he lands it often and it's a rhythm disrupter to opponents. Only two submission wins in his career, so he's not known for his grappling, but this guy can be sneaky-good off his back. If you fall asleep in his guard, he'll take advantage of it.
Dundas:
Losses to
Michael MacDonald
and
Renan Barao
are nothing for Cariaso to hang his head about.
Gross:
Fighting at flyweight provides new life for Cariaso, who will never go down without a fight.
No. 6 John Dodson (13-5)
The hyperactive Dodson has said he'd like to win titles at 125, 135 and 145 at some point. Those aspirations might seem a little high, but 125 is certainly within his reach. He sets a pace that can wear out an in-shape flyweight (not easy to do), and he packs more power in his standup than you'd think by looking at him. His takedowns are actually incredibly explosive, but they often go overlooked because he rarely does much with them. Mostly, it feels like Dodson looks at them as a way to score a few points before getting back to business on his feet. He's fun to watch and has so much experience fighting talented, bigger opposition.
Gross:
The potential is there, no doubt about that, but it takes more than that to assert yourself in a weight class.
Mindenhall:
He was the smiling fink of the TUF 14 house. His height is a liability, but the dude's a rare combination of acrobatics and mean.
[+] Enlarge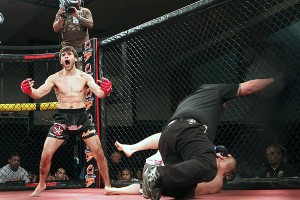 Jeff Sherwood/Sherdog.comDarrell Montague is not with UFC ... for now. But don't be surprised if you see him fighting very soon.
No. 7 Darrell Montague (11-2)
The only name on this list not currently contracted by the UFC, but it's likely only a matter of time before the 24-year-old hits the Octagon. He's been a menace in the flyweight proving grounds that is Tachi Palace Fights, with one signature loss you know he'd like back against McCall in 2011. A southpaw, Montague likes to take the center of the cage and stalk his prey. He trusts his hands and that makes him fun to watch. Good counterpunches and a high comfort level in stringing together combinations as opposed to single power shots. You will see Montague knockout highlights inevitably pop up in years to come.
Dundas:
He figured to be among the first crop of flyweights snapped up by the UFC until the loss to McCall. Back on track with two wins, it likely won't be long until he's bound for the Octagon.
Gross:
This confident kid will get his shot at the big time someday soon.
No. 8 John Moraga (11-1)
A lot to like about this dark horse in the flyweight division. Moraga isn't going to bounce around the cage like a Demetious Johnson, but he's got speed where you want it -- in his hands. This guy can unleash punches opponents never see coming and his power is undeniable. No glaring holes to speak of, and keep an eye out for a strong guillotine, much like the one we've come to learn his teammate
Ben Henderson
possesses.
McNeil:
Despite showing off his striking prowess against
Ulysses Gomez
in August, UFC fans will soon learn that Moraga has solid submission skills.
Mindenhall:
Great submissions, and he has been packing a better punch since losing to Dodson back in 2010. Verdict's still out on how he stacks up with the top guys.
[+] Enlarge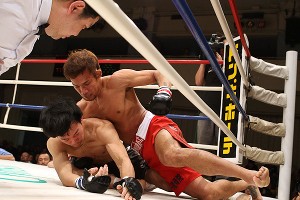 Taro Irei/Sherdog.comExpectations are high in the UFC for Yasuhiro Urushitani, right, despite a tough Octagon debut.
No. 9 Yasuhiro Urushitani (19-5-6)
Urushitani didn't exactly sparkle in his UFC debut, but he gets a semi-free pass for that loss, considering it was against Benavidez. That said, expectations are high for the Japanese fighter early, so a strong sophomore performance in the UFC is key. Urushitani is known for his counter striking, but he's actually capable of moving forward when his confidence is high. He's got a nice straight left he'll throw down the pipe, but watch that left hand when it's not being used. Urushitani tends to keep his hands around his waist and rely on elusiveness to avoid strikes. Sometimes it works and sets him up beautifully for counterstrikes. Other times, well, he wakes up to the sounds of a fired-up Benavidez running around him.
Gross:
A veteran of the division, he failed to do much against Benavidez, further cementing the weak reputation of Japanese fighters in the Octagon.
McNeil:
He's a much better fighter than the guy who appeared lost in his Octagon debut against Benavidez.
No. 10 Louis Gaudinot (6-2)
What a difference 10 pounds can make. Any fighter on this list likely knows that feeling from competing at 135, but Gaudinot might know it best. His particular style just doesn't bode well against bigger guys -- but it should be darned effective on smaller ones. Gaudinot is not fleet of foot. He's got a flat stance, and he's unafraid to sit in the pocket. At 135, walking down bigger guys just wasn't going to get him to the top. At 125, the green-haired Gaudinot is going to be an imposing figure. He'll take one to land one, and if he can catch up with the speed of the other flyweights and work a takedown here and there, his tenacity and bullish attitude will win fights. A Gaudinot-McCall fight would produce fireworks.
Dundas:
Had the heart but not the size to be UFC bantamweight champion. His high-octane style likely makes him a matchmaker's favorite.
Gross:
If you can get past the green hair, you'll see a hard-nosed powerhouse benefiting from fighting at his natural weight.
March, 3, 2012
3/03/12
10:20
PM ET

By Josh Gross
ESPN.com
Archive
Borrowing from
Demetrious Johnson
's clear analysis, "it sucks" that the first flyweight card in UFC history went from epic to tragic to comic because a local bureaucrat wrote down the wrong score.
Listen to
Joseph Benavidez
, though, and you could get the impression that a draw marking one of the worst regulatory failings in MMA history isn't such a bad thing. That was his upbeat take after news broke that Johnson's majority decision over
Ian McCall
was really a majority draw. So went half of the UFC flyweight championship tournament Friday in Sydney.
With a one-way ticket to the final literally punched during an opening round drubbing of Yasuhiro Urushitani, Benavidez was free to sum up his outlook on the unexpected one-bout, undetermined-length extension. This is a paraphrase. He earned his way into the final, and so should his next opponent. McCall and Johnson have unfinished business that needs resolving as soon as possible. And then it's time to name the No. 1 flyweight in MMA.
When Johnson and McCall tangle again, they'll walk to the cage hardened by a 15-minute battle. As anticipated, action was furious, highly competitive, with hints of danger the entire way. Then this whole process took on its own against-the-grain story when a score of "8" was mistaken for a "9."
[+] Enlarge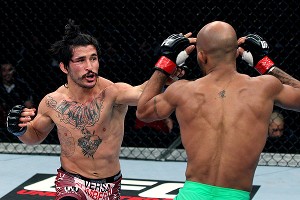 Josh Hedges/Zuffa LLC/Getty ImagesAnother round or three between Ian McCall, facing, and Demetrious Johnson isn't such a bad thing for fight fans.
While everyone commiserated with UFC president Dana White in wanting that extra round guaranteed under the rules of the tournament in event of a draw, the mistake wasn't found until far too late. Both fighters cooled down and digested the result before they were told what really happened.
"Human error," White put it.
Five minutes of "sudden victory" sounds too good to be true. If you dare to dwell on how it goes down, the best moments of McCall-Johnson play like a highlight reel. At least, that's the case for me.
In that respect watching Rounds 4 through 6 doesn't seem so bad, either. The important thing, Benavidez again reminds us, is the notion that two worthwhile fighters meet in the final. The UFC has one locked in place. We're a couple months and 15 (maybe 20) minutes from knowing the second. Probably. Do yourself a favor and scribble this episode down as a highlight of the opening chapter for flyweights and the UFC.
Think of it this way -- if surprise proves to be a hallmark of UFC's 125-pound division, we'll know how far to trace that back to.
Before last night's wrong was righted, I was almost ready to suggest that, in spite of the apparent result and all it seemed to cost him, McCall should leave Australia feeling like winner. Why? (For starters, he didn't lose.) But apropos to my point, he made a name for himself. Results are in; fans dig Uncle Creepy.
Shortly after Benavidez smoked Urushitani, I tweeted a simple poll question: "Benavidez or Johnson?" McCall finished a strong second. His heart was broken in Sydney and people saw that happen. Dreams of becoming the first 125-pound UFC champion were dashed. McCall's hurried exit from the cage indicated everything you needed to know about what he was feeling.
An hour spent absorbing difficult facts meant nothing after the regulatory commission admitted to screwing up the decision. From tragedy to comedy to who knows what's next. Surprisingly, McCall's protagonist role in front of the media afterward was decidedly less dramatic than what it probably called for.
"Things happen," he said. "Shoot, we get to fight again. You guys had a good time, right? So we'll put on another show. Whatever. I'm happy because I got a little vindicated, but we get to do it again and that's awesome."
At least White didn't allow McCall to get away with playing it too cool, chiming in about a less subdued reaction backstage. Hey, McCall has no reason to hide his excitement. An immediate rematch represents the best-case scenario for the 27-year-old Californian. He'll enjoy another payday as soon the pair are ready. And, most important, he remains in the running to be the first UFC flyweight champion.
For the division itself, a storybook start gave way to reality. From time to time, those things aren't so far apart.
March, 1, 2012
3/01/12
7:04
AM ET

By Josh Gross
ESPN.com
Archive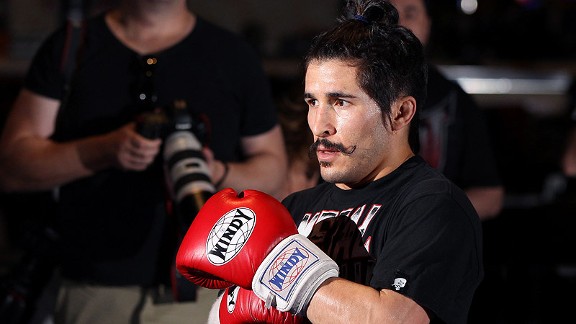 Josh Hedges/Zuffa LLC/Getty ImagesThrough the fire: A well-traveled Ian McCall considers himself the torchbearer at 125 pounds.
Ian McCall
stood inside a Whole Foods last week and listened to some guy tell him he didn't matter. That's a lot to stomach -- no matter who you are.
"I just don't really like the lighter weight classes," McCall was informed. "You guys are just boring to me."
After thinking about the conversation, McCall, widely regarded as mixed martial arts' No. 1-ranked flyweight, took comfort in the idea that his division, which debuts in the UFC on Friday, is one fans "really have to really like" to watch.
There's truth to that. Until McCall meets
Demetrious Johnson
and
Joseph Benavidez
deals with Yasuhiro Urushitani on FX this Friday, live from Sydney, Australia, jockey-sized mixed martial artists didn't have a bright enough spotlight on what they were doing. Interested fans had to actually seek them out. Not anymore.
When UFC adopted the lightweight, featherweight and bantamweight classes, the selling point was simple: these guys don't get tired, they're technical and they come to fight. Flyweight, "the final frontier in terms of how small you can go," according to McCall, all 5-5, 125 pounds of him, isn't so different. But there are people, like the guy at the market, who just won't care; if they wanted to watch guys McCall's build scrap, they would check out a Breeders' Cup.
"I don't want to say someone who just wants to watch heavyweights is ignorant, but just not as educated," said the 27-year-old married father of one. "Now that people are becoming more educated, they're appreciating the tactical side of it, which means opportunities for smaller guys. Smaller isn't always better, but I think the fighters that are coming down from 135 are going to make it better. I think there's going to be a lot of depth to the weight class, a lot of personality, which is a huge part of a sport that's growing so much."
McCall alone offers enough personality for a division that, in its first year of existence under the UFC banner, will remain small, filled through roster spots co-opted from 135 and 145.
"

Now that people are becoming more educated, they're appreciating the tactical side of it, which means opportunities for smaller guys. Smaller isn't always better, but I think the fighters that are coming down from 135 are going to make it better.

"

-- Ian McCall
After McCall's last win, a submission of Darrel Montague in Lemoore, Calif., where he reigned as Tachi Palace Fights champion, the well quaffed "Uncle Creepy" proclaimed himself the man to spearhead flyweights into prominence. He playfully harassed Dana White and Sean Shelby, matchmaker for Strikeforce and lighter classes in the UFC, that it was time to allow guys his size in the Octagon.
Speculation was high that it would happen the first of the year, and it did. Later in 2012, one of the four fighters battling Saturday in Australia (Friday, 9 p.m. ET), will, barring unforeseen circumstances, be crowned the first UFC flyweight champion.
McCall enters the field at the top, but not without questions. Like Johnson and Benavidez, McCall fought for Zuffa at bantamweight prior the switch to 125. He left the promotion in 2009 after losing on points to
Dominick Cruz
. Then the craziness of his life took over. McCall fell victim to an old friend: drugs. He hit rock bottom. He found a good woman, married, and had a baby girl.
During that period, MMA was the light at the end of the tunnel.
Confidence from being in the gym, sparring and improving "was really what I owe it all to," he said. "And the way my life has changed with a family, wife, baby, it just adds on top of it. Fighting is what's taken me to where I'm at now, and has enabled me to live a life I wanted to live. Not financially, I don't make that much money right now. But spiritually, I've taken some different things from it."
McCall dropped weight because he said it felt natural to him. The harder he trained under the reins of Colin Oyama and Romie Aram, the smaller he got. Next came an opportunity, which is all he wanted, and "two years later I'm world champ. I'm kind of the torchbearer for this thing in the UFC," said McCall, who unabashedly predicts a "transition to superstar by winning the tournament."
Becoming the first UFC flyweight champion has a great ring to it and carries some historical significance, but for McCall to think he'll soon be the next George St. Pierre is a miscalculation. It takes time to develop a division, and Zuffa is playing it real tight at the start. Consider the tournament a "soft opening." Even bantamweight isn't a money-making venture for Zuffa quite yet -- perhaps that changes with Dominick Cruz and
Urijah Faber
coaching the first season of "The Ultimate Fighter" on FX starting March 9 -- so at this stage, Zuffa regards flyweights as more of an investment than anything else.
You could hear the hope in McCall's voice as he said this: "If we can create a really strong structure, like they can at 125, it can definitely build and create something people love, that they want to see and will pay to see."
[+] Enlarge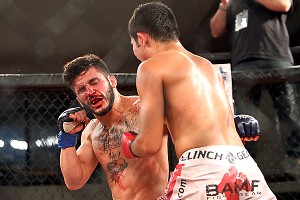 Jeff Sherwood for Sherdog.comIan McCall, left, brings depth and a whole lot of personality to the UFC's newest weight class.
The weight class carries depth, so that's not an issue. Curious to some were Zuffa's roster choices -- McCall, Johnson, Benavidez, Urushitani, Darren Uyenoyama, John Dodson, John Lineker, Louis Goudinot and Josh Ferguson -- left free some of the sport's best --
Jussier da Silva
, currently ranked No. 2 after losing to McCall one year ago, fights March 18 at a 132.3-pound catchweight in Brazil -- providing Richard Goodman, matchmaker for Tachi Palace Fights, solid bouts to make at the regional level.
"Now that the UFC has adopted this weight class, we're going to see a lot more guys develop at that weight," said Goodman, who claimed no trouble finding top talent before this wider exposure. "A lot of good fighters like Benavidez, Johnson, McCall -- they all had to fight at 135 because they didn't have any weight classes in any shows that could afford the budget to pay them what they deserve and make a good living."
At flyweight, McCall said the new crew of fighters "aren't going to be the fastest guys on the court anymore. They're going to have to deal with guys that are just as fast and just as technical in every way. I think they're going to be shocked."
He likes to talk, there's no question about that. For McCall (11-2), to make good on his words -- he'll meet Benavidez in the finals and win, "people haven't experienced a fighter quite like me yet" -- this second shot with Zuffa needs to be much better. Losing to Cruz was one thing, Benavidez and Johnson did that too, but he can't afford performances like the one against
Charlie Valencia
that saw him subbed within a round.
"I have a lot to prove," McCall said. "I need to show that I screwed up last time. I wasn't for real. Now I'm serious. I'm really just a completely different person fighting wise. People will see.
"My dreams were finally answered and I can focus completely about this. Nothing else as far as work. I don't have to look for other work. It's a big part of it. This is my job. This is my calling. This can change my life, make my life pretty damn cool. I was getting by before, but now my wife doesn't have to work -- she can just be mommy."
And, just maybe, he and his fellow flyweights won't have to deal with critiques from the checkout line anymore.
February, 24, 2012
2/24/12
1:17
PM ET

By Chad Dundas
ESPN.com
Archive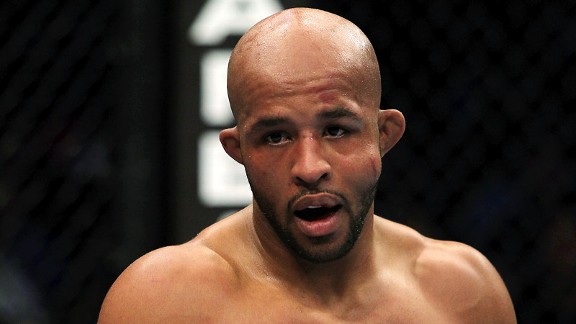 Josh Hedges/Zuffa LLC/Getty ImagesDemetrious Johnson is bringing a rule change with him when he debuts at flyweight.
The four men involved in the tournament to crown the UFC's first-ever flyweight champion won't make their 125-pound debuts in the promotion for another eight days, but already they're shaking things up.
During a recent appearance on
Tapout Radio
, tournament participant
Demetrious Johnson
revealed the contract for his tourney bout against
Ian McCall
includes a provision for a fourth, "sudden victory" period in the event their fight is a draw after its three regularly scheduled rounds.
"I don't know if anybody has said anything about it and this is the first time I'm mentioning it -- that [McCall and I] had to sign for a 'sudden death' bout," Johnson said. "If it goes three rounds and the judges can't decide who the winner is then we'll do a fourth round."
Johnson said he didn't know for certain if the same was true for the tourney's other first round bout -- pitting
Joseph Benavidez
against
Yasuhiro Urushitani
-- but is guessing that will be the case.
"I can't say if it's going to be for Joseph and Yasuhiro because I'm not going to say that the UFC made those guys sign, too," Johnson said. "I'm telling you, specifically, that I signed a contract for an extra round on the bout agreement. I'm not going to say that [Benavidez and Urushitani] did. I'm assuming, in my unprofessional opinion, that they did as well."
Probably a fair assumption. Also, a smart move by the UFC. If the tournament's opening rounds are scheduled for just three rounds, as Johnson indicates, it's a good bet that one or both of the organization's first flyweight fights will need assistance from the judges to determine a winner. A draw in either fight -- while still a rarity in MMA -- would obviously be a disaster for what the fight company has otherwise planned as a cut-and-dried two-round bracket.
It's also a little unorthodox. Short of the truncated "exhibition" fights of the "Ultimate Fighter" reality show, we've never seen this sort of arrangement in the UFC before. Since both opening-round flyweight fights are taking place in Sydney, we have to assume the promotion will be acting as its own regulatory body, and therefore can sort of make its own rules. (You know, within reason).
To date, the UFC has always stayed true to the unified rules during its international events. That's typically been a good thing and adding an extra round to the flyweight tournament bouts seems an innovative and positive step. The extra rounds probably won't be needed, but in the event that they are and all fighters have contractually signed off on them, there should be no problem.
Perhaps the UFC's experiment with "sudden victory" rounds could even lead to changes in the way draws are handled stateside. Nobody likes a tie, after all, and few would likely argue with a safe and sane solution to eradicating them.
Who knows? Perhaps the UFC's flyweights will prove to not only be the organization's newest, smallest additions, but also agents for change.
December, 5, 2011
12/05/11
1:28
PM ET

By Chuck Mindenhall
ESPN.com
Archive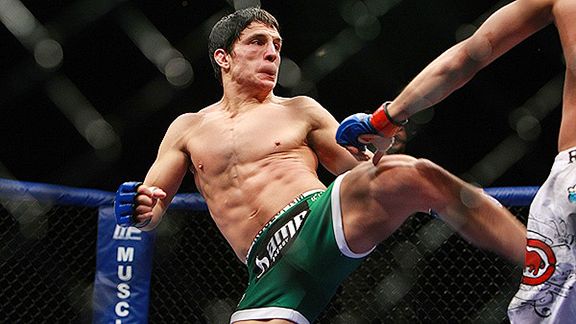 Dave Mandel/Sherdog.comBantamweight contender Joseph Benavidez is one of several fighters campaigning in a higher weight class.
Whether they realize it or not, the UFC has the best flyweights in the world parading around as bantamweights. (They realize it).
Some of them appeared on "The Ultimate Fighter" 14 finale on Saturday night. One of them looked undersized and overmatched (Louis Gaudinot). One of them looked underhyped and overlooked (John Dodson). Some of them are fighting for the bantamweight belt at the size of ventriloquist dummies.
Joseph Benavidez
is easily the No. 2 bantamweight in the world, but as a flyweight he could be a big fish.
Demetrious Johnson
gave
Dominick Cruz
some new looks and came up short. Short is how he'll succeed as a flyweight when the division is introduced in the UFC.
So, the next question is: When will that be? Media could only pry a single word from Dana White on the topic after the TUF 14 finale: Soon.
Soon could be early 2012, as was originally the target. Soon could be at some point in 2012. Or it could be a smokescreen term that means "we haven't really discussed it in earnest yet." Sean Shelby, who is the matchmaker for everything under 155 pounds, dreads the moment this division is introduced. He is already scattering so many jacks over the linoleum between the banties, the feathers and UFC sister outfit Strikeforce's lot.
But Shelby have to find it in him; the reality is that the flyweight division is coming. It has to. There are just too many guys straining to fight as bantamweights that would be better cast in a 125-pound setting. John Dodson didn't have to cut any weight. He was at 134 pounds at weigh-ins with all the cherubic dimples still embedded in his cheeks. Others on the scale dragged like walking dead, gaunt with their eyes set back under dark eaves.
[+] Enlarge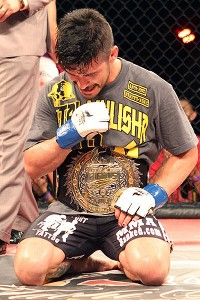 Jeff Sherwood/Sherdog.comIan McCall's prayers might be answered "soon," according to UFC president Dana White.
Besides the aforementioned fighters, there are plenty of guys out there who are licking their chops to prove themselves in the UFC.
Ian McCall
is widely considered one of the best flyweights going, and is the reigning Tachi Palace Fighting champion at 125. All "Uncle Creepy" wants for Christmas is eight sides to his cage. Then there are guys like
Jussier da Silva
and Mamoru Yamaguchi, the latter who looks like a holdover from 1970s Bruce Lee films. In fact, his handle is "the Illest Afro in Asia." There's one of the game's best counter strikers in Yasuhiro Urushitani, who defeated John Dodson by unanimous decision back in the day. And there are always woodwork guys, international discoverables, those yet to emerge.
In other words, there wouldn't be any shortage of talent at 125 pounds. And realistically, with 36 cards planned for 2012, the UFC could use the added division to help supply the workload/demand. It could benefit from one more belt to deepen a "Fight Night" card, or to power a co-main. As has been proven for all those years in the WEC and on this season of TUF, the jockeyweight divisions are loaded with combustible pieces. Dodson is like an electron in the cage. He was flipping off the Octagon posts like one of those "Sphere of Death" daredevils on their motorcycles. These flyweights are all springs and coils. Dueling acrobats.
Just how soon is "soon?" For all intents and purposes, the sooner, the better.