September, 28, 2014
9/28/14
10:47
AM ET
By Michael Huang
ESPN.com
Archive
As
Tim Kennedy
came out for the third round of his UFC 178 middleweight bout against
Yoel Romero
, he was smelling blood.
Sure, some of it might have been his own after taking some vicious lefts from the highly touted Romero (9-1). But as the second round came to a close, Kennedy had a quickly tiring Romero out on his feet as the horn sounded. Perhaps given another 10 or 15 seconds, Kennedy would have finished Romero for a TKO victory.
Instead, it was Romero who got an extra 30 seconds.
[+] Enlarge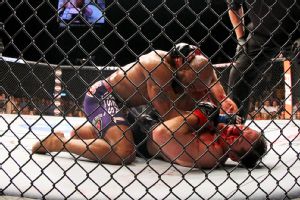 Ed Mulholland for ESPNYoel Romero managed to turn the tide in the third round after appearing out on his feet in Round 2.
While Kennedy was ready to go, Romero inexplicably continued to sit on his stool as his cornermen rehydrated him with water, wiped excess Vaseline off a significant gash above his left eye and toweled him off. Still clearly dazed, Romero finally got off the stool as referee
John McCarthy
and a Nevada State Athletic Commission official physically pulled Romero off the stool while an incensed Kennedy knew he was missing his chance to finish off a stunned Romero.
A point was deducted from Romero to boot.
Those 30 seconds seemed to allow Romero to gather himself, and shortly after the third round began, the explosive Romero charged Kennedy with a lunging jab that missed, but he managed to connect with a follow-up right hook square on Kennedy's already broken nose. As Kennedy went down in a heap, Romero pounced on Kennedy (18-5) for the win, ending Kennedy's four-win fight streak. Meanwhile, Romero extended his own streak to five wins.
However, the win didn't come without controversy, and UFC president Dana White addressed the issue during the postfight news conference.
"Look, it's one of the oldest and dirtiest tricks in the book," White said. "The athletic commissioner was literally screaming at him to get up and his corner to get out of the Octagon. It's unfortunate it happened. But from what I was told, he had too much Vaseline on his face. I'm still trying to figure out if it was our cut guy, or their cut guy. But it's the responsibility of the corner people to get the stool out of the Octagon."
At press time, there was no decision of any sort in regard to disciplinary action for Romero, but Romero apologized for taking too much time, but he wasn't milking the clock to clear the cobwebs.
"I was ready when it was time to go," Romero said.
The incident begs the question whether the fighters will engage in a rematch. It was reported in postfight analysis on Fox Sports 1 that Kennedy confronted Romero backstage.
"If you don't get up when you're supposed to get off the stool, the fight's over," said current UFC middleweight champ
Chris Weidman
, who was serving as a color analyst on the Fox Sports 1 postfight analysis.
"It's extremely dirty trick to stay on the stool an extra 30 seconds when you're rocked," former middleweight
Brian Stann
said. "But when you're hurt, you're going to listen to your coach. When there are a lot of people in the Octagon, there's always some confusion as to what they needed to do."
Controversy aside, the fight showcased the considerable explosiveness that Romero possesses.
At one point, Romero looked like a blitzing linebacker, shooting the gap and exploding through Kennedy like a rag doll. The fighters earned $50,000 each for "Fight of the Night" bonuses.
As for Kennedy, who has struggled to break through to elite contender status within the UFC, the loss sets the former Army Ranger back a rung or two. And at 35 years old, the window on his title contention is rapidly shrinking. His strikes lacked the speed and power of Romero, who is actually older (at 37) than Kennedy.
But during the postfight news conference, White alluded to the fact that both fighters might relish the idea to prove their mettle without controversy. Indeed, after two rounds, the scorecards were tied at 19-19, even after Romero was docked a point by McCarthy.
"It's very unfortunate, it's an odd thing that almost never happens," White said. "But who knows? I'm sure Kennedy wants a rematch."
For Romero, it was the second time he had come back from near defeat (and unconsciousness) in the third round to ultimately pull out the win. Against
Derek Brunson
at a UFC Fight Night event Jan. 14, Romero knocked out Brunson with less than two minutes left in the bout, also earning a "Fight of the Night" bonus.
Nevertheless, it's a bitter pill for Kennedy to swallow, who literally had Romero on skates.
"If you can't get off the stool in a minute, the fight is over," Kennedy said. "Not a minute and a half, not two minutes, not two and a half minutes while your coaches are still putting Vaseline on you and toweling you off. That fight should've been over, period."
September, 28, 2014
9/28/14
10:43
AM ET
LAS VEGAS --
Tim Kennedy
will never know for sure what an extra 25 seconds on a stool did for
Yoel Romero
. No one will.
Kennedy (18-5) is irate following a situation that occurred prior to the third round of his TKO loss to Romero (9-1) at UFC 178 on Saturday. Unfortunately for Kennedy, what's done is most likely done.
At the end of the second round, Kennedy hurt Romero badly with uppercuts to the chin and two hard right crosses. Romero, who was arguably tiring from the pace of the fight prior to the punches, was saved by the bell and wobbled over to his corner, where a UFC cut man applied a large amount of Vaseline over his left eye.
Romero was still being tended to when the Nevada timekeeper's whistle blew, signaling all cornermen to leave the cage.
[+] Enlarge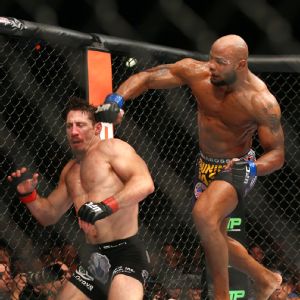 Ed Mulholland for ESPNTim Kennedy, left, might not have a leg to stand on when it comes to appealing his controversial loss to Yoel Romero.
At that point, a few things happened that would later incite Kennedy. First, Romero's corner did not remove his stool, which is probably the greatest infraction. Referee
John McCarthy
walked toward Romero and pointed out what he believed to be an excessive amount of Vaseline on the cut. McCarthy and the Nevada inspector then signaled one of Romero's cornermen to come back into the cage to wipe off the excess Vaseline.
The specific cornerman called back did not speak English, according to Nevada State Athletic Commission executive director Bob Bennett. As time clicked away, with Romero still on the stool and Kennedy raising his arms, McCarthy took it upon himself to wipe the Vaseline off and eventually start the fight. The sequence gave Romero approximately 25 to 28 extra seconds of recovery time.
Romero came out and promptly stunned Kennedy with a straight left/right hook combination. He finished the fight via strikes less than a minute into the final round.
Kennedy quickly referred to statute NAC 467.728 on Twitter, which reads: If an unarmed combatant fails or refuses to resume competing when the bell sounds signaling the commencement of the next round, the referee shall award a decision of technical knockout to his or her opponent.
Bennett told ESPN.com he and the NSAC legal counsel would review tape of the incident "in the near future," but only as standard procedure and not necessarily in response to a formal Kennedy appeal, which he is expected to submit. Bennett added he felt McCarthy, as the acting referee, handled the situation appropriately.
"Quite frankly, I think John did a good job," Bennett said. "We could play devil's advocate and ask, 'Why is he touching a fighter who has a cut and removing Vaseline?' But I thought he took appropriate measures and got that fight moving as quickly as he could."
When asked if the extra time was significant in allowing him a chance to recover, Romero simply stated, "I don't know."
Kennedy, who at least was paid a $50,000 UFC bonus for being involved in the "Fight of the Night," is highly unlikely to win any kind of formal appeal. Although he certainly has reason to complain, it was a UFC cutman who applied too much Vaseline, and it would be difficult to blame Romero for remaining on the stool when the NSAC inspector didn't forcefully remove him from it when the timekeeper's whistle blew. There was stern instruction to the cornermen to remove themselves from the cage, but the physical stool Romero sat on went largely unnoticed until time had gone by and McCarthy removed the Vaseline.
Bennett, who emphasized the fact he would have to review the tape, pointed out the low success rate of appeals in general within the state.
"At this point in time, I defer that to our legal department," Bennett said. "Historically, if you look at the number of appeals submitted to our office and that have [gotten a call] overruled, I think it's slim to none if I'm not mistaken. There is a rule under Nevada administrative code [that allows an appeal] but very seldom does an appeal [overrule a call]."
UFC president Dana White acknowledged the fact that corner "stalling" is "one of the dirtiest tricks in the book," but said the fact it was a UFC cutman who made the error of applying too much Vaseline changes the dynamic of the situation, as opposed to it having been one of Romero's cornermen who did it. He was non-committal on the idea of a rematch.
"I think the thing that throws a kink in this whole thing is that it was our guy putting Vaseline on," White said. "It's a very unfortunate, odd thing. It never happens. Who knows? I would love to see how [Romero] feels [about a rematch], and I'm sure Kennedy wants a rematch. Who knows?"
September, 22, 2014
9/22/14
1:15
PM ET
Shortly after
Ronaldo Souza
submitted
Gegard Mousasi
at a UFC event earlier this month,
Tim Kennedy
reminded everyone via social media that, ahem, Strikeforce middleweights have performed pretty well since the two promotions consolidated rosters early last year.
And within the same 140-character post, he pointed out that Souza couldn't take him down when the two fought four years ago.
[+] Enlarge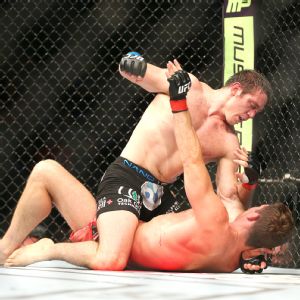 Ed Mulholland for ESPNTim Kennedy, top, is keen on not letting his recent win over Michael Bisping get brushed under the rug.
"Strikeforce middleweights still looking unstoppable in the UFC," Kennedy wrote on Twitter that night. "[Souza] went 0-5 in takedowns against me. I went 2-3."
Kennedy (18-4), who fights
Yoel Romero
at UFC 178 on Saturday in Las Vegas, is happy former Strikeforce middleweights are finally getting credit. For years, guys like Kennedy, Souza and
Luke Rockhold
felt overlooked just because they fought outside of the UFC. You might say a sort of bond was formed between them because of it.
As Kennedy's tweet illustrated, though, that bond only goes so far. As they were in Strikeforce, the three are in clear competition with one another. These days it's for a UFC title shot -- something Kennedy feels he should be closing in on with a win against Romero on Saturday.
The 35-year-old is 3-0 in the UFC and has won every individual round he's spent in the Octagon besides one. He admits Souza is legitimately ahead of him in the division at this point, but hopes fans won't go too nuts for Rockhold (12-2) if he beats
Michael Bisping
in November. Kennedy out-pointed Bisping easily in a five-round bout in April.
"If Rockhold wins and starts asking for a title shot, I'm kind of going to be like, 'What the heck?'" Kennedy said. "He might get a lot of fanfare for a win over my sloppy seconds, so to speak. I hope that doesn't happen.
"I have to go out and win this fight in a way so that that doesn't happen. Obviously,
Chris Weidman
is the No. 1 middleweight. Jacare is No. 2 and I believe I'm right there at No. 3."
"

I tried to get [the NSAC] to test. I made requests, ultimatums, everything. It reached a point of no response. I just didn't hear back. So, here I am, a week out from my fight and I could have been taking anabolic steroids during my entire camp. It's a problem.

"

-- Tim Kennedy, on his urging for random drug testing ahead of his bout against Yoel Romero
Kennedy has made it no secret that in addition to a title shot at 185 pounds, another goal he has in 2014 is to shine a light on what he feels is an existing drug problem in mixed martial arts. Earlier this year, Kennedy told ESPN.com he had sent a request to the Nevada State Athletic Commission to randomly test he and Romero (8-1) ahead of this weekend's bout. He offered to cover his share of the costs, which are in the tens of thousands of dollars.
The NSAC has randomly tested UFC 178 main event flyweights
Demetrious Johnson
and
Chris Cariaso
in recent weeks -- but Kennedy says, unfortunately, no test collector has knocked on his door.
"I tried to get [the NSAC] to test. I made requests, ultimatums, everything," Kennedy said. "It reached a point of no response. I just didn't hear back. So, here I am, a week out from my fight and I could have been taking anabolic steroids during my entire camp. It's a problem."
The UFC is in the process of potentially partnering with an independent sample collector to create a year-round program to test a percentage of its 500 rostered athletes, according to vice president of regulatory affairs Marc Ratner. Ratner hopes a program could be announced by the end of the year.
Ultimately, Kennedy's focus has shifted completely on defeating Romeron (8-1), who is a former Olympic silver medalist in freestyle wrestling.
"Any time an athlete like that comes into MMA from another sport, you keep your eye on him," Kennedy said. "I'm familiar with him. He's fought one of my teammates, previously. He's super athletic. I'm excited to fight him."
July, 9, 2014
7/09/14
3:27
PM ET
UFC middleweight
Tim Kennedy
has requested an enhanced, random drug-testing program ahead of the Sept. 27 fight against
Yoel Romero
at UFC 178 in Las Vegas.
Last week, Kennedy (18-4) wrote on Twitter he would not compete again unless he and his future opponents underwent random blood testing during training camp.
Kennedy asked the UFC to book his next fight in Nevada so that it would be under the jurisdiction of the state's athletic commission, which twice this year has implemented an enhanced testing program for UFC bouts.
Kennedy, 34, has made it clear he is willing to pay for his half of the program, which he has been told could cost anywhere from $10,000 to $35,000. The previous time Kennedy fought in Las Vegas, in July 2013, he earned a $90,000 purse.
"Whatever it takes to ensure we are moving toward having a clean sport, which we are nowhere near right now," Kennedy told ESPN.com. "Something has to change."
Kennedy's manager, Leo Khorolinsky, told ESPN.com Kennedy wouldn't go so far as to pull out of the fight should random testing not be implemented, but is optimistic the NSAC would approve the request.
"

Whatever it takes to ensure we are moving toward having a clean sport, which we are nowhere near right now. Something has to change.

"

-- Tim Kennedy, on requesting an enhanced, random drug-testing program
"In no way would he back out of the fight, because he has a contractual obligation," Khorolinsky said. "What he's saying is that he's trying to make a statement. Let's make this a real campaign and others will start doing it."
According to Khorolinsky, UFC heavyweight
Andrei Arlovski
, whom he also represents, will request the same form of testing ahead of the Sept. 13 bout against
Antonio Silva
in Brasilia, Brazil.
The NSAC program consists of unannounced urine and blood tests taken during a fighter's camp. It is far more effective than traditional urine tests on fight night.
The NSAC utilized the random tests prior to a welterweight fight between
Jake Ellenberger
and
Robbie Lawler
at UFC 173 and a light heavyweight fight between
Chael Sonnen
and
Wanderlei Silva
, which was eventually canceled, at UFC 175.
On May 24, Silva avoided a random drug test administered by the NSAC, which led to him not receiving a license to fight at UFC 175. Sonnen failed two random tests on May 24 and June 5, which led to an indefinite suspension of his license.
Middleweight contender
Vitor Belfort
is also facing licensing issues in Nevada after a blood test taken on Feb. 7 showed his testosterone levels were above normal.
After seeing three athletes, all of whom have competed in his weight class, admit to working outside the rules, Kennedy says he had to take stronger individual action.
[+] Enlarge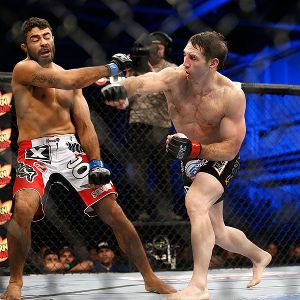 Ric Fogel for ESPNTim Kennedy, right, believed it was his responsibility to take a stand and request random drug testing ahead of his next bout.
"They randomly test three dudes and all three fail," Kennedy said. "All in my weight class. All dudes I could potentially be fighting. I went from just being vocal about drug use, to saying to myself, 'I have to make a stand about this.' "
Whether Kennedy will get his wish is yet to be seen. Even though he is willing to pay for his share, there is no guarantee the NSAC will order it.
UFC light heavyweight champion
Jon Jones
requested a similar program prior to his title defense against
Glover Teixeira
at UFC 172, which took place in Baltimore. The Maryland State Athletic Commission approved it and the UFC agreed to cover the costs.
Similarly, the UFC has picked up costs for both enhanced programs in Nevada. The NSAC is committed to randomly testing at least one bout on every major UFC card, but for obvious reasons, won't disclose which fights it will be testing ahead of time.
"Any fighter can request all they want to the promoter," Robert Bennett, NSAC executive director, said. "We appreciate any athlete who wants more testing, but we are certainly not going to reveal who, when and where we'll be testing.
"The less said about who we will test, the more effective the program. The UFC has been very supportive of our efforts so far."
For the record, Romero has never failed a drug test.
The UFC has taken more action against performance-enhancing drugs in 2014 than any other year in company history. The promotion has agreed, for now, to handle costs of the program in Nevada, which can be up to $45,000 per fight.
UFC officials are also tentatively planning to address the issue this month at the annual Association of Boxing Commissions convention in Clearwater Beach, Florida.
Kennedy says he appreciates the UFC's recent efforts to curb PED use, but still believes his action is necessary to help fix a serious problem in mixed martial arts.
"I'm really impressed in the change in both the climate and the UFC's perception of it," Kennedy said. "The UFC is forking over money for testing, so it's been top-driven, which makes me proud to be in the UFC. They are really the only organization that is doing it and it's definitely a step in the right direction.
"But the first time [the NSAC] randomly tested people, everybody failed. Imagine what that looks like across 450 athletes. Are we talking 60 or 70 percent? I really believe it's somewhere in that range of fighters that are using."