October, 8, 2011
10/08/11
12:50
PM ET

By Chuck Mindenhall
ESPN.com
Archive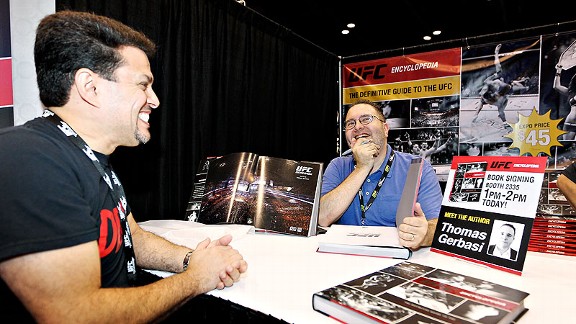 Ed Mulholland for ESPN.comThomas Gerbasi took time out of his busy schedule to mingle with fans (and coworkers) on Friday.
HOUSTON -- Whenever the UFC adjoins a fan exposition with a fight card, it becomes a testament to how far this sport has come.
The one going on in Houston this weekend is no different. Thousands of people with cell phone cameras mill about, hoping to bump into somebody/anybody in the fight game. And they do, because the place is teeming with fighters and fighter factions and fight game vendors/periphery ... almost everybody in loud, expressive t-shirts. People like Jens Pulver are happily mobbed. Jacob Duran, the man they call "Stitch" gets mobbed. MMAFighting's Ariel Helwani signs autographs and smiles for pictures.
It's organized bedlam.
And there was one booth in the middle of it all that could detail the UFC's long, curving road to the hitherto. That was the booth where Thomas Gerbasi, the UFC's Editorial Director, was signing the newly released UFC Encyclopedia (DK Books, $50) -- a 400-page undertaking that recaps and glossarizes every event that's happened from UFC 1, with bios beginning at Andrei Arlovski and ending with Yoshiyuki Yoshida.
Wondering about Anthony Fryklund? He's in there. The whole fraternity is; anybody who has ever stepped in the Octagon.
For historians who like tactile things, this beats Wikipedia -- and it's timely.
Realistically, most fans of MMA haven't been following the sport since UFC 1 in 1993. If the UFC is zeroing in on the 18-34 male demographic, that means the 18-year-olds in the equation were still in bassinets when the martial arts began to mix. There hasn't been a good, definitive look at the history of the UFC until this chronological tome, which uses graphs, stats, color pictures, blurbs and capsules to illustrate and detail every card (up to UFC 130), every fighter, every TUF season, and every nook and cranny in between (for you fetishists, there are four full pages of Dan Severn).
How author Gerbasi found the time to write it amidst all the other stuff he does at UFC.com (which is a lot) and his beat writing for the Gotham Girls Roller Derby team is beyond understanding.
"You see this red on the book spine? That's my blood," he joked. But thumbing through the book, which includes a double-truck on the Octagon girls both past and present, you can't help but think he's only half joking.
September, 4, 2011
9/04/11
8:33
AM ET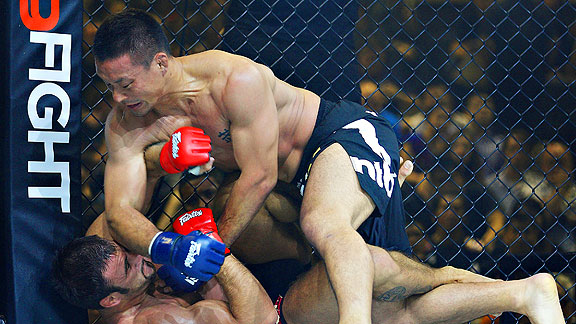 Suhaimi Abdullah/Getty ImagesYoshida Yoshiyuki did his best to keep Phil Baroni in his guard and under control.
Yoshiyuki Yoshida grounded fellow UFC veteran Phil Baroni for three rounds and edged him on the scorecards in their welterweight attraction at the One Fighting Championship "Champion vs. Champion" event on Saturday at the Singapore Indoor Stadium.
Given his historically shaky chin, "Zenko" employed an intelligent game plan of pressuring Baroni against the cage and on the ground, mashing him with short punches from above and sapping the powerful American of his strength. Though Baroni rallied to score punches to the face and body of a backpedalling Yoshida in the second frame, the Japanese fighter's stifling grappling still controlled the bout, as he took the unanimous decision victory.
A dejected Baroni refused to shake hands or embrace with Yoshida after the final bell, but he was convinced to give a curt bow after a negative reaction from the crowd.
Folayang survives broken nose, decisions Kwon
Universal Reality Combat Championship welterweight titleholder Eduard Folayang took a hard-fought decision over Heat Fighting Championship champion A Sol Kwon.
The colorful South Korean import made it clear he would be no pushover, despite filling in last-minute for an injured Ole Laursen. Kwon baited Folayang from the outside, grinning in an attempt to force his opponent to overcommit. Thus, the even opening frame saw Folyang delivering hard low and inside leg kicks, followed by quick punching combinations. Initially, the Korean caught the kicks to counter with winging punches, both wobbling Folayang and breaking the nose of the Filipino champion.
Despite receiving a cut over the right eye from Kwon's shots, "Landslide" pulled ahead in the second and third frames, smashing Kwon with sidekicks and blistering flurries into the cage. For his constant pressure and aggression, Folayang was awarded the unanimous decision, as well as a $5,000 "Fight of the Night" bonus, courtesy of One FC promoter Victor Cui.
With a visibly crooked broken nose, Folayang commented post-fight that he was confident he would have succeeded regardless.


"Well, I'm always blessed to win," said Folayang. "I need to fight even though I'm hurt. I know I could win every round."