August, 15, 2013
8/15/13
8:30
AM ET

By Josh Gross
ESPN.com
Archive
Urijah Faber
is in line to win his third straight fight Saturday in Boston. Five years have lapsed since the 34-year-old "California Kid" stitched together more than two victories. Those were the heady days of Faber's World Extreme Cagefighting championship run, which ended when a 13-bout winning streak crumbled as Mike Thomas Brown stunned Faber in the opening round.
In November, Faber will hit the one-decade mark as a professional mixed martial artist. It's been quite a run for a man who is as well known as any fighter under 155 pounds in MMA.
Since 2008, Faber is just 8-5 in the cage. But because of the way his body has held up, and the manner in which he owned
Ivan Menjivar
and
Scott Jorgensen
earlier this year, Faber feels that his best days are in front of him. As such, he's pining for blockbuster matchups.
"I'd like to talk with Dana [White] and Lorenzo [Fertitta] about some meaningful fights here coming up," he said.
Any chance of having it happen is contingent upon a victory in the TD Garden against
Yuri Alcantara
(28-4), who is neither a pushover nor household name. This, Faber lamented, is the biggest professional disappointment he's currently dealing with.
"I just wish there were more names in my weight class," he said. "The only other name that people are talking about is
Ronda Rousey
, and we can't do that fight. I wish there was more steam behind some of the fighters. It's a little bit frustrating, but it is what it is."
A significant chunk of fighters, from their earliest days in the sport, focus on nothing but competing, improving and testing their fortitude. In their world, little else matters. Faber (28-6) was able to accomplish everything he wanted in the cage and added more outside the cage that satisfied his urges.
ESPN:
Do you have a specific goal in mind before you're done? Get to 50 fights? A specific UFC record? Anything along those lines that you hope to accomplish?
Urijah Faber:
Not particularly, no.
ESPN:
Is there a reason for that? You've always been a goal-oriented guy.
Faber:
I've always been a goal-oriented guy, but I've never been a great planner. I've never thought things out and planned things out.
I'm someone who follows his heart. So when I look at a career like that, it's about how I feel. And right now I feel great. I'm training hard. I feel as an athlete and as a mixed martial artist I'm coming up to the peak of my performances. My skill level is high. My body still feels great. And my motivation is there. I want to keep building on that, and when that starts to fade, then I'll begin to think about an exit strategy. But that's not the case right now.
ESPN:
Is it hard for you to wrap your head around the fact that you're 34 now? You've been doing this for a while.
Faber:
It is kind of crazy to think that it's been 10 years in the sport. It flew by. You know; you were there. It seems like yesterday we were fighting at Indian casinos and no one knew who the heck we were. And we were celebrating all these little victories in MMA along the way, like the legalization of MMA in California. Even the fact of when Zuffa bought the UFC. Getting on TV for the first time. All these little benchmarks that are now so far in the distance even though they're only a couple years ago. It has been a really cool process, and I'm glad to be a part of it.
ESPN:
You've had a chance to fight during a stretch in which the sport has grown probably more than it will ever grow in its history. I've had a chance to cover it as a reporter. We're pretty fortunate to have been around during this period. Do you feel the same?
Faber:
Yeah, 100 percent. This is all history. We're part of the history. That's part of wanting to do the superfights is just knowing that this is a monumental time and there will be historic names in the sport. And I've fought a lot of them, but there's more to fight. I want to fight the guys that people will look back on [and reminisce about]. I wish there were a couple more guys out there, but I feel like there's a couple within my reach. Not only going for titles, but outside of that as well.
ESPN:
Having been in the sport for 10 years and having been a champion holding major titles and headlining pay-per-views, where do you think your name belongs among all-time great fighters in MMA?
Faber:
I don't really have time to sit back and evaluate my situation at this point. I'm just moving forward. I'll do that in a couple years when I decide to hang 'em up. I'll see where I stand.
ESPN:
So you're not there yet. But do you feel comfortable enough with the things you've accomplished that at the end of the day people will talk about you in those terms? Does that matter to you?
Faber:
I'm sure that I'll be a guy that's talked about for years to come. I sit and think about myself as a fan of boxing when I was a kid and the guys I think about and talk about, and it's kind of cool to be in a reverse situation, where I'm a guy that would influence some people's lives and a piece of entertainment for kids growing up and had monumental fights that people will talk about. Remember the
Jens Pulver
fight? The
Mike Brown
fight? That kind of thing. I like that aspect of it, and that's another reason I want to do these superfights. I want these fights that matter.
ESPN:
The fight this weekend against Yuri Alcantara -- he's a guy that people don't really know. But he's dangerous, and based on his record, it's obvious he knows how to win fights and stop opponents. What kind of test are you expecting?
Faber:
I'm expecting a test of the utmost. This guy is as tough as anyone I've fought. His record is 28-4, and he's been fighting in big shows in higher weight classes for a long time. I'm expecting to be pushed to the utmost, have to bring my A-game, and everything has to go as planned to get my hand raised. That's what I'm going to do.
ESPN:
So when you get offered a guy like Alcantara, with no name, and you want these big superfights, what's the thought process for you in terms of taking the fight or not taking the fight?
Faber:
I didn't realize that people are out there not taking fights, because for me it's been, they offer you a fight, from the position [UFC matchmakers] Joe Silva and Sean Shelby have, and you take it. This is all new to me. I'm going to fight that guy; I'm not going to fight this guy. I didn't know guys have been doing this the whole time.
ESPN:
You've never been offered an opponent and thought "This won't do anything for me. I don't want to take it"? That's never happened?
Faber:
I've been in a pretty unique position where I've been one of the biggest names in my weight class, so it's always been like I'm the bigger name in the situation. For me, I'm the guy that people are going to be talking about. In my situation right now, I just want to make sure I go out there and perform. Make sure that I have an exciting fight and I get the win.
ESPN:
If everything goes the way you expect it will on Saturday, is there anyone you're going to call out? Maybe one or two guys who match what you want to do in terms of superfights and the right kind of exposure?
Faber:
We'll have to see. I just want to focus on this fight first, and we'll speak from the heart when the time comes.
August, 14, 2013
8/14/13
1:33
PM ET

By Brett Okamoto
ESPN.com
Archive
UFC Fight Night 26
suffers from the same ailment nearly every UFC card will suffer from the rest of the year: It's not
UFC 168
… or
167
… or
166
.
Chris Weidman
versus
Anderson Silva
is a fighting fan's Christmas.
Georges St-Pierre
versus
Johny Hendricks
is Thanksgiving. And
Cain Velasquez
versus
Junior dos Santos
III will feel like a second birthday to us all this year.
Chael Sonnen
versus
Mauricio Rua
this weekend at TD Garden in Boston sort of feels like Flag Day in comparison.
But that said, there's a lot to like about Flag Day. Top to bottom, this is one of the stronger UFC cards fans will witness this year. Some events are structured around one fight and one fight only. Boston, on the other hand, features plenty to watch for.
FIVE STORYLINES
The legend of Conor McGregor
We are all getting way too carried away about McGregor -- but it's impossible not to. Simplest way to put it: When McGregor fights, you want to watch, and when he talks, you want to listen. It's not just that he's entertaining; he has this contagious passion about what he does. During a recent visit to Las Vegas, McGregor said he was so excited he stayed up shadowboxing in his hotel room until 5 a.m. He's in a hurry to be at the top, and
Max Holloway
wants to slow him down.
The curious case of Uriah Hall
You hear all the time how important the mental aspect is in martial arts. Hall has shown he has the physical tools, and on the surface, nothing seems out of sorts for him mentally. But that loss to
Kelvin Gastelum
in
The Ultimate Fighter Finale
was awkward. His team said he liked Gastelum too much to hurt him. Many of those watching called it cockiness. Neither is really an acceptable excuse for a fighter as talented as Hall. Expectations are high for him against
John Howard
.
The resurgence of Mike Brown
Brown hasn't really been under the spotlight for years, but for longtime martial arts observers he'll always be a name that jumps off the page. Two wins over
Urijah Faber
in the WEC put him on the map, but truth is Brown was just one of those guys who was always fun to watch. Something went wrong along the way, and the now 37-year-old endured a 2-4 stretch amid rumors of distractions in his personal life. He's back on a two-fight win streak coming into this fight against
Steve Siler
.
[+] Enlarge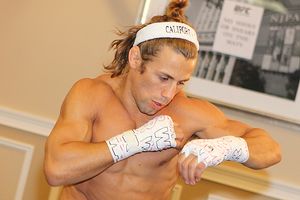 Ed Mulholland for ESPN.comAny loss at this point for MMA veteran Urijah Faber would be considered a major setback.
The quiet contenders
Since 2011,
Matt Brown
and
Mike Pyle
are a combined 11-2 in the Octagon, yet you won't find them on any top 10 welterweight rankings. Neither is willing to make a big point of that publicly, but there's no question both are getting a little anxious. After his last win, Brown said, "Just because a bunch of media people don't believe I'm good enough for a title shot doesn't mean it's true." Pyle, winner of four in a row, is itching to sign a fight against a top-10 opponent.
That Faber guy is back again
You can almost see the bile form in Faber's throat when forced to answer the same questions over and over leading up to these nontitle fights. "How much you got left in the tank, champ?" "Getting close to another title shot, Urijah, what's that feel like?" "Is the belt still the goal, buddy?" We should all come to this understanding that Faber feels great, he's excited to fight, and he wants a title shot, but the UFC won't give him one yet so he needs to keep winning. This fight against
Yuri Alcantara
might not feel big, but it's big for Faber. Any loss is a major setback.
FIVE QUESTIONS
What does Alistair Overeem look like?
He was Superman against
Brock Lesnar
and Clark Kent against
Antonio Silva
. No stranger to performance-enhancing drug accusations, Overeem is in a critical spot. He didn't look the same in February, his first appearance since producing a high testosterone-to-epitestosterone ratio in Nevada last year. He told ESPN.com he would never apply for testosterone-replacement therapy, despite tests that showed low levels after his last fight. There are a lot of variables floating around. Can Overeem be Superman again in the midst of them?
[+] Enlarge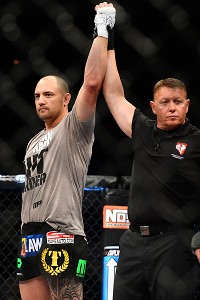 Al Powers for ESPNIf Travis Browne can pass a difficult test against Alistair Overeem, he could be the biggest winner of the night.
Is Travis Browne for real?
Browne passes the eye test. He moves. He has heavyweight knockout power. His grappling is underrated. He seems like he's in shape, and his only loss came after his hamstring busted in the opening minute of a fight. Overeem -- whether he's at his best or not -- is going to test him, though. If Browne is spectacular, he could be the biggest winner of the entire night.
Is 'Shogun' still elite?
Rua is slowing down. It never really felt as though he was going to lose to
Brandon Vera
last August, but we were sort of expecting a windmill dunk and got a weak layup instead. Then in December, it seemed like he was operating on fumes against a physical
Alexander Gustafsson
. Three of the last five men Shogun has defeated are now retired. How worried should we be about this?
Is the self-proclaimed 'Gangster' going to lose three in a row?
Whether you like Sonnen or not, this is a man who does not avoid tough fights. He has gone from Silva to
Jon Jones
to a light heavyweight contest against a former champion in Rua. Sonnen is undersized for this division -- a fact made obvious by his decision to return to middleweight regardless of what happens in Boston. Sonnen can survive a loss if it comes to it, but a proposed fight against
Vitor Belfort
can't.
Is Michael McDonald the third-best bantamweight in the world?
Both ESPN.com and UFC rankings still have McDonald trailing Faber. Both fight on this Boston card. No doubt, a certain contingent of MMA fans would rank McDonald ahead of Faber heading into this weekend, but it's close. If the 22-year-old runs through
Brad Pickett
, it will be difficult not to bump him up.
WHO'S ON THE HOT SEAT?
Michael Johnson
[+] Enlarge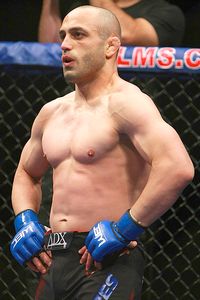 Dave Mandel of Sherdog.comManny Gamburyan is in need of a victory just as bad as Saturday's opponent and former TUF teammate Cole Miller.
The once promising career of a TUF runner-up has hit a major crossroads. Johnson looked like a tough matchup after disposing of
Shane Roller
and
Tony Ferguson
, but he was nearly knocked out by
Danny Castillo
before suffering back-to-back losses. He's still not out of his league against
Joe Lauzon
-- at least we think.
Manny Gamburyan
Seems like a lifetime ago that Gamburyan fought his way to a WEC title shot against
Jose Aldo
. Fighting Gamburyan is like fighting an angry fire hydrant; he's compact and seemingly made of metal. He also has a long history with the UFC, although a 1-3 record in his last four fights is tough to look past.
Cole Miller
Might as well discuss Gamburyan's opponent as well. These two know each other well from their days on the TUF 5 reality set on Team
Jens Pulver
. Now, Miller needs a win just as badly as his former teammate, having gone 1-2 since his drop to featherweight last year.
WHY YOU SHOULD CARE
Because there's still more to 2013 than a middleweight rematch, even though it doesn't feel like it sometimes … because over the course of his career, Shogun is 6-for-6 when it comes to knocking out opponents following a loss … because two of the most explosive heavyweights are incredibly hungry going into the same fight … because Brown and Pyle are fighting each other with the exact same chip on their respective shoulders … because McGregor might be the most fun athlete the UFC has on its roster.