August, 30, 2012
8/30/12
12:24
PM ET

By Franklin McNeil
ESPN.com
Archive
Bellator officials are considering moving the bantamweight title bout between champion
Eduardo Dantas
and
Marcos Galvao
from Nov. 2 to January, promotion CEO Bjorn Rebney told ESPN.com on Wednesday.
The discussion comes on the heels of Dantas' first-round knockout loss on Aug. 25 to Tyson Nam at Shooto Brazil 33 in Rio de Janeiro.
Bellator will begin airing its fights on Spike TV in January. Rebney did not specify the exact date of the promotion's network debut.
"We might end up bumping that fight back a little bit and doing it on Spike TV when we premiere in January," Rebney said. "The alternative is to keep it where it is right now, which would literally be in 2½ months.
"But there's probably an eye toward delaying it. I'm not officially saying it's switching but we will have to look at the circumstances and give some very serious consideration to delaying it."
Dantas (14-3) was knocked out by a counter right hook from Nam. It was his first loss since July 19, 2009, when
Masakatsu Ueda
beat him by unanimous decision in a Shooto bout.
"Whenever a knockout like that occurs, most fighters -- they're athletes, they're champions -- want to get right back in the cage as quickly as possible," Rebney said.
"As you've seen with the steps we've taken with
Joe Warren
and others, when you get a serious knockout you need to take some time to reflect to take the proper precautions in terms of timing. So [Dantas] isn't doing any sparring anytime soon. He's going to take a breather."
Dantas lifted the 135-pound belt from
Zach Makovsky
with a second-round submission on April 13.
Galvao (13-5) earned the title shot on Aug. 24 when he knocked out Luis Alberto Nogueira in the second round to win the Bellator Season 6 Bantamweight Tournament.
April, 12, 2012
4/12/12
11:48
AM ET

By Josh Gross
ESPN.com
Archive
An elite fighter's job description includes coping with the high stakes of winning or losing. If someday Bellator bantamweight champion
Zach Makovsky
enjoys enough success to join that class, and he's on the right path, he'll have a book recommendation to thank for that.
"For a while, I didn't know how to handle losing and I put a lot of pressure on myself for every fight. I feel like I never performed well when I did that to myself. It was a problem I had in college," said the 29-year-old Drexel University grad. "I almost didn't know any better. Wrestling teaches you winning is everything."
Not long after the last setback of his mixed martial arts career, an opening-round submission loss three years ago to an unheralded Japanese fighter in Tokyo, Makovsky's friend and occasional training partner,
Eddie Alvarez
, along with his trainer, Stephen Haigh, recommended he read a personal favorite of basketball coaching legend Phil Jackson.
"Thinking Body, Dancing Mind: Taosports for Extraordinary Performance in Athletics, Business, and Life," said Makovsky, taught him "a lot about what I thought I was doing wrong, and really what competition means to me. I don't think I understood who I was and I was trying to define myself a lot by the results of my competition, which I think is a terrible thing to do. I think the whole process of learning and having fun and getting better is what's important, and not necessarily your record and your results."
It's funny how these things work out.
[+] Enlarge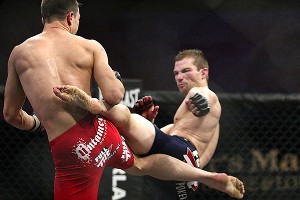 Keith Mills/Sherdog.comZach Makovsky has been on a tear since "not caring about results."
Not caring about results, if Makovsky is to be believed, led to an eight-fight winning streak and the distinction of dominating Bellator's debut tournament at 135 pounds. This Friday at the Boardwalk Hall in Atlantic City, N.J., an hour's drive from his hometown of Philadelphia, Makovsky is scheduled to put his belt and mantra on the line for the first time against young and dangerous Brazilian,
Eduardo Dantas
.
"We're two guys who come from different backgrounds and styles," Makovsky said. "We've both had a lot of success fighting in our respective arenas. We've both gone through these tournaments in Bellator to reach this stage. He's pretty much in the same position I am."
Though Makovsky (14-2) walks into the fight with the belt hanging around his waist, he's right to think of his bout with Dantas, 23, as Bellator's first 135-pound title fight.
"I have the belt but I don't think I did anything more than he did to necessarily earn it," Makovsky said.
Dantas (13-2) is a well regarded fighter, who, like Makovsky, hasn't lost since 2009.
This is where their similarities end. While Makovsky tends to rely on wrestling -- "I don't think there's a question that probably against everyone in the world, the best place for me is to be on the ground on top of them, grounding-and-pounding and looking for submissions," he said -- Dantas is the "most aggressive" and "most talented" opponent the Bellator champion believes he's faced thus far.
That could mark an advantage for Makovsky, at least that's how he reads the tricky matchup. Aggressive strikers can get sloppy and leave themselves open to be taken down, and it's not as if Makovsky needs help in that department.
"I feel like my takedowns are better when people come at me," he said.
Still, Makovsky is cautious not to think he must plant Dantas on the floor. That sort of attitude is begging for bad things to happen.
"I have to be able and willing to fight Eduardo Dantas everywhere, and I think I'm capable of that," he said. "I'll mix things together at my own pace and try to be comfortable everywhere.
"No matter what happens, if I win this fight I'm going to be in a much better situation financially, personally, for my whole life to continue the way it is. Really, there's no question that that's true, but it's not something you should think about. In the end I'd fight for free and continue fighting because I love it. It's just a fight. I can't worry about how much money I could lose or what's next. All that is later. I don't need to think about any of that. I just have to focus about the fight. Really, there's just two guys in there. I have to go in, fight smart, fight as hard as I can, and whatever happens happens. I'll deal with the rest later. There's nothing to gain by worrying what's next."
How very Zen of him.
October, 15, 2011
10/15/11
11:28
PM ET

By Franklin McNeil
ESPN.com
Archive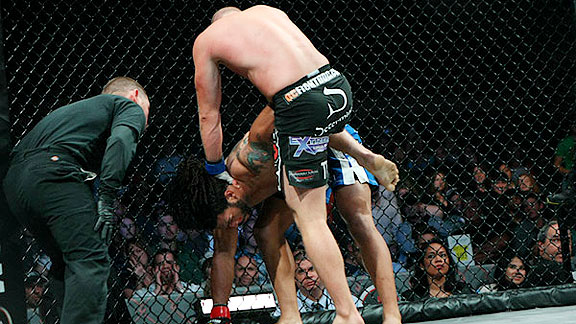 Keith Mills for Sherdog.comAlexander Shlemenko's heavy knees helped soften up Brian Rogers.
Alexander Shlemenko outslugged Brian Rogers in a middleweight bout Saturday night en route to a second-round TKO win at Boardwalk Hall in Atlantic City, N.J.
The fight came to an end at the 2:30 mark.
With the victory, Shlemenko heads into the Bellator Season 5 middleweight tournament final where he will face Vitor Vianna.
The Shlemenko-Vianna winner gets a shot at Bellator middleweight champion
Hector Lombard
.
Rogers started the fight aggressively, landing several hard right hands. One of the punches dropped Shlemenko in the first round.
Later in the round, Rogers would toss Shlemenko to the ground. But Shlemenko would get to his feet quickly.
Shlemenko would turn the momentum in his favor during the second round by catching Rogers with a reverse right hand punch.
The strike stunned Rogers and Shlemenko delivered a right knee. Rogers put his right hand on the canvas to prevent Shlemenko from throwing additional knees.
Rogers' strategy would only delay his demise.
Shlemenko would again land a right knee that sent Rogers reeling. This time Rogers was too badly hurt to put his hand on the canvas and Shlemenko landed additional knees, forcing the referee to jump in.
"The shots were really good; he didn't see all of them," said Shlemenko, who improved to 42-7. "I got him against the fence, to finish him there."
Shlemenko has now won five fights in a row. He has stopped 26 opponents.
Rogers, who entered the cage on a seven-fight win streak, falls to 8-3.
Vianna advances with a first-round TKO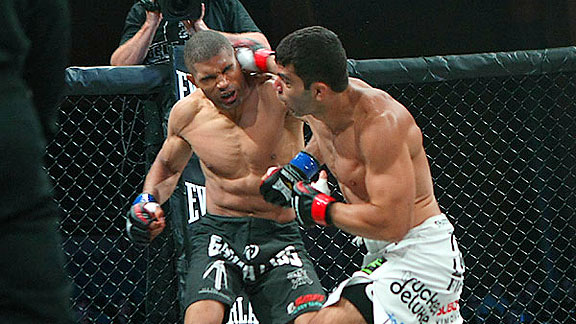 Keith Mills for Sherdog.comVitor Vianna blasted his way into the Bellator middleweight tournament finals.
Vitor Vianna punched his ticket into the Bellator Season 5 middleweight tournament final with a first-round TKO of Bryan Baker.
The fight began with Baker moving forward and pushing the pace, but his momentum ended quickly.
An overhand right from Vianna sent Baker to the canvas; Vianna then began landing hammer fists. Baker was unable to defend himself and the referee waved the fight off at the 54-second mark.
Vianna improves to 12-1-1, and extends his win streak to five. Baker, who entered the fight on a three-fight win streak, slips to 16-3.
Makovsky submits Roberts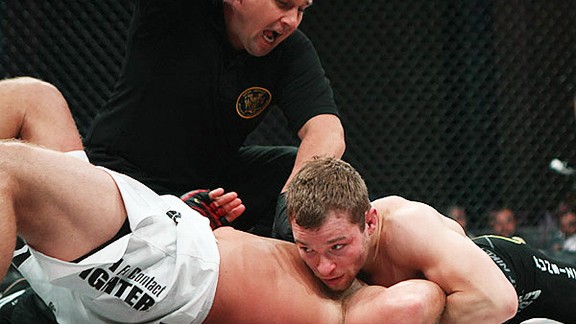 Keith Mills/Sherdog.comGet some rest: Zach Makovsky ended Ryan Roberts' night early.
Bellator bantamweight champion Zach Makovsky used superior quickness to register a first-round submission win over Ryan Roberts in a nontitle bout.
Makovsky was took the larger Roberts down on several occasions and control matters in the standup. He landed two solid left hands followed by a kick that briefly stunned Roberts.
Shortly thereafter Makovsky (14-2) took Roberts to the ground where he applied a north-south choke. Roberts (16-10) tapped at the 4:48 mark.
Kirwan hands Nazare first pro loss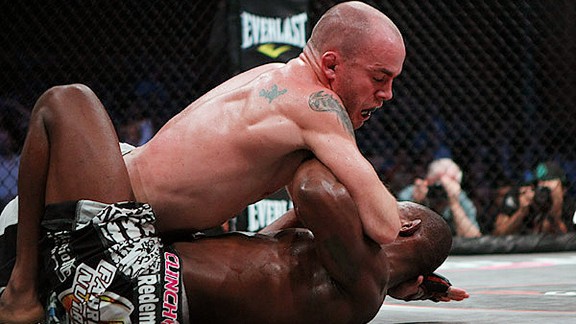 Keith Milles/Sherdog.comJacob Kirwan gave Rene Nazare a mouthful during their three-round fight.
Lightweight Jacob Kirwan made his Bellator debut memorable with a unanimous decision over Rene Nazare.
It was Nazare's first professional loss.
The judges scored the fight 29-28, 30-27 and 30-27. ESPN.com scored the fight 29-28 for Kirwan.
Nazare found it difficult to keep the fight standing as Kirwan was able to take him down repeatedly throughout the bout. Once on the ground, Kirwan was able to land punches and elbows.
Kirwan improves to 9-3, while Nazare falls to 10-1.
October, 14, 2011
10/14/11
5:38
AM ET
Bellator Fighting Championships bantamweight titleholder Zach Makovsky will carry a seven-fight winning streak into his non-title matchup with Ryan Roberts at Bellator 54 on Saturday in Atlantic City, N.J. The 29-year-old Atlanta native chases success, not necessarily the fruits that come along with it.
More »