MMA:

light heavyweight title
April, 20, 2012
4/20/12
6:14
AM ET
By now, most everything that could be said about Saturday night's UFC 145 main event has been said ad nauseam.
We've had more than a year to stew on the rivalry between
Jon Jones
and
Rashad Evans
, our collective patience tested through a couple of false starts and what have come to feel like interminable delays. We've already heard all there is to hear about their shattered friendship, the internal turmoil at Greg Jackson's gym and the fallout from Evans' eventual departure. We've listened to all their best prepared material, their juiciest off-the-cuff retorts. We've watched them snipe at each other in person, in print, on video, on Twitter and via text message.
Scientists are currently scrambling to invent new and interesting ways for these two to call each other names.
As for the rest of us, we've asked the legends to break it down for us. We've asked the pros. We've asked the man on the street. The burden placed on this feud was only compounded by a recent unprecedented lull in UFC programming, and now that it's finally fight week, public sentiment could probably best be described as
"Oh, just get on with it already."
It's been an amazing buildup -- mind-blowing, honestly -- once you consider that very, very few people actually believe the outcome is in doubt.
Lost in all the shouting about who stabbed who in the back, the soothsaying about Jones' unlimited potential and the reassuring platitudes about how there's nothing at all weird that the 24-year-old light heavyweight champion is being sponsored by the UFC for this bout remains the one largely unasked question that is perhaps most essential to the Jones-Evans saga, to the future 205-pound division and to the company's current Jones-centric marketing efforts:
So, uh, what if Rashad Evans wins?
[+] Enlarge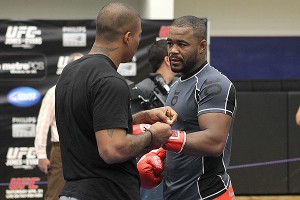 Ed Mulholland for ESPN.comRashad Evans, right, might have the deck stacked against him, but it's Jon Jones who is under pressure to perform.
As of this writing, Evans is more than a 3-1 underdog to the effectively undefeated champ. The overwhelming consensus seems to be that while he might prove to be Jones' stiffest test at light heavyweight, you'd have to be crazy to actually pick him to win. Conventional wisdom says Evans will ultimately be too undersized and too, you know,
not Jon Jones-ish
enough to pull off the upset.
That Evans feels overlooked and underestimated in this bout is a given (he'd had to have spent the last year willfully ignoring everyone and everything to feel differently), and the stakes loom even larger for him than simply being shortchanged by fans and media types. Not only is he facing the guy unilaterally considered to be the future face of the sport, his former-teammate-turned-nemesis, but Evans' own camp released a video this week in which he admits he thinks even the UFC doesn't want him to win.
"To me, it honestly feels like they don't want me to have the belt," Evans said. "That could just be my paranoid mind thinking, and it probably is. They're probably just indifferent to the whole thing, but in my mind I feel like they're like, 'Oh man, we don't want this dude to be champion. We don't want him to be champion.'"
Evans backed off that statement a bit in its aftermath, saying it was just an effort to psyche himself up for the biggest fight of his life. Let's be honest, though: If it turned out that secretly, deep down Evans really did believe the UFC would rather have Jones as its 205-pound titlist, we'd understand, right? After all, it's Jones standing next to Dana White in that Bud Light ad, not Evans. It's Jones who has his own signature line of UFC apparel, who smiles confidently at us from the front page of the UFC's official store this week.
Evans has historically had a rocky relationship with UFC brass, and though his evolution as a fighter has been downright remarkable, nobody is saying he's the future. Nobody's jumping the gun with rampant speculation about how he'll fare as a heavyweight once he cleans out the 205-pound division.
If the rest of us have had more than a year to watch his rivalry with Jones grow stale, Evans has had a year to wallow in it. After all the talk and talk shows, after the backstabbing and the beer commercials, he doesn't have to carry the weight of our expectations, nor does he get to enjoy our fawning reviews of his every move. He doesn't have a $150 tracksuit with his name on it. He's not "getting real close" to a deal with "a major shoe company."
All Evans has is a chance to prove us wrong.
When you're not lucky enough to be the popular pick as the future Greatest of All Time, maybe that's all you can hope for.
April, 16, 2012
4/16/12
2:26
PM ET
It will shock absolutely no one to learn that
Jon Jones
is the future.
Readers who have encountered even a smattering of MMA-related news during the last couple of years understand this to be true. Unless you've made it a point
not
to know it, you already know that Jones is the near unanimous pick to shepherd the UFC and the sport it is slowly but surely making famous into its next phase of unfettered growth and popularity.
No bones about it.
That said, it may have taken some people by surprise this week when Jones claimed that he and his management have received a rather unprecedented stamp of approval from his employer heading into UFC 145.
At least according to the fighter himself, when Jones puts the light heavyweight title on the line against
Rashad Evans
on Saturday in Atlanta, his primary sponsor will be none other than the UFC.
"We came up with a strategy to keep it clean and be sponsored by the UFC itself," Jones
explained to MMA Weekly
after his previous main sponsor, Form Athletics, recently shuttered its doors. "I'm glad the UFC wanted to work with me ... I think I'm a good company guy. The UFC asks me to do anything and I always do it and I never tell them 'no' for anything."
Depending on how you look at it, this is either very strange or very fitting news.
On one hand, if there is one athlete in this sport that investors, corporate sponsors and the UFC itself should look to hitch their wagons to, it's the 24-year-old champion.
Even if guys like
Anderson Silva
and
Georges St. Pierre
remain MMA's best-known draws, Jones' impossibly long strides are certainly nipping at their heels. He may already be the best pound-for-pound fighter in the world (though it'll probably take a couple of more wins for the pundits and prognosticators to make it official) and his eventual coronation as the sport's most recognizable face seems just as assured.
[+] Enlarge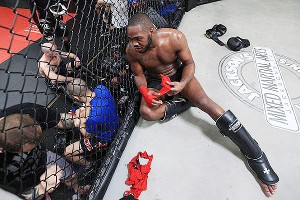 Dave Mandel for Sherdog.com Sitting pretty: An attire deal with the UFC all but makes Jon Jones the organization's poster child.
Since the UFC has already very much put itself in the Jon Jones business as of late, showcasing him on beer commercials and network television spots and the late night talk show scene, perhaps it is not that big of a leap for the organization to slip him a few more bucks to wear UFC brand apparel to the Octagon on Saturday. After all, it already markets
a line of Jones-centric gear on its website
.
The word "sponsorship" might not be exactly the right term, as it's hard to "sponsor" someone who already works for you, but some people will likely not view this as a particularly earth-shattering or even noteworthy development.
Others, however, might note a developing problem of public perception here for the UFC. Especially if Evans is not also sponsored by the fight company.
The UFC already regularly straddles the divide between being a simple fight promotion and the de facto guardian of the entire MMA industry. It routinely plays the dual roles of widely known national sports league and secretive privately held company. Its president consistently wears more hats than perhaps any other comparable sports executive, fashioning himself as a postmodern mashup of Don King, Roger Goodell and Mark Cuban and doing it all better than the three of them combined.
Some of that is by design and some of it is just the natural result of being MMA's most dominant force. Great power, great responsibility and all that.
Yet even for an organization as adaptable as this one, in an industry as amorphous as ours, sponsoring Jones -- or any fighter -- only further blurs the line of what the UFC actually
is
and how it views its own place in the MMA landscape.
In terms of the actual, bell-to-bell competition, it's always been vitally important that the UFC stay above the fray. In the past, it's done a pretty good job of that. The company has always explicitly maintained that it has no real stake in who wins and who loses its fights, saying it just wants to put on good shows for its fans. This is just as it should be. Once the UFC starts "sponsoring" certain fighters, however -- and again, that's Jones' word, not necessarily the one the UFC would use for this particular business realtionship -- it becomes more difficult to maintain that position.
If Jones is the only fighter to walk to the cage this weekend decked out in the UFC logo, it will be pretty easy for fans to think (rightly or wrongly) that the company is playing favorites.
You think
that's
awkward? Imagine how Evans will feel if he doesn't get the same treatment.
April, 12, 2012
4/12/12
4:43
AM ET
At this point, it's all upside for
Alexander Gustafsson
.
Sorry, my apologies for using one of mainstream sport's more insipid buzzwords here, but there really is no other way to describe the talented 25-year-old Swede. A few days out from his fight with
Thiago Silva
at UFC on Fuel 2, Gustafsson has already been issued a ticket to the top of the light heavyweight division.
Now all he has to do is cash it in.
As ESPN.com's Chuck Mindenhall expertly illuminates,
there is a lot riding on this fight. In a sport where we often write the postscript before the action has actually happened, people are expecting big things from Gustafsson. With
Rashad Evans
at the plate and
Dan Henderson
on deck, he's already speculated to be in the hole for
Jon Jones
.
Never mind the fact that this weekend marks his first ever main event for the UFC.
Never mind that the kid has never been out of the second round, or that the signature win of his career so far is a 9-minute TKO over a version of
Matt Hamill
who already had one foot out the cage door.
Never mind that we have no idea how he'd fare in the kind of five-round war of attrition it could take to wrest the title from Jones, a champion so young and dominant that he's forced us to take this long lens view of the light heavyweight ranks in the first place, eager as we are to see what the future holds for him.
[+] Enlarge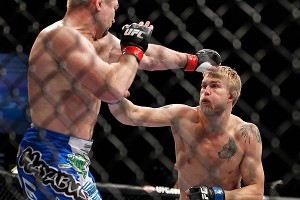 Ric Fogel for ESPN.comAlexander Gustafsson has been on a tear, but is he ready for the likes of Jon Jones?
Barring the emergence of a breakout presence on the order of Jones himself, it's Gustafsson or bust for the 205-pound division. Despite a UFC 112 loss to
Phil Davis
, he's been judged by most to be further along in his development (to be the most ready for Jones, you might say) after Davis' unanimous decision loss to Evans in January.
This is no one's fault, obviously. Gustafsson is simply possessing of the kind of size (he's listed at 6-foot-5), athleticism and finishing ability that naturally spark the imagination. He's simply established himself as the most interesting and exciting young light heavyweight not named Jon Jones and that makes him the object of our great expectations.
The flipside of those expectations, of course, is that anything less than claiming that title shot will be judged as a personal failure for Gustafsson. If he slips up and loses to Silva this weekend, not only will he be found wanting by the scores of pundits who've already put him in line for that opportunity, but the 205-pound division might well lose its dominant and marketable champion to the heavyweight ranks before the end of this year.
Does all that add up to unneeded and unfair pressure for a kid who is already making his maiden voyage at the top of a card by headlining the first ever UFC show in his home country?
It sure does. Then again, to get to where he's going, Gustafsson might as well make peace with the fact that his most difficult task won't be simply defeating his opponents, but living up to the hype.
February, 20, 2012
2/20/12
8:34
PM ET
For Greg Jackson, the decision to corner prized pupil
Jon Jones
in his light heavyweight title fight against
Rashad Evans
at UFC 145 has everything to do with tense.
As in, the difference between "present" and "past."
Jackson has long been big on loyalty. As the ultimate "there's-no-I-in-team" guy, he's vocal about his stance that members of his Albuquerque-based camp shouldn't fight one another and that he'll recuse himself from the situation when they do, as in the case of Carlos Condit's eventual welterweight unification bout with
Georges St. Pierre
.
But if choosing to be by Jones' side when he meets up with his nemesis on April 21 violates those principles, it's only in the most abstract way.
Evans, after all, isn't a member of Team Jackson anymore. Since splitting from the squad in March, he hasn't had a ton of nice things to say about it, either, publicly criticizing Jackson for recruiting Jones and telling the media he felt "stabbed in the back" when Jones pulled an about-face on the idea of meeting him in the Octagon.
Regardless of what you think about Evans' reasons for leaving the team, he's gone now, while Jones remains a member in good standing. In fact, it's pretty easy to argue that working Jones' corner for this fight doesn't undermine Jackson's loyalty to the fighters he trains but rather reinforces it.
If Team Jackson is lucky, it also will give Jones an edge on fight night.
Jackson, of course, was the principal architect behind Evans' rise from underdog "Ultimate Fighter" winner to undefeated 205-pound champion. During that crucial time in his development when Evans went from eking out a split decision over the likes of Brad Imes in 2005 to -- three years later -- knocking out legends like
Chuck Liddell
and
Forrest Griffin
and cementing his status as one of the sport's best known figures, Jackson was the shepherd.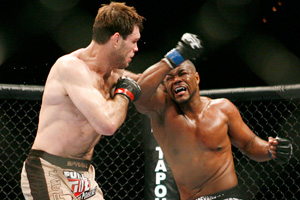 AP Photo/Eric JamisonTrainer Greg Jackson was responsible for navigating Rashad Evans' rise through the ranks.
Is it possible for Evans to completely distance himself -- both mentally and physically -- from that years-long relationship in just 13 months of training elsewhere? It hardly seems so.
Granted, no fighter in his right mind would ever concede that his opponent has a psychological advantage leading up to a big bout, but what human being wouldn't feel that way given the circumstances? What man wouldn't look across the cage at a former training partner, his former mentor and chief strategist and not feel at least a tremor of doubt?
It's often said that the sports world gives coaches too much credit. Maybe that's true. Maybe Jackson -- one of the sport's most likable figures -- will have little or nothing to do with what happens in the cage that night. Perhaps there will be so little resemblance between the Rashad Evans he once knew and the Evans who shows up to fight in Atlanta that Jackson will be a nonfactor. Perhaps it will even be Evans who has the mental advantage, after rumors indicate he routinely gave Jones all he could handle in the gym back in the days before their relationship fell apart.
Then again, maybe Jackson will play a roll.
If this fight comes down to game planning and tactics -- as it did earlier this month when Condit outpointed
Nick Diaz
-- it's possible his knowledge and previous work with Evans might have something to do with who is the UFC's 205-pound champion in future tense.
January, 25, 2012
1/25/12
7:02
AM ET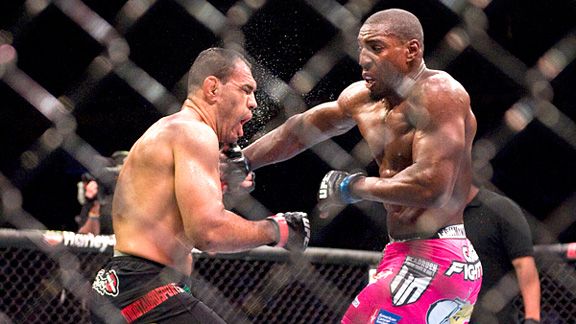 Rod Mar for ESPN.comWith Chael Sonnen on the undercard, it will take more than pink short shorts to get people buzzing.
It's not like
Rashad Evans
and
Phil Davis
haven't done their due diligence leading up to UFC on Fox 2.
On the contrary, Evans and Davis have both been doing their level best to sell their possible light heavyweight title eliminator at the fight company's second live network television broadcast this Saturday. Case-in-point: The formerly friendly pair embarked on a contentious (and nearly obligatory) war of words during a recent conference call for the event, with Evans reprising his usual role as provocateur and Davis continuing to assert that this fight is little more than a stepping stone on his own march to the title.
"After I beat Rashad on Jan. 28 they won't really have anything else to do with me other than to have me fight [
Jon Jones
]," Davis said. "Rashad is the true No. 1 contender and after he loses, who else do I fight? The champion."
"You ain't beating me, dog ...," Evans retorted moments later. "I'm going to smash you, dude."
For the record, those are pretty much the exact same rhetorical strategies the two were pursuing prior to UFC 133, before an injury to Davis effectively hit the pause button on their budding feud. Now that they've resumed, it feels like they're having some trouble finding traction; as if their main event is being overshadowed by the drama surrounding the rest of the show.
You had to pay pretty close attention during the last couple of weeks to even know Evans versus Davis was on this card. That's how most of the coverage has been overtaken by Mark Munoz's injury and Chael Sonnen's improvised middleweight clash with
Michael Bisping
.
To be fair, that's a lot to compete with for headlines, but at this point it seems as if Evans and Davis -- through no real fault of their own -- are vying for a distant second in terms of prefight excitement.
For starters, the sheer weight of the personalities involved in Sonnen versus Bisping is sort of staggering. Davis and Evans are no slouches in this department -- with Davis one of the more likeable and Evans one of the more unfairly hated-on fighters at 205-pounds -- but Sonnen and Bisping are simply on another level. These are two guys who've spent the better part of their UFC careers building themselves into consummate heels. Now they're going to fight each other? Hard to match that.
Secondly, the stakes are somewhat less clear for Evans and Davis than for their middleweight counterparts. Sonnen and Bisping have already been told that the winner of their bout will fight for the title as soon as champion
Anderson Silva
is physically able. While we've all been assured something sort of similar about Evans-Davis, we've learned to take a wait-and-see approach to the light heavyweight title picture in recent months.
[+] Enlarge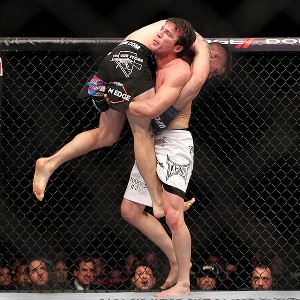 Ed Mulholland for ESPN.comBig surprise: Chael Sonnen has managed to hijack the headlines ahead of Saturday.
Certainly, Evans is still burning to get his shot at Jones and UFC brass say if he beats Davis, he'll get it. Then again, Jones has recently been making noise about fighting at the company's upcoming show in Atlanta on April 21 and if for whatever reason Evans is unable to make the turnaround, the organization has
Dan Henderson
already waiting in the wings.
The same is true for Davis, who'd likely need to do something spectacular against Evans to leapfrog Hendo in the pecking order. As hard as he's worked to make his case as potential No. 1 contender, the UFC has stopped far short of guaranteeing him that spot, even if he does roll out of this weekend's show with a win.
You could even argue that Henderson makes more sense as an immediate challenger to Jones than either Evans or Davis, after he capped his momentous 2011 with a win over
Mauricio Rua
in what many called the best fight in UFC history. Fair warning though, if you try to argue that, get ready for some vehement opposition.
To top it off, both Davis and Evans have been mired in inactivity lately, with each having fought just once during 2011. While this fight marks a significant opportunity for one of the two to get back on track, so far Sonnen and Bisping are making a play to steal the show.
The two light heavyweights are going to have to work pretty hard in the cage on Saturday if they want to steal it back.
December, 12, 2011
12/12/11
8:05
PM ET
Ten months, four wins.
Three former champions beaten.
Hardly a dicey moment.
It's
been said before on this site
, but
Jon Jones
put the icing on what may be the single best year for any fighter in MMA history on Saturday when he dumped
Lyoto Machida
on the canvas like a guy dropping off his dirty clothes at the cleaners. During the last 310 days, Jones has sprinted through a sterling list of light heavyweight competition, upping his overall record to 15-1 and doing it all while just barely breaking a sweat.
At 24 years old, he's already scored and underscored his position as the best 205-pound fighter in the world. Now, the only thing with the potential to be more impressive than Jones' 2011 might just be his 2012, when he'll inherit even tougher challenges and a UFC landscape ripe for him to seize the mantle as the sport's best pound-for-pound fighter.
The No. 1 P4P spot has been the exclusive domain of
Anderson Silva
since
Fedor Emelianenko
fell off so precipitously in 2010-11 -- and don't worry, Silva fans, your guy has GOAT status still well in hand -- but the debate could get interesting again if the current trends hold up into next year.
In the wake of his win over Machida, Jones says he has his heart set on a lengthy vacation, but I wouldn't count on it. Not with Silva on the shelf until June,
Georges St. Pierre
out perhaps the entire year and
Junior dos Santos
fresh off his own knee surgery.
[+] Enlarge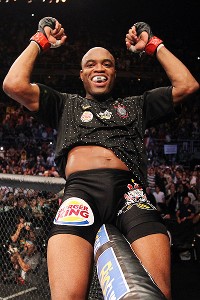 Al Bello/Zuffa LLC/Getty ImagesThis time next year, Anderson Silva might not be on top of the MMA world.
Especially not with
Dan Henderson
,
Rashad Evans
and
Phil Davis
already lurking around as potential next challengers for the light heavyweight title.
With more shows than ever planned for 2012, the UFC will need its healthy champions to stay active. Barring any unforeseen setbacks, it'd be a surprise if we don't see Jones fight either Henderson or the Evans/Davis winner by spring. If he were to win -- say, over Hendo -- then defeat Evans at the end of summer or early fall, well, you do the math. Even if Silva returns from his shoulder injury and defeats
Chael Sonnen
or
Mark Munoz
in the meantime, I'm not sure he'd be able to hold off that kind of charge from Jones.
UFC President Dana White says he thinks "Bones" is already No. 2 pound-for-pound and if by this time next year he's managed to put together a run that includes consecutive wins over
Ryan Bader
,
Mauricio Rua
,
Quinton Jackson
, Machida, Henderson and Evans, I don't see how you could deny him the top spot. That would be a six-fight stretch not even
Silva
could match. Being the No. 1 pound-for-pound fighter in the world isn't a lifetime achievement award, after all, but a snapshot of who is the best fighter in the sport at that moment, regardless of weight.
Unfortunately, since the UFC's official position is that we shouldn't hold our breath for Jones and Silva to ever actually get together in the cage, the pound-for-pound debate will continue to be wholly hypothetical into the near future.
If things play out according to chalk during 2012 however, Silva may still be the greatest MMA fighter of all time, but Jones will get my vote as the best on the planet right now.
December, 6, 2011
12/06/11
2:06
PM ET
One of the official prefight hype videos that's been making the rounds before UFC 140 dubs the light heavyweight title fight between
Jon Jones
and
Lyoto Machida
as, "Art comes alive."
Likewise, much of the UFC's hour-long "Countdown" special for the event spotlights the more spiritual aspects of this weekend's main event combatants, depicting them as serious, studious martial artists and masters of their respective crafts.
Jones often meditates, frequently employs visualization techniques and sometimes heads out to empty sports stadiums to throw slow-mo flying knees at invisible opponents, this show tells us. Meanwhile, Machida still trains with his father, a zen'ed-out master who seems like a mash-up of Mr. Miyagi and David Carradine's character from "Kill Bill." Once a week, Lyoto and his brothers get together in their gis to do a shotokan karate kata called the "10 Hands," which he soberly tells the camera helps with their focus and breathing and whatnot.
So yeah, not your ordinary "two men enter, one man leaves," type of build-up.
Naturally, they also show enough highlights of jumping front kicks to Randy Couture's jaw and spinning elbows to Mauricio Rua's nose to make the overall sales pitch clear: If you pony up the dough for UFC 140 on Saturday, you're going to see something special, a real life kung fu movie between two MMA prodigies with borderline magical skills.
Question is, can the reality of this fight live up to that billing?
That depends on which versions of Jones and Machida show up.
Both guys are clearly capable of doing extraordinary things inside the Octagon. Jones' reverse leapfrog of
Ryan Bader
and bone-cracking elbow to Brandon Vera's face both come to mind, as do Machida's GIF-friendly knockout of then-champion
Rashad Evans
and one-punch finish of
Thiago Silva
. These are two uber-talented dudes and if you want to promote an MMA fight as something out of the "Bloodsport" tournament, this is probably the one.
At the same time however, we've also seen both Jones and Machida look somewhat less like action movie heroes and more like, you know, human beings. Especially in recent performances.
In his last title defense against
Quinton Jackson
, Jones appeared devoid of his usual urgency. It was obvious from the early-going that he had "Rampage" outclassed in every measurable area, but Jones turned their bout into a glorified sparring session before putting Jackson out of his misery with a rear-naked choke in the fourth round. In that fight he looked like a guy behind the wheel of a racecar who was somehow content to putter along at the speed limit, never really putting his foot on the accelerator.
Criticising that kind of overwhelming dominance might seem nitpicky, but the performance just lacked the excitement we're used to seeing from Jones. Will we get something similar versus Machida? If the Brazilian is content to hover around the outside and try to counter, will Jones take the spinning, leaping risks we've seen from him in his more dynamic performances? Or will he play it safe, as he seemed to against Jackson?
It could go either way.
[+] Enlarge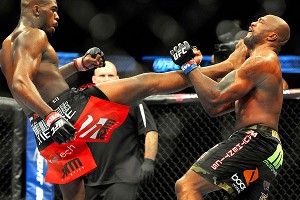 Dustin Bradford/Icon SMIThere's no question Jon Jones has a deep bag of tricks, but will he reach into it on Saturday?
Machida -- who, lest we forget, is just 1-2 since October 2009 and fell into this title shot when Evans couldn't go -- has been more and more inconsistent as of late. After winning four of his first five fights in the UFC by decision he had begun to earn a reputation as a boring fighter before suddenly stringing together back-to-back KOs over Silva and Evans. Since then, he's been remarkably hit-and-miss. A lot of people still think he lost both his fights with Rua at UFC 104 and 113 and during his listless split decision defeat to Jackson at UFC 123, he looked satisfied with trying to score points while waiting for time to expire.
Will he have to be more aggressive than normal against Jones, knowing he'll be giving up a ton of reach? Or will he float and juke on the outskirts of the battle, falling back on the techniques that made him the master of the unanimous decision early in his UFC career?
It could go either way.
Certainly, this fight has the potential to be exceptional and how it plays out may well be determined by how Jones responds to Machida's elusive style.
It might be great; it might be a scene out of "The Matrix." On the other hand, it might end up being more like "Bloodsport III." Remember that one?
Yeah, nobody else does, either.
November, 30, 2011
11/30/11
4:34
PM ET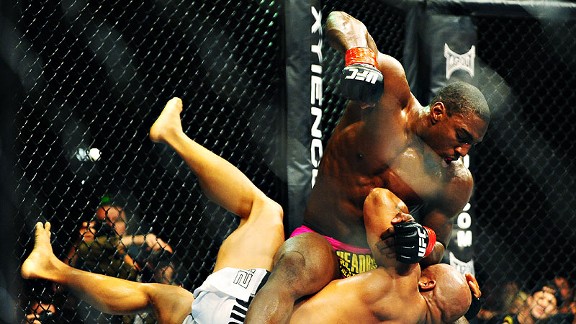 Mark J. Rebilas for ESPN.comOn top of things: Phil Davis can state his case as a light heavyweight contender -- if he can stay healthy.
At this point, the only thing standing between
Phil Davis
,
Rashad Evans
and an audience of millions might be the limitations of the human body.
As a flurry of fight bookings bring the UFC's plans for early 2012 into focus this week,
ESPN.com's Brett Okamoto reports
the highest profile slot of all will fall to Davis and Evans, who are expected to headline the fight company's first "official" live show on network television on Jan. 28.
For a couple of guys who've recently seen their plans sidetracked by injury, this could be the big break they need.
Of course, to reap the benefits, they'll have to show up at the United Center in Chicago in one piece. The way things have been going for Evans, Davis and for the 205-pound division at large, that may be the biggest trick of all.
The pair was originally supposed to meet as a stand-in main event at UFC 133 in August, after champion
Jon Jones
bowed out with an injured hand. Fewer than four weeks before the show was set to go on however, Davis also withdrew after hurting his knee. Evans then ran roughshod over late replacement
Tito Ortiz
and appeared to finally earn his second opportunity at the title, only to have it snatched away and given to
Lyoto Machida
when it was revealed he'd injured his thumb in the process.
Leading up to their previous bout, the 9-0 Davis had been insistent a win over Evans would make him the No. 1 contender, but while they've been out licking their wounds, things have gotten a lot less clear cut. Dan Henderson's victory over
Mauricio Rua
at UFC 139 now has some looking at him as the next in line to face the winner of Jones versus Machida.
For either Evans or Davis to leapfrog Hendo in the constantly shifting light heavyweight queue, they'll need to do something great. Luckily for them, a stellar performance in front of a worldwide television audience might just fit the bill.
After the promotion's initial "teaser" show on the Fox network peaked at around 8.8 million viewers earlier this month -- over 10 once you consider DVRs and whatnot, the company says -- even more people are no doubt expected to tune in for the UFC's first full-length show. That obviously means big things for Evans and Davis, who stand to benefit from a complete slate of televised fights leading into theirs, not to mention the fact their bout will likely go longer than 64 seconds.
Both guys have personalities that will be easy to promote and their stand-out collegiate backgrounds make them exactly the kind of fighters the UFC should be trying to spotlight for a mainstream audience. Put all of that together and it appears likely that Evans versus Davis ends up being one of the most-watched fights in UFC history.
With one good performance, Evans stands to bust out of the doghouse he's been in since sitting out 10 months during 2010-11, waiting for a title shot that never materialized. Meanwhile, Davis could go from under-the-radar rookie to household name and either fighter could earn a big money pay-per-view fight against Jones in the process.
The ball is teed up for a homerun here. These guys just have to show up healthy enough to swing the bat.
November, 28, 2011
11/28/11
3:54
PM ET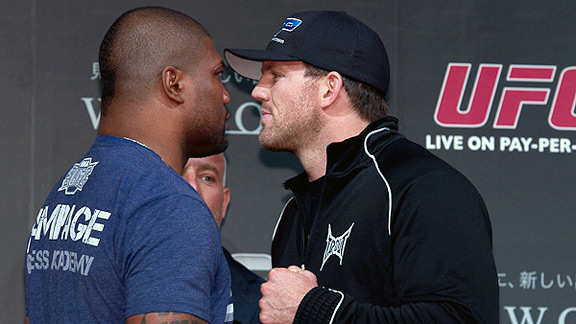 Sherdog.comQuinton Jackson, left, stands in the way of Ryan Bader's reconstruction period.
At the risk of sounding overdramatic, it's fair to say
Ryan Bader
will be at a crossroads in February, when he travels to Japan to take on
Quinton Jackson
at UFC 144.
Prior to this year, the 28-year-old "Ultimate Fighter" winner and former Arizona State wrestler appeared to be a fast-rising star in the UFC light heavyweight division. He was undefeated at 12-0 -- having run through his first five fights in the Octagon -- and seemed to possess the right blend of grappling skill, innate athleticism and fearsome power to go places in the weight class.
In 2011 however, Bader hit the skids in a big way, getting totally overwhelmed by
Jon Jones
in a 205-pound title eliminator at UFC 126, then dropping what looked like an easy bounce-back bout to
Tito Ortiz
five months later at UFC 132. He rebounded to craft a quick knockout over
Jason Brilz
in early November at UFC 139, but enough questions have already been raised about Bader's place in the division to make his upcoming bout with "Rampage" one that could define his career moving forward.
Simply put, if Bader can beat Jackson -- who is fresh off his own title shot and still ranked No. 6 in the world on ESPN.com's power rankings -- it'll prove he can still have a place among the upper echelon of the division. If he can't, he might find himself relegated to a sort of B-list purgatory. He'll be a fighter who can run through the likes of Brilz,
Antonio Rogerio Nogueira
and
Keith Jardine
, but can't hang with the top dogs.
It goes without saying that Bader should very much want to fall into the first category, while the second would be a lonely place for a talented guy who'd never tasted defeat before February.
A victory over Rampage would mean those two previous losses likely won't leave a longterm stain on Bader's career. After all, it's easy enough to shrug off the loss to Ortiz as something of a fluke and at this point there is no real shame in losing to Jones. All the cool kids are doing that.
But with the current light heavyweight champion set to face a difficult gauntlet of fighters likely to include
Lyoto Machida
,
Dan Henderson
and
Rashad Evans
during the next 12 months there has never been a more opportune time to solidify your contender status in this weight class. If Jones should falter somewhere along this path, Bader certainly wants to be on the short list of challengers for the new champion, alongside guys like
Phil Davis
,
Alexander Gustafsson
and a suddenly re-relevant
Mauricio Rua
.
A loss on the other hand and the line of contenders in front of him starts looking very long indeed. Nobody wants to begin 2012 having lost three of his last four. That would only give more ammunition to critics who use the Jones and Ortiz defeats as evidence that Bader was overrated from the start.
Win or lose, all will not be lost for a guy as relatively young and able, but the path between Bader the promised land is sure a whole lot shorter if he can corral Jackson.
September, 26, 2011
9/26/11
3:02
PM ET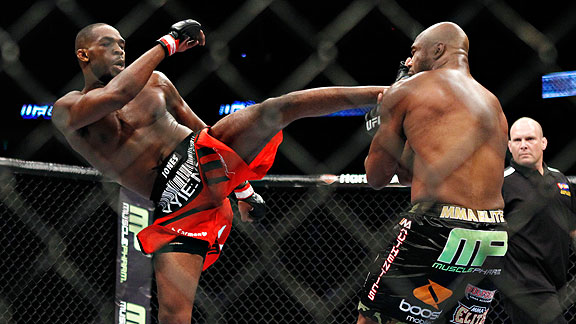 Ross Dettman for ESPN.comA leg up: Jon Jones seems faster, stronger and better than every other light heavyweight out there.
Saturday night in Denver, it was UFC play-by-play man Mike Goldberg's turn to hand out the superlatives.
"A talent like never seen before in UFC history!" Goldberg declared, in the familiar cadence so inexorably linked now with action in the Octagon. "Jon 'Bones' Jones wants to challenge the light heavyweight record of five successful [title] defenses turned in by
Tito Ortiz
!"
Had Goldy been talking about any other 24-year-old making the first defense of a championship he'd held for barely six months, these words might have seemed like puffery. They might have seemed over the top, or at least like a very bad omen for the kid's future, since the comments actually came
before
Jon Jones
entered the cage to fight
Quinton Jackson
.
Yet on Monday, it feels like Goldy was just saying what many of us are thinking. After watching Jones effortlessly rout Jackson in their main event fight at UFC 135, the MMA community seems fairly evenly split between people who are ready to put Jones on the cusp of greatness and those who claim, more and more desperately perhaps, that they're not fully sold on him.
In this case, the wonderful thing about the fight game is that over the next calendar year, we're likely going to find out exactly what we've got in Jones. His win over Jackson was great -- anticlimactic in its dominance, actually -- but the next 12 months figure to be critical in determining his legacy in the sport.
It doesn't take a UFC matchmaker to plot out the immediate future: Barring serious injury or other unforeseen setbacks, Jones' next few bouts will come against a murderer's row of competition that includes
Rashad Evans
, the winner of
Dan Henderson
versus
Mauricio Rua
and the winner of an expected, but as-yet unconfirmed fight between
Lyoto Machida
and
Phil Davis
.
[+] Enlarge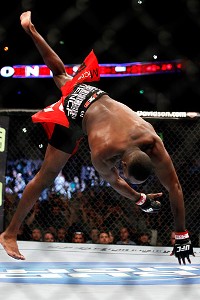 Ross Dettman for ESPN.comHead over heels: Jon Jones is turning heads, but is it too soon to hurl superlatives at Jon Jones?
If he can pull it off, it'll put him one defense shy of Ortiz's record and amount -- speaking of superlatives--– to the greatest run in the history of the UFC light heavyweight title. Not even Ortiz,
Chuck Liddell
or
Randy Couture
faced such a stiff level of competition during their respective reigns. If Jones emerges victorious from this gamut of challengers, he'll solidify his place among the greatest 205-pounders ever and possibly topple
Anderson Silva
as the world's pound-for-pound best.
If he can't? Well, there is already a significant contingent of MMA fans ready to jump out of the bushes and scream, "Overrated!" Certainly, a second career defeat and the loss of his title during this stretch wouldn't totally derail Jones' career, but it would make him look a lot more like everybody else in the division -- a cadre of easy-come, easy-go champions who've been trading the belt back and forth for the past four years.
Precisely because of this weight class's chaotic recent history, we all know full well how dangerous it can be to declare anyone the future. This was a lesson learned the hard way when the UFC's self-described "Machida Era" fizzled after less than a year. On the other hand, it would be disingenuous not to acknowledge the scope of Jones' potential at this point.
It would also be unfair not to mention the very next thing Goldberg said about Jones after tabbing him a unique talent and a candidate to overtake Ortiz as the greatest 205-pound champion of all time:
"The pressure and expectations [are] larger than they have ever been."
Considering how the next year of his career will look, you can say that again.
August, 31, 2011
8/31/11
1:33
PM ET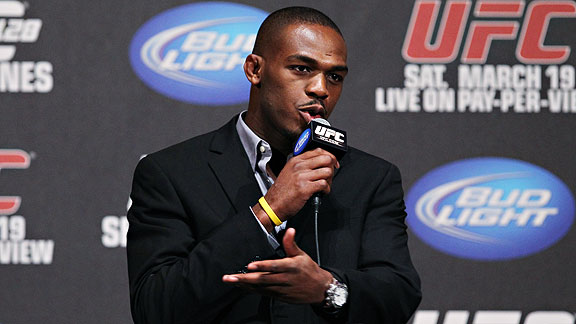 Ed Mulholland for ESPN.comIs Jon Jones helping to sell a fight that really doesn't need that much help to sell?
With three-and-a-half weeks still to go before their light heavyweight title fight at UFC 135, things are officially getting weird between
Jon Jones
and
Quinton Jackson
.
It started this week with Jackson publicly accusing Jones of infiltrating his training camp with undercover operatives,
telling Yahoo!'s Kevin Iole
a convoluted story that sounded more like the plotline to a lost episode of "21 Jump Street" than prefight hype. Something about
Rashad Evans
punching him in the knee at UFC 114, Jackson's own efforts last week to start a false rumor about a hand injury and then an elaborate game of telephone between UFC matchmakers, Jones' manager and shadowy figures of unknown identity. Oh, the intrigue.
It was the kind of allegation that made you wonder if Jackson was just joking, had grown paranoid, was trying to get in Jones' head or was simply mistaking the typical workings of the rabid MMA rumor mill for something more sinister. After the news broke, of course, Jones' people denied the charges, said they didn't care to know anything at all about Jackson's camp, thank you very much, and in short order the champ fired back with a string of posts
on his Twitter account
.
"Just so you know, I'm not a person who looks for shortcuts in life," Jones wrote to Jackson on Tuesday. "Unlike you, MMA is not something I do because of money … I have way more faith in myself as well as respect for the art of fighting to ever stoop that low, that's just bad karma."
[+] Enlarge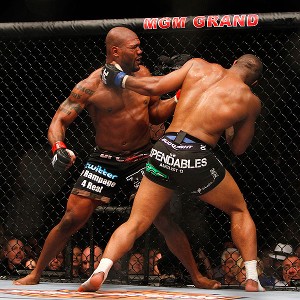 AP Photo/Eric JamisonA win over Jon Jones would go a long way toward restoring some of Quinton Jackson's lost luster.
Aside from a quick fact check -- the story goes that Jones began his career when he and his longtime girlfriend found out they were expecting their first child, so you could argue he actually
did
get into MMA because of money -- the response seemed appropriate. Restrained, even, considering the breadth and utter weirdness of Jackson's claims.
Then again, it's hard to gauge what (if anything) this odd little kerfuffle adds to the pair's upcoming scrap on Sept. 24. If the point of trash talk between fighters is to drum up excitement for their bout and ultimately sell pay-per-view units to a curious fanbase, this particular war of words seems way too silly to do the trick. Especially since the real stakes between Jones and Jackson have nothing to do with who is spying on whom.
The relevant storyline here isn't about phantom broken hands or spies or issues of karma, it's about seeing if Jones can continue to meet our almost absurd expectations now that he's champion. It's about seeing if the 24-year-old phenom has the stuff to finally bring some stability to a 205-pound title that has changed hands six times since
Chuck Liddell
first lost it to Jackson at UFC 71 in May 2007.
The light heavyweight strap was once the UFC's marquee prize and many have already tabbed Jones as the guy who will save it from its current transient lifestyle as he trucks on into all-time greatness. Can he succeed where guys like
Mauricio Rua
, Rashad Evans and
Lyoto Machida
could not? Is he over-hyped? Can he truly be
The Guy
? That's what's at issue here, not whether Jones has been plying Jackson's training partners for information -- as if "Rampage's" game plans are some kind of secret at this stage.
For Jackson, UFC 135 is about continuing to defy doubters who have questioned just about everything regarding his commitment to the sport in recent years. Derailing MMA's "next big thing" would pretty much prove that all our hand-wringing about his movie career and his dedication to fighting was for naught. Not to mention, a second UFC title reign could go a long way to solidifying his place in history.
Stories of espionage and conspiracies are fun. They certainly give us something to write and snicker about during the 15 or so days before the UFC begins its onslaught of fall programming. In the case of UFC 135 though, we have far more significant things to worry about than the existence of Jon Jones' mole.
August, 3, 2011
8/03/11
4:52
PM ET
During the last 14 months,
Rashad Evans
has become the poster child for how
not
to manage a career in the UFC.
As a result, when Evans meets
Tito Ortiz
in their makeshift main event Saturday in Philadelphia, stakes will be high and consequences magnified for the former light heavyweight champion and "Ultimate Fighter" Season 2 winner.
Not only will UFC 133 mark Evans' first fight since he sat out more than a year waiting for a title shot that never materialized, it'll be his first since ditching his longtime home at Greg Jackson's gym in New Mexico and moving his training camp across the country to Imperial Athletics in Florida. How cage rust or that change of scenery might affect him is anyone's best guess at this point.
This will also be his first bout since his very public falling out with former friend
Jon Jones
after Jones took the title shot that rightfully should have been Evans' at UFC 128 and used it to capture light heavyweight gold. Since then, Evans has given every impression that the driving focus of his career is getting to Jones, getting a chance at revenge and redemption and finally getting the second championship opportunity that has thus far eluded him at such great cost.
To make it there, he needs to beat Ortiz on Saturday. In other words, this fight -- which on paper seems like it should be a walk in the park for the 3-1 favorite -- is also one he absolutely can't afford to lose.
Evans' image, which for whatever reason has never been stellar with MMA fans, is still straggling along after his ill-fated decision last year to bide his time while champion
Mauricio Rua
recovered from his umpteenth knee surgery. At first it seemed reasonable enough. Evans had duly earned No. 1 contender status with a win over rival
Quinton Jackson
at UFC 114, and to accept a fight in the interim felt like an unnecessary risk.
[+] Enlarge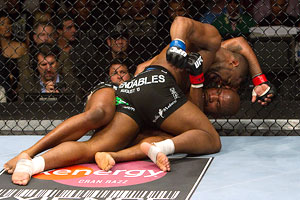 Josh Hedges/Zuffa LLC via Getty ImagesPerhaps resting on his laurels wasn't such a good idea for Rashad Evans to implement.
In hindsight though, maybe the greater risk was remaining idle. By waiting for Shogun, the 31-year-old Evans effectively squandered what might otherwise have been one of the most profitable years of his career and drew the ire of UFC brass who, for obvious reasons, prefer their bigger draws to keep a more active schedule. When Evans tweaked his own knee a few weeks before things were finally about to come to fruition for him at UFC 128, there was a palpable sense of self-satisfaction in the company's decision to give his title shot to Jones.
In the wake of that incident, it's become something of a cardinal sin inside the Zuffa empire to wait for a title shot.
Anthony Pettis
and
Chad Mendes
have since both fallen victim to what you might call The Rashad Evans Rule, each risking title shots in nontitle affairs against lesser opponents because, well, they didn't have any other choice.
Evans won't get that year of his career back or suddenly become a fan favorite if he beats Ortiz this weekend, but it might help take some of the current pressure off him. Certainly if a victory earns him the chance to fight Jones and regain the 205-pound title, the last 14 months won't seem like such a failed treasure hunt.
On the other hand, a loss to Ortiz -- a guy whose career was walking dead before he stunned
Ryan Bader
in July one UFC event ago -- might force Evans to reflect on a year wasted and numerous bridges burned without much at all to show for it.