March, 22, 2013
3/22/13
2:59
PM ET

By Chuck Mindenhall
ESPN.com
Archive
The UFC wants to pare down its roster, and right now fighters are helping in the quest. Over the past couple of weeks, three more drug tests have come back hot.
Alex Caceres
for marijuana metabolites.
Riki Fukuda
for a cocktail of stimulants.
Lavar Johnson
for elevated testosterone.
It's always something. Sometimes that something feels like nothing. Sometimes it feels like something.
In these cases, Caceres, a first-time offender, was suspended for six months. Fukuda was cut, not because of the failed drug test, the UFC says, but because he's on a losing streak. And Johnson was cut due to an unfortunate mixture of both. Before them in recent months were Matt Riddle (marijuana again, cut),
Thiago Silva
(marijuana, suspended),
Stephan Bonnar
(steroids again, now retired),
Rousimar Palhares
(elevated testosterone, suspended),
Joey Beltran
(steroids, cut),
Jake Shields
(mystery, suspended) and
Thiago Tavares
(anabolic steroid, suspended).
Before
them
were
Alistair Overeem
,
Cristiane Santos
,
Muhammed Lawal
,
Rafael Cavalcante
and a long ellipses more.
As for
Nick Diaz
? Let's just say the colors on the roulette wheel go round and round. He's a perpetual state of pending.
With all the hype leading up to a fight, drug tests have become the kind of drama that lives on far afterward. And what a word "drugs" has become. If we're being real, marijuana gets stashed in a fun folder called "recreational," while steroids and spiked testosterone levels are filed away under "dirty rotten cheats." One is a form of silly, the other manipulates.
Everybody knows that, right?
Hmm. Problem is that the suspensions (from the commissions) and the general fallout (from the UFC) don't necessarily discriminate. Illegal is illegal with both parties, though most commissions are consistent (and non-differentiating) with punishment for failed drug tests and the UFC is inconsistent (differentiating but moodily) for them.
The bridge? Maybe UFC vice president of regulatory affairs Marc Ratner, who has begun to point out the folly in sentencing marijuana and PED violators as equals. He spoke up about it at a Nevada State Athletic Commission hearing this week, saying that he "cannot believe a PED and marijuana are treated the same. It does not make sense to the world."
Ratner is dialed in.
The world has common sense. The world has a loose and general understanding that pot isn't taken to achieve competitive advantage (and
taken
seems like such a strange word to use -- who
takes
pot?), while the other is harmful, dangerous and taken precisely to gain an advantage. Steroid cycles go about outsmarting surveillance systems.
[+] Enlarge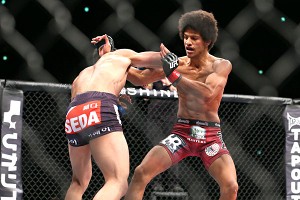 Susumu Nagao for ESPNAlex Caceres, right, was suspended for testing positive for marijuana metabolites.
Pot? No way, dude. I'm not a doctor, but pot is an afternoon of video games. It hardly carries the stigma it once did, and it's being legalized in certain states. Not to be facetious, but where testosterone helps 34-year old men perform like 24-year old men, your appetite is the only thing that performs like it's 19 years old on pot. Is it a painkiller? Maybe. Then again, a six-pack of Molson could be, too. More importantly, is it anything like a painkiller come fight night? Most pot cases are all about those long-lingering metabolites, which have little (or nothing) to do with the event itself.
Should they be treated the same? These things aren't equal. It's time that the NSAC and other commissions recognize the difference. Same goes for the UFC, which has recently vowed to crack down on PEDs. Granted, so long as marijuana is tested for, fighters should know better than to jeopardize their careers by smoking it. It's still a dumb move. Should it even be tested for? That's a different can of worms, and it's easy to argue no. Right now, though, it is.
And since it is, it'd be nice if the punishment fit the crime for violators. It's not hard math. PEDs show up for the express purpose of making an impact on fight night. Pot, on the other hand, is incidental. They share the taboo of being banned, but they have extremely different motives.
Those motives are the heart of the matter.
June, 17, 2012
6/17/12
8:46
AM ET
It's pretty out of character for the UFC's happy-go-lucky heavyweight champion to start making demands.
I guess when even
Junior dos Santos
stops smiling, you know you've got a problem.
To date, dos Santos' public image has been built on his blistering boxing skills and the childlike sense of wonder that seems to have stuck with the 27-year-old Brazilian nicknamed "Cigano" (or "gypsy," in his native Portuguese) through nine straight wins inside the Octagon.
As a child, when other kids in his neighborhood were turning to gangs and drugs, dos Santos sold ice cream on the street to earn extra money for his family, we were told in the first "UFC Primetime" TV special to spotlight him. When he learned how many millions of people in his home country reportedly watched him knock out
Cain Velasquez
to win the UFC title last November, dos Santos' responded like a grade schooler whose winning science project had just landed him in the local paper.
"Whoa," he exclaimed. "I'm famous!"
If dos Santos didn't seem like his optimistic, lighthearted self this week while suggesting to
ESPN Brazil
that
MMA needs ongoing and widespread blood testing
to stamp out the scourge of performance enhancing drugs, you couldn't blame him.
Dos Santos has unwittingly been cast into the middle of two of the UFC's most recent drug scandals. His proposed title defense against
Alistair Overeem
fell apart in April when a surprise drug test caught Overeem with off-the-charts levels of testosterone. Instead, dos Santos fought and easily defeated
Frank Mir
at UFC 146, only to later learn that Mir too was taking testosterone, after receiving a therapeutic use exemption for hormone replacement therapy from the Nevada State Athletic Commission.
[+] Enlarge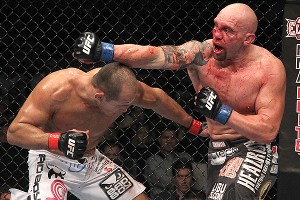 Donald Miralle/Getty ImagesJunior dos Santos, left, took out one heavyweight bigger than the next on his road to the top.
It bears mention that two fights before
that,
dos Santos defeated
Shane Carwin
, who in 2010 saw his name included on a list released by federal prosecutors of athletes who allegedly patronized an online pharmacy indicted for selling mail order steroids.
If you were Junior dos Santos, you might feel like the only clean fighter in the heavyweight division right now.
This week he took action, implying he won't sign to face Overeem in the future unless the former Strikeforce champion agrees to increased screening, including blood tests leading up to the fight.
"I think we both need to do that," dos Santos said. "I want a clean fight and he needs to prove he is not under any kind of substances ... When you have a fight with two 'clean' fighters, you will know after the fight who is the real champion. A guy who uses doping is a fake fighter."
Good for dos Santos for taking this step. No, better yet,
great
for him.
Fighters are putting their lives on the line each time they step into the Octagon to square off with the world's best trained and most successful unarmed combatants. Dos Santos routinely faces the biggest and strongest of those opponents, and he has a right to know beyond a reasonable doubt that the men he's fighting with his bare (or barely covered) hands aren't souped-up on chemical enhancements.
For the rest of us, PEDs in MMA may be be a complicated issue fraught with moral and ethical conundrums, but for JDS it's a cut and dried personal safety issue. If he doesn't feel the current testing is adequate, then he's well within his bounds to call for more. He is, after all, the industry's salable product. Without him, there is no show.
Frankly, more high-profile fighters ought to follow dos Santos' lead and go on record with similar requests. It'd be great, in fact, to see a significant collection of the sport's top stars all sign up for testing through the Voluntary Anti-Doping Association, and say they weren't going to fight anybody who didn't.
Short of comprehensive, company-wide testing from the UFC itself, it might be the best (read: only?) way to truly clean up this sport.
April, 9, 2012
4/09/12
3:13
PM ET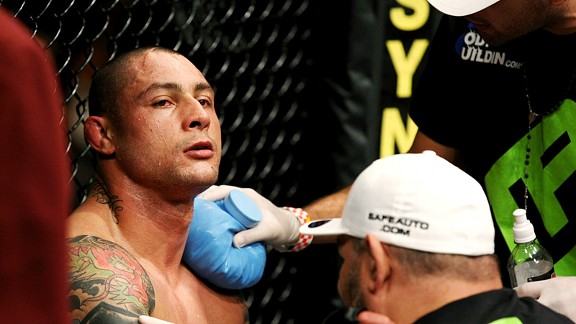 Donald Miralle/Getty ImagesOn thin ice: It's "fly straight or find another line of work" time for Thiago Silva.
As he prepares to take on
Alexander Gustafsson
on Saturday at the UFC's first-ever show in Sweden,
Thiago Silva
finds himself at an interesting time to return from a drug suspension.
Or -- in the interest of accuracy, I guess -- a drug-
related
suspension.
After all, Silva didn't get handed a one year ban from competition for shooting an illicit substance into his spine prior to UFC 125 so much as what he did to try to cover it up. Instead of taking the rap for the injectable itself, Silva opted for what is probably the most hilarious way to fail a commission administered drug test: Submitting a sample that ultimately proved "inconsistent with human urine."
If you know you're going down, might as well go down in flames, right?
At the time, we all had a good laugh. Fast forward a little more than 12 months, however, and Silva is about to step back into an MMA landscape riddled with high-profile steroid scandals. After
Quinton Jackson
voluntarily confessed to hormone replacement therapy,
Cristiane Santos
got pinched for using an old school bodybuilding drug and
Alistair Overeem
submitted a urine sample consistent with a human
who is totally jacked out of his mind on testosterone
, fight fans could conceivably be in a fairly unforgiving mood these days.
There is no telling how this second tour of duty might go for Silva. With a record of 14-2 (now with one no contest), his only previous losses came against former 205-pound champions
Rashad Evans
and
Lyoto Machida
but he also hasn't exactly defeated a "who's who" of top talent during his UFC career.
[+] Enlarge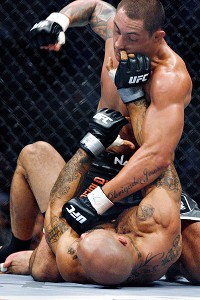 Ed Mulholland/US PresswireThese days, Thiago Silva's wins over the likes of Houston Alexander, bottom, don't look so impressive.
Prior to his suspension, Silva had bounced around the outskirts of the light heavyweight top-10, but after spending a year forcibly removed from the action, his most notable Octagon wins over the likes of
Keith Jardine
, Houston Alexander and
James Irvin
suddenly don't seem overly extraordinary anymore. Most recently, he'd also been slowed by the back injury he eventually blamed for his drug use.
Silva remains something of an interesting talent, but the lack of big wins, the injury trouble and the drug suspension all make it difficult to nail down what kind of future he might have.
Luckily for him, his employer appears ready to forgive past transgressions, accepting his time served and inserting him directly into a nationally televised main event bout against Gustafsson in his first fight back. Even if it is one where Silva enters as close to a 2-to-1 underdog against a hometown hero who some observers expect to mature into a future foe for champion
Jon Jones
, it's probably a better assignment than Silva might've expected, or deserved.
Perhaps such surprising post-suspension treatment can be chalked up to good behavior. Fact is, Siva was actually refreshingly honest about his drug snafu, at least once it became clear that officials had him dead to rights.
"I used a urine adulterant when giving a sample following my fight with
Brandon Vera
," Silva said last year via a prepared statement. "I did so in an attempt to alter the results of the test and knowingly broke the rules of the Nevada [State] Athletic Commission. This was a terrible decision on my part for which I will be punished. I am prepared to accept this punishment, learn from it and move on. I apologize to the commission, the UFC, Brandon Vera and the MMA fans."
For an MMA drug test mea culpa, that's about as good as it gets. In light of it, perhaps fans and promoters alike will be willing to give Silva a second chance.
Make that a last chance, as he prepares to reenter a culture that by now should be about one steroid scandal away from its breaking point.
March, 29, 2012
3/29/12
2:14
PM ET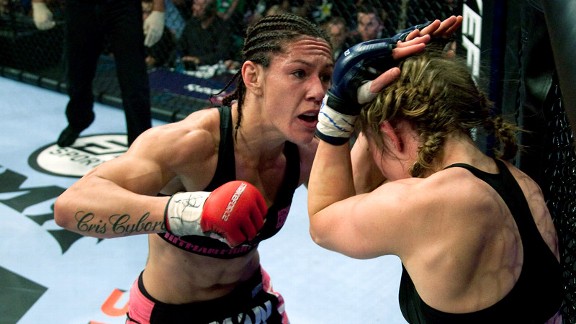 Esther Lin/Forza LLC/Getty ImagesMarloes Coenen, right, wants nothing more than to avenge her loss to Cris Justino.
The unknown persons responsible for encouraging
Cristiane Santos
to take steroids have been eliminated.
That's her word: "eliminated."
This according to the former Strikeforce women's featherweight champion herself
in a video statement
released this week, roughly 10 days before she'll appeal a one-year suspension for a positive drug test after her Dec. 17 win over Hiroko Yamanaka at an event in San Diego.
As mea culpa videos go, this one is actually pretty good. A genuinely remorseful-sounding Cyborg acknowledges her mistake, says she knows it is her responsibility to monitor the supplements she takes during training and references the hit to her reputation in the wake of the positive test.
Her words are obviously scripted, but don't come off overly rehearsed. She doesn't read from a prepared statement; at least, not one we can see. In any case, she speaks for a little less than three minutes and since it's all in Portuguese with English subtitles, it ultimately might be difficult for non-speakers of that language to gauge her sincerity.
[+] Enlarge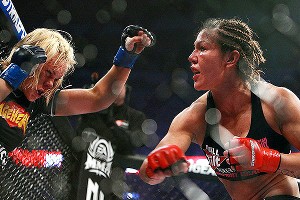 Dave Mandel/Sherdog.comCristiane Santos is proving to be more adept at defending herself in the cage than arguing her case.
Even if the video itself is well done though, the content essentially falls back on the same familiar and well-worn tropes we've been hearing since Major League Baseball's steroid scandal put performance enhancing drugs front and center more than a half decade ago.
Santos says she has never
knowingly
used steroids and points to her track record of passing commission administered drug tests as proof.
Sounds familiar, right?
She blames an unidentified member of her camp for supplying her with a substance "that was supposed to help [her] lose weight" and appears as surprised as everyone else that she came back positive for "steroid metabolites" consistent with stanozolol, a drug linked to some of professional sports' highest profile PED scandals.
"I have eliminated certain people from my training camp," Santos says. "I am taking monthly drug tests at the same laboratory that the [California State Athletic Commission] uses to show that I do not take steroids."
As explanations like this so often do, things take on an unmistakable cloak and dagger vibe. Hard not to, with verbiage like that.
Is Santos being honest? In 2012 it doesn't really matter, as very few people will believe her, no matter what.
The unnamed traitor in Cyborg's camp now joins Alex Rodriguez's conniving cousin, Manny Ramirez's prescription-happy doctor and Barry Bonds' "flaxseed oil" peddling trainer, Greg Anderson, on the list of people who have allegedly tricked unsuspecting pro athletes into taking performance enhancing drugs.
For years, in fact, we've heard wild tales of shadowy, mostly anonymous third parties scoring totally unknown and unrequested "supplements" for their talented friends and family members. Whether consciously or not, the athletes in these situations paint themselves as naive and trusting patsies who simply wash down or inject whatever they're given without ever thinking to ask what it is or to wonder if there might later be a problem.
Of course, this line of defense leaves only two options: Either the athlete is lying or the athlete is not the sharpest knife in the drawer.
Just in case it's the latter -- just in case Santos is telling the truth -- here is a training tip for all you professional athletes out there, from a guy who earns his living pushing keys and making phone calls and who, just a week shy of turning 34, feels like he could really use a Manny Ramirez-style doctor's note right about now: If someone you're later not willing to name provides you with a mysterious substance they claim will magically cure what ails you, don't take it.
And if you do take it, don't bother trying to explain -- or appealing your steroid suspension.
March, 2, 2012
3/02/12
5:37
AM ET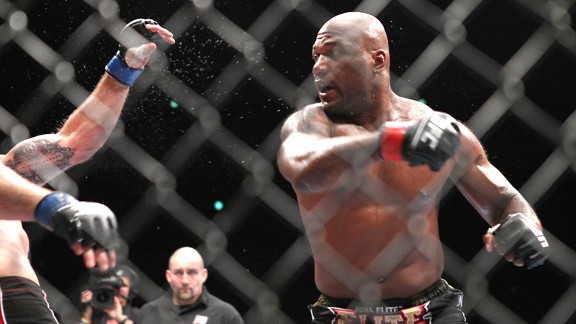 Susumu Nagao for ESPN.comUFC 144 might be in the books, but Quinton Jackson's bout with the media has just begun.
Credit
Quinton Jackson
for his honesty, I guess.
Whether he meant to or not, Jackson cast himself smack dab into the center of MMA's biggest brewing controversy this week when he admitted as part of
a wide-ranging interview with Fighters Only Magazine
that he used testosterone leading up to his UFC 144 loss to
Ryan Bader
.
To anyone who's been paying attention over the last year or so, this revelation is probably not overly shocking. Jackson, after all, merely joins a growing crop of 30-and-40-something fighters like
Dan Henderson
,
Chael Sonnen
and
Nate Marquardt
who've all gone on the record saying they have, or continue to undergo, testosterone replacement therapy.
Fact is, as long as any fighter has been granted a medical exemption by state regulators, gets a note from his doctor and keeps his hormone levels within legal limits come test time, it's not against the rules.
But by talking so openly, at length and seemingly sincerely about the boosts he felt from using testosterone -- and by otherwise appearing to be a perfectly healthy 33-year-old male -- Jackson revived and perhaps even deepened questions about the use of TRT in MMA.
Since he also sucked his employer into the conversation by commenting that his doctor "works for the UFC" and alleging that the fight company was aware of his use leading up to last weekend's show in Japan, it's bound to raise some eyebrows about situations where the organization acts as its own regulatory body at overseas events.
"I went to see the doctor and he told me to talk to an age-management doctor," said Jackson, explaining that he sought medical help after injuring his knee before the Bader fight. "So I went and talked to them and they tested me and said my testosterone was low; they prescribed me testosterone, to bring my testosterone levels back up ... so that I am the same as young people, like when I was 25, and it would help build my knee up. I hurt my knee like a month ago and I only did three shots of testosterone but it put a lot of weight on me, a lot of muscle on me but it healed my knee up good enough to where I could fight."
Again, it's perfectly legal for Jackson to do this and there is no problem with the UFC knowing about it. When done correctly, when the proper paperwork is filled out, TRT remains technically legal. On the other hand, many observers scoff at the notion that fighters could have legitimate medical reasons for seeking such treatment and continue to see it as a sort of approved cheating; a loophole being exploited by opportunistic guys looking for a leg up on the competition.
[+] Enlarge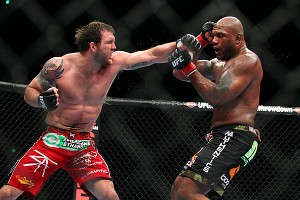 Susumu Nagao for ESPN.comShould it come as a surprise to Quinton Jackson that he isn't as nimble or as quick as he was at 25?
Most of Jackson's comments will only bolster that opinion, as the symptoms he described don't sound at all out of the ordinary for an aging athlete. Jackson says he gets hurt more now than he used to, that he has a tougher time healing from injuries and can't train like he could a few years ago.
He seems to think of that as a medical problem. The rest of us would probably just call it getting older.
Therein lie the trickiest questions regarding TRT.
Should
a 33-year-old man like Jackson really have the testosterone levels of a 25-year-old?
Should
he be able to compete at the same level he could as a younger man?
Should
he (or any fighter verging on middle age) be able to go to a doctor and essentially say, "Make me young again"?
After all, if Jackson's only real symptom is that he's not as good as he was eight years ago, that probably shouldn't warrant medical intervention.
So far, however, state regulatory bodies (and, according to Jackson, the UFC, when it is regulating itself) say that it does, as long as a fighter can find a doctor to sign off on it. Clearly, though, this issue will be debated at length moving forward and where the rules and regulations ultimately come down remains to be seen.
Right now, one of the only things we know for sure about testosterone replacement therapy is that Quinton Jackson seems to like it.
He seems to like it a lot.
"This was my first time ever using testosterone," Jackson said. "I took what the doctor prescribed to me and I went to the pharmacy ... I gave myself small doses and that s--- immediately changed me, that's why I am saying now I am not going to retire. I am not gonna retire no time soon ...
"I feel young again. I'm happy I did the testosterone; I wish I had known about it sooner."
January, 13, 2012
1/13/12
7:23
AM ET
RIO DE JANEIRO -- It's been five months since the UFC's last visit to Brazil, but it's been 14 years since
Vitor Belfort
last fought in his home country.
That means the pressure is on him, according to
Anthony Johnson
, who remains unfazed by the prospect of fighting in front of the passionate Brazilian fans.
"I feel no pressure at all," Johnson said. "I don't have to perform in front of my home country. I don't get nervous about what could happen. I'm just going to do what I do."
What Johnson does in the Octagon is often brutal, and he's promising much of the same for Saturday.
"Vitor is an amazing athlete, very fast hands and very powerful, and you have no choice but to respect him," Johnson said. "I'm not afraid, and I'm willing to accept the challenge. I'm just going in to fight. There's no strategy. It's what's called 'get it done.'"
Chad Mendes will be alone and without much support Saturday night, but he revealed his entire hometown is celebrating his title shot.
"A lot of people are going to have parties back home; they're having a big party at the fairground in my hometown, and thousands of people will watch it on a big TV," Mendes said.
The featherweight challenger shares Johnson's sentiments that he's not the one in the spotlight, pointing to the fact that it's Jose Aldo's first time fighting as a UFC champion in front of his family and friends. And while it might be Mendes' biggest career opportunity to date, he is relishing the experience and claims not to feel any nerves.
"I have tunnel vision," the challenger said. "I have that goal of winning that belt. It's all I'm thinking about. I think I'm going to get booed, as it's Jose's back yard and he's the champion. But I can't speak Portuguese so I can't understand what they say anyway. I'm in the zone, and there's not going to be any problem."
Zelaznik reveals details of 2012 international expansion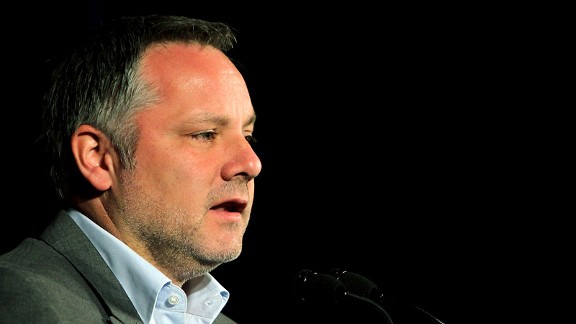 Josh Hedges/Zuffa LLC via Getty ImagesGlobal warfare: Marshall Zelaznek sees the UFC will hosting battles all over the world in '12.
The UFC is gearing up for a world tour of sorts. Events already have been announced for Japan, Australia and Sweden, and Marshall Zelaznik, UFC managing director of international development, has revealed that 2012 could see the UFC head to an additional three or four locations outside the USA and Canada.
A late-2012 show in the U.K. is "definitely" on the list, he said, and there is an "80 percent chance" the UFC will go to an undetermined Asian location that could be any one of Macau, Singapore or the Philippines, but "definitely not" China (
yet
-- the Beijing office is still working with Chinese authorities to settle logistics).
Mexico is high on the list, too, but fans in the Middle East will have to wait. A logjam of concerts in Abu Dhabi means the venues are unavailable, almost entirely ruling out a return to the nation that holds a 10 percent share in the company.
Zelaznik said the UFC's international team is expanding fast, and is eyeing locations for events in Italy and in unspecified Eastern European countries, most likely Poland.
PED testing business as usual despite lack of commission
Strikeforce 145-pound female champion Cristiane Santos' recent positive steroids test and the stripping of her title reignited a fierce debate over the use of performance-enhancing drugs in MMA.
Athletic commissions oversee the testing for athletes on U.S. soil, but outside North America, the UFC has self-imposed a strict system on par with the processes used by the Nevada Athletic Commission, widely seen as the world's leading authority on regulatory matters for combat athletes.
The UFC employs the services of a U.K.-based company called Quest Diagnostics, whose representatives are flown to all locations outside North America. An independent drug-testing body, Quest selects fighters at random as well as testing participants in the main event. The group observes, maintains the samples and then ships them via medical courier to the United States to the same laboratory the state of Nevada uses.
The lack of a commission is no cause for concern, Zelaznik said. "We've had a few issues in the past," he said, referring to the October 2011 positive test of
Chris Leben
following his loss to
Mark Munoz
in Birmingham, England. "People can feel comfort and rely on us -- we've done everything to create a safe environment for the fighters."
Emerging details on 'TUF: Brazil'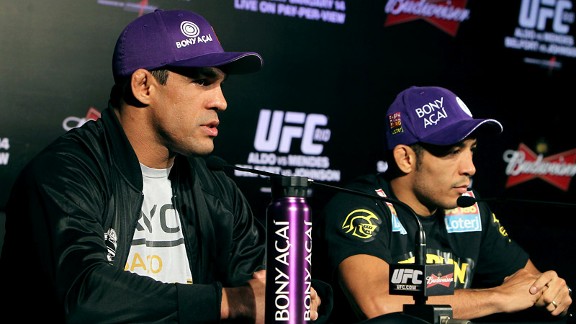 Josh Hedges/Zuffa LLC via Getty ImagesGet TUF: Vitor Belfort, left, will head up a house of "Ultimate Fighter" contestants in February.
February marks the first time the "Ultimate Fighter" series will start filming in a foreign country. "TUF: Brazil" will feature 145- and 185-pound fighters, and the word is that the standard of the fighters is "mind blowing."
"It's more like the early TUFs, where we were skimming the cream of the talent in the U.S.," Zelaznik said. More than 5,000 fighters submitted an application, with 500 auditioning before producers in Sao Paulo.
The show will follow the "traditional" format and not the new look that will debut with "TUF 15" on Fuel TV come March. Sixteen fighters in each weight class will work through an elimination round to get into the house.
"TUF: Brazil" will feature a number of elements similar to those of its American cousin, including a fully outfitted UFC training center and the regular participation of UFC president Dana White, although his travel schedule might mean most of his appearances are made via satellite.
The show will be broadcast weekly on Rede Globo TV, the fourth-largest public TV commercial network in the world. The finale will be in June as part of a large international pay-per-view event, likely but not confirmed to be a stadium show in Sao Paulo. The finalists will fight alongside coaches
Wanderlei Silva
and Vitor Belfort, and
Anderson Silva
versus the winner of Mark Munoz and
Chael Sonnen
.
July, 22, 2011
7/22/11
11:26
AM ET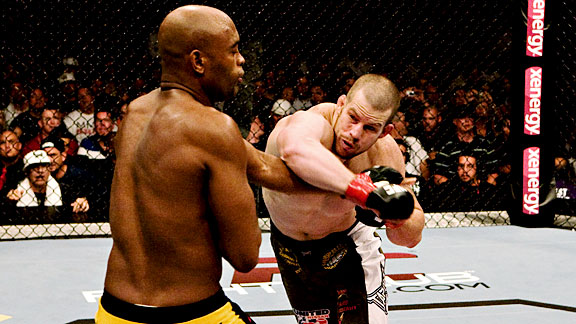 Josh Hedges/Getty ImagesCan Nate Marquardt reach the same heights he scaled in 2007?
It admittedly felt good to see things take a positive turn for
Nate Marquardt
when the embattled fighter inked an exclusive, multifight deal with the UK-based BAMMA organization, as first reported by ESPN.com's Josh Gross on Friday.
As positive as things can get, that is, for a guy who is still persona non grata in the UFC. A guy who, despite remaining the No. 5 middleweight in the world according to the ESPN.com rankings, appeared to have few good options left after Bellator and even the re-launched ProElite organization recently decided they weren't interested.
Marquardt and his controversial testosterone replacement therapy have been a hot topic of conversation among message board certified, comment section-approved medical experts ever since he was unexpectedly yanked from the main event of UFC Live 4 and subsequently fired from the company via 12-second internet video in June. Fact is, those of us who aren't doctors still have no real idea if Marquardt is a cheater or just a victim of his own naiveté, but seeing him at least temporarily close what must have been the most difficult four weeks of his professional career on Friday was a welcome sight.
As obscure as it is in the states, BAMMA appears on the rise after successfully staging six events in England since its debut in 2009. The promotion will undoubtedly move quickly to try to put Marquardt into a fight with
Paul Daley
for its vacant welterweight title and the middleweight championship currently held by
Tom Watson
also looks like easy pickings for a fighter the caliber of "Nate the Great." With the UFC still only committed to one or two shows per year across the pond, the potential exists for BAMMA to be at least a modest regional success (and a profitable one) with Marquardt as a star attraction.
[+] Enlarge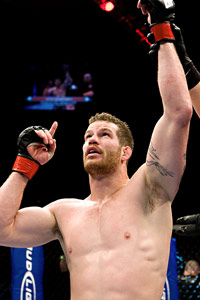 Josh Hedges/Getty ImagesAfter several rough weeks, things are starting to look up for Nate Marquardt again.
Yet, even as he finds a provisional home in the UK, it's hard to ignore the fact that Marquardt's long-term prospects remain pretty bleak so long as he's unwelcome in the UFC and/or Strikeforce. More and more in MMA, it feels like there are the Zuffa properties -- with their pay-per-view events and cable television deals and accident insurance -- and then everybody else.
It also won't help Marquardt's public image that his next fight will take place in England, where drug testing and regulatory efforts are largely left to promoters. Despite what BAMMA Vice President Liam Fisher told Gross about the promotion introducing "mandatory PED tests for title fights and random PED tests both pre- and post-event," some fans will no doubt see this move as Marquardt trying to avoid further run-ins with American athletic commissions, like the ones in Pennsylvania and New Jersey that contributed to his UFC ouster.
At 32 years old, he'll still be able to have some marketable fights and make a little money, but so long as Marquardt remains locked out of the UFC, he'll never again attain the heights he reached while making a run at the middleweight title in 2007 or as relevant as it appeared he was on the verge becoming again with a potential foray into the UFC welterweight division. Those are just the facts, stinging as they are.
Debate will no doubt continue to rage online about what Marquardt may or may not have done to bring about the end of his UFC career. What's that old saying about opinions? They're like web sites, everybody has one? Something like that.
In the long run, the only opinions that will matter about Marquardt belong to the guys who hold the keys to the Octagon and, so far, they appear unwavering in their declaration that the former middleweight No. 1 contender will never fight for them again.