October, 9, 2014
Oct 9
3:03
PM ET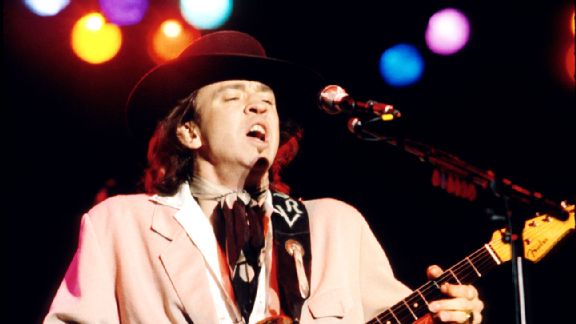 Annamaria DiSanto/WireImageStevie Ray Vaughan is among the 2015 nominees for induction into the Rock and Roll Hall of Fame.
Stevie Ray Vaughan, Sting, Green Day and Nine Inch Nails are among the first-time nominees up for induction into the Rock and Roll Hall of Fame in 2015. And as was the case last year, the Hall of Fame is giving fans a chance to vote for their favorite nominees.
You can access the ballot at the hall's
website
, or via
Rolling Stone
.
Voting will continue through Dec. 9 and the top five vote-getters will count as one of 700 ballots that will determine which artists are inducted.
Now, we're not saying we're qualified to handicap who will get in this time around. But some nominees seem more likely to be contenders:
•
Stevie Ray Vaughan,
with his backing band Double Trouble, sparked a blues renaissance in the 1980s with his searing guitar playing and heartfelt vocals. He was killed in a helicopter crash in 1990. The fact that he'd never been nominated, let alone inducted, seems like a glaring oversight.
• First-time nominees
Green Day
kicked off a punk rock resurgence in the 1990s and went on to record the critically-acclaimed "American Idiot." Let's put it this way: Not every punk album winds up becoming a successful Broadway musical.
• West Coast rap pioneers
N.W.A
changed the hip-hop game with its use of classic 1970s soul samples and raw, unflinching lyrics about the drug trade, gang culture and violence of South Central Los Angeles. They also launched the solo careers of members Dr. Dre and Ice Cube.
• Trent Reznor's
Nine Inch Nails
brought industrial rock from the underground into the mainstream, in no small part thanks to Reznor's emotionally honest lyrics. (Remember Johnny Cash's searing cover of "Hurt"? Reznor wrote that.)
• The late
Lou Reed
, who is already enshrined as a member of the Velvet Underground, also enjoyed great success as a solo artist. You might know his hit "Walk On The Wild Side," but his albums, like those of his former band, received significant critical acclaim.
•
Sting
, who is enshrined as a member of The Police, broke out of the rock idiom as a solo artist, leaving the reggae, punk and rock of that band behind for a more nuanced, jazz-influenced sound. But Sting's strengths as a songwriter and singer didn't change, and he enjoyed critical and commercial success despite his change in direction.
•
The Smiths
, one of the most influential alternative bands of the 1980s, also launched the solo career of lead singer Morrissey. They're a cult favorite that has retained its popularity and critical acclaim despite a relatively short career.
The remaining nominees also can make compelling cases for induction:
•
Chic:
Disco hitmakers powered by the rhythm guitar and production genius of Nile Rodgers, Chic were responsible for some of the genre's biggest hits including "Good Times" and "Le Freak."
•
Kraftwerk:
Influential electronic dance music and synth rock pioneers from Germany.
•
Joan Jett and the Blackhearts:
Garage rock heroine who had a huge hit with "I Love Rock 'n' Roll" in the 1980s.
•
The Spinners:
Philly soul vocal group that had a string of hits in the 1970s with "I'll Be Around" and "Rubber Band Man."
•
The Marvelettes:
Motown girl group which scored the label's first No. 1 hit with "Please Mr. Postman" in 1961, paving the way for The Supremes and Martha & The Vandellas.
•
Bill Withers:
Talented songwriter and soulful singer whose titles include some of the 1970s' most-recognized hits, including "Lean on Me," "Ain't No Sunshine," "Use Me," "Just the Two of Us" and "Lovely Day."
•
Paul Butterfield Blues Band:
1960s Chicago blues band fronted by the late singer/harmonica player, they merged the blues, rock and jazz and played the era's two most important festival concerts (Woodstock and Monterey Pop).
Meanwhile, it appears
Deep Purple
has taken over for
Rush
as the classic rock band getting the coldest shoulder from the hall. The heavy metal pioneers are not on the ballot for 2015 after missing out on induction this year, despite Metallica drummer Lars Ulrich's stumping for them in April.