May, 24, 2013
5/24/13
8:00
AM ET
By
Stefan Marolachakis
| ESPN The Magazine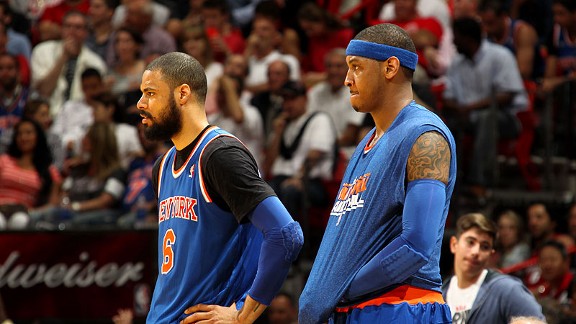 Issac Baldizon/NBAE/Getty ImagesStill mourning the end of the Knicks' playoff run? Read on for some help coping.
Editor's note: Drummer Stefan Marolachakis is traveling the country in a black van with tinted windows, touring for his band Caveman's eponymous second album. Every week, Marolachakis will hunt the nation to gather musicians and athletes to discuss the link between the two clans. This week, our caveman reflects on his grief for his beloved Knicks and offers some tracks for respite.
Sometimes it feels like being a
Knicks
fan is simply the most painful thing a sports fan could be asked to endure, unless you live on the wrong side of Chicago or anywhere in Cleveland.
This Knicks season was, at many points, glorious to behold: they beat the Heat three out of four times; the defense was mugging;
Carmelo
was an offensive genius, and
J.R. Smith
was his wild-eyed wing man in the clutch. But the run is over, and I'm left to sit in shock, parsing out what exactly happened.
Sadly appropriate, when the Knicks ultimately fell to the
Pacers
in the second round, I was in a hotel room in Mississippi, mere miles away from the Delta, the cradle of the blues. And since all know that when the going gets tough, the tough turn to their record collection, I have been using music to cure my NBA-PTSD and creating a soundtrack of new music (and one very old song) as I climb through the classic Five Stages of Grief.
1. Denial
During this stage I blamed the refs, almost exclusively. My dad pointed out to me after the Game 6 that in the final six minutes of play, there were a total of nine fouls called, eight of which were called on the Knicks. Eight! Yes, I realize that the Pacers were too big, they killed the Knicks under the boards, etc. But eight fouls to one? And 46 free throw attempts versus 18 for the Knicks on the game? For shame! It felt like the Knicks had no chance of moving forward in the playoffs with a crew of whistle-happy refs.
Soundtrack: Tame Impala, "
Feels Like We Only Go Backwards
."
April, 1, 2013
4/01/13
7:00
AM ET
By
ESPN The Magazine
| ESPN.com
This month, ESPN The Magazine celebrates its 15th anniversary. To commemorate the milestone, The Mag will look back and generate exclusive playlists curated by Bomani Jones. The "Around the Horn" panelist will pick and discuss the biggest hits of the past 15 years. Listen to the entire playlist below.
"Crazy" by Gnarls Barkley
"This was the year Steve Nash won his second MVP. Maybe we were crazy? Yeah, possibly.
"Ridin Dirty" by Chamillionaire featuring Krayzie Bone
"This is more Mark Martin's flavor, but it was the year Jimmy Johnson won his first of five Cup series championships. If you ain't ridin' dirty, you ain't tryin'."
"I'm in' Luv (Wit a Stripper)" by T-Pain
"At once, a young athlete's dream, and the soundtrack to the veteran's cautionary tales."
"Dirty Little Secret" by The All-American Rejects
"Yes, Floyd Landis, I'm looking at you."
"There It Go (The Whistle Song)" by Juelz Santana
"The unofficial theme song of the 2006 NBA Finals, when Dwayne Wade went to the foul line like he paid rent on it."
"Bossy" by Kelis
"As is Peyton Manning. But after the 2006 season, he was something more important -- a Super Bowl champion."
"Jesus, Take the Wheel" by Carrie Underwood
"Little known fact -- that was the official name of the play Florida ran when Tim Tebow threw the jump pass. Or maybe it just should have been."
March, 29, 2013
3/29/13
7:00
AM ET
By
ESPN The Magazine
| ESPN.com
This month, ESPN The Magazine celebrates its 15th anniversary. To commemorate the milestone, The Mag will look back and generate exclusive playlists curated by Bomani Jones. The "Around the Horn" panelist will pick and discuss the biggest hits of the past 15 years. Listen to the entire playlist below.
"I'm Shipping Up To Boston" by Dropkick Murphys
"Oh, you thought the newly minted Red Sox Nation stopped celebrating when 2004 ended?"
"Number One Spot" by Ludacris
"In the AP poll, that was USC's from the end of 2003 all the way through the 2005 season. Until..."
"Best of You" by Foo Fighters
"...They ran into Vince Young in the greatest college football game of all time to close the season."
"Speed of Sound" by Coldplay
"The Heisman Trust may not remember Reggie Bush, but the rest of us do, and that's about how fast that electric, once-a-generation talent moved."
"La Tortura" by Shakira featuring Alejandro Sanz
"2005 gave us one of the lowest-rated NBA Finals -- Spurs-Pistons -- in history, and it had
the nerve
to go seven games! What torture."
"Scars" by Papa Roach
"As in, 'If you cancel your whole season because of a labor dispute, NHL, it's gonna leave some scars.' And it left some scars."
"Boulevard of Broken Dreams" by Green Day
"That's the road the Seahawks take to go back in their minds to Super Bowl XL, and officials throw flags at them the whole way for no apparent reason."
"Over and Over" by Nelly featuring Tim McGraw
"Hey, did you know Jerome Bettis was from Detroit? That's one thing Seahawks fans hear going down that boulevard. Over and over."
March, 27, 2013
3/27/13
7:00
AM ET
By
ESPN The Magazine
| ESPN.com
This month, ESPN The Magazine celebrates its 15th anniversary. To commemorate the milestone, The Mag will look back and generate exclusive playlists curated by Bomani Jones. The "Around the Horn" panelist will pick and discuss the biggest hits of the past 15 years. Listen to the entire playlist below.
"Yeah!" by Usher featuring Lil Jon and Ludacris
"No need to explain, when this one was
everywhere
."
"Hey Ya!" by OutKast
"Since it was hip-hop, but not really, the all-purpose choice for many arenas until they ran this one into the ground."
"Overnight Celebrity" by Twista featuring Kanye West
"Ladies and gentlemen, let us introduce LeBron James."
"Numb" by Linkin Park
"And by the time Barry Bonds hit his 700th home run, that's how just about everyone felt."
"Are You Gonna Be My Girl" by Jet
"Ever played Madden '04? Yeah, you know this one too well."
"Change Clothes" by Jay-Z
"Shaq went to the Heat, A-Rod went to the Yankees, eventually giving each team a ring that might not have been worth the trouble."
"No Problem" by Lil Scrappy
"Nov. 19, at the Palace of Auburn Hills, there were
lots
of problems no one wanted, Stephen Jackson chief among them."
"Lean Back" by Terror Squad
"Roy Jones didn't like when Fat Joe mentioned him on the remix ... but he really should have leaned back before Antonio Tarver hit him with a second-round knockout."
"Burn" by Usher
"That's right, Yankees fans! That ALCS meltdown still burns, doesn't it?"
"Sorry 2004" by Ruben Studdard
"The sort of song the AP Male Athlete of the Year should have sung then -- and refused to sing even after he confessed."
January, 31, 2013
1/31/13
6:45
AM ET
By
Rob Clark
| Special to ESPN.com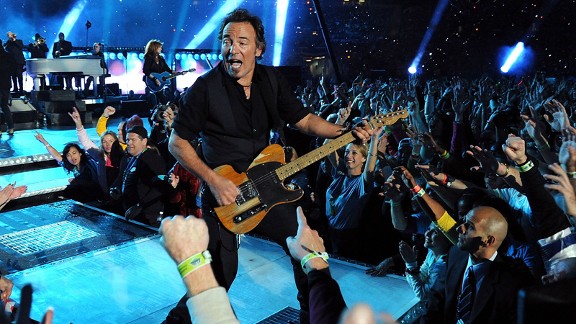 Kevin Mazur/Getty ImagesBruce Springsteen's 2009 Super Bowl halftime performance was remarkably corny.
Halftime at the Super Bowl requires a spectacle, and music's heavy hitters have joined in over the years. Some shows are breathtaking (U2's post 9/11 performance) and some we'd like to forget (that which created the phrase "wardrobe malfunction").
No matter how talented the artist, these shows are often littered with awkward moments. Even the weather can contribute. Prince's 2007 show -- which ranks with
U2's
as the gold standard -- endured a steady Miami rain. But he played right through it, making
his rendition of "Purple Rain"
even more powerful.
Other exceptions to the cringeworthy element:
Tom Petty
(2008),
The Rolling Stones
(2006) and
Paul McCartney
(2005). Quibble with their music all you want, but those were strong performances.
Before Beyonce takes the Super Bowl stage in New Orleans, here's a look at five shows loaded with awkward moments in the past 30 years.
December, 24, 2012
12/24/12
6:00
AM ET
By
Charles Curtis
| ESPN The Magazine


By now, the last thing you probably want to hear is yet another rendition of a holiday tune you've already heard a dozen times on your car radio, at the mall or waiting in the dentist's office.

But trust us -- you're going to want to check out our compendium of athletes in recent years trying their best to warble season's greetings.

Team: 2012-13 Dallas Mavericks
Song: "Sleigh Ride"
Performed by: Chris Kaman, Elton Brand, Dirk Nowitzki, Shawn Marion and head coach Rick Carlisle
Cheer or Jeer: Cheer. Between the bloopers, Carlisle's enthusiasm and Nowitzki wearing holiday lights around his neck, this one has got it all.



July, 12, 2012
7/12/12
12:46
PM ET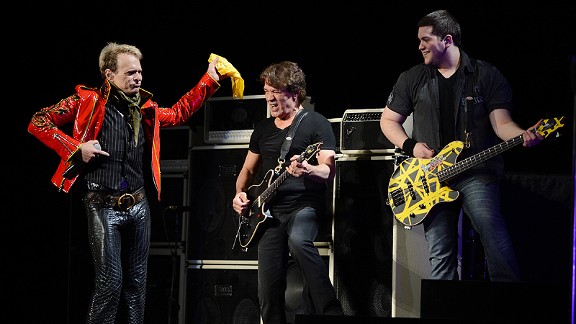 Larry Marano/Getty ImagesDavid Lee Roth says Van Halen wants to play the Super Bowl, but will they still be a band by then?
Remember that
massive campaign
to get Weird Al to perform in next year's Super Bowl halftime show? Well it looks like he's got some competition.
The walking hairspray cans of Van Halen have thrown their name into the hat,
responding to "rampant" rumors
that they'd already been chosen for the gig.
"That honor has not been bestowed upon us at this time though it is one we would accept in a NY minute," said David Lee Roth, who once wrote a screenplay about evil scientists trying to steal his rhythm to sell it to white people.
I like Van Halen, don't get me wrong -- they're the first band I go to for
pedagogical prurience
-- but aren't they … a little less than reliable these days? Forgetting about the constant musical chairs between Diamond Dave and Hagar, didn't they just cancel their tour because
"they hate each other?"
July, 2, 2012
7/02/12
1:05
PM ET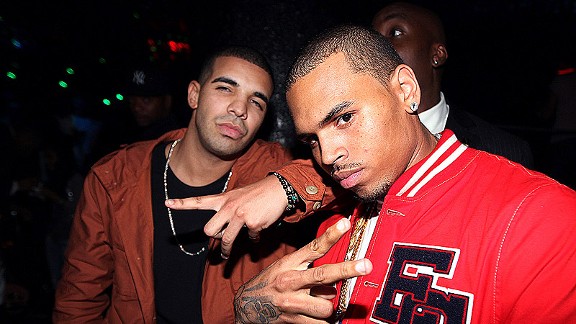 Shareif Ziyadat/FilmMagic/Getty ImagesDrake and Chris Brown, back when they could be in the same spot without fisticuffs ensuing.
Aubrey Drake Graham and Christopher Maurice Brown, otherwise known as pop superstars Drake and Just The Worst Human Possible, have been really steamed at one another since their notorious kerfuffle at a NYC social lounge last month.
Lots of ornery words exchanged
, etc.
To capitalize on all of the hissy fitting, celebrity boxing promoter David Feldman and rich guy Alki David offered the two a million bucks a piece to
slap it out in the ring
—an offer to which neither Drake nor Brown responded. Undeterred by their silence, Feldman and David have now come back offering
a $10 million purse
, with $9 million going to the victor and a meager million going to the loser.
With Pacquiao and Mayweather earning between $20 million and $40 million a bout, you'd have to expect that egomaniacs like Drake and Brown wouldn't step in the ring unless they were offered something similar. But just for poops and giggles, let's take a look at a hypothetical tale of the tape and see who might come out on top.
Seems like a pretty even matchup. But if I had to pick, I'd say the winner would be…Tony Parker. He'd sneak up from behind, bash 'em over the head with a cartoon mallet. Dude nearly lost his eye, and now he
might miss the Olympics
. It's time for a little street justice.
June, 14, 2012
6/14/12
6:40
PM ET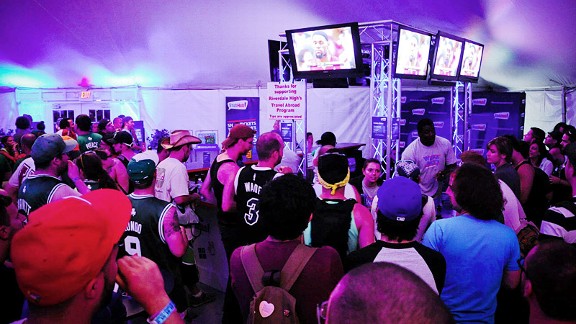 Jeff Tanhueco/StubHubFor some at Bonnaroo, Heat-Celtics Game 7 took precedence over a formidable music lineup outside.
Have you ever been to Bonnaroo? If you're a 20-something who enjoys outdoor recreation, mild bacchanalia and stacked lineups of very accessible rock bands, then of course you have. Around this time each year, 80,000 people trudge cattle-like into a radar blip called Manchester, Tenn., forming a pop-up refugee camp for underemployed bachelors of arts and myriad subspecies of hippies and bros. There is music and camping and food and body paint -- upsetting, ill-advised, NSFanywhere body paint, used liberally by many, on all sorts of horrible folds. Let's not talk about it.
This year's fest featured acts like Radiohead, Bon Iver, Phish,
Muppet collaborator Kenny Rogers
and something called a Skrillex. Also:
this
. It was hot and sunny for most of the weekend, and while not as hot as previous years, it was still hot enough that a Popsicle left unattended in an armpit would be reduced to its stick within 20 seconds.
I suppose this should come as little surprise, but the sporting scene at 'Roo was pretty meager. No Randy Johnson
working the flashbulb
. No Bronson Arroyo channeling his
inner Goo Goo
. Just the constant nuisance of hacky sacks and Frisbees narrowly missing your face, the occasional
Straight Cash Homey
candidate and all the balletic footwork required to maneuver a heavily used portable potty at the end of a day.
May, 31, 2012
5/31/12
11:28
AM ET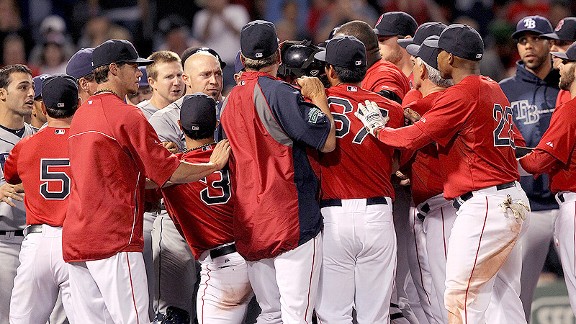 Barry Chin/The Boston Globe/Getty ImagesWho knew the Rays-Red Sox rivalry could get so chippy so soon in the teams' relative history?
I think it's fair to say that everyone's pretty satisfied with the rivalry between the Rays and the Red Sox right now. How it's grown since 2008! This weekend's series brought us a bench-clearing almost-brawl, Bobby Valentine taking salty jabs at Maddon & Co and a deliciously catty bit of drama involving the pregame warm-up music that largely went under the radar.
Here's what happened.
B.J. Upton, annoyed with Fenway's custom of cutting off music during batting practice,
ran an extension cord from the dugout
and bumped his own jams from a boombox before Saturday's game. The folks in the booth didn't take kindly to the insubordination, so they started blaring organ music to spoil the fun. Then, before Sunday's game, the Fenway PA system played "Fur Elise" and other
classical tunes during BP
-- the kind of stuff that could deplete the Rays of energy or lull Don Zimmer's giant baby head into a deep sleep.
The two teams don't face again until July, when the Sox make the trip down to Florida. In the meantime, I'd expect the Tampa sound guys to devise some sort of retaliation to up the ante a bit.
May, 1, 2012
5/01/12
9:58
AM ET
Danny Granger's late travel helped the Orlando Magic beat the Indiana Pacers on Saturday -- and caused backup point guard Chris Duhon to celebrate with a "Crank That (Soulja Boy)" dance. Or was Duhon making the "traveling" motion? Both? You decide.


April, 26, 2012
4/26/12
1:20
PM ET
Remember "Friday"? Of course you remember "Friday." Well, we have an answer to
Rebecca Black's so-bad-it's-good viral anthem
: "Draft Day," by John Evans and Liz Loza aka The Fantasy Football Girl.
Seen a cool sports-related video you think we should post? Email links to bypatrickdorsey(at)gmail(dot)com or let us know on Twitter at @dorseypatrick. Videos should be family friendly and shorter than two minutes.
April, 25, 2012
4/25/12
8:11
AM ET
The strong NOC song parodies keep coming, this one from New York sketch comedians Adam Lustick and Billy Scafuri (Harvard Sailing Team).
The title: "Getting Drafted and I Know It." The original: Guess. (OK, if you must know, it's LMFAO's "Sexy and I Know It.")
Seen a cool sports-related video you think we should post? Email links to bypatrickdorsey(at)gmail(dot)com or let us know on Twitter at @dorseypatrick. Videos should be family friendly and shorter than 2 minutes.