April, 9, 2014
4/09/14
4:07
PM ET
By
Daniel Dodd
| ESPN.com


The official song of the 2014 World Cup Brazil, "We Are One (Ole, Ola)," has been released and it features Cuban-American rapper/entertainer Pitbull as well as megastar Jennifer Lopez and Brazilian singer Caludia Leitte. The song is one of 17 that will appear on the official FIFA 2014 World Cup Brazil album to be released May 12, exactly one month out from the start of the tournament. Ricky Martin, The Isley Brothers and Sergio Mendes are just a few of the additional artists involved in the project.

Is "We Are One" as catchy as Shakira's 2010 anthem "Waka Waka (This Time For Africa)" which has amassed 640 million views and counting on YouTube? Watch both videos and judge for yourself. The World Cup will air on ESPN June 12 through July 13.



March, 15, 2013
3/15/13
1:07
PM ET
By
Chris Gigley
| ESPN The Magazine


An improbable collision between hip-hop and European football has occurred in the heart of Ohio, as Columbus-based rapper Shawn Bandz has created the track "Columbus Crew," hoping it will become the new anthem for his hometown's MLS team. And while the team has yet to formally comment, the song has gained traction on YouTube.

Bandz recently took some time to talk to ESPN Playbook about it.

ESPN Playbook: What gave you the idea for the song?

A lot of people in this city don't even know we have a pro soccer team, so I decided to make an anthem. I also wanted something the hip-hop community would respond to. I originally recorded the song in 2011. It had more of a club-type vibe, something you could chill to. We remixed it and put a new beat to it in December, and we released it in January 2013.


February, 5, 2013
2/05/13
11:37
AM ET
By
Stacey Pressman
| ESPN The Magazine
For ESPN The Magazine's Feb. 18 Music Issue, we persuaded 14 athletes to recreate some of the most memorable album covers ever. As part of our supplemental coverage on Playbook Sounds, we will be running behind-the-scenes interviews with each athlete, as well as their own personal playlists.
• Athlete:
Alex Morgan, U.S. women's national soccer team
• As:
Katy Perry on "
One of the Boys
" (2008)
What was your initial thought on remaking this cover?
When I was brought the idea to recreate an album cover, I was excited about it right away. I've heard some of what the other covers are and it's really cool. It's such a a great idea. And look what I am dressed as -- it's a little ridiculous.
Take me through the selection process.
There were quite a few album covers but not too many female iconic covers -- but I love Katy Perry. There were a couple of other choices but I just gravitated toward this one. The cover is cute and fun. It's a great shoot -- such a fun background and I never get to wear an outfit like this.
October, 28, 2012
10/28/12
11:00
AM ET
By
Andrew Pentis
| ESPN The Magazine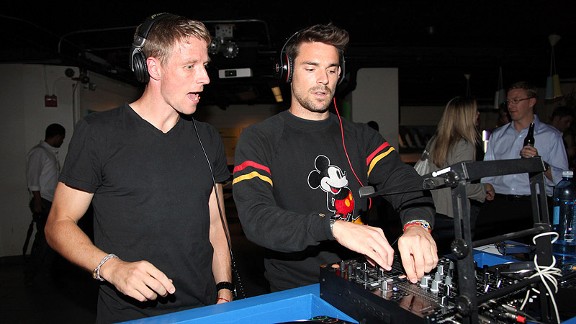 Johnny Nunez/WireImageSolli (left) and Pearce share the decks at the FIFA 13 launch tournament in NYC.
When Chivas USA traded Heath Pearce to the New York Red Bulls in May, the team lost not only a defender but also its DJ. Along with his on-field talents, Pearce took his turntables with him to the East Coast.
The trouble is, his new Red Bulls teammate Jan Gunnar Solli also never goes without prematch music.
"We're going to have to battle it off to see who gets to make the game-day mixes," Pearce joked.
Solli's response? "Ok. It's on."
So, as the the regular season wraps up and the Red Bulls get set for a playoff run to the MLS Cup, who should be the team DJ? We let the two candidates make their cases.
May, 30, 2012
5/30/12
12:55
PM ET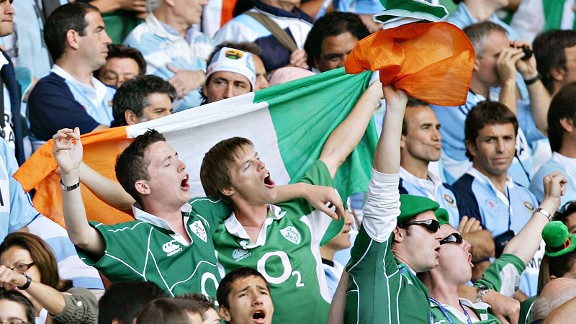 Warren Little/Getty ImagesIreland supporters sing their national anthem ahead of a game in 2007.
UEFA Euro 2012, one of soccer's top international competitions, kicks off June 8. In anticipation of this eagerly awaited event, Playbook is teaming up with ESPN FC to offer sights and other delights from each participating nation.
Ireland fans have reason to sing in 2012: It's the nation's first Euro since 1988.
And sing these Irish fans are doing, producing a vast selection of unofficial Euro (and one official) anthems and videos to send their boys off to Poland and Ukraine.
Here's a small sample; if we posted them all, music-hungry fans might miss Ireland's first match.
"The Rocky Road to Poland"
-- Ireland's official tune, written by "Ray D'Arcy Show" listeners and recorded by Damien Dempsey, Bressie, Danny O'Reilly (Coronas) and The Dubliners (John Sheehan, Barney McKenna, Eamonn Campbell, Patsy Watchorn; they recorded the song on which this is based, "The Rocky Road to Dublin").
May, 22, 2012
5/22/12
11:05
AM ET
Football. Not soccer. That's what they call it over in England, where the alternative/indie rock band Morning Parade formed (near London) and where frontman Steve Sparrow gained his love for the beautiful game. One team in particular, actually. But we'll get to that later.
Because we couldn't help but ask Sparrow about
the final match day
of the Barclays Premier League season, when Manchester City snatched the title from Manchester United in the final minutes.
And the band ... missed it?! That's what happens when you have to work ...
"We were flying when the games were on," said Sparrow, who did get the scores via text from his manager upon arrival in the States (they're currently traveling around the Northeast, before
their big tour in June
to support their new self-titled album, out June 19).
"So when we got back [to our hotel], we watched the games on our laptops at night. What an amazing way for the Premiership to end, eh?"
Indeed. Especially because Sparrow's club, Arsenal, crucially clinched a spot in the Champions League that same Sunday.
Sparrow also talked a bit more about The Gunners, the Olympics, American sport and more: