DJs step up their game at sporting events
May, 15, 2013
5/15/13
12:16
PM ET
By
Jeff Beckham
| ESPN.com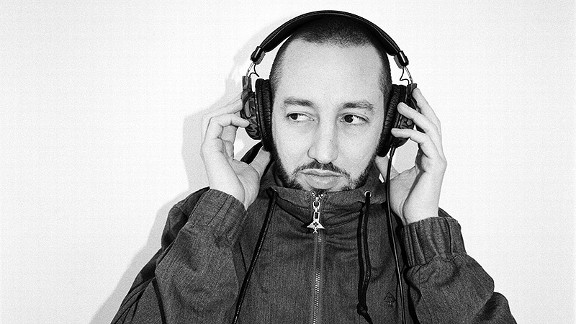 Mike Schreiber J. Period is not playing just your jock-jam favorites at Brooklyn Nets games.
Music has been part of the sports experience for more than 100 years, with marching bands and ballpark organists and blaring rock filling the air during breaks in the action. But the latest incarnation blends the human element and the latest in tech in a new way as DJs take their skills from the clubs to the stadiums.
One of the leaders of this new movement is Brooklyn Nets music supervisor J. Period, a mixtape DJ who has worked with The Roots and Common. The team hired him for more than your standard playlist of jock-jam favorites; they wanted him to create a soundtrack for games at the Barclays Center.
For his first season,
J. Period
created more than 150 remixes and edits of classic and new hits, each tailored to very specific game situations. A remix of Phil Collins' "In the Air Tonight" captures the feeling of anticipation before the players take the floor. A fresh combination of
Carmina Burana
with Nas' "Hate Me Now" stirs up feelings of battle, so it's well suited to bring the crowd back into the game after halftime. And an edit of Jay-Z's "U Don't Know" in the fourth quarter of a close game never fails to rouse the Brooklyn fans.
"That's the challenge. It's about being fresh and different and flipping the conventional wisdom on its head," J. Period said. "That's what a good DJ does and that has always been a central tenet of hip hop: Be fresh, be original."
Making the move from the party scene to the big stage at a sporting event does require some adjustments, however. First, the music has to be edited so that it's family-friendly. Younger ears don't need to get the full effect of French Montana's "Pop That." Also, DJs broaden their playlists to include rock and country hits as well as hip-hop beats.
Marcus Gores, a Portland DJ who recently worked Oregon State's spring football game, said he changed his typical approach when he took charge of the sound system at Reser Stadium.
"I'm playing music to pump up the crowd, and especially the players, as opposed to getting people to dance or interact with each other at a club or party," said Gores, who even took requests via
Twitter
during the Beavers' spring game. "By getting their reaction, I'll be able to pick more songs that they like."
Gores, a former Oregon State student, was asked to DJ at a few practices by Ryan Gunderson, the team's assistant director of player personnel, who cleared the idea with Beavers' coach Mike Riley. The matchup was such a hit that Gores was asked to return when practice starts up again in the fall. Other schools, including Louisiana-Lafayette and Texas A&M, have joined in the trend, bringing in DJs to boost the energy during spring drills.
It was this same combination of sports and music that turned a Tampa Bay Rays bat boy into the team's official DJ. As a kid, Doug Hensel used to watch the St. Louis Cardinals in spring training in St. Petersburg before getting a job in the Rays' clubhouse in 1999. After leaving to hone his chops at radio stations and local clubs, Hensel returned the Tampa staff in 2007 as their in-house entertainer, playing music during games and pumping up the crowd from his booth next to the Rays' bullpen.
Last month, Hensel, known at Tropicana Field as DJ Fresh, got the DJ equivalent of the call from the dugout: Could he come into the Rays' clubhouse before a Saturday game and play a set to loosen up the guys? That's how his photo ended up on Joe Maddon's
Twitter
feed, perched behind a mixing board for "Day RAYve 1."
"It was definitely the coolest gig I have ever played, hands down," DJ Fresh said. His scheduled 40-minute slot stretched to more than three hours as Evan Longoria made requests, David Price took a turn at the mic, Fernando Rodney busted out some salsa dance moves, and Ryan Roberts scratched on the turntables. "The coolest part for me was watching the player's reactions as they walked into the clubhouse."
Whether their stage was a club or a coliseum, all three DJs agreed that reading the crowd and adjusting to the vibe in the building was the key to success.
"I'm a firm believer that in the Internet era, everyone is exposed to a wider range of music, so the old tricks don't work anymore," J. Period said. "You've got to step your game up and think in new ways."