September, 18, 2012
9/18/12
11:15
AM ET
By
Playbook Sounds
| ESPN.com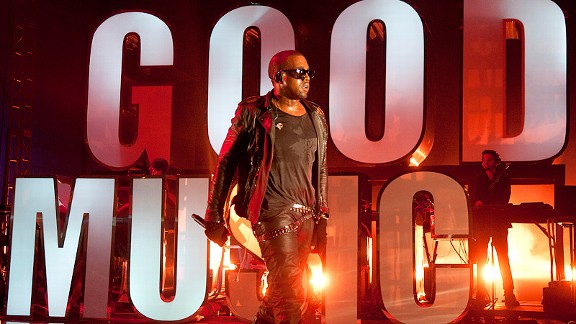 Daniel Boczarski/VEVO/Getty ImagesKanye and G.O.O.D. Music pepper their new album with lyrical references to pro athletes.
The biggest (end of) summer album of the year comes out today — "Cruel Summer," from Kanye West's G.O.O.D. Music crew. With a lineup that hails from sports hubs like Chicago, Detroit and New York — and includes at least one
legitimate baller
— it's no surprise to hear plenty of lyrics referring to pro athletes throughout the album.
Sure, they're outnumbered by designer names — but we're not counting those, dummy. (And we didn't even include the Ric Flair reference, either.) In any event, as you enjoy your "Cruel Summer," take a breeze through all of the sports-related lyrical references on the album ...
September, 12, 2012
9/12/12
11:05
AM ET
By
Dan Friedell
| ESPN The Magazine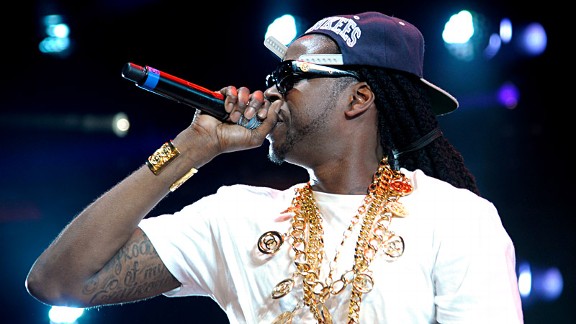 Ilya S. Savenok/Getty ImagesThe rapper formerly known as Tauheed Epps played Division I basketball at Alabama State.
Editor's note: Welcome to the second installment of "How Good Was He?" It's an occasional Playbook series in which we delve deep into the athletic pasts of celebrities.
2 Chainz has already lived multiple lives in the music industry, from his origins in the duo Playaz Circle to a stint with Ludacris' Disturbing tha Peace crew under the name "Tity Boi" to his current status as one of the hottest rappers in the game. His solo debut, "Based on a T.R.U. Story," topped the Billboard 200 when it was released last month.
But before all of that, 2 Chainz was Tauheed Epps, basketball player. As a 10th-grader, Epps was the star sixth man for North Clayton High in College Park, Ga., which ran the table for the Class AA state title after a 10-10 start in 1992-93. By his senior year, the 6-foot-5 Epps was a legitimate Division 1 recruit who got some attention from the University of Memphis, which was then looking for a silky, tall guard to replace Penny Hardaway.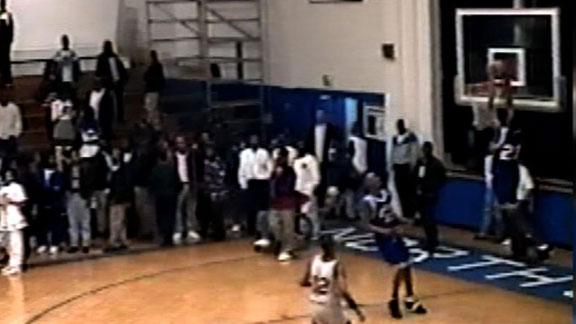 June, 22, 2012
6/22/12
4:25
PM ET
By
Playbook Sounds
| ESPN.com
LeBron James and his teammates took to the stage of the LIV nightclub in Miami hours after the Heat won the title, where James rapped along to one of his favorites, the 2 Chainz verse From Young Jeezy's "SupaFreak."
Playbook
spoke to 2 Chainz
recently about the rapper's reaction the three-time MVP being such a vocal fan.
June, 7, 2012
6/07/12
1:17
PM ET
Atlanta rapper 2 Chainz is everywhere.
He signed with Def Jam this year, and will release his debut studio album, "Based on a T.R.U. Story," on Aug. 14. The
first single off the album
, "No Lie," featuring Drake, has already been released.
He's just recently been featured on collaborations with Kanye West, Ciara and even on a Justin Bieber remix.
"I'm just enjoying life right now," he said during a recent visit to ESPN. "I don't want to come down."
Known for his "2 Chaaaainz!" announcement on tracks, the rapper has been getting a few shout-outs of late from one very famous fan: LeBron James. He's done it
during his introduction at the NBA All-Star Game
and during other games
.
This is heady stuff for the 35-year-old 2 Chainz, a former basketball player at Alabama State whose real name is Tauheed Epps. For a guy who raps for a living, whose trademark is shouting his name, he speaks quietly and in reverential tones when talking about James.
"This is LeBron James we're talking about. And he listens to my music sometime before he goes into the game," 2 Chainz said. "He's aware of songs when they come out. And he's like a super-icon. It just makes me feel good that I'm actually tapping into that. Just makes me feel like I'm winning right now."
2 Chainz spoke to Playbook about his sudden stardom, the ties between athletes and musicians, and the Atlanta home-court advantage.