February, 28, 2013
Feb 28
2:00
PM ET
By
Lynn Hoppes
| ESPN.com
ESPN's "Friday Night Fights" will feature an IBF title fight between featherweight champion Billy Dib (35-1, 21 KOs) and undefeated challenger Evgeny Gradovich (15-0, 8 KOs) in a 12-round main event at Foxwoods Resort Casino in Mashantucket, Conn.
50 Cent, who promotes Dib, was at ESPN's headquarters in Bristol, Conn., on Thursday afternoon to talk about boxing, his music career and what's ahead. He spent a few minutes with Playbook.
You live just down the road in a mansion in Farmington, Conn., but you've never been to ESPN?
This is my first opportunity to do this. What do you guys call this? A car wash, right?
Let's first talk about that house. You've been trying to sell it for years. It's 48,515 square feet with 19 bedrooms and 19 full bathrooms. And you started out asking $18.5 million. You lowered it to about $10 million. What's the status?
I haven't been to that house much. I travel a lot. I probably should take it off the market. I have family living there. They love riding their three-wheelers up and down the block. You know the street is '50' Poplar Hill Road? Marshall Mathers [Eminem] wrote on the stop sign on the street. I might just modify it and do some different things with it.
October, 18, 2012
10/18/12
2:52
PM ET
By
Jared Zwerling
| ESPN.com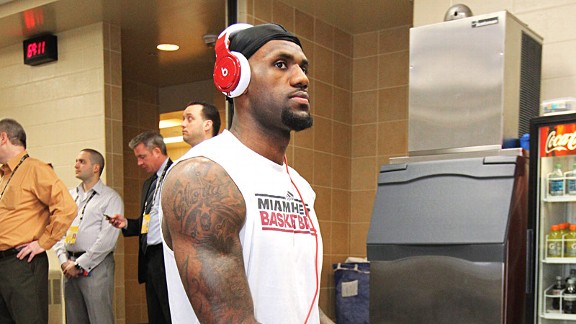 Nathaniel S. Butler /NBAE/Getty ImagesKing James is currently the NBA's only official endorser of Beats By Dre headphones.
In the past few years, NBA broadcasts have extended the airtime of players walking into arenas and hanging out in locker rooms before games -- even using freeze-frames so the commentators can analyze what they're doing and wearing.
Any why not? The pros are playing more and more of a colorful gadgetry game, from designer shades to high-end watches to man purses, which LeBron James and Dwyane Wade blew up during last season's Finals.
So what's next? Some players around the league believe the trend of sleek and colorful rapper-inspired headphones will continue to grow. Expensive handheld devices now have expensive headphones to match, because that's how rappers do it -- big.
And that's who many ballers want to be -- rappers. A relationship that first developed in the inner cities and expanded through different cultural trends is now being forged through the headphone game.
Here are four of the latest headphones (and one accessory) you'll see in those pregame images this season.
September, 24, 2012
9/24/12
10:00
AM ET
By
Lynn Hoppes
| ESPN.com


Boxing legend Manny Pacquiao is a man of few words -- unless he's singing.

Born in the Philippines, the 33-year-old Pacquiao was at ESPN's studios in Bristol, Conn., recently to promote his Dec. 8 welterweight fight against Juan Manuel Marquez.

The duo have fought three previous times, with Pacquiao (54-4-2, 38 KOs) standing at 2-0-1 against Marquez (54-6-1, 39 KOs) with all the fights ending in controversial decisions.

The 2004 featherweight championship fight went to a draw, while the 2008 junior-lightweight championship was won by Pacquiao in a split decision and the November 2011 fight was won by Pacquiao by majority decision.

Playbook talked with Pacquiao about the fight, his music career and politics.

Let's talk about that recent photo of you and 50 Cent, close buddy with your adversary, Floyd Mayweather. What are you and 50 Cent doing together?


May, 7, 2012
5/07/12
2:05
PM ET
Canadian legend Justin Bieber has made a habit of basking in the spotlight of some of the biggest names in sports. Just two weeks ago he was
phonin' it up with Bubba Watson
the night of his Masters win. On Saturday he spent his night with Floyd Mayweather,
carrying two of the champ's belts
down to the ring before his unanimous decision victory over Miguel Cotto.
Hair slicked back with adolescent grease, Bieber looked vaguely terrified walking with Mayweather's entourage, in the same way that a piglet might while walking with a pack of hyenas. But he was a very big helper to the Money Team, holding the heavy belts all the way to the ring without complaining or putting them down to play math games on his LeapFrog.
In addition to Biebs, two other members of Mayweather's crew have won or been nominated for Teen Choice Awards, including 50 Cent, who is a coin, and Lil Wayne, who is the offspring of celebrities Whoopi Goldberg and
Stripe from "Gremlins."