ESPN Music:

All-Star Game
February, 19, 2013
2/19/13
11:15
AM ET
By
Jared Zwerling
| ESPN.com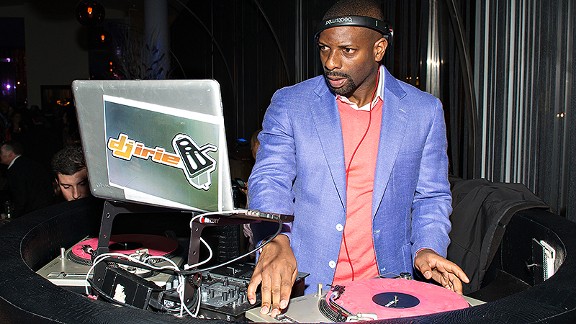 Michael Stewart/Getty ImagesThe Miami Heat's official DJ since 1999, DJ Irie was the first in-house DJ hired by an NBA team.
Catch him if you can. Miami-based DJ Irie doesn't miss a beat during All-Star Weekend -- literally.
The NBA's first DJ, who was hired by the Miami Heat for the 1999-2000 season, may have been the busiest man you've never heard of during All-Star Weekend. He just wrapped up his 10th straight All-Star appearance as the league's headline turntablist in Houston.
Not only did Irie spin at Jam Session every day for a couple of hours, he also worked the celebrity game and then the Club NBA party with reggaeton artist Daddy Yankee on Friday; the East-West All-Star teams' practice; TNT's official All-Star party at the House of Blues on Saturday; and then the Sprint Pregame Concert on Sunday. In addition, he made an appearance, along with rapper Flo Rida, at the Hennessy V.S All-Star Takeover event on Thursday night.
The All-Star schedule for Irie, who became Miami's No. 1 radio DJ in the late 1990s before the Heat wanted him to revolutionize their in-game entertainment, actually started off much crazier. During his first experience in Atlanta in 2003, he was the only NBA DJ on-site and worked Jam Session for about 12 hours a day -- after which, he still went on to spin night parties every evening. Even though he enjoyed being at All-Star Weekend and making some new connections, he called the experience "horrible."
But since then, more NBA team DJs have gotten involved with All-Star Weekend, which has allowed Irie to commit to parties he's in demand for, hosted by A-list entertainers and the ballers themselves. He's become the go-to DJ for current Heat players such as
LeBron James
,
Dwyane Wade
and
Chris Bosh
, and former ones, such as Shaquille O'Neal and Alonzo Mourning. Irie calls the Heat "a family," and he even has both of the Heat's championships rings from 2006 and 2012.
Speaking with ESPN Playbook on Saturday in his hotel room at the Embassy Suites in downtown Houston, Irie reflected on his All-Star commitments, his game-changing start with the Heat 14 years ago, consulting with LeBron on tunes, what's next in the world of in-game music and much more.
February, 19, 2013
2/19/13
7:00
AM ET
By
Jared Zwerling
| ESPN.com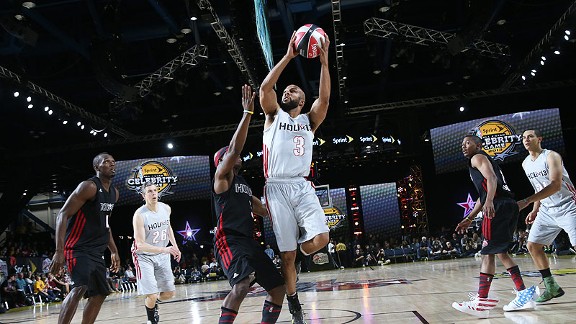 Layne Murdoch/NBAE/Getty ImagesCommon posted 10 points and eight rebounds in last Friday's celebrity game in Houston.
It's Sunday afternoon in downtown Houston, the host city of the 62nd NBA All-Star Game, and rapper and actor Common, along with his manager and some friends, walks into the makeshift green room on the top floor of the swanky Alden Hotel. He's there to meet with some VIPs associated with Under Armour and Hennessy for their "Kicks and Grits" event, before he takes the stage as MC in the rooftop lounge.
As Common makes his way around the room saying hello and posing for photos with people he doesn't know, there's a person he immediately recognizes: Indiana Pacers starting shooting guard Lance Stephenson, who endorses UA. Common approaches him with his trademark smile, and they have a short conversation about how they've been enjoying Houston.
While Common has never met Stephenson previously, he is crazy about the NBA.
"All-Star, in general, is one of the events I love to come to," the Chicago native said. "I'm just a big basketball fan."