September, 11, 2012
9/11/12
10:00
AM ET
By
Lynn Hoppes
| ESPN.com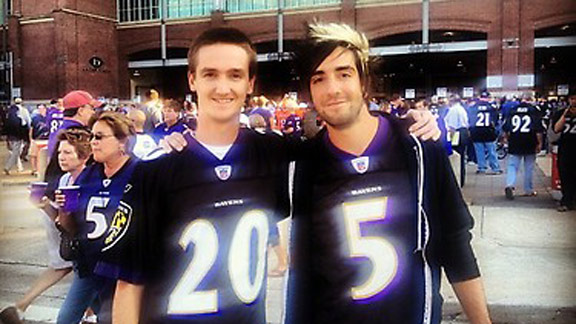 Jack BarakatMarc Shilling and Jack Barakat of All Time Low attend Monday's Ravens' game.
On Monday night, it was pretty easy for Jack Barakat of the pop-punk band All Time Low to watch his hometown team, the Baltimore Ravens.
He was right there with his buddy Marc Shilling.
That's better than when his four-member band, which was formed in 2003, is in Japan or Australia or Europe.
"When we're home, we're try to go to every game. When we're on the road, we try to watch every game," said Barakat, the band's lead guitarist. "Sometimes that can be difficult. In Japan, it was 2 a.m. and all of us were curled up in our hotel room trying to watch a game on one of the laptops."
That shows how big of fans the band's members really are.
Barakat said another time the band was performing at the House of Blues in New Orleans. The Ravens were playing on the TV screens in the back of the bar. While the band was on the stage, the members were screaming for plays they'd be watching on the screen.
"We were all raised here in Baltimore and a couple of us were born here," Barakat said. "Throw in the fact that a lot of our crew is from Baltimore and you can see how passionate we are."