ESPN Music:

American Idol
January, 23, 2013
1/23/13
8:00
AM ET
By
Scott Neumyer
| ESPN The Magazine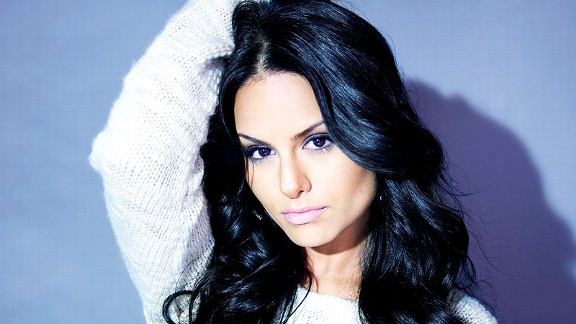 Courtesy of Pia ToscanoThe "American Idol" alum sang the anthem at every L.A. Kings' home game en route to the Stanley Cup.
Pia Toscano probably never imagined that she'd have so many hockey fans chanting her name, but after becoming the Los Angeles Kings' good-luck charm at the end of their championship run last season, the former "American Idol" contestant has become a fan favorite at the Staples Center.
It started innocently, with her singing the national anthem at a Dallas Stars-L.A. Kings game at Staples last January. Then she sang again at the start of the team's 2012 playoff run in April -- and the Kings just kept winning. Not wanting to mess with a streak, they kept bringing Toscano back to center ice to sing and, before long, they were hoisting Lord Stanley's silver and nickel-alloy cup above their victorious heads. How's that for good luck?
This past Saturday, Toscano was at Staples Center to sing the anthem at the Kings' lockout-delayed season opener against the Chicago Blackhawks.
She recently chatted with ESPN Playbook about becoming a Stanley Cup champ's talisman, loving Mike Piazza and dreaming of singing at the Super Bowl.
July, 31, 2012
7/31/12
12:00
PM ET
By
Lynn Hoppes
| ESPN.com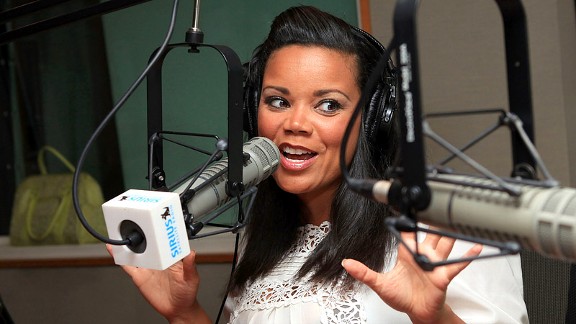 Robin Marchant/Getty ImagesKimberley Locke and her boyfriend have played about 30 rounds of golf already this year.
American Idol alum Kimberley Locke released her new single "Finally Free" on Tuesday and talked with Playbook about music and sports. Locke, who starred in the second season of the singing competition, has lost more than 40 pounds by boxing, golfing and maintaining a healthy lifestyle.
So let's start with boxing. Seriously?
"I'm going to be really honest with you. For a brief point as a teenager, I wanted to become a boxer. And then I watched these two girls in the ring. They beat the snot out of each other. I thought to myself, 'It must feel good to punch someone in the face and get paid to do that.' Then, when they finished, I saw their faces. And that scared me. I thought, 'No way I could do that!'"

But you used boxing to help you lose weight, right?
"I'm that girl who will try anything once. Weight loss is a journey. I decided to go back to my younger days of being active and playful. I have friends who are into boxing and they got me on the speed bag. They taught me how to hit it correctly. It's not only a great workout, but I look great doing it!"
May, 2, 2012
5/02/12
10:55
AM ET
By
Brandon Sneed
| ESPN The Magazine
In one year, Scotty McCreery went from country-music-listening high school ballplayer to reigning "America Idol" touring with Brad Paisley. But the 18-year-old still feels at home on the mound, so after missing the 2011 season, he returned to Garner Magnet High School in North Carolina to earn back a pitching spot for his senior year. And he's off to a stolid start, with a 2-0 record, a 1.03 ERA and 26 strikeouts in 20 1/3 innings. The country crooner slash curveball ace gave Playbook a glimpse of his new life.
[+] Enlarge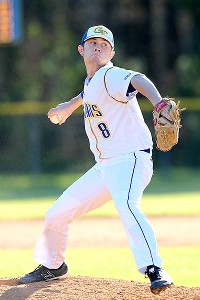 Courtesy of Johnny JohnsonCountry music singer Scotty McCreery from "American Idol" still pitches for his high school baseball team.
What's a typical day these days?
If I'm touring with Brad, I'll be home Sunday, go to school Monday, Tuesday and Wednesday, then I hit the road Thursday through the weekend. But if I'm home like I am now, I just go to school and live like a normal kid. Except maybe I do an interview like this.
How hard do you throw?
I'm not the guy going out there throwing 90. I top out around 80, so I have to work that off-speed.
We hear the curveball is your pitch.
Yeah, I'm a finesse pitcher. I try to set up on a nice slow slurve and then hit them with the hard curve. It looks like a fastball and drops out at the last minute.
What other pitches do you use?
I throw a two-seamer and a slider that's more like a slurve, a slow slider with a little curve. And I have my hard-break curveball. My curveball's hard and my slider's soft.
How much time do spend on your game now, versus before "AI?"
I can't put as much time into baseball, but I don't want to do something halfheartedly. The other guys are there every single day, so I'm still trying to put in as much work as I can. My dad and I bring our gloves on the road and make time to throw. Even if it's not baseball, we'll throw a football, just to stay active.
Does playing feel different this year?
I grew up on the mound, so that's the same, but there were never this many people. We used to have maybe a dozen show up. Now we'll get 100, 150, and people from Maine, Ohio, New York. It's crazy — but great. The crowd gets into it.
How have your teammates handled that?
They've had changes to deal with too — a different atmosphere, the crowds, the craziness. But they're cool. They have fun with it.
What about guys playing against you?
They talk smack. "Oh, 'American Idol' kid's throwing." "Oh, stick to singing." Stuff like that. But it's all good — I go out there and get them out, and I get the last laugh. And that's what pitching's all about.
Do you feel like baseball gives you an escape or a way to hang on to being a kid?
For sure. Baseball is my last thing from childhood. I'm a senior this year, so it's my last year to do this. I'm just trying to go out there and enjoy it and make all the memories I can.