May, 23, 2013
5/23/13
2:45
PM ET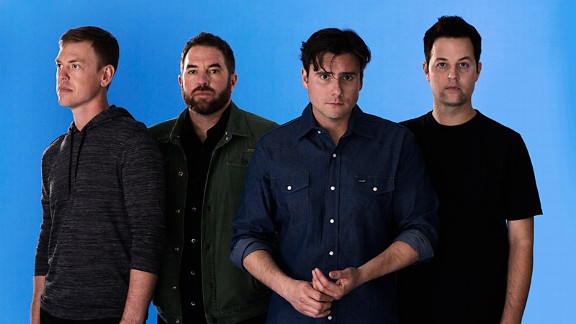 Courtesy of Michael Elins Jimmy Eat World drummer Zach Lind, second from left, is the son of a former MLB player.
Rockers Jimmy Eat World, set to release their seventh album, "Damage," on June 11, kicked off a world tour Friday on the West Coast before heading to Europe.
"Touring is the best part of it all," said the band's drummer, Zach Lind. "Playing live is kind of extension of the musical process but one of the things we've always lived for."
Jimmy Eat World played their first show of the 2013 tour at House of Blues in San Diego and are set to hit the Netherlands, England and Luxembourg before coming back to the States and Canada next month.
Along with the kick that Lind and his bandmates -- guitarist/vocalist Jim Adkins, guitarist Tom Linton and bass player Rick Burch -- get from the live experience, there are other experiences that helped Lind learn his craft.
"Basically I grew up in baseball," Lind said. "I feel like my background in baseball has helped me as a drummer."
Lind notes that the time he spent playing on the baseball diamond and in batting cages affected his drive and technique as a musician.
"Not only hitting a drum, but hitting it a certain way. There's the timing and the leverage in the swing. It's hard to pinpoint, but it's like there's a consistency as a drummer that's like looking for the right pop in [swinging] the bat."
Interestingly enough, for Lind, baseball was in the blood. His father, Jack Lind, played for the Arizona State Sun Devils team that won the 1967 World Series, crushing Houston 11-2. Jack Lind also went on later to play a few years as an infielder for the Milwaukee Brewers before retiring and spending time as a scout for the Houston Astros, then was a minor league baseball coach for more than a decade.
April, 5, 2013
4/05/13
7:43
PM ET
By
Andy Frye
| Special to ESPN.com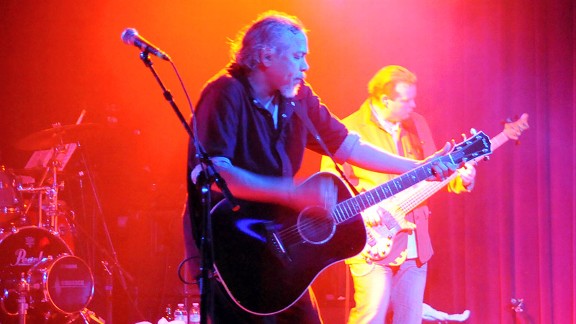 Photo courtesy of Jessica PerreaultSam Llanas, formerly of the BoDeans, is currently working on his second solo album as well as a play.
Sam Llanas, formerly of the BoDeans, has returned to the music scene as a solo artist venturing into new territories.
Since departing from the BoDeans, Llanas released an album at the very end of 2011 titled "4 A.M. (The Way Home)." More recently, he has penned a slate of new songs, heading back to the recording studio to put together his next, currently untitled record.
"4 A.M." is a collection of acoustic guitar-based songs which Llanas said "deals with a lot of themes of the night."
"I started writing the songs for '4 A.M.' before leaving the BoDeans, and I think the songs on the new record are even more accessible. And, for me, the next one feels like it is my real first solo record."
For Llanas, currently there's a certain buzz that may also be stoking creative fires.
"I love March Madness and, to me, it's one of the greatest things ever in sports," Llanas said.
Llanas, who is from of Waukesha, Wis., said that despite his proximity to both NCAA tournament participants Marquette and the University of Wisconsin, he's not a fan of any one team in particular.
"What I like is seeing a game that's anybody's game when it goes down to the wire," he said.
March, 20, 2013
3/20/13
8:13
AM ET
By
Andy Frye
| Special to ESPN.com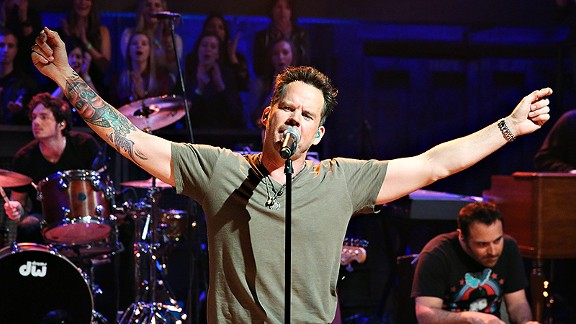 Lloyd Bishop/Getty ImagesGary Allan triumphantly returned to No. 1 on the country charts for the first time since 2004.
Gary Allan is back on tour with a new album out called "Set You Free," his first album since 2009 and the 10th of his career. The country singer-songwriter, perhaps best known for "Man to Man" and "Tough Little Boys," said that 2013 has started out with a slow roll, but that it's great to be back in action.
"We've been doing a radio tour to kind of reintroduce myself to people," he said. "The album's been a long time coming, but it's great to be back in the top 5 again and performing live."
Allan's lead song off the new album, "Every Storm (Runs Out of Rain)," first hit the country music airwaves in September 2012 before the full album was released in late January. Since then, "Every Storm" reached the No. 1 spot on Billboard's Country Airplay chart, giving Allan his fourth country No. 1, and his first since his "Nothing On but the Radio" in late 2004.
Allen says that he loves songwriting and that his fire hasn't flickered. The artistic process at this point in his career is about growing and "just simply about having a little more life experience."
In truth, Allan has been through a lot. After a prosperous career that started with packed gigs and strong record sales, Allan put his career on hold for a while in 2005, a year after his wife had committed suicide. After a pause, Allan put out two emotional and critically acclaimed albums, "Tough All Over" and "Living Hard." Since then, Allan again has found solace in playing live.
"Me, I love being on the road. I know some people don't, but I definitely make records so that I can be out on tour," he said. "I do most of my actual writing in the winter when I have time to ponder."
Allan's current tour resumes March 23 in Austin, Texas, before hitting the East Coast, South and Midwest, with gig dates stretching to August.
January, 4, 2013
1/04/13
8:04
AM ET


You may not know hip-hop duo Santiago x The Natural by name, but you've probably heard their anthem, "Warriors," if you've been watching football closely this season.

The song, which combines the vocal talents of Lawrence Santiago and the hard rhymes of Chicago-based rapper Jeff "The Natural" Stephens, was released last year on iTunes. Since then "Warriors" has played numerous times this season during NFL games and has become the de facto fight song for the No. 1 Fighting Irish in their undefeated season en route to the BCS title game on Monday against No. 2 Alabama.

The lyrics within call back to Notre Dame's days, even long before Lou Holtz:

Now total request live now you've got me / The flow is one of a kind, not too sloppy Wanna have my memory high like Knute Rockne's / Throw them hands up in the sky if you copy

Stephens and Lawrence met as students at a Notre Dame dining hall almost a decade ago as underclassmen during the Tyrone Willingham era, when there was a renewed feeling of excitement about Fighting Irish football -- but when Notre Dame wins were tougher to come by.