ESPN Music:

Arizona Diamondbacks
August, 22, 2012
8/22/12
10:30
AM ET
By
Andrew Pentis
| ESPN The Magazine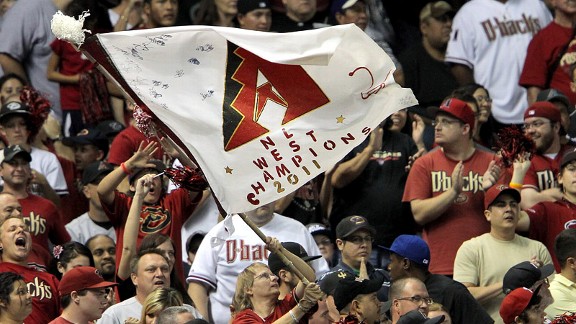 oug Pensinger/Getty ImagesAfter victories, Diamondbacks fans celebrate with a song from a local music celebrity.
In seventh innings around the country every day of the season, fans stand and sing lyrics that were written in 1908. The shelf life of "Take Me Out to the Ball Game" proves that America's pastime has long been intertwined with its tunes. But for a unique connection between city and club, teams rely on their own traditions -- some newer, some older.
We decided to find out the one song that each team relies on to get fans on their feet.
We're featuring the music from one team per day here on ESPN Playbook. To see past entries,
click here
.

Arizona Diamondbacks
Song
: "
D-backs Swing
" by Roger Clyne & The Peacemakers
Tradition
: Played after wins at Chase Field
Fun facts
:
• "Roger is a big baseball fan and a big D-backs fan, and he asked if he could write a song for us," president and CEO Derrick Hall said. "We decided after we heard it that we were going to play it anytime the team won.
• Clyne has performed concerts at the downtown ballpark and sang "D-backs Swing" on top of the home dugout at Games 3 and 4 of the 2011 NLDS—both victories.
Bonus music
:
• The organization has experimented with seventh-inning songs but hasn't yet settled on one.
• One unique tradition: Whenever the team opens the roof before a game, there is a brief ceremony. "That song doesn't have a name," Hall said, "but it [sounds] like parting the clouds. Very heavenly and angelic."
June, 8, 2012
6/08/12
11:19
AM ET
By
Andrew Pentis
| Special to ESPN.com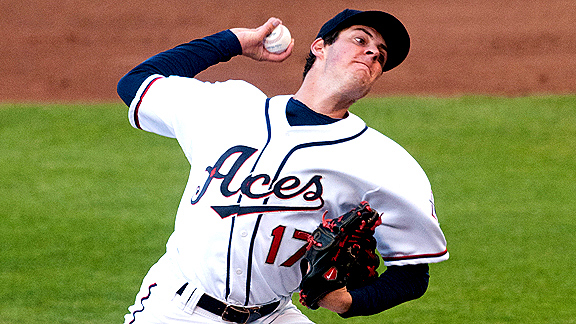 David Calvert/Reno AcesDiamondbacks prospect Trevor Bauer's pre-game routine includes listening to 55 minutes of music.
When top-ranked prospect (and Tim Lincecum look-alike) Trevor Bauer showed up to his first big league camp with the Arizona Diamondbacks this spring, he brought with him his own way of doing things. Notably, a training routine that includes long-tossing the baseball from foul pole to foul pole and polishing his pitches in side sessions, all while cranking heavy metal in his headphones.
"I can just throw and listen to my music and not have to hear all the fans yelling at me or telling me I am going to get lit up," he says.
That all changed when old-school skipper Kirk Gibson asked him to stop the music. Did that strike him as odd, when the club was cool with his other antics? "No, it came as no surprise," the 21-year-old right-hander says. "I was expecting it. I'm definitely different -- no one else really does it. Maybe, at some point, baseball will embrace new stuff like that. But not right now."
Bauer, now pitching at Triple-A Reno, still rocks out with his iPod, but only in the clubhouse or his car -- certainly not on the field or when anyone else is watching. We let him sound off on the matter.
How did all this get started?
When I was 14, I went down to Texas Baseball Ranch [to a camp for elite pitchers] for the first time and had a lot of mechanical changes to make and was kind of struggling. I talked to [coach] Ron Wolforth about it, and he asked if I had an iPod. I did, so he told me to put on my favorite song and throw, just to help me find my own personal rhythm. I can't remember exactly what it was, but it worked.
And the habit just took hold?
In high school, I didn't really have a throwing partner, so I'd go out to the park at night on my own, throw my headphones on, take a bucket of balls and throw my long-toss against a fence. When I ran out of balls, I'd pick them up and continue on. I did that all through high school.