ESPN Music:

Baseball music
May, 2, 2012
5/02/12
10:55
AM ET
By
Brandon Sneed
| ESPN The Magazine
In one year, Scotty McCreery went from country-music-listening high school ballplayer to reigning "America Idol" touring with Brad Paisley. But the 18-year-old still feels at home on the mound, so after missing the 2011 season, he returned to Garner Magnet High School in North Carolina to earn back a pitching spot for his senior year. And he's off to a stolid start, with a 2-0 record, a 1.03 ERA and 26 strikeouts in 20 1/3 innings. The country crooner slash curveball ace gave Playbook a glimpse of his new life.
[+] Enlarge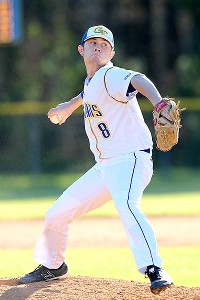 Courtesy of Johnny JohnsonCountry music singer Scotty McCreery from "American Idol" still pitches for his high school baseball team.
What's a typical day these days?
If I'm touring with Brad, I'll be home Sunday, go to school Monday, Tuesday and Wednesday, then I hit the road Thursday through the weekend. But if I'm home like I am now, I just go to school and live like a normal kid. Except maybe I do an interview like this.
How hard do you throw?
I'm not the guy going out there throwing 90. I top out around 80, so I have to work that off-speed.
We hear the curveball is your pitch.
Yeah, I'm a finesse pitcher. I try to set up on a nice slow slurve and then hit them with the hard curve. It looks like a fastball and drops out at the last minute.
What other pitches do you use?
I throw a two-seamer and a slider that's more like a slurve, a slow slider with a little curve. And I have my hard-break curveball. My curveball's hard and my slider's soft.
How much time do spend on your game now, versus before "AI?"
I can't put as much time into baseball, but I don't want to do something halfheartedly. The other guys are there every single day, so I'm still trying to put in as much work as I can. My dad and I bring our gloves on the road and make time to throw. Even if it's not baseball, we'll throw a football, just to stay active.
Does playing feel different this year?
I grew up on the mound, so that's the same, but there were never this many people. We used to have maybe a dozen show up. Now we'll get 100, 150, and people from Maine, Ohio, New York. It's crazy — but great. The crowd gets into it.
How have your teammates handled that?
They've had changes to deal with too — a different atmosphere, the crowds, the craziness. But they're cool. They have fun with it.
What about guys playing against you?
They talk smack. "Oh, 'American Idol' kid's throwing." "Oh, stick to singing." Stuff like that. But it's all good — I go out there and get them out, and I get the last laugh. And that's what pitching's all about.
Do you feel like baseball gives you an escape or a way to hang on to being a kid?
For sure. Baseball is my last thing from childhood. I'm a senior this year, so it's my last year to do this. I'm just trying to go out there and enjoy it and make all the memories I can.
April, 26, 2012
4/26/12
2:25
PM ET
By
Jayme Lamm
| Special to ESPN.com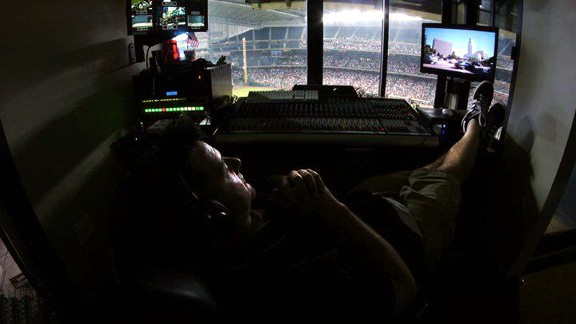 Jayme LammNunee Oakes mans his post above left field at the Astros' Minute Maid Park.
Let's be clear: Minute Maid Park is
not
a good place to catch a first-class baseball game and hasn't been for some time, dating back to '05 when the Astros won the National League championship. Coming off one of the worst seasons in Major League Baseball in which the Astros posted a franchise-worst 56-106 record, they aren't providing much enjoyment.
But that doesn't mean you won't find a different form of entertainment under that retractable roof, thanks to a guy whose job it is to provide entertainment, even when the Stros are striking out left and right.
For the past 14 seasons, that job has belonged to Nunee Oakes, audio engineer (fancy words for a DJ, he says) for the Houston Astros. After logging 14 championship-less seasons, the music man has lasted almost a decade longer than any of the 18 managers in the team's history. But Oakes does a lot more than play variations of Jay-Z between innings. He's the guy who controls every bit of sound you hear inside the 1,263,240-square foot ballpark -- from the video board (the first 1080i HD scoreboard in MLB) to the PA system to longtime broadcaster Milo Hamilton's radio show. He does it all.
While the team sporting the uniforms hasn't been above .500 since 2008, the team "behind the glass" above left field (which is comprised of three other full-time employees and 50 game-day employees) has been honored numerous times, including winning the
Best Overall Display Award
(known as the "Best Show in Baseball") for five straight years.
April, 19, 2012
4/19/12
12:56
PM ET
Walk-up music is a way for baseball players to express themselves. For Carlos Beltran, it's about kissing up.
OK, maybe not kissing up. But he instead chose to honor his hitting coach with the St. Louis Cardinals.
According to Derrick Goold
of the St. Louis Post-Dispatch, when team officials asked Beltran what song he wanted to use before his at-bats, he didn't even know the name of the song, just who used it.
"I told them to give me the song that Mark McGwire had in all of his years in St. Louis," Beltran told Goold. "I wanted that one. He had good years here."
That song was "Welcome to the Jungle," the oft-used Guns N' Roses classic that has become a stadium anthem. But it was also McGwire's crowd-rousing music in 1998 when he hit 70 home runs. It became so associated with McGwire in St. Louis that the
team played it for him
when he publicly resurfaced in 2010 at the team's Winter Warm-Up convention, after the infamous Senate hearings and his
public steroids admission
.
April, 15, 2012
4/15/12
8:24
PM ET
By
Mike Trask
| Special to ESPN.com
The Sex Pistols challenged authority. The Ramones mastered the three-chord song. Bad Religion wrote lyrics related to social responsibility.
The Isotopes Punk Rock Baseball Club sings about baseball. And baseball players. They call themselves "the world's greatest baseball punk band."
Sample lyrics from "Operation: Vamos" addresses the kidnapping of Washington Nationals catcher Wilson Ramos:
"A Venezuelan Holiday
They're gonna take that kid away
Operation: Vamos
Target: Wilson Ramos"
It's one of the newest tunes from the band also responsible for "
Ballad of Rey Ordonez
" and "
Curse of Jim Eisenreich
."
"I've played baseball every season since I was 3 years old and as experienced as I am at picking up chicks, getting my heart broken and vice versa, I'm 10 times more experienced at fielding grounders and hockin' loogs," said lead singer Evan October (real name: Evan Wansbrough).
The band splits its time between Louisville, Ky., and Vancouver, British Columbia, where October grew up playing middle infield for the North Shore Twins, a league for elite high school-age players.
"The Twins were also in the same league as
Adam Loewen
and I had to face him a couple times, with no particular success," said October, 27.
The band has been playing since 2006 and put out its first album on Red Scare Industries in 2009. But the boys still find time for bar-league ball, where October generates ideas for songs like "Suicide Squeeze":
"We're tied and it is getting late
We'll manufacture our own fate
They won't believe we did it
First move and I'm committed"
But they'll even delve into the rules. Sample lyrics from "Rule 21," a song named after the MLB misconduct rule:
"I've been erased
A black bar across my name, ashamed and disgraced
Nobody will remember me
I've been tossed outta history
I bet and lost a legacy"
The Isotopes Punk Rock Baseball Club has a few tour dates coming up, including an appearance at the well-known
Insubordination Festival
in Baltimore this summer.
Less exciting for October is the Miami Marlins' new uniforms, which he says are about as punk rock as Justin Bieber.
"The Marlins are going to be a team to watch," he said. "I was behind them for NL wild card last season, but the addition of Reyes and Ozzie guarantees that they'll be in the conversation come October. The new uniforms though ... good lord. The Marlins' new branding is the worst baseball has ever seen."
Check out more Isotopes music at theisotopes.bandcamp.com.