October, 24, 2013
10/24/13
12:11
PM ET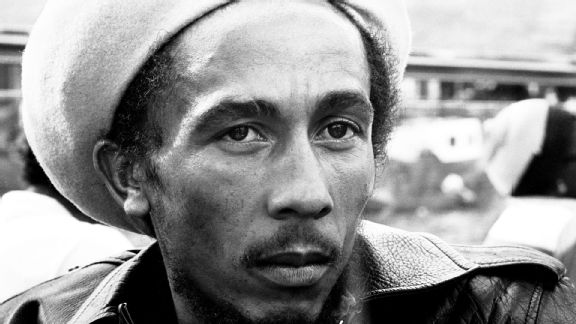 Getty ImagesAccording to Bob Marley's official website, "Legend" has sold more than 20 million copies since its 1984 release -- three years after his death.
What were Red Sox fans singing every time Shane Victorino stepped to home plate in Game 1 of the World Series?
"Don't worry about a thing, 'cause every little thing gonna be all right."
If you're one of the millions who own a copy of "Legend: The Best of Bob Marley and the Wailers," you might recognize that's the opening line of "Three Little Birds," one of Marley's most optimistic and uplifting songs.
But what is reggae's enduring icon doing in the land of "Sweet Caroline," "Shipping Up To Boston" and "Dirty Water"?
As Peter Abraham of The Boston Globe
explained at the time
, Victorino is a Marley fan and he switched his at-bat music to "Three Little Birds" from another Marley song, "Buffalo Soldier," in July. The change in routine got an instant response from Fenway fans, who have been singing along ever since.
They were singing again when Victorino, who had been struggling at the plate, came to bat late in Game 6 of the ALCS. Moments later, his grand slam gave Boston its third AL pennant in 10 years.
"To hear a home crowd get behind that song and talk about every little thing's gonna be all right, especially that part ... yeah, it's definitely special to me,"
Victorino told NESN on Tuesday
. "You live for those kind of moments."
Did a Bob Marley song help Victorino hit a season-defining home run?
"(I'm) not saying that's what led to what happened, but it definitely gave me some kind of motivation," he told NESN.
Bob Marley:
"Three Little Birds" from "Legend: The Best of Bob Marley and the Wailers." (
iTunes
|
Amazon
)
August, 2, 2013
8/02/13
11:53
AM ET
April, 21, 2013
4/21/13
9:53
AM ET
By
Theresa Manahan
| ESPN The Magazine
To say Joakim Noah is multi-cultural is a bit of an understatement. The Bulls center's diverse background has been well documented: his French-African father earned his fame as a tennis star, his mother once reigned as Miss Sweden and his father's father was a soccer player in Cameroon. Arts and sports have long held equal sway in the Noah family.
But it's reggae, and the roots of the Rastafari movement, that have inspired Noah to broaden his horizons. He was first exposed to the music of Bob Marley as a child. In fact, his parents,
Yannick
and
Cecilia,
shared a love of the Jamaican artist. "My house always had Bob Marley music playing in the background," Noah says.
As he grew older, Noah began to appreciate the lyrics of Marley's songs as much as the melodies, and was motivated to research their meaning. In doing so, he stumbled across the origins of the reggae movement and Rastafarian culture. "A lot of people think of reggae as laid-back and chill, but the words in reggae are very powerful," he says.
Despite his fascination with the Rastafari movement, the soft-spoken, 6'11' Noah – who holds American, Swedish and French citizenship -- doesn't consider himself a follower of any one religion. "I'm not a religious person, but I'm a spiritual person," say Noah, whose family members practiced both Islam and Christianity. "I believe in God, but I don't believe in one specific god. I like to take pieces from everywhere and incorporate them into my life."
"I'm not a Rastafari, but a lot of their philosophy and beliefs make sense to me: being in tune with nature, knowing about your roots, knowing about your heritage, not getting caught up in materialism." He adds, "I think Rasta teaches you humility."
It also helps him connect with his roots. Noah's favorite Marley song is "Africa Unite" and, even though he's never been to Ethiopia or Marley's homeland of Jamaica, he wears an Ethiopian cross adorned with Tibetan beads around his neck to represent Rasta.
"I feel like your jewelry is a big part of you," Noah says. "I don't wear diamonds or anything like that, but I wear this every day. This is my peace. When I die, I want to have it on."
Noah, who is averaging a double-double that includes career highs in points (12.0) and rebounds (11.5) per game this season, also finds peace before games by listening to reggae. "It gives me strength when I play," says Noah, who also jams to Barrington Levy, Capleton and Sizzla -- and his dad. Now a pop singer in France, Yannick Noah released a Marley tribute album, "Hommage," last year.
For now, his son is sticking with his day job. Noah says there's no chance of him following in the footsteps of his athlete-turned-singer father. "I can't sing like that," he says. "Only in the shower."