September, 6, 2012
9/06/12
1:00
PM ET
By
Lynn Hoppes
| ESPN.com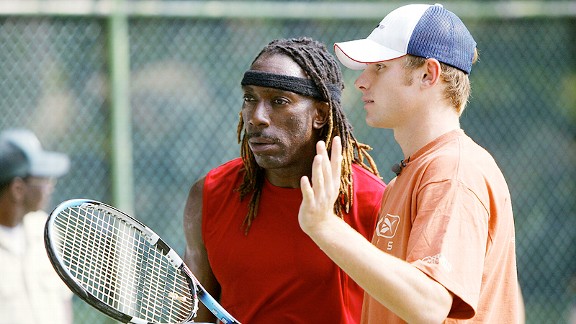 Mark Mainz/Getty ImagesBoyd Tinsley and Andy Roddick have been friends for 10 years, and Tinsley was there to support him.
Boyd Tinsley, violinist for the Dave Matthews Band and close friend of Andy Roddick's, said he was a little surprised that Roddick is calling it quits.
"I was always hoping he'd go on," said Tinsley, who met Roddick 10 years ago. "Athletically, he is well enough, the way he's been playing lately. He's still a great player."
Tinsley has been there in the stands watching the U.S. Open for years, starting with Boris Becker in the mid-1980s. He caught the tennis bug himself and started his own tennis academy in Charlottesville, Va.
And Tinsley was there in New York this week to support Roddick, who headed into retirement with a 6-7 (1), 7-6 (4), 6-2, 6-4 loss to Juan Martin del Potro of Argentina in the fourth round at Flushing Meadows on Wednesday.
Roddick surprised everyone last Thursday, his 30th birthday, by announcing that he would retire after the U.S. Open. He finishes with 32 tournament titles, including the 2003 U.S. Open crown.