ESPN Music:

Chicago White Sox
March, 26, 2013
3/26/13
6:00
AM ET
By
D'Arcy Maine
| ESPN.com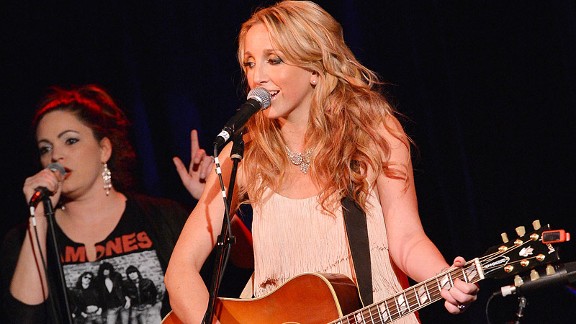 Rick Diamond/Getty ImagesAshley Monroe, right, has quite the busy career. But she still gets to see baseball from time to time.
Just 26 years old, country singer Ashley Monroe has had her fair share of struggles in the music business. Having inked her first deal as a teenager, her debut album was set to be released in 2006, but didn't see the light of day until 2009 as a digital exclusive with little fanfare. With a fledgling solo career, Monroe made her name as a songwriter, working with some of the biggest names in country. In 2011 she teamed up with pals Miranda Lambert and Angaleena Presley to form the Pistol Annies. Since their critically acclaimed debut album later that year, Monroe's career has skyrocketed.
Earlier this month Monroe finally released a solo record. "Like a Rose" has already garnered rave reviews and impressive sales. With a new Pistol Annies record set for a May release -- and a recent engagement to Chicago White Sox pitcher John Danks -- it seems like Monroe is on top of the world both professionally and personally.
We chatted music and baseball with Monroe over the phone earlier this month, in between performances at SXSW in Austin.
Playbook:
Congrats on the album! How does it feel to be getting such positive reviews and acclaim?
Monroe:
I can't believe it. It's really overwhelming. At first I thought my mom was just sending me the good reviews ...
Playbook:
After the disappointment of your first record never getting a proper release, how did you manage to stay focused and not get discouraged?
July, 24, 2012
7/24/12
9:00
AM ET
By
Andrew Pentis
| ESPN The Magazine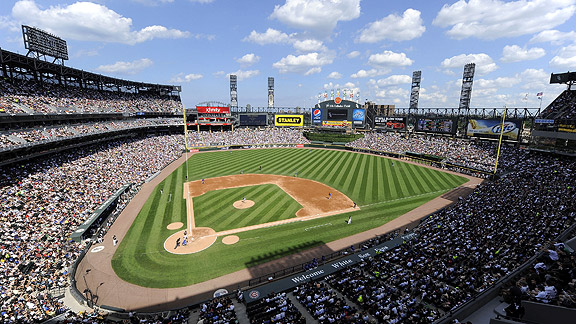 Ron Vesely/MLB Photos/Getty ImagesWhen White Sox fans hear their team's customized song, that means a Sox rally is in the works.
Every day of baseball season, in seventh innings around the country, fans stand and sing lyrics that were written way back in 1908. The sheer shelf life of "Take Me Out to the Ball Game" proves that America's first pastime has long been intertwined with its tunes. But for a more unique connection between city and club, teams rely on their own traditions -- some newer, some older.
We decided to find out the one song that each team relies on to get fans on their feet.
We're featuring the music from one team per day here on ESPN Playbook. To see past entries,
click here
.

Chicago White Sox
Song
: "
Let's Go, Go-Go White Sox
" by Captain Stubby and The Buccaneers
Tradition
: Played during rallies at U.S. Cellular Field
Fun fact
:
• The song was first used during a 1959 pennant run, lasted into the '60s, and then went away until 2005, when the staff brought back a re-mastered recording with the same vocals but more bass.
Bonus music
:
• Every time an opposing pitcher is taken out, the White Sox play "Na Na Hey Hey Kiss Him Goodbye." Organist Nancy Faust began playing it in the early 1970s, well before it became a staple at stadiums nationally. Today, the organist plays the "Na Na Na," and then falls silent, allowing the fans to fill in the "Hey Hey Hey."
• Also, Journey's "Don't Stop Believin'" was the theme song of the 2005 World Series White Sox. It is still played by fans in the parking lot.
May, 25, 2012
5/25/12
11:24
AM ET
By
Matt Lindner
| Special to ESPN.com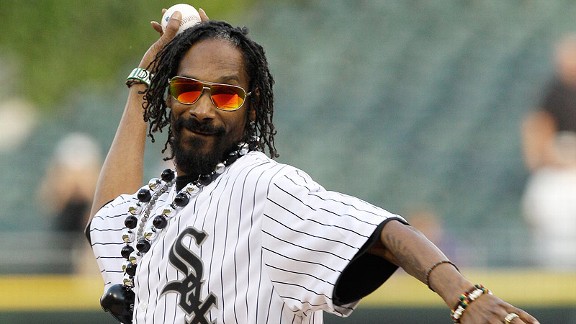 AP Photo/Nam Y. HuhSnoop Dogg claims he threw a "changeup screwball" on his first pitch at the White Sox game.
CHICAGO -- Before throwing out the ceremonial first pitch at Thursday night's White Sox game, Snoop Dogg said he received something far more valuable than advice as he visited with the team in the clubhouse.
"One of them gave me some of that mmmm, that do-it fluid, that muuuah, you know what I'm talking about," he told a crowd of reporters. "That thing so I could be right."
He didn't specify what exactly was in that "do-it fluid." Whatever it was, it worked like a charm.
And while most pitchers spend their entire careers trying to perfect something other than a fastball, the rapper-actor claims he's capable of unleashing a deadly arsenal in a single heave.
"It was a changeup screwball, one of my pitches that I normally don't really go into but we're in the Windy City so I had to make sure it got over the plate the right way," he said. "My right hand is good."
Snoop's changeup screwball hit the mark, despite the fact that he wasn't much of a baseball player in his younger days.
"A lot of my homeboys played baseball coming up but I never could really grab a hold of it," he said. "We chose more football, basketball, but we do know how to (play baseball) if necessary."
Thursday night's appearance at U.S. Cellular Field was a last-minute one, a mere pit stop before he'd go on to entertain the masses at the Horseshoe Casino in nearby Hammond, Ind., later in the evening.
His good right hand helped the sports fanatic build a strong youth football league from scratch in Southern California.
So after conquering the entertainment and youth sports industries, does Snoop see professional franchise ownership in his future? He's not ruling anything out, though it'd have to be a specific kind of franchise.
"I'd own a lingerie football team," he said laughing. "A lingerie basketball team."