March, 22, 2013
3/22/13
9:00
AM ET
By
Jared Zwerling
| ESPN.com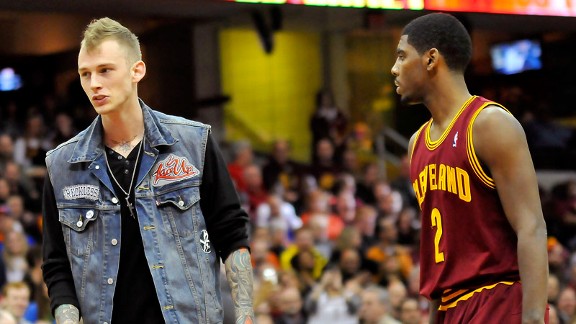 David Dermer/Diamond Images/ Getty ImagesMachine Gun Kelly, left, and Kyrie Irving are part of Cleveland's post-LeBron movement.
July 8, 2010, wasn't very kind to Cleveland Cavaliers fans. Their local hero, LeBron James, not only announced that he would "take my talents to South Beach," but he said those words live on a heavy-hitting scale -- national television.
It was a huge punch in the gut that moved some fans to burn his jersey, which was captured on local TV, and even motivated Cavs owner Dan Gilbert to write an open letter calling out LeBron's disloyalty, among other faults he saw.
The city was reeling, but an underrated hero emerged: One of Cleveland's own, rapper Machine Gun Kelly (MGK), who's a basketball fanatic on and off the court.
The season following LeBron's departure, the Cavs' team DJ, Steph Floss, started playing more of MGK's music during games, which led the rapper to become a staple at the Quicken Loans Arena and a favorite at games, with fans holding up signs in his honor. They appreciated his rags-to-riches story, which mostly unfolded in Cleveland, the city he settled in at 14 years old after living in Egypt, Germany, Chicago, Los Angeles and Denver.
That story initially involved MGK, 22, growing up in a broken home with an absent father and addict mother, and ending up homeless in his teens and raising a daughter, Casie, at 17. Then, a few years later, his musical talents were discovered by rap mogul Diddy, who signed him to his record label, Bad Boy Records. In 2012, MGK churned out a top-five debut album on the Billboard charts, and this NBA season, his song "Invincible" is featured as part of the Cavaliers' pregame introduction video shown on the arena's Jumbotron.
Gilbert has witnessed firsthand how Cavs fans have embraced MGK, who, along with All-Star point guard Kyrie Irving, is putting the city back on the entertainment map. In fact, Gilbert has befriended MGK and he already has a bigger plan in store for his new buddy related to the ownership side of the team.
Speaking with ESPN Playbook recently, MGK talked about his Cleveland upbringing, connection to the Cavaliers, friendship with the owner, his musical and sports background, and much more.
How's the new year treating you?
I'm really just excited to tour the states with my album, because last year the only time we got to tour with the album was in Canada. And that was insane because it was all sold-out. But I'm just excited to go out and play in front of the states, and kind of give the album the shine that it didn't really get. It's really just like eye-opening because every city we're going to is selling out, which I think surprised a lot of people.
April, 18, 2012
4/18/12
10:31
AM ET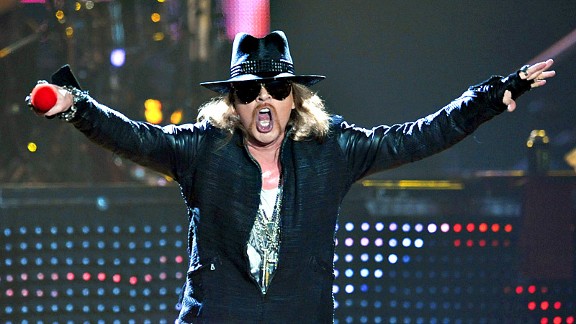 Mark Davis/Getty ImagesAxl Rose and Dan Gilbert both really want Cleveland to know they're very sorry.
Regardless of
claims made by its promotional materials
, Cleveland's got it bad. Its teams rarely demonstrate success. Its
rivers spontaneously combust
. And people always feel compelled to apologize to it for things.
First there was Dan Gilbert, whose sic-heavy
Comic Sans denunciation of LeBron James
conveyed outrage and remorse over the pitiful circumstances that had befallen Cavs fans. "I PERSONALLY GUARANTEE THAT THE CLEVELAND CAVALIERS WILL WIN AN NBA CHAMPIONSHIP BEFORE THE SELF-TITLED FORMER 'KING' WINS ONE," the team owner e-hollered, making an impossible promise that set up fans for additional disappointment.
And then most recently was rock legend and documented jungle-dweller Axl Rose (formerly William Rose, Bill Bailey, William Bruce Bailey, and William Bruce Rose Jr.), who
opted out of induction
into the Rock and Roll Hall of Fame and then wrote a
mea culpa letter to the downtrodden Clevelanders
. Please read the letter in its entirety, per Axl's wish, at the link provided, and then consider the similarities between his letter and Gilbert's.
For instance, each letter takes time to reassure the townspeople that it's not their fault, that they are faithful fans, that they don't suck as humans.
"Cleveland does in fact rock!" Axl claims, presumably with a straight face.
"You have given so much and deserve so much more," Gilbert writes. "You simply don't deserve this kind of cowardly betrayal."
Gilbert then goes on to say, "Some people think they should go to heaven but NOT have to die to get there." Translation: "Cleveland may be hell on earth, but put in your time and heaven will be all the sweeter."
In all seriousness, though, Cleveland ain't that bad. (Just an hour drive to Cedar Point!) But it should be noted that its best-reviewed hotspot on Yelp
is a cemetery
.