April, 18, 2013
4/18/13
8:30
AM ET
By
Kelley L. Carter
| Special to ESPN.com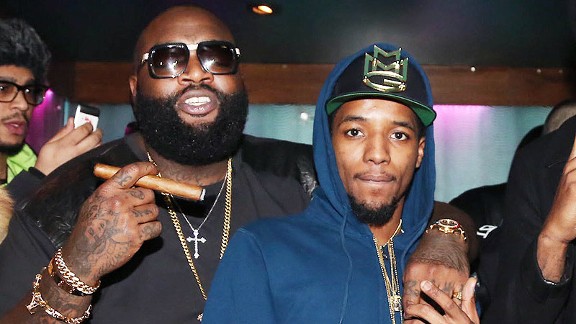 Johnny Nunez/WireImage/Getty ImagesRockie Fresh, right, with Rick Ross, said Chicago feels protective of hometown star Derrick Rose.
It's not that Rockie Fresh is scared or anything. He's just not stupid.
The 21-year-old rapper laughs when he says it, but you will never catch him playing a game of pickup football with his Maybach Music Group boss, rapper Rick Ross.
Emphasis on never. Have you seen the size of the two of them side by side? It would never work.
Musically, Rockie Fresh is bringing a different funk to hip-hop. He's signed to MMG, one of hip-hop's trendsetting labels, but his interpretation of the music has hints of alternative rock music a la Fall Out Boy and Good Charlotte. After uber-success on the mixtape circuit, he'll finally release his first studio album, aptly titled, "Debut Studio Album," later this year.
Aside from rocking the mic, of course, Rockie is rooting for most Chicago teams (as a South Sider, it's treason to root for the Chicago Cubs, but he'll have a beer in the stadium) and hoping/wishing/praying for a Bulls comeback.
Everyone is waiting for Derrick Rose to get back in the game. What's the vibe like in Chicago now?
It's a good time for us. But at the same time, we all just want to make sure he's actually ready to come back. Nobody wants him to come back too soon. Because he's actually from Chicago, people have a different kind of respect for him than we've had for any other player that's played for us. So everybody just wants to make sure that he's healthy more than anything. ... We don't want him to get injured again and things be worse. It's a crazy time for the city.
I know you want another championship from your home team. How far off from reality do you think that is?
I don't think it's too far. We could get blessed with a good draft pick or something next year and maybe the year after that. But I do feel like Derrick Rose needs a little bit of help -- that's a lot of responsibility on him. He needs a little bit more release in the backcourt. Hopefully we come up and get us a nice little guard.
February, 19, 2013
2/19/13
7:00
AM ET
By
Jared Zwerling
| ESPN.com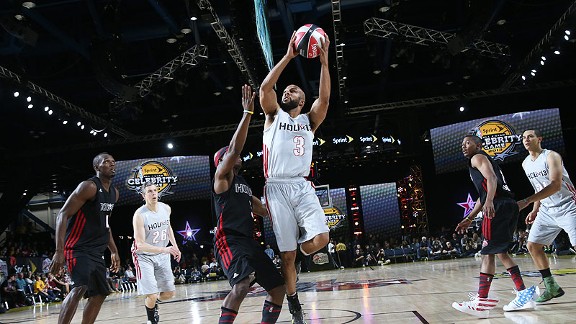 Layne Murdoch/NBAE/Getty ImagesCommon posted 10 points and eight rebounds in last Friday's celebrity game in Houston.
It's Sunday afternoon in downtown Houston, the host city of the 62nd NBA All-Star Game, and rapper and actor Common, along with his manager and some friends, walks into the makeshift green room on the top floor of the swanky Alden Hotel. He's there to meet with some VIPs associated with Under Armour and Hennessy for their "Kicks and Grits" event, before he takes the stage as MC in the rooftop lounge.
As Common makes his way around the room saying hello and posing for photos with people he doesn't know, there's a person he immediately recognizes: Indiana Pacers starting shooting guard Lance Stephenson, who endorses UA. Common approaches him with his trademark smile, and they have a short conversation about how they've been enjoying Houston.
While Common has never met Stephenson previously, he is crazy about the NBA.
"All-Star, in general, is one of the events I love to come to," the Chicago native said. "I'm just a big basketball fan."
January, 24, 2013
1/24/13
7:15
AM ET
By
Kelley L. Carter
| ESPN.com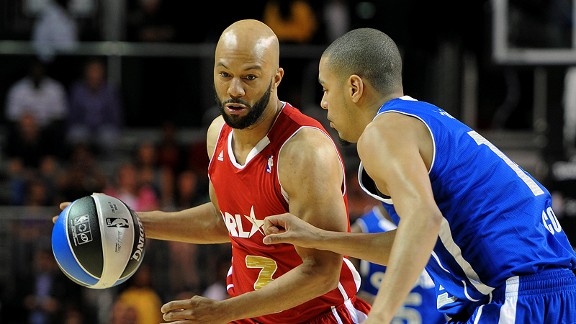 Bob Donnan/USA TODAY SportsCommon takes on J. Cole in last year's NBA All-Star Celebrity Game in Orlando.
Common is anything but.
The Chicago-bred rapper – who as a kid was a ball boy for the Chicago Bulls – acts, raps, gets politically involved and plays hoops. He has two new films out -- "LUV" and "Movie 43" -- and he's working on a new album that he expects to drop sometime in September.
We chat with him about the Bulls, the Bears and why President Barack Obama needs to stay up on his hoops game.
How are you feeling about Derrick Rose not playing the season so far? Are you excited about him coming back?
First of all, I love him because he's a Chicago-bred athlete. Obviously I don't want to see him injured. I think he's doing right by taking his time and getting himself healthy the way he should, because he wants to be able to come back and be at his best and it's good that he's giving himself time to heal. I think it's going to be exciting when he gets back. I think he'll be able to get back to full form just because of what type of work and what type of heart he's got. I did root for the Miami Heat, because I really liked that they stood up for a lot of things, like what happened with Trayvon Martin. They, as a team, wore their hoods, which was a real big statement and when the situation happened in Newtown, Conn., they brought their kids, their children onto the floor.
I can see why you liked that. You're socially conscious; is it important that athletes step up and take those roles on more?
Yes. I love that for them to stand up for things that's socially conscious and aware. That touches me and moves me and I love their team for that, so I root for them point blank. I like good ball players with heart. I really love and respect that because one of the people that made me want to really do something was Muhammad Ali, and he always stood up for things. He sacrificed his career for what he believed in, and to see athletes in this day and age, I know they have a lot of finance and stakes, but just to say anything and speak up and just to be individuals … and to speak up for things that happen in the world, I love it.
Are there any point guards that you love to watch now that D. Rose has been out?
I love Rondo, I love Chris Paul, I definitely like Russell Westbrook.