May, 30, 2012
5/30/12
12:55
PM ET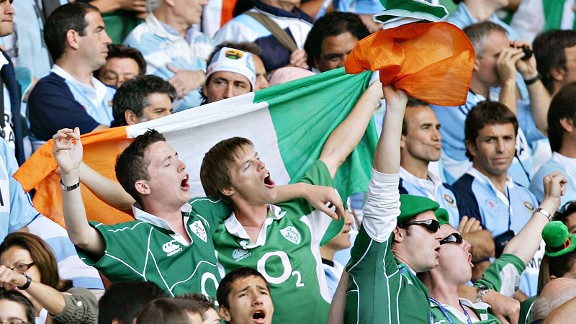 Warren Little/Getty ImagesIreland supporters sing their national anthem ahead of a game in 2007.
UEFA Euro 2012, one of soccer's top international competitions, kicks off June 8. In anticipation of this eagerly awaited event, Playbook is teaming up with ESPN FC to offer sights and other delights from each participating nation.
Ireland fans have reason to sing in 2012: It's the nation's first Euro since 1988.
And sing these Irish fans are doing, producing a vast selection of unofficial Euro (and one official) anthems and videos to send their boys off to Poland and Ukraine.
Here's a small sample; if we posted them all, music-hungry fans might miss Ireland's first match.
"The Rocky Road to Poland"
-- Ireland's official tune, written by "Ray D'Arcy Show" listeners and recorded by Damien Dempsey, Bressie, Danny O'Reilly (Coronas) and The Dubliners (John Sheehan, Barney McKenna, Eamonn Campbell, Patsy Watchorn; they recorded the song on which this is based, "The Rocky Road to Dublin").
May, 22, 2012
5/22/12
11:05
AM ET
Football. Not soccer. That's what they call it over in England, where the alternative/indie rock band Morning Parade formed (near London) and where frontman Steve Sparrow gained his love for the beautiful game. One team in particular, actually. But we'll get to that later.
Because we couldn't help but ask Sparrow about
the final match day
of the Barclays Premier League season, when Manchester City snatched the title from Manchester United in the final minutes.
And the band ... missed it?! That's what happens when you have to work ...
"We were flying when the games were on," said Sparrow, who did get the scores via text from his manager upon arrival in the States (they're currently traveling around the Northeast, before
their big tour in June
to support their new self-titled album, out June 19).
"So when we got back [to our hotel], we watched the games on our laptops at night. What an amazing way for the Premiership to end, eh?"
Indeed. Especially because Sparrow's club, Arsenal, crucially clinched a spot in the Champions League that same Sunday.
Sparrow also talked a bit more about The Gunners, the Olympics, American sport and more: